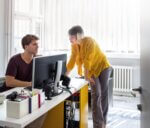 Tech Marketing
8 Effective Tactics for Lead Generation for IT Companies
Lead generation for IT companies is identifying, attracting, and capturing tech professionals with a high potential to purchase from your company. To build an effective lead generation strategy, it needs to reach your target audience and provide a way for them to share their personal information. Then, you'll use that information to continue connecting with those leads until they purchase from your brand.
Learn eight lead generation strategies that are highly effective in the B2B tech industry.
Key Takeaways:
Lead generation fills your sales pipeline with potential buyers with a high buyer intent
Turn regular content into lead generation strategies by using gated content
Effectively distribute your lead generation content through email, content syndication, and native ads
🤫 PS: Looking for pricing on content syndication leads? Get a price list here
Why Is Lead Generation Important for IT Companies?
Roughly 85% of B2B marketers agree that lead generation is an important content marketing goal. Without identifying prospective buyers, you rely entirely on their intuition for choosing brands and products. Prospective buyers are key decision makers from businesses that match your ideal customer profile.
However, by collecting lead information, you can help influence their decision, provide needed resources, and lead them along the buyer's journey, encouraging them to purchase from you. For example, you use their contact information for email campaigns, phone calls, sending exclusive invites, and building relationships with each lead.
How Do You Know If Your Strategy Is Effective?
Your lead generation strategies are measurable because you can easily track their performance by the number of net-new leads you collect. Before starting a lead generation campaign, establish a goal, which might be a specific number of leads you hope to collect. You know your campaign is successful once you reach or surpass that number in your set time frame.
To ensure you aren't spending more on lead generation than you're bringing in from sales, calculate your ROI. The average B2B lead costs between $31 and $60. However, B2B leads also make larger purchases, bringing in thousands of dollars in profit. Calculate the value of the leads you convert to how much you spend bringing them in.
Focusing your lead generation efforts on a few target accounts ensures that the leads you generate are more likely to turn into high-profit accounts. Otherwise, if you use broad lead generation techniques, you'll be spending much more to generate leads than you'll get in return, as not everyone you reach qualifies to purchase from your brand.
8 Ways To Perform Lead Generation for IT Companies
Learn eight B2B lead generation strategies for IT companies that offer a high ROI and connect you with your target accounts.
1. Invest in SEO Content Marketing
About 96% of B2B marketers use content marketing, as it's a highly effective strategy for attracting website traffic and generating new leads.
Through search engine optimization (SEO), your tech marketing content will rank higher in online searches. This brings new traffic to your website as business decision makers look online for products, solutions, and educational content. Content marketing for tech companies establishes you as an authority in the industry and guides them to a call to action (CTA) at the end of the content, which captures the lead.
Continually update old content to keep ranking well in search results to build an evergreen content marketing strategy.
2. Use Gated Content
Gated content is digital media your audience can access after filling in a form. The form you provide has fields that ask for contact and basic information about the reader to ensure they match your buyer persona. For example, you can ask for their title, industry, and company size. Then, you can focus your follow-up marketing strategies like emails and invitations only on those that have the potential to purchase.
ActualTech Media's creative content creation services provide different templates and cutting-edge marketing formats that are more likely to encourage your audience to fill in your form. Some of our unique content includes:
Comic Books
Infographics
Engaging Videos
Technical briefs
3. Host a Webinar for Lead Generation
Roughly 73% of B2B marketers say webinars for lead generation are their most effective lead generation strategy. In addition, webinars have a 55% conversion rate.
They're a live event where you can have more personal interactions with your audience, which increases the quality of the leads you generate from the event.
ActualTech Media hosts a variety of niche IT webinars where we provide a complete white-glove experience. We do everything for you, from hosting the event to providing a moderator, and we even maintain video of the event online so prospects can view it days, weeks, or months after it's over. As a result, you can fill your pipeline with over 1,000 net-new leads.
4. Syndicate Your Content
Content syndication is sending your content to your target audience instead of waiting for them to stumble upon your content through SEO. Content syndication can target a specific audience on your target account list.
Use gated content to turn your content syndication strategy into an effective lead generation tactic. ActualTech Media provides expert B2B content syndication services for lead generation.
5. Stay Active on Social Media
LinkedIn is the top social media platform for B2B marketing. Some marketers say they generate up to 80% of their leads from the platform. You generate leads from LinkedIn by posting thought leadership content, commenting on other posts, connecting personally through messages, and joining niche groups.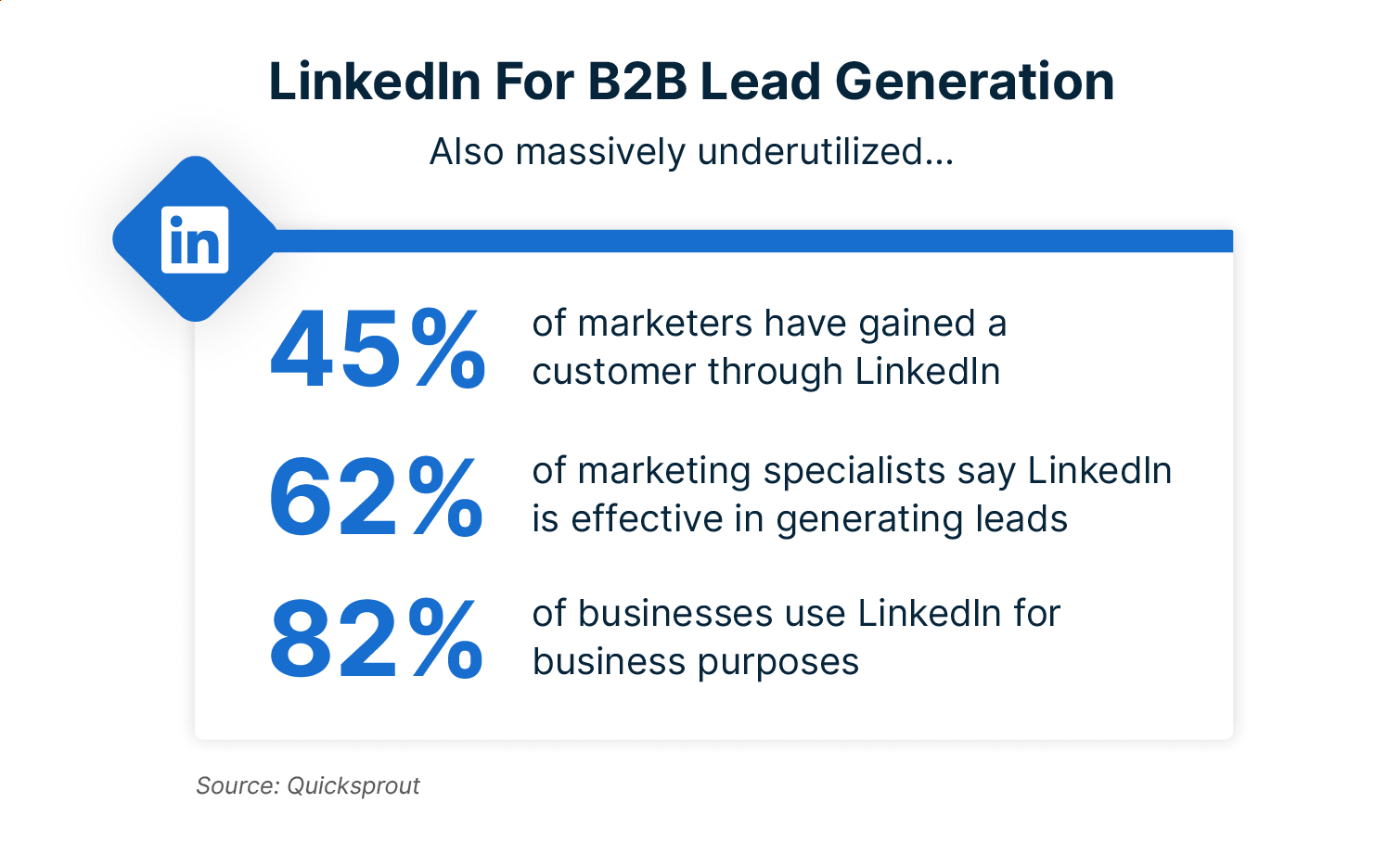 6. Create Optimized Landing Pages
People are likely to do nothing when you provide too many offers and options. Instead, create dedicated landing pages solely to drive new leads.
Landing pages are laser-focused and point to one action. It removes distractions like your top bar, navigation menu, and multiple links. Instead, it uses content to convince and convert your traffic with one target action like signing up for an event, free trial, or subscribing to your newsletter.
You use landing pages for PPC ads, webinar campaigns, content syndication, and SEO campaigns.
7. Invest in Native Advertising
Native ads are paid content you distribute on third-party websites. However, instead of appearing as traditional banner ads, they blend in with the surrounding content to create a seamless experience for the reader.
For example, as your audience reads a well-known tech website, you can sponsor your blog post, so it appears at the end of the content as a related article. Your post can include gated content, a CTA, or a form where you can capture the traffic you generate through the ad.
8. Run an Email Campaign
Half of the marketers say B2B email marketing is one of their most effective strategies for lead generation. It's especially effective for account-based marketing (ABM) where you're targeting specific accounts.
Through email marketing, you send your content directly to decision makers and target buyers to increase the chance of them engaging with your content. Then, when they click on links, fill in forms, and accept email offers, you can track their engagement and add them to your pipeline.
This strategy allows you to collect more quality leads with a high buyer's intent.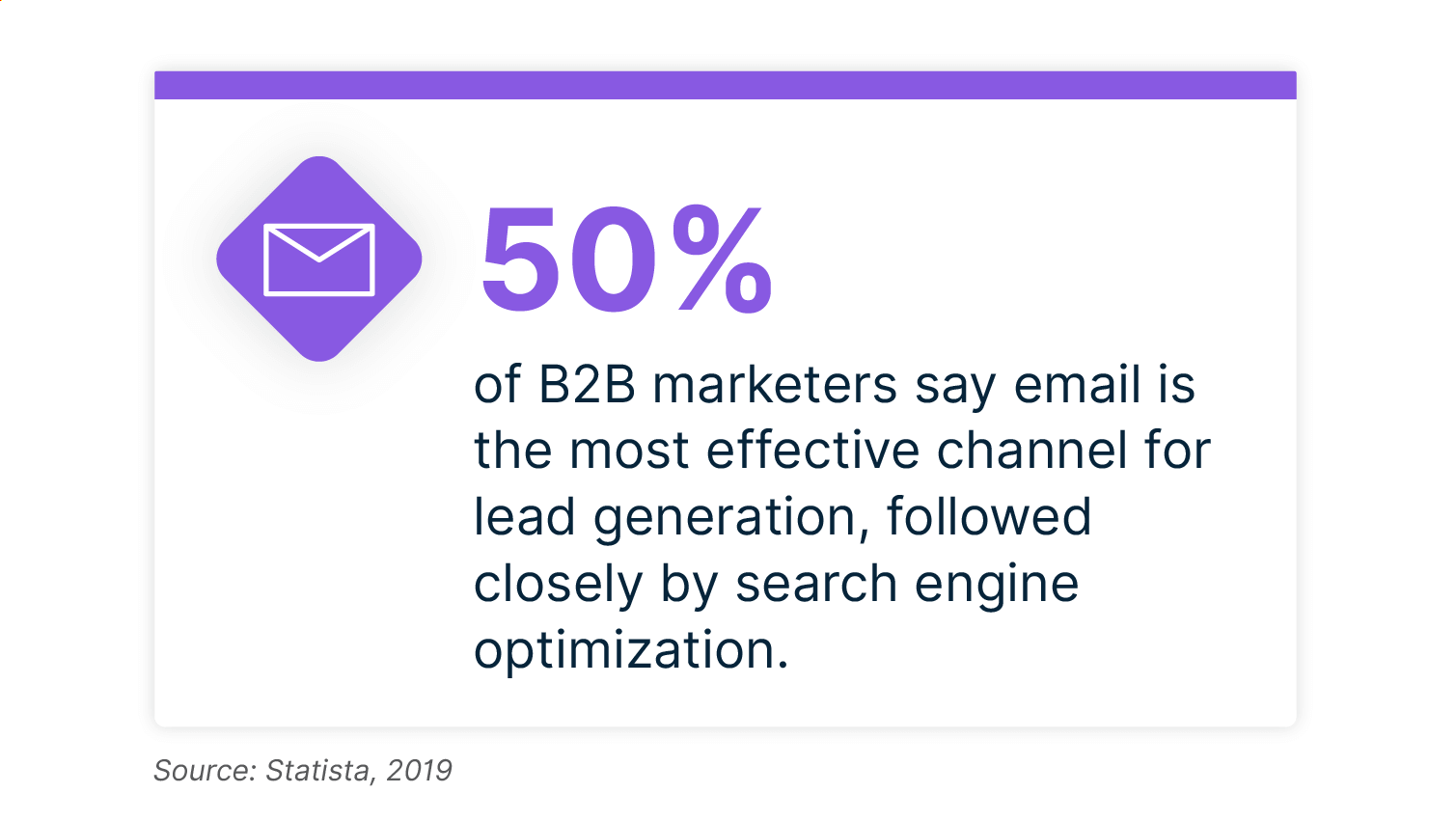 Create Content That Generates Leads
ActualTech Media creates target content for the tech niche markets. You can fill your pipeline with more IT marketing and sales qualified leads through our expert content creation and lead generation services.
Contact us to learn what services are right for reaching your goals.