The TechSlayer Chronicles
Take Prospects on an Adventure Through the Technology Multiverse!
Zoooom! Messaging Customized for Your Solution

Custom-crafted creative content wrapped around your messaging and desired outcomes to lift you into the sky and above the noise

Boom! A Stand-Out Format That Resonates

Unique artwork and narratives with the right mix of humor results in an excited reader that will seek out more information as well as new life and new civ... wait, wrong genre...

Cha-CHING! Gripping Stories That Connect to Your Value Proposition

Carefully crafted stories that communicate your unique selling points and overcome common objections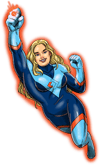 Your Journey Awaits
We've created the Techslayer Chronicles to be the perfectly unique combination of education, entertainment, and flexibility. With a development formula laser-focused on teaching an audience about a targeted topic, we've crafted an intentional process that:
Ensures that your messaging resonates loud and clear
Brings your unique capabilities to the forefront of the action
Addresses and overcomes common sales objections to reduce friction
Choose Your Own Adventure
Techslayer Chronicles are available in small, medium, or large sizes, ensuring the perfect set of assets is available when and where you need it. Optionally, we can print your comic book for distribution at trade shows or other events, or for insertion into your current direct marketing campaigns.
Mystery! Intrigue! Suspense!
Do you have a compelling cartoon idea that you are craving to share? Give us a ring! We can craft a Techslayer Chronicle series of comics with custom characters or something else altogether! We'd love to hear your ideas!
Request More Information