Content Development for the Enterprise IT Buyer's Journey
Content That Fuels Your Funnel
At ActualTech Media, we develop content to help you generate demand and nurture prospects, and even enable your Account-Based Marketing (ABM) strategies. With our established, field-derived technical expertise you don't need to waste endless hours educating authors on the underlying technology meaning you'll be able to fast-track your content development strategy.
Our trusted, 3rd-party content is industry-recognized for its easy technical consumption and business and decision-maker focused approach. Our established content brands including Gorilla Guides® and Enterprise IT Innovations Series, as well as custom content offerings, help you capture more attention, more quickly.
How Our Content Helps Across the Buyer's Journey
Effective content marketing and account-based marketing (ABM) strategies need effective content assets to drive demand. Research shows buyers trust 3rd-party content and rely on it to make sound purchase decisions, starting from when they realize they have a need right down to establishing their decision criterion and making purchase decisions.
ActualTech Media's huge variety of 3rd party content assets fuel your funnels with fresh assets that cover the entire spectrum of the buyer's journey, addressing their need for education in each key phase.
Whether it's books, papers, technical overviews, buyer's guides or decision guides, ActualTech Media's content covers it all:


Gorilla Guide ®
The Gorilla Guide series of 40- to 70-page books and ebooks are dedicated to helping readers navigate the increasingly dense 'technology jungle'. In each book, readers are guided along a journey of discovery as they read about new technologies and how these technologies fit into the existing landscape and even enable the business. Each Gorilla Guide book features a series of icon-based callouts to help ensure full understanding of the subject matter.
The Gorilla Guide is the perfect evergreen asset if your goal is to establish your company as a thought leader in a market space. With Gorilla Guides, the focus is on the technology, with some emphasis on the sponsoring company's products. Wherever appropriate, Gorilla Guide authors – via a custom callout – will highlight the ways by which your company's products can be used to solve a particular problem.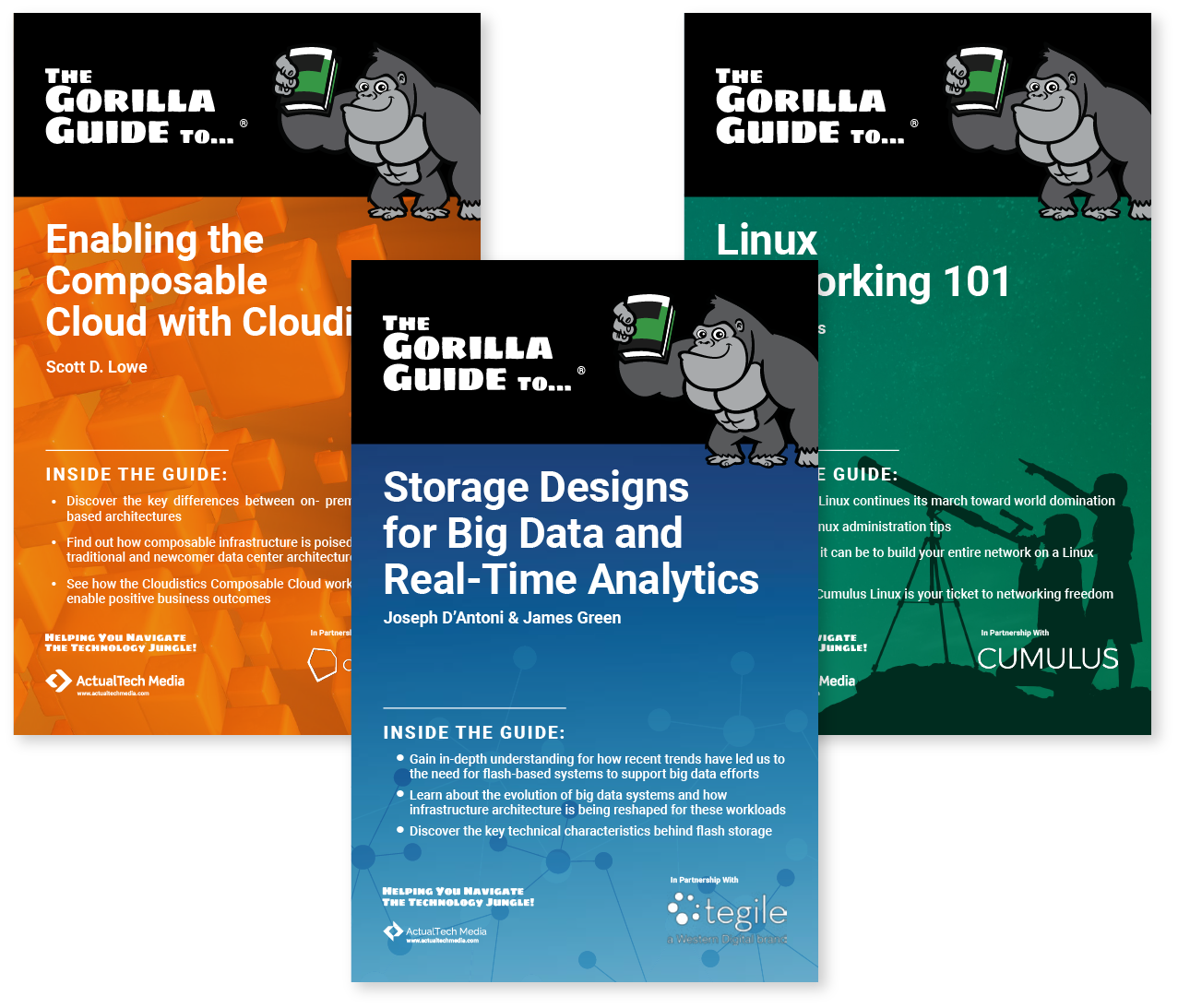 Books That Go Further…
Gorilla Guides and Enterprise IT Innovations series book bundles are all designed to break down into multiple, smaller pieces of content like whitepapers or tech briefs to ensure you get maximum mileage from your book's content.  Use these additional, derivative assets to target specific personas like decision makers or administrators who may have different concerns.

custom book authorship & design
Have a vision for a technology book tailor-made to meet your thought leadership goals? ActualTech Media can work with you to develop, author, design, print and promote a stunning book asset that will drive demand quarter after quarter.
For example, we partnered with Atlantis Computing to develop the highly anticipated "Building the Modern Data Center: Principles and Strategies of Design" guide for IT architects. The 263-page eBook has been downloaded thousands of times and distributed widely in beautiful printed form at trade shows across the USA.
Talk with us about your vision and let's work together to build a bespoke content asset the market will notice!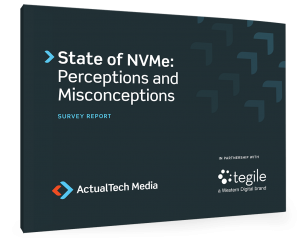 Research ANALYSIS & REPORTS
Running a survey on your own sounds really easy, but as you begin the process, you discover just how challenging it really is. From defining a hypothesis to designing questions that ensure quality feedback to driving responses that meet your criteria, there are opportunities for error at every step. Any error at any step can result in a survey with dubious outcomes. Rather than a thought leadership opportunity, you may have spent time and money on something that can't ensure legitimate results!
ActualTech Media has years of experience in helping clients think through what they want to learn, in designing surveys that yield quality data, and in driving highly engaged respondents willing to share their thoughts and experience on a wide range of topics.
Introducing the ActualTech Media Discovery Campaign
A comprehensive influencer-driven service that combines professional video, written content, printed content, demand generation, and social awareness into a single package designed to elevate and sustain brand and technology awareness.