Software used to act as isolated islands, each providing all-in-one solutions, and customers had to choose which island they would settle on. Today, B2B customers want more versatility and customization options, requiring tech companies to work with each other to integrate software, cross-promoting, and marketing through partner programs.
Explore some partner program examples and learn five steps for building a partner program for your tech brand.
Key Takeaways:
A partner program comes in three forms: integrated products, channel partners, and strategic partners
Most tech companies use a combination of several partner programs
Align yourself with brands that have similar goals, audiences, and purposes
Be clear about your expectations and compensation structure
What Is a Partner Program
A tech partner program is an agreement between two businesses, or a business and an individual, where they help each other achieve similar business growth goals through IT marketing and promotion. For example, one partner will promote the products of another for a commission.
In addition to a share in monetary returns, the partnership can also include an exchange of marketing support, leads, and brand awareness.
Types of Partner Programs
Tech company partner programs usually offer one or more of the following options: integration, channel, and strategic partnerships.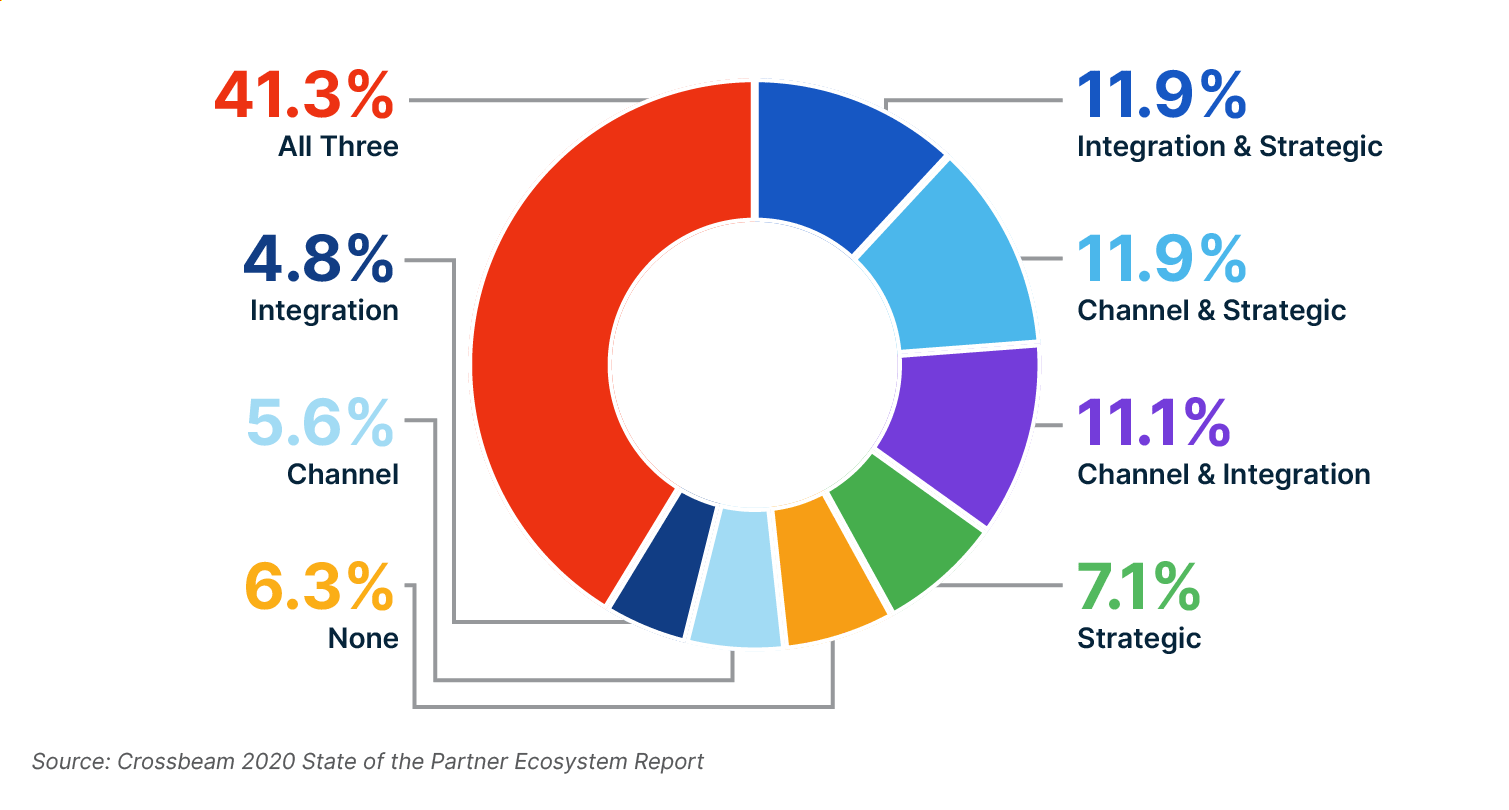 Tech and Integration Partners
Tech partners are two software businesses that sell their products as a package or recommend using the other partner's software as a valuable add-on to its own. Integrating their tech with each other creates workflows or triggers events for a seamless experience between their platforms.
About 69% of B2B Software-as-a-Service (SaaS) companies have tech partners.
In addition to shared clients, this type of partnership allows for data exchange. For example, when clients use two platforms together, those platforms also share that client's data with the other connected software.
Channel Partners
A channel partner sells your products for you in exchange for a commission. You choose a channel partner based on a shared market.
For example, an independent software vendor might use a third-party servicer to sell and support its product. Channel partnerships benefit tech brands that hit a growth ceiling and want to continue to expand using outside channels of promotion and selling. These partnerships are especially common when companies expand into new geographic areas.
Another example of a channel partnership is affiliate marketing or influencer marketing. 80% of brands use affiliates to sell their products. An affiliate can be a business or individual with a following who recommends your products.
Strategic Partners
A strategic partnership occurs when two large companies co-market to boost brand awareness and help each other achieve their marketing goals, whether generating new leads or meeting sales objectives.
Strategic partnerships offer:
Training
Co-marketing opportunities
Exclusive discounts
Access to a shared audience and data
Partner Program Examples
Here are three examples of highly successful IT partner programs:
Salesforce AppExchange
Salesforce AppExchange is a database of partners that work alongside Salesforce. Salesforce customers can add these apps to their CRM platform to expand its functions.
For example, Xactly Incent is an incentive compensation and commission management system. It partnered with Salesforce to allow customers to perform compensation management from their Salesforce dashboard for greater ease and better connectivity with other parts of their business.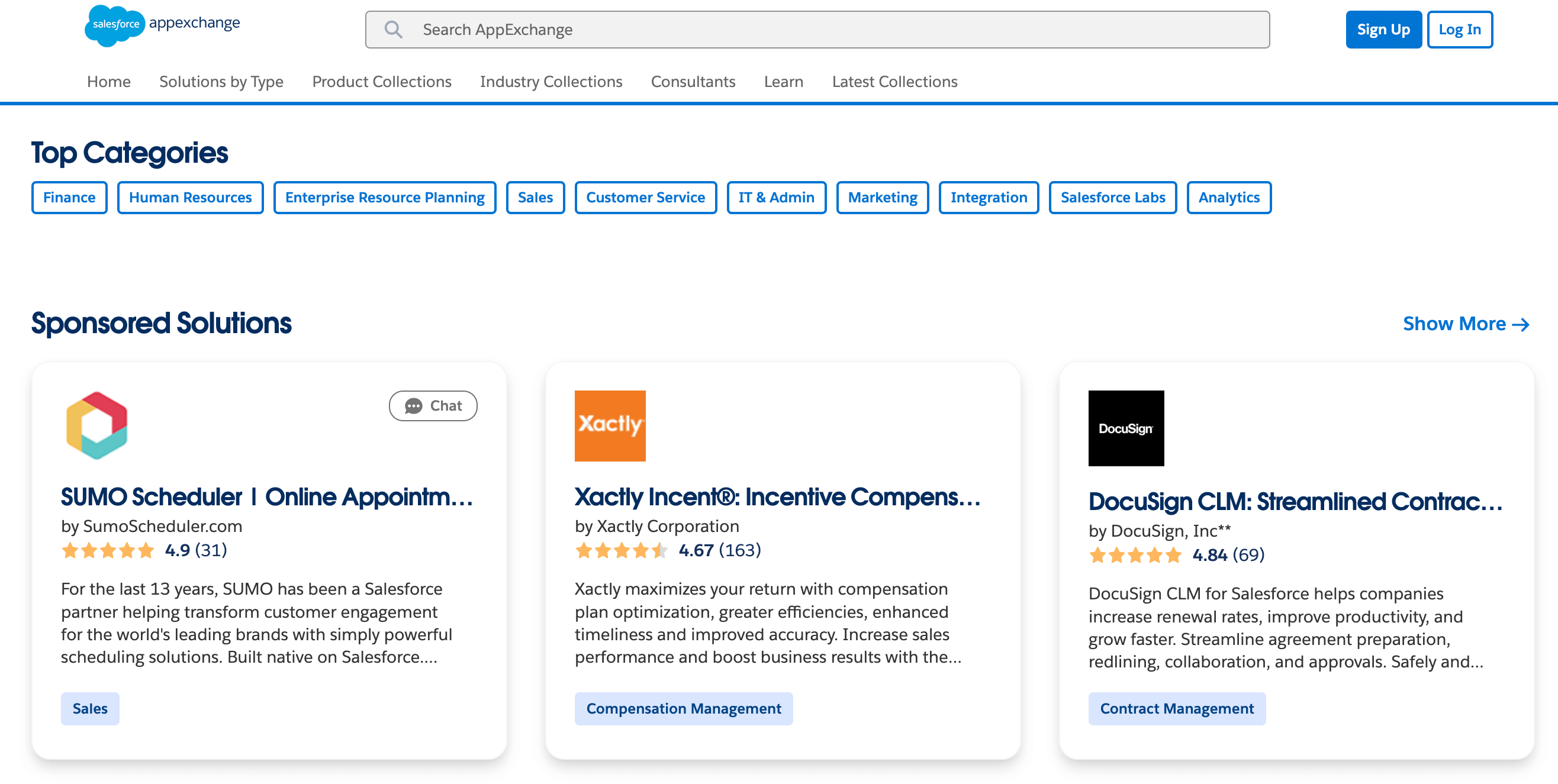 Image from Salesforce appexchange
HubSpot Partner Programs
HubSpot offers all three types of partner programs.
For example, the HubSpot Affiliate Program is designed for bloggers, reviewers, and individual content creators. Affiliates receive a 15% monthly commission rate. In addition, HubSpot helps affiliates reach their revenue goals by providing links and digital assets for affiliates to use in their promotions. It's mutually beneficial as the affiliates bring in more revenue for HubSpot, while HubSpot offers individuals a way to monetize their content.
Slack Partner Program
Slack is a messaging app that businesses can use for collaboration and discussion. It offers partnerships with other tech companies, services, and solutions to allow easy integrations. These partnerships bring in more clients for both Slack and the partner and allow for shared data.
How To Build a Partner Program
For your partner program to be successful, it must be mutually beneficial to you and the brand you're working with. Here are three ways to build a partnership that supports both parties and their goals.
Partner with Similar Brands
If you want to ensure that you and your partner work together, you must choose them carefully to build a purpose-driven brand partnership with the same goals and audience. Have an application process that asks about their goals, their audience, and what marketing strategies they plan to use, then see if those align with yours.
By being selective with your partners, you guarantee that you'll work together and see mutually beneficial results rather than worry that they'll hurt your brand image or not bring in the desired results.
Provide Clear Expectations of What Each Partner Will Do
Collaborate with your partners to discuss what you expect from them and what they can expect from you. For instance, most affiliate programs outline the number of sales affiliates must bring in each month if they want the partnership to continue.
To set your partners up for success, you can provide marketing materials and training to accomplish their goals. For instance, you can offer tech partners who advertise and sell your products with ads and promotional content to ensure their campaigns align with your brand messaging.
Clarify What Each Partner Receives in Return
Partnerships won't occur unless there's guaranteed compensation in some form. Therefore, to keep a positive partnership, you should clearly outline what each partner receives from the cooperation to better measure your partner marketing ROI and reach mutually satisfactory results.
For example, if you expect your affiliate partner to bring in a set number of sales, you should also provide a reliable commission rate they can count on if they achieve this goal. To further incentivize your partners, consider adding tiers based on performance, so the more the partner accomplishes, the higher their reward will be.
Reach Your Partnership Program Goals
ActualTech Media helps you achieve your partnership goals through our lead generation solutions. For example, you can help your partners increase sales of your products by connecting them to quality leads in their geographic area and industry using our highly customizable content syndication services.
You can also connect with a niche audience by presenting in one of our IT webinars for lead generation that reaches thousands of tech professionals and key B2B decision makers.
Contact us to learn more about our lead generation solutions for partner marketers.