Customer data gives you the necessary insights to build effective marketing and sales strategies. Without this information, your marketing campaigns would run on trial and error or outdated trends instead of real-time customer behavior from reliable customer data sources.
Learn five of the most valuable digital data sources for customer insights that will help you reach your marketing goals and drive your business growth.
Key Takeaways:
First-party data is the most valuable type of customer data
Your CRM platform collects and organizes customer data from your sources
Storing the data from your sources in a central platform unifies your sales and marketing teams and prevents siloed data
🤫 PS: Looking for pricing on content syndication leads? Get a price list here
How To Collect and Store Your Customer Data
There are three types of customer data you will collect:
First-party data: Collected directly from your company and customer interactions
Second-party data: Shared data from a partner or collaborator that your company didn't directly collect
Third-party data: Data from businesses with no direct connection to your company
First-party data is the most valuable data source because the information is relevant to your organization and from a trusted source. It's also becoming more popular as restrictions on third-party data sources increase. As a result, over 82% of marketers plan to increase their first-party data use.
Customer Data Management Platforms
You can collect and store your customer data through a CRM or other customer data platform. These platforms can pull data from multiple sources and gather it in a central location to avoid data silos and allow all departments to access and use the data. A unified data approach will connect your sales and marketing teams for more effective marketing strategies.

Before choosing a data platform, you must understand how customer data platforms are different from data management platforms. Your customer data platforms will handle your first-party data and some second-party data. Meanwhile, your data management platform collects and analyzes third-party data. View the video for more details on each one and find which platform is right for your business needs.
As you gather customer data from your sources, be sure to also invest in advanced security. A data breach costs companies $3.86 million on average. Backup systems and employee training are two ways to ensure the customer data you collect is properly stored and secured from potential breaches and other security risks.
5 Key Sources of Customer Data
Use these five market data sources to form a comprehensive view of your audience and how they interact with your business.
1. Your Website's Analytics
When visitors interact with your online content, they leave behind digital footprints. These footprints can tell you:
Your new and returning visitors
Where visitors come from
What content your visitors are most interested in
What marketing techniques customers respond best to
These analytics provide a general overview of how well your marketing efforts performed and are accessible through tools that you can add to your marketing stack. Google Analytics is one popular and powerful tool for collecting and analyzing customer data from your website. This platform analyzes data from your online content, including ads, YouTube videos, Google searches, and email. It can show the data together in one place for comprehensive reports on customer behavior.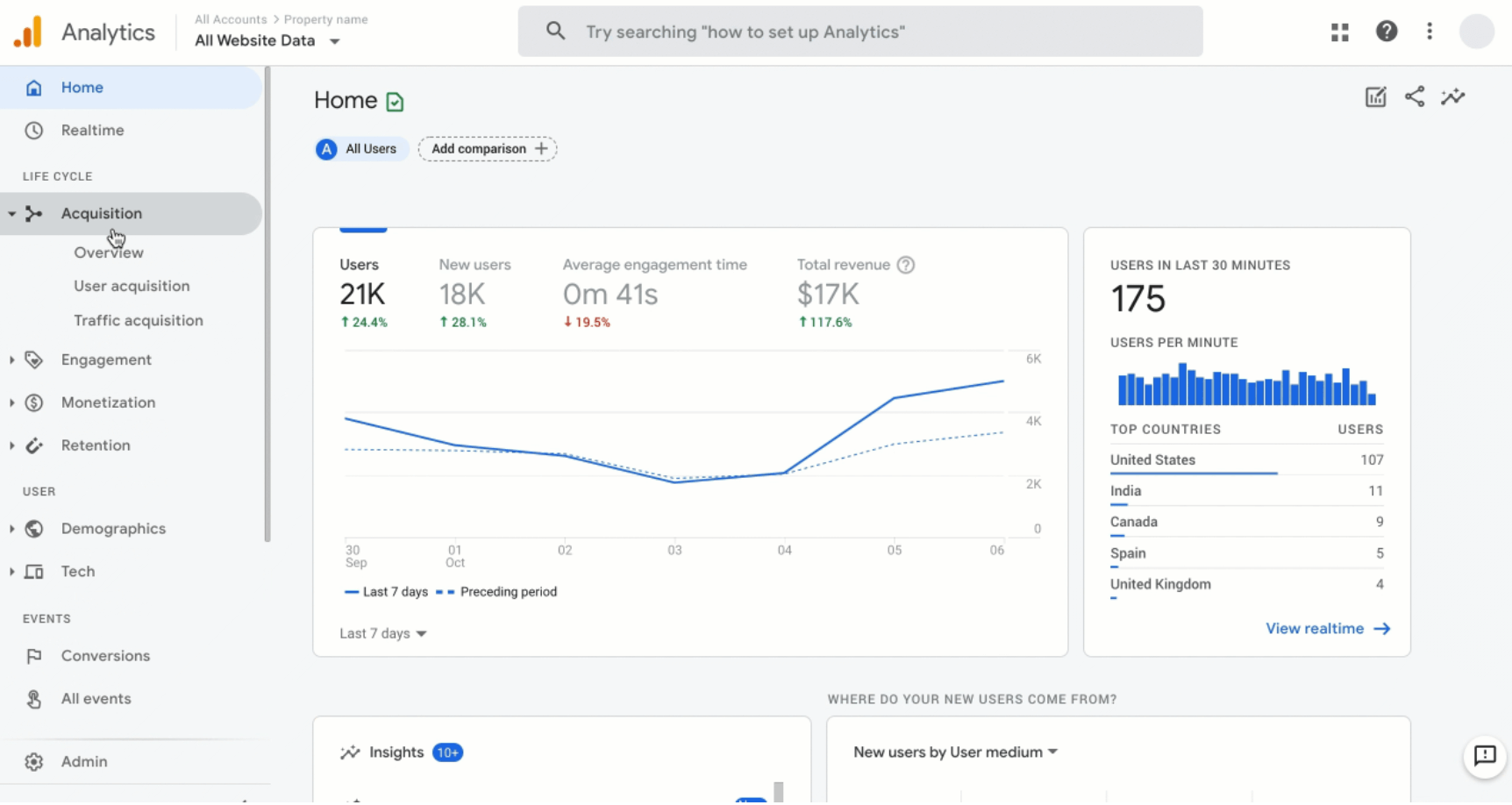 Image from Google
2. Customer Feedback
Customer feedback provides essential digital marketing insights into your customer's experience and is vital for increasing your customer satisfaction rate. Nearly 86% of customers will pay more for a positive customer experience. Additionally, 72% of customers will share their experience with your business if it is positive.
Collecting positive feedback from reviews, surveys, and online forms will help you optimize your strategies. While you don't want to receive negative feedback, you should still include it as a data source. Negative feedback identifies weaknesses you can improve, which generates more positive feedback. This is called a negative feedback loop.

3. Customer Interactions
Customer interactions help you personalize your marketing efforts for each client. Half of the consumers say they won't interact with content that isn't relevant to them.
Instead of flooding prospects' inboxes with mass marketing emails, or creating general marketing content, you can collect personal information about customers through phone calls, chats, and emails. Leverage that data in your marketing efforts to address customers personally, send relevant content, and educate sales reps about customers before they make outbound sales calls.

4. Online Content
You can only glean a certain amount of useful data from your data platforms. However, by performing research yourself, you can find the additional information you need. For example, search engine research will give you insights into what customers are searching for, which will improve your content marketing efforts.
You can also go to community groups, competitor websites, and forums to learn your target audience's pain points and what they're looking for in their solutions.
In B2B marketing, you might consider going directly to your target account's website and social media to learn more about a specific high-value customer for your account-based marketing strategy. That data will allow you to personalize your sales techniques for that customer. Over 70% of B2B organizations use account-based marketing.
5. Customer Engagement
Customer engagement is your interaction with customers through your different channels. For example, you can collect data from responses to your social media posts, ads, email marketing, and community posts. This data tells you how well your content is performing and can be a chance to collect specific information. For example, you can collect customer engagement data by asking your customers what software solution they want to see offered and using their responses to help you make product decisions.
Here are some ways you can increase your online customer engagement for more data insights:
Asking questions and encouraging responses in the comments
Posting valuable content that viewers will share
Creating a poll or survey
Sharing creative media like videos or images
Involving your customers by sharing their company posts and updates
Generate More Leads Using Digital Marketing Data Sources
If your tech marketing and sales results aren't matching your goals, consider what new sources of customer information you can leverage to personalize and improve your processes. The data you collect will help you create strategies that will result in quality leads and improve your customer experience for a higher conversion rate.
Contact us to learn about our lead generation solutions.