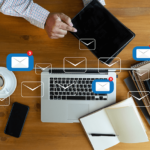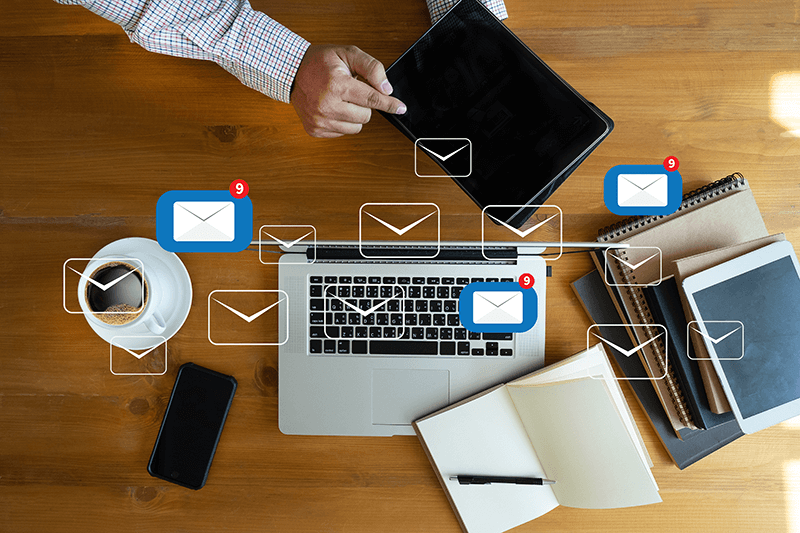 Content Marketing, Webinar Marketing
4 Proven Ways To Grow Your Engaged Contacts Database
Article Summary
Growing and maintaining an engaged contact database is a cornerstone of effective B2B marketing. ActualTech Media's article emphasizes the importance of continuously expanding one's contact list to counteract churn and tap into new sales opportunities. Despite having a substantial contact database, engagement can wane over time, with emails being ignored or redirected to spam. The article presents four proven tactics to rejuvenate and expand one's contact list. Firstly, leveraging existing customers through a "Refer-a-Friend" campaign can bring in new contacts. Secondly, email nurture sequences, which include content marketing offers and event invites, can re-engage dormant contacts. Thirdly, hosting special audience growth webinars on trending topics can attract a broader audience. Lastly, market research surveys, incentivized with rewards, can reawaken inactive contacts. The article concludes by emphasizing the importance of experimentation in marketing, highlighting the value of persistence and adaptability in achieving success.
No matter how large your existing prospect email lists are, net-new contact growth is essential to counteract churn and uncover new sales opportunities.
You may have a huge existing or prospect contact database or have large email lists, but how many of these people are still engaged? After a few months or years, your emails get ignored or, worse yet, start going into the spam folder. Technology roles typically have a significant turnover rate, and churn on your lists can be as high as 20% to 25% per year in many cases.
There's no way around it: If you want to grow your opportunity pipeline, you need to grow your audience—especially as contacts fall off the engagement train (or you fall off their radar).
I joined ActualTech Media in June 2021 with the mandate to grow our contacts. Over the last several months, I've turned over a lot of rocks and implemented a swath of new marketing campaigns to discover what works and what doesn't.
So, without further ado, you'll find below some of the successful contact growth tactics we've implemented recently to help keep fresh leads rolling in for our vendor clients. Maybe one of these four proven tactics can help you with your in-house efforts as well!
1. Refer a Friend or Colleague
Who better to help you grow your database than your existing customers?
One of my first initiatives here at ActualTech Media was to set up a "Refer-a-Friend" campaign. After someone registers for one of our webinar events, we ask them (without pressure or mandatory opt-ins) to enter in names and email addresses of people who may also be interested in our technology events. This program is also featured by the moderators on our live event presentations. As an incentive, we do a monthly raffle drawing.
Once the form is submitted, it triggers an automated email to the friend or colleague to read about and register for upcoming events.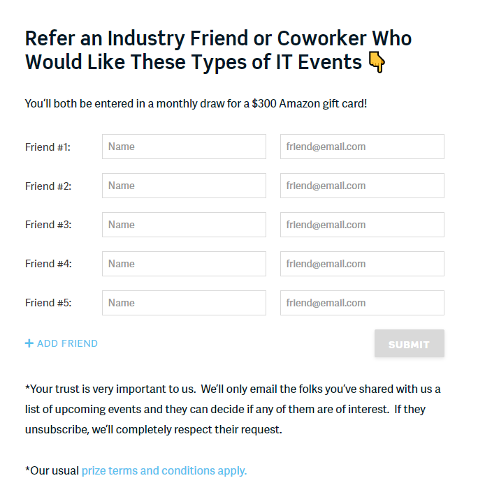 What makes this successful: Personalized email body copy and subject lines referencing the friend that recommended them by name helps get the referee's attention in the outreach email. Also, be sure to continue to nurture these contacts with monthly newsletters, events, or content that may get them off the fence if the first outreach isn't successful.
2. Email Nurture Sequences
More email? I know. But it works! And it's a great way to cast out the net and pull in new customers.
Our nurture email campaigns include multi-tactic approaches that include content marketing offers, event invites, and newsletters. For example, over the course of several months, we warmed up leads with plain-text emails and infographics on an IT "hot topic"—Ransomware. The content for the emails and infographics was sourced from custom books and other pieces of content that the ActualTech Media custom content team had already developed.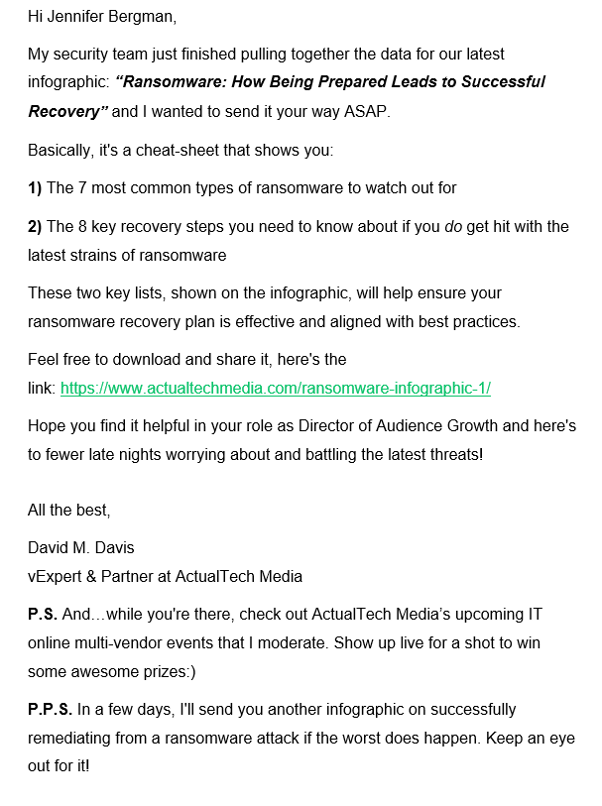 Within a couple of months, with the contacts warmed up, we moved on to sending out event-specific email invites, as driving webinar event leads is our bread and butter. This continues to be a successful ongoing campaign—we continuously work to warm up new contacts and put them through the infographic/content marketing warm-up phase, and then move them into webinar event-invite phase.
What makes this successful: Continue to add new names into the list after warming up and then offer them as many events as possible, until they bite on an event topic that really interests them.
3. Special Audience Growth Webinars
While building out and hosting webinars dedicated to growing and nurturing new contacts is a heavy lift, the resources put into these events is well worth it … with the dividends from this effort often paying off for months after the live event. From a prospecting and nurturing perspective, well-architected webinars can result in multiple bite-sized chunks of content that can be used in everything from nurture email sequences to social media and beyond.
For this type of special webinar, we use a hot topic that benefits the registrants, not something focused on our internal product or service offerings. In other words: No sales pitch, just straight independent value. One example is our IT career event, focused on how to move your IT career forward in 2022. This event was the most successful single effort tactic for growing our audience, and the benefits keep coming as we repurpose the content in other channels.
What makes this successful: The ability to slice and dice the content beyond the original live webinar event and continue to bring in new contacts from other channels.
🤫 PS: Looking for pricing on tech webinars? Get a price list here
4. Market Research Surveys
Remember when I mentioned that there are always names in your current list that have been unresponsive for some time? A great way to wake these inactive contacts up is to offer them something—a gift card, etc.—in exchange for something that benefits you—a market research survey.
To start, we pull a segment of our contact lists containing anyone who had not opened in email in the last three months. For most of our clients, this list will be large, and that's totally normal—our goal now is to get them back into the fold and active.  We send an email offer to complete a 10 to 15 minute survey in exchange for a small Amazon gift card.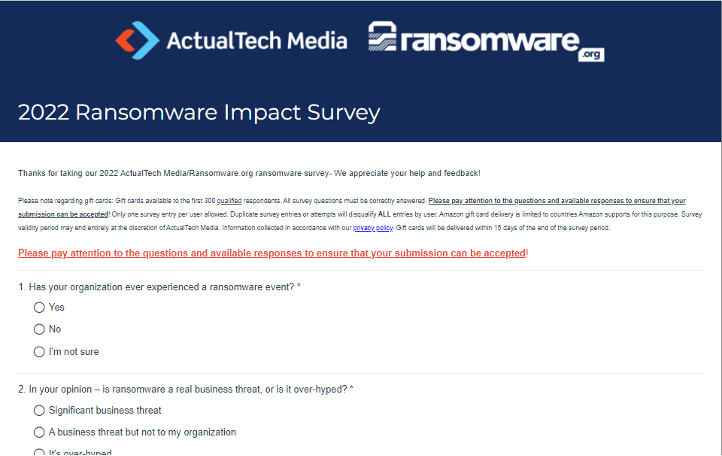 After implementing this approach, you'll find that previously long-dead contacts will "wake up" and start to respond to your regular messaging. We recommend having a new "welcome back" email automation or nurture sequence set up to help keep them active and start building reengagement with them.
What makes this successful: Upon survey completion, we put in an upsell pitch recommending respondents register for an upcoming webinar event. The uptake on these registration pitches is high enough to offset the cost of the gift card incentive on the survey itself. As a bonus, you also get great survey data points for use in your content marketing and webinar presentations!

Wrapping up and Shameless Plug 😬
Like everything in marketing, the name of the game is test, test, test. For every successful tactic we uncovered, we had a failed tactic to go with it. That's just how marketing works. But if you don't get discouraged and keep experimenting, you're bound to hit on a winner (or two).
BTW 😎 ActualTech Media's technology vendor clients have a shortcut to new contact growth: They get to piggy-back on the efforts we're constantly putting in to drive fresh leads on their behalf, without all of the trial and error.
If you'd like to learn more about how we can help you reach your webinar programs, content syndication, or custom content development goals, get in touch with us!