Today's customers prefer omnichannel experiences and communication. Although the rise of omnichannel marketing and communication strategies goes back more than a decade, it accelerated rapidly by 50% during the 2020 shift to remote work.
In 2022, the writing's on the wall. Among polled consumers, 80% prefer omnichannel marketing and communication strategies. Purchase rates reflect this strong consumer preference, with businesses using three or more marketing channels exhibiting a 287% purchase rate edge over those that don't.
The hard shift into omnichannel interactions should come as no surprise, as U.S. households contain an average of 22 connected devices and most individuals access 6.6 social media platforms monthly. For businesses that want to connect with potential and existing customers the way they prefer, delivering a seamless omnichannel customer experience is crucial for driving engagement, leads, and sales. In this guide, you'll learn what omnichannel means for marketers and how to develop an omnichannel strategy for your business.
Key Takeaways:
Omnichannel marketing and communication have become essential to delivering the outstanding and consistent customer experiences that consumers increasingly expect from businesses and service providers
Omnichannel is a marketing and customer service approach that integrates content and messaging across all digital touchpoints
Following a core set of best practices, businesses can develop effective omnichannel strategies that drive customer acquisition and satisfaction
What Is an Omnichannel Experience?
The term omnichannel describes a multichannel approach to marketing, sales, and communicating with customers to provide a consistent customer experience at every touchpoint. From the customer's perspective, the omnichannel experience integrates every interaction—on social media, by phone, in a store, or with a chatbot—into a seamless whole. When customers make multiple purchases on different devices, effective omnichannel strategies will ensure that customers receive consistent messaging and personalization, regardless of the device or medium that they use. Omnichannel interaction makes customers feel known and valued and gives them the freedom to engage with businesses through the medium of their convenience.
Benefits of Omnichannel Experience
Providing a frictionless omnichannel customer experience reliably delivers several benefits:
Improved Customer Retention: Strong omnichannel engagement raises customer retention to an average of 89%, compared to 33% for businesses with inconsistent engagement strategies
Increased Revenue and Sales: Omnichannel strategies drive 6% to 10% revenue increases and give businesses a 20% sales edge over competitors
Enhanced Operational Efficiency: Omnichannel strategies deliver businesses from the burden of creating and implementing unique strategies for different channels
4 Ways To Create an Outstanding Omnichannel Customer Experience in Your Organization
Organizations of any size and industry can develop effective omnichannel marketing and communication strategies. Here are four ways to get started.
Perform Content Analysis
Aligning brand messaging across channels and services requires regular content analysis. Content analysis measures the consistency of messaging themes, content, and words across marketing channels and associates essential content marketing features with performance metrics.
To perform effective content analysis, organizations need metrics such as:
Website visitors
Current advertising content
Traffic sources
Conversions
Automate Personalization
Today's businesses use marketing automation technology to personalize content for individual customers across channels through an integrated understanding of that customer's past behaviors and preferences. Businesses can use ad tech platforms that analyze live customer data feeds to serve customers with personalized, tailored content. Among today's consumers, 71% expect personalization in content and 76% experience frustration when they don't find it.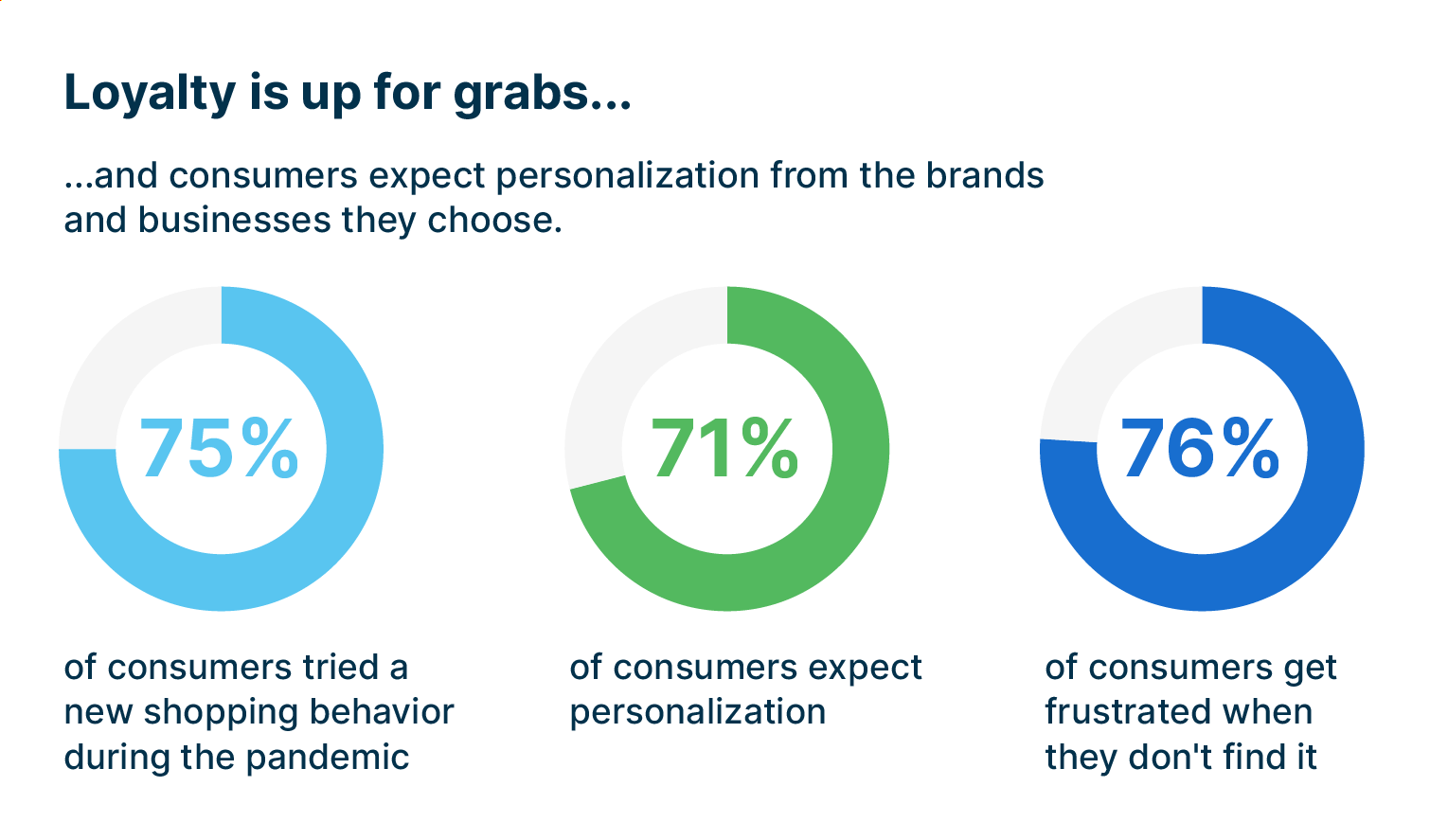 Map Customer Journeys
The majority of today's customers place equal value on customer experience as products and services. The concept of a customer journey is helpful for businesses developing omnichannel strategies.
A customer journey map visually represents all customer interactions at all touchpoints leading to purchase or conversion.
Marketers use software platforms and templates to create customer journey maps and often break these down into five stages:
Awareness: How a potential customer first learns about a business's products or services
Consideration: When a potential customer first actively engages with a business through digital or physical channels
Decision: When a potential customer decides to purchase a product or service or not through abandoned carts or lost leads
Service: How converted customers interact with a business after a purchase
Advocacy: A metric of customer loyalty indicated by positive reviews and recommendations
The customer journey map example below indicates the precise point at which the business lost the customer—service in this case. When large data sets of customer journeys consistently exhibit underperformance in specific channels, businesses know where to focus to refine the overall customer experience.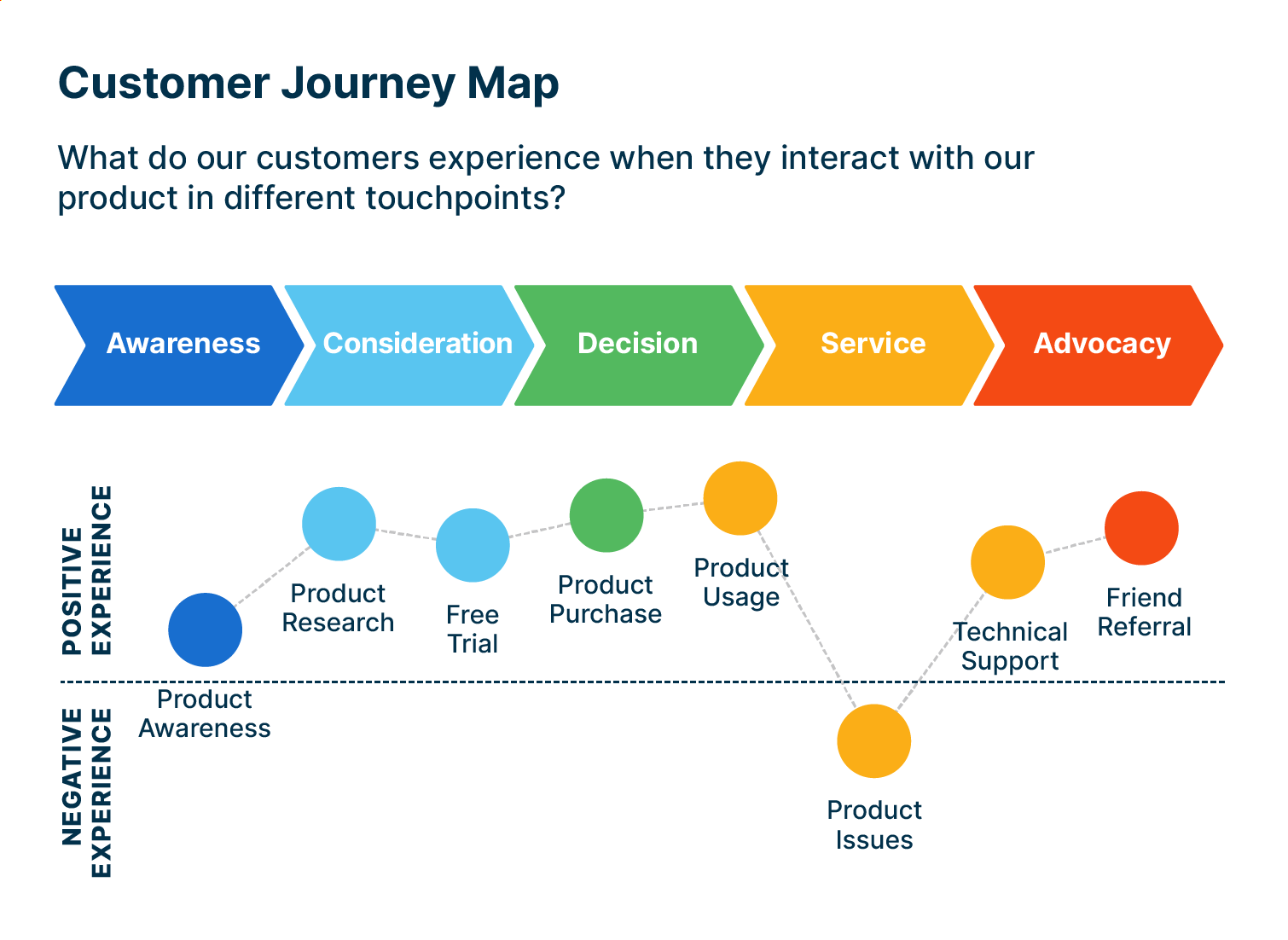 Optimize Customer Mobile Experience
Poorly formatted and slow-response mobile experiences account for 73% of high bounce rates for shoppers browsing on their phones. Today's customers have become accustomed to optimized mobile content and quickly ditch underperforming sites for other options. Optimizing web content for mobile devices is a small upfront investment compared to the quality of customer experience it can deliver.
Developers can optimize websites for the mobile omnichannel experience in several ways:
Use a dedicated mobile optimization tool such as Google's Mobile-Friendly Test
Implement media queries in your application code that define different page layouts based on device screen sizes
Test your website's performance for Google's three Core Web Vitals metrics: Largest Contentful Paint (LCP), First Input Delay (FID), and Cumulative Layout Shift (CLS)
Reduce site loading times with compressed images, caching, and minimized dry code
Fast Custom Content Creation with ActualTech Media
Is your business struggling to deliver engaging, aligned content across channels? ActualTech Media's team of experts in high-performance content development has a proven track record of helping clients find their voice. We can develop content for technology marketing, product launches, education, training, channel, and partner programs.
Schedule an initial custom content consultation today.