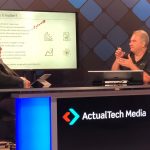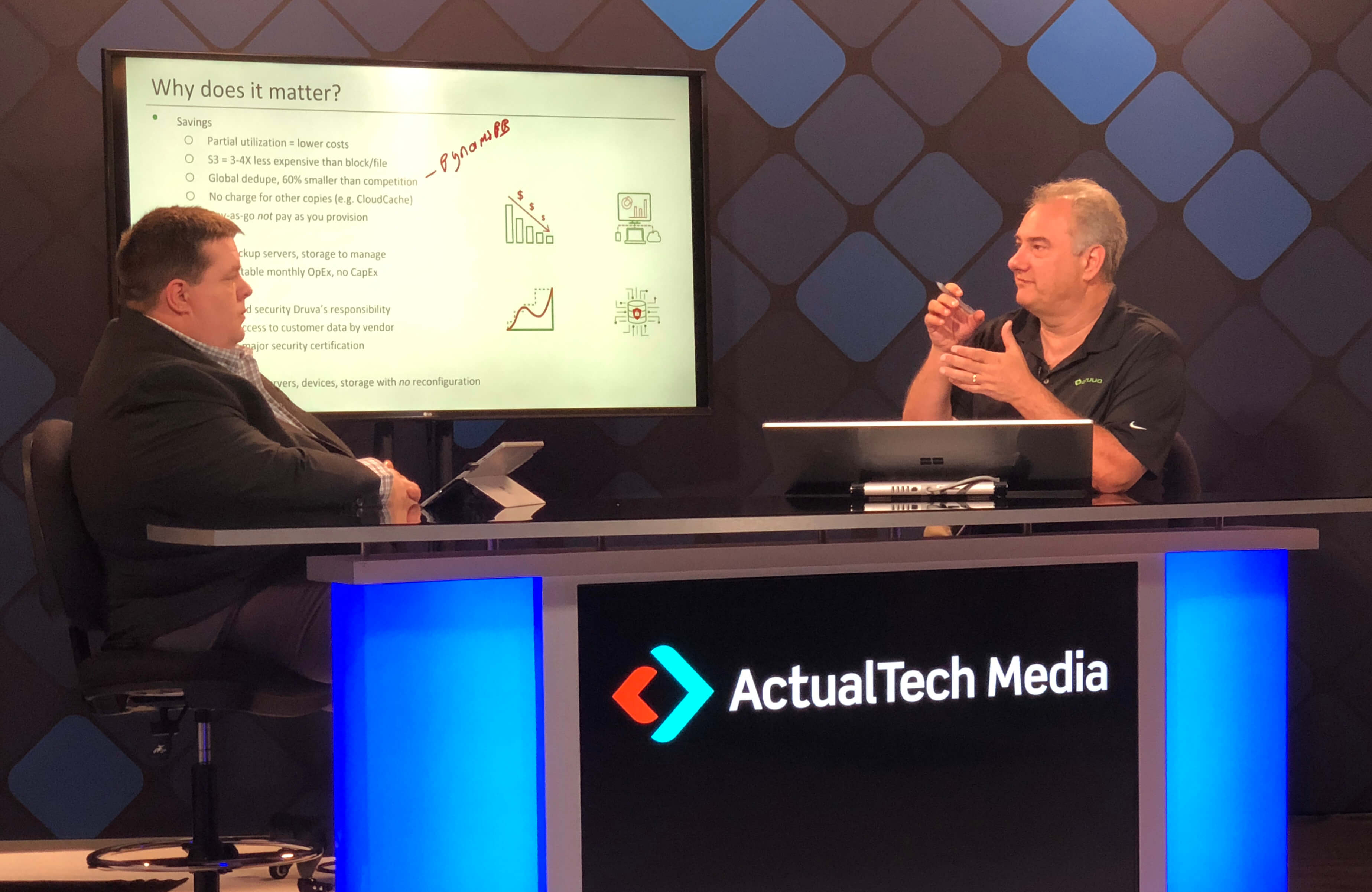 Video
Two Critical Video Marketing Data Points IT Marketers Need to See
Article Summary
Video marketing is rapidly becoming a cornerstone of technical marketing strategies. A recent survey of B2B IT marketers highlighted that 31% believe video marketing will significantly influence their business in 2022. However, not all video content is equally impactful. A mere 32% of the surveyed audience found vendor executive interviews useful, preferring content with more technical depth. The most popular video types include those featuring technical experts, with 84% of respondents expressing interest, followed by whiteboard architectural videos and interviews with independent experts. Another crucial aspect of video marketing is the video's length. A survey revealed that videos lasting 4-6 minutes are considered ideal by 72% of respondents. While longer videos might perform better on platforms like YouTube due to algorithm preferences, the key is to focus on producing technical content in the 4-10 minute range to ensure engagement and effectiveness.

Smart marketers get it: video is a huge part of the future of technical marketing.  A recent B2B IT marketers survey revealed that 31% believe that video marketing will have the biggest impact on their business in 2022.
But video can be a heavy lift, and often requires a lot of resources. So as marketers we need to be smart and make every punch count when it comes to what kinds of video we invest in.
At ActualTech Media, we recently asked our audience of IT pros and decision makers what kind of video they find useful, in what order, and also what they find least useful so that our clients can invest in the kind of video marketing that actually works.
Two key data points jumped out at us...
DATA POINT #1:
There's one particular type of video audiences consistently ignore
Give these videos a pass

Only 32% of the audience surveyed finds vendor executive interviews helpful
Here's the No. 1 takeaway from our survey, the thing that will most often drive viewers away: Almost no one likes interviews with vendor executives.
A paltry 32% of our audience gets excited when they see a video in which an executive is trotted out, spouting the company line. They want technical substance. They want something they can sink their teeth into and get actionable value from.
The top three kinds of videos, shown in the chart above, provide that technical substance in spades. They also  give the viewer nuggets that can be used to drive business value.
To drive the point home: People love your technical experts. In fact, 84% of our survey respondent said that they want to video featuring technical experts and evangelists. Seventy-nine percent engage with whiteboard architectural videos. And 76% said that they want to see interviews with independent experts that can help validate your claims and ask questions that they themselves might have.
Tip:  Of course, there are times when you need to bring executives in for internal or other reasons, or perhaps your executives are highly-technical, in which case they may be able to add value to the top choices of video content.  But if they're not uber-technical why not pair them up with your technical experts to meet the audience half-way?
Video discussions where executives bring  the business-level considerations and technical experts dig in a little deeper from an architecture-perspective can provide tremendously compelling video content.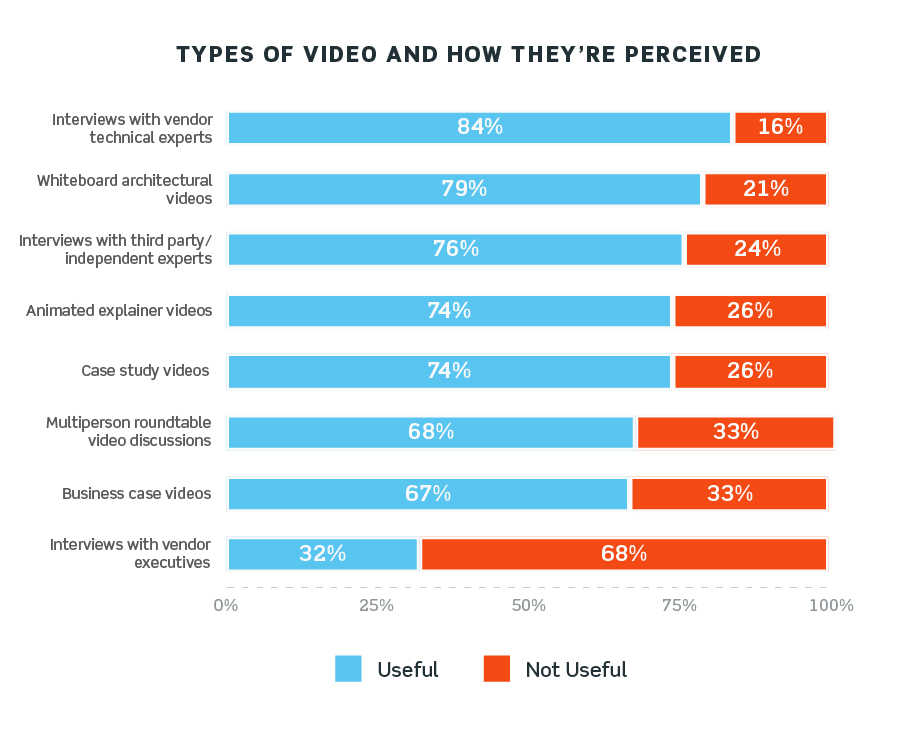 Two other types of popular videos are animated explainers and case studies. Animated explainer videos have become almost an industry unto themselves, but they have can be expensive to produce unless you've done the groundwork necessary to prep the script and make sure it's 100% ready to go before handing off to the production and animation team.
Then there are the case study videos: they're generally considered high quality, and may also be expensive to develop, but they can be powerful influencers for the right audience.
🤫 PS: Looking for pricing on video marketing leads? Get a price list here
DATA POINT #2:
Video length can dictate success
For this question, we ran a survey that received 1,182 responses. We wanted to find out the optimal length for a video that is both useful and short enough to hold a viewer's attention.
We found that a 4-6 minute video is considered ideal by 72% of respondents. That's not to say that shorter or longer videos are ineffective, but there is a risk that you may not be able to impart sufficient information with a reduced duration.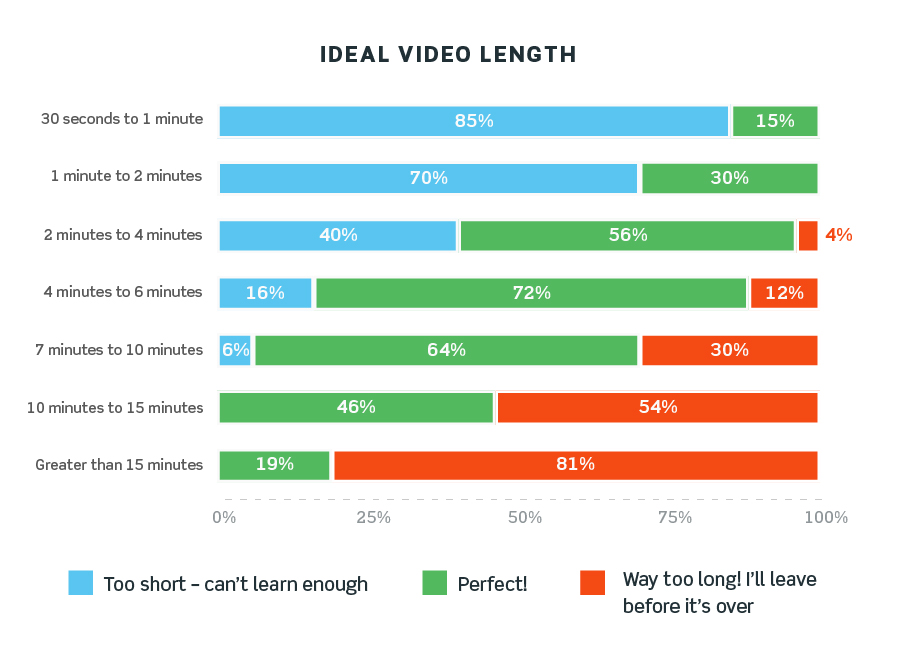 Tip: If part of your video marketing efforts include distribution on YouTube, longer videos currently tend to perform better in YouTube's algorithms as they keep viewers on the YouTube platform longer.  Many YouTube experts recommend 10-12 minutes to optimize for the current YouTube algos.  It may seem counter-intuitive to extend video length for watch-time when as users we sometimes want to grab-and-go when it comes to YouTube, but it makes sense when you think about how it aligns with YouTube's goal to keep people on their platform for as long as possible.
Conclusion
Engaging video is a powerful tool, but, with great power comes great responsibility - to create video assets that people actually want.
To get there, the data makes it clear that it's best to focus on technical content with technical experts in the 4-10 minute range.
Taking feedback from IT pros and decision makers about what they really want can help set up your video efforts for success, driving more leads, awareness and exposure for your technology and your brand.

What you should do now
At ActualTech Media, we're a top technical video producer and help you easily tell your with this expanding marketing medium.
We work with our clients to produce hundreds of compelling videos a year including:
Whiteboard technical discussions
In-studio professional interviews and chats
Social media-optimized snippet videos
Case study interviews
Round-table discussions
Web-chats and video podcasts
& much much more!
As actual technologists who understand the industry and the tech, we work with you to create discussion that captures and holds your target audience's attention.
Drop us a line and let's chat about how we can help you create awesome videos in 2022!