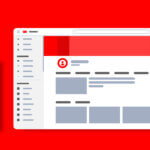 Video
The Benefits of YouTube—Hit Business & SEO Goals
Article Summary
YouTube stands as a powerful platform for businesses, especially in the tech sector. Recognized as the second-most-popular search engine, YouTube offers numerous benefits for brand promotion and customer engagement. The platform not only allows businesses to reach a vast audience but also provides tools to create a closer personal connection with viewers. By incorporating video content into marketing strategies, businesses can push boundaries, fostering creativity and innovation. Moreover, YouTube's prominence in search engine results pages (SERPs) means that having a channel can significantly boost a brand's visibility. Live streaming capabilities further enhance engagement opportunities. The platform is also an affordable marketing tool, given its free access, and its analytics tools allow businesses to track performance and refine strategies. However, challenges like the vast competition for views and the need for frequent content updates underscore the importance of a well-thought-out YouTube strategy. Overall, YouTube offers a dynamic and effective way for tech businesses to connect with their target audience.
Welcome to Part II of This 9-Part Article Series on Fundamentals of SEO for YouTube Videos
As the second-most-popular search engine, there are many benefits of YouTube and it's a great way to promote your business. In this article we'll look at some of the ways you can use YouTube videos to build your brand and attract new customers. In addition, we'll discuss what the pros, cons, and limitations are of using YouTube for videos. We'll also explore available YouTube channel options.
Key Takeaways
What are the benefits of YouTube for videos?
What are the limitations of using YouTube for videos?
What YouTube channel options are available, and why use them?
What are the answers to some common questions about YouTube channels?
🤫 PS: Looking for pricing on custom video content for Tech? Get a price list here
Why YouTube Is the Best Option for Tech Marketers
There are many reasons why YouTube is the best platform for businesses. For starters, adding video content to your marketing strategy is a great way to push marketers outside of their comfort zone. By incorporating videos into your website and social media platforms, you're increasing the chances that potential customers will interact with your brand. In addition, video has allowed tech marketers to create some of their best content, which frees up time and increases productivity.
Another reason why YouTube is a great choice for businesses is because it's a powerful search engine. Second only to Google in traffic, recent studies have shown that YouTube videos are showing, with increasing frequency, on Google search engine results pages (SERPs) for many search terms! This means that by having a channel on YouTube, you're more likely to show up in search results—which can lead to increased traffic and a measurable lift in conversions.
Additionally, YouTube offers live streaming capabilities that can be extremely beneficial for tech marketers.
What Are the Benefits of Using YouTube as a Marketing Tool?
There are many advantages to using YouTube as a tech marketing tool. First, it's free to access, which makes it an affordable option for businesses of all sizes. Additionally, as previously noted, YouTube is one of the most popular websites in the world, so it provides companies with increased visibility and higher traffic.

One of the greatest challenges tech marketers face in 2022 is the need to create content at the speed that content-hungry consumers demand it. Creating videos for YouTube is a relatively easy way to meet this demand, and that means adding video to your content marketing strategy should be high on the priority list for all tech marketers. We all know this: Video helps increase brand awareness among potential customers, and yet study after study shows that video is still a largely untapped tool for marketers.
An additional benefit of using YouTube for marketing is that it provides a range of marketing tools such as video analytics that businesses can use to track channel performance against their goals, and see how their videos are performing. And for those looking to expand the reach of their YouTube videos and channel beyond organic results, YouTube provides tools like YouTube ads that can be highly targeted and customized to your specific target audiences making it an easy way to grow your audience.
Here are five benefits of using YouTube as a tech marketing tool:
1. Give the Audience More Content
When you create a YouTube channel, you're giving your audience an easy way to enjoy the custom video content your team has worked so hard to create. A YouTube channel is a great way to keep your audience of IT buyers engaged, encouraging them to return frequently. In addition, you can use your YouTube channel to drive engagement on your website by sharing (or embedding) your own videos, or sponsoring other people's content. Either way, you're reaching a large audience that's interested in what you have to offer.
When strategizing your video content marketing strategy, ask yourself: "What problem is my YouTube Channel going to solve?" Making sure the content on your YouTube channel solves the problems for your specific audience is a great way to build a subscriber base eager to keep coming back for more. And who knows? They may even become brand fans and customers!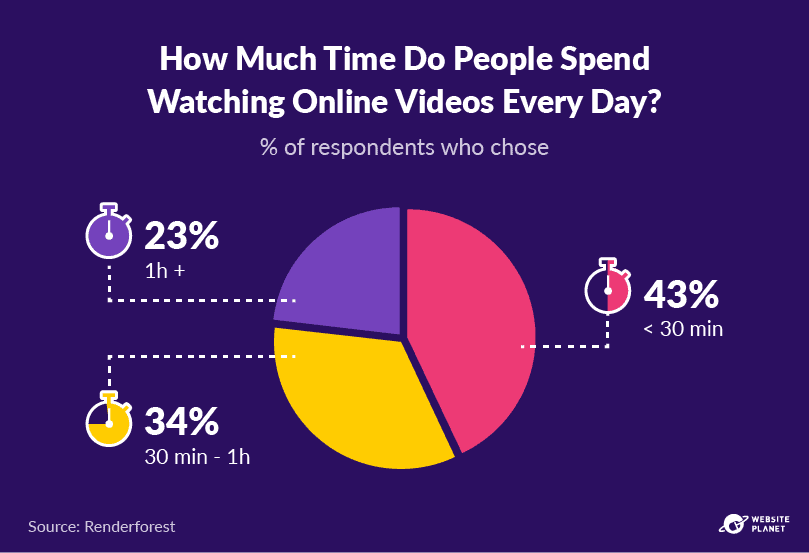 2. YouTube Is an Extra Source of Traffic
YouTube as a research tool. YouTube is ideal for finding audiences who are specifically searching for topics related to your business. There are a number of keyword research services and tools specific to YouTube Search, that can help expand your keyword research beyond traditional search, that can inform your video content strategy beyond commercial-intent search terms. Adding extra content from high-performing blog posts—or even other YouTube channels and videos—can help you direct more people toward your site.
YouTube for social media marketing. Video and social media is a match made in heaven. For example, if you have a channel on YouTube and share these to your social media platforms as posts regularly, it can help improve brand awareness, and the visibility of your channel. Additionally, embedding YouTube videos on your website can also be beneficial in this regard; it helps keep visitors engaged on your page longer, allowing them to explore more of what you have to offer. Finally, don't forget that creating high-quality YouTube videos can also add an extra dimension of professionalism to your site. Obviously, the opposite is also true: Low-quality video can detract, but more on this later ...
3. Use Video for Closer Personal Connections
When ideating your video content strategy, it's important to take your target audience into account, beyond the casual: "We know our audience." In order to connect with your customers on a more personal level, you must first understand their needs. You can do this by analyzing your customer data and creating targeted YouTube video content marketing campaigns.
Remember that it's important to keep your video content fresh and engaging so that customers will continue to visit your YouTube channel. Also, make sure that you're responsive to any comments or questions posted on your videos or channels—there are many tools available to help you monitor your social posts. Commenting should show that you care about them and their experience with your company. A word of caution: Avoid engaging social media trolls—these comments are best left without being acknowledged.
Finally, creating a "social-specific" version of your longer YouTube videos is a great way to drive traffic to your YouTube channel and further engage your audience. This doesn't have to be a cumbersome strategy—simply edit a 6-second, 15-second, 30-second, and 1-minute version of your longer videos and distribute them across your social media presence with links to your YouTube channel.
By taking these steps, you'll be able to create a closer personal connection with your YouTube customers and will no doubt result in more online conversions, and happier customers overall!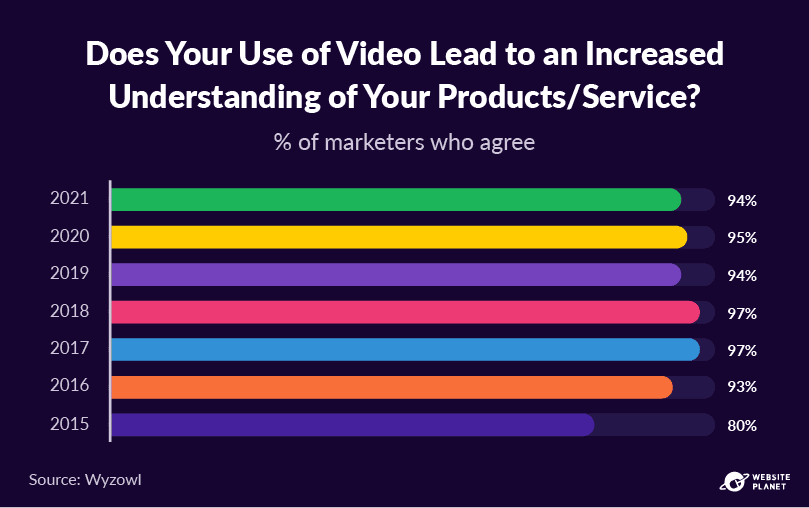 4. Video Is Another Source of Revenue
Creating video content is largely about engaging your tech audience, answering their questions, providing an alternative to long-form blog article answers, and having a little fun. Without distilling all of this down to the bottom line, what (obviously) ultimately drives and funds your video content strategy is that it has to contribute to revenue in a measurable way, usually by generating qualified sales leads.
By providing valuable video content related to your products or services, such as explainer videos, unboxing videos (if relevant), in-the-wild videos, and how-to videos, you can help potential customers learn more about what you offer and how it can benefit them. This can be a great way to increase conversion rates; get those ever-important qualified sales leads, and close more sales.
Another benefit of creating videos for content marketing is that your digital marketing team can leverage the audience lists these videos organically create. If your YouTube channel is connected to your Google Ads account, then your digital marketing team is already building lists they can use to target in search ads, display ads, remarketing ads, and other paid marketing strategies.
Finally, don't underestimate the value that thought leadership can have on your bottom line. When viewers see that you have published authoritative content on a particular topic, these potential customers are more likely to contact you for additional information or even become customers themselves.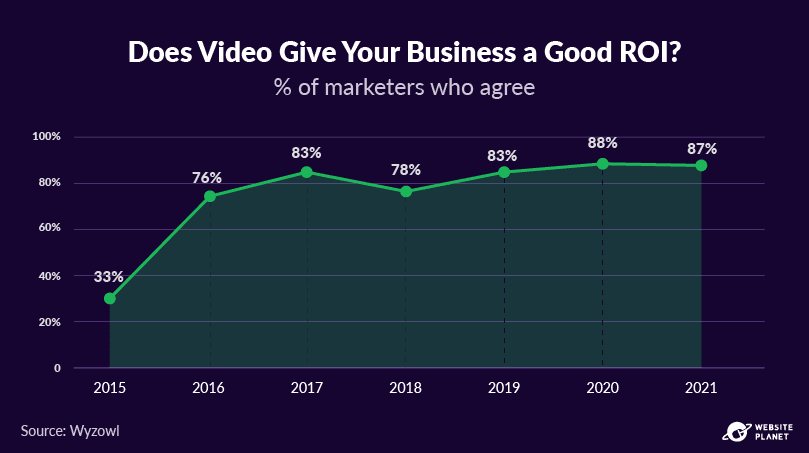 5. Video Is a Creative Outlet
Video is a great way to personalize your brand and share your brands' values in a creative way with the over 1 billion users on YouTube. But the benefits of YouTube aren't limited to a large audience for your video content. Sharing video on YouTube is a great way to unify the public-facing messaging of your company, to get buy-in from your own team, and it's also a creative outlet. Studies have shown that creativity is important in the workplace because it increases problem-solving abilities.
When organizations promote the creation of video content for YouTube, the benefits go beyond the business case (already discussed) for it: such as adding valuable keywords and backlinks to your website, improving ranking in SERPs, helping people find your business online, and closing more business. Arguably the greatest business case for promoting video content creation in your organization is the fact that doing so brings teams closer together. It helps bring clarity to your business offering in the minds and messaging of your team. It promotes a fun environment in the workplace, and challenges teams to qualify and quantify your organization's value proposition succinctly.
Creating videos can be a lot of fun, and it's a great way to connect with others who share your interests. Don't be afraid to experiment with different styles and formats—you may be surprised at how well they perform and how much fun your team has making them!
What Are the Main Limitations of Using YouTube as a Marketing Tool?
The main disadvantage of using YouTube as a marketing tool is that you're competing with the entire Internet for views. Unless your video has a very specific target audience, it can be difficult to get noticed.
Another disadvantage is that it can be difficult to measure the effectiveness of your videos. This means you may have difficulty determining which content performs best, and what kind of marketing strategies are most effective for tech marketing.
Here are four of the less-considered limitations of YouTube:
1. Social Mood
YouTube is a social media platform and it thrives on comments, likes, shares, and views. When you post an update to your YouTube channel or upload a video, the social mood of your audience can take on a life of its own. The social mood can affect the number of views, likes and shares your video receives, and how people in general feel about you or your company.
"Social mood" can have another meaning: When visitors are on YouTube they tend to be in more of a social mood than a purchasing mood, and that means videos that aren't engaging or even entertaining, and overly commercial, can have a negative overall influence on how your brand is perceived by your audience.
2. Earned Attention
It's possible that the main disadvantage of using YouTube as a marketing tool could be earning attention. If you're an unknown company, it may not be easy to get people to watch your videos and become interested in your products and services. Every tech marketer wishes there was a formula to make a viral video, but any experienced video content creator knows there isn't one. It is, by the very definition of a "viral video"—unpredictable what will engage people and make them want to share your content with others. This makes earning the attention of your target audience a key limitation of a video content strategy.
3. Lack of Control
Another major disadvantages of using YouTube as a marketing tool is no control over who views your videos and what they do with that. Videos can be shared, embedded, copied, parodied, remixed, mocked, commented on, and generally just made fun of. Collectively these could have a negative impact on your brand image if not carefully observed and managed using an appropriate video monitoring tool.
4. The Audience's Short Attention Span and Need for Updated Content
The audience's short attention span and need for updated content is one of the main disadvantages that YouTube has. The majority of people, when presented with a video on YouTube, will watch it until they get bored and switch to the next video. Additionally, many people won't watch a YouTube video until the end, which is one of the reasons it's so important for brands to include a call to action early. The challenge of creating content at the speed it can be consumed is a very real limitation of a YouTube content marketing strategy.
What Are YouTube Channel Options?
A YouTube brand channel is your own 24/7 channel where your brand is the star. It's a place where you can build and engage a loyal audience of supporters directly on YouTube. You can even customize it to reflect the look and feel of your brand. In this section we'll answer the following questions:
How do you get a brand channel?
What are the options available for brand channels?
How does a brand channel differ from a user channel?
How To Get a Branded YouTube Channel:
Follow these six steps to get a branded YouTube channel, you must first have an existing Google Account.
Sign up for a Google Account (https://accounts.google.com/).
Log in to your Google Account.
Click on the "Create a Page" button.
Select "Brand, Company, or Organization Channel."
Fill out the form with your company information and upload a logo.
Click "Save" to complete the setup process.
YouTube brand channels aren't available to all brands. YouTube determines the eligibility criteria for a brand channel, and they currently include having a channel for at least 30 days, and you must have at least 10 subscribers—although this criteria changes frequently and appears to vary depending on the individual channel.
YouTube Brand Channel FAQ:
How does a brand channel differ from a user channel?
Brand channels are designed to look professional and give you control over the look and feel of your YouTube page.
A brand channel has a larger cover image that's visible on the homepage of your YouTube page.
A brand channel can be linked to from your website and other social media pages.
A brand channel has a single URL that makes it easier for viewers to find your videos.
What does the "About" section of my YouTube page contain?
The "About" section of your YouTube page contains information about you and your channel.
You can add a profile photo, links to other social media profiles, and a link to your website.
You can also add information about the purpose of your channel, what kind of content you'll be posting, and any upcoming events you're involved in.
What are the benefits of a brand channel?
A brand channel can be linked to from your website and other social media pages.
What are the four different YouTube Channel types?
Personal (non-monetized): This is the default type of YouTube channel and can be used for sharing videos with friends and family.
Brand (monetized): This channel type allows you to run ads on your videos, making it possible for you to earn money from your videos.
Partner (monetized): The Partner Program is for content creators who have a large following, but don't necessarily want to create their own YouTube channel.
Gaming (monetized): This channel type is designed for the gaming community and allows you to run ads on your videos, making it possible for you to earn money from your videos.
How do the different YouTube Channel types differ?
The personal account is the most basic type of channel out there. It only allows for 1 video upload per day, and does not allow monetization or comments on videos.
The Brand Account is for corporations with a large following and who want to have full control over their own YouTube channel.
The Partner Program is for content creators who have a large following, but don't necessarily want to create their own YouTube channel. This type of channel will allow the user to monetize their content.
The monetized Gaming account is for gamers who want to monetize their content. The Gaming Account is similar to the Brand account, but with more restrictions and a higher approval process.
How do I create a YouTube channel?
If you already have a Google account, just sign in and follow the prompts to set up a new channel.
If you don't have a Google account, go to youtube.com/createtube and follow the prompts to set up your channel.
In our next article in this series on YouTube video content, we'll discuss research and development of your YouTube content marketing strategy.