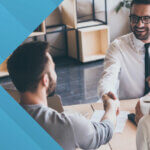 Account Based Marketing, Content Syndication
How To Use ABM Content Syndication for Target Account Penetration
Article Summary
In this article we delve into the synergy between Account Based Marketing (ABM) and content syndication. ABM content syndication is a strategic approach to foster relationships within target accounts. By republishing original content on third-party sites, content syndication can reach new audiences. However, for effective syndication, a clear understanding of target prospects is crucial. ABM content syndication is distinct as it shares targeted information with a select list of accounts, focusing on building deeper relationships rather than casting a wide net. While it can be costlier than broader syndication programs, the potential for higher ROI is significant, especially when selling to high-value accounts. The article also emphasizes the importance of choosing the right syndication provider, ensuring content resonates with the target audience, and having a nurturing strategy for generated leads.
ABM Content Syndication Builds Buyer Relationships
ABM content syndication is a strategic way to build relationships inside of target accounts. Content syndication marketing and ABM are complementary strategies that work together to drive growth for your organization. Content syndication is a useful tactic in ABM campaigns, and it can be used to build more and deeper relationships inside target accounts. Most of the enterprise technology clients we work with at ActualTech Media have some form of content syndication as a part of their overall marketing strategy, and frequently in tandem with ABM.
Key Takeaways
Content syndication is a useful tactic for accelerating your ABM programs
Syndicating content to only a target account list is a harder job for a syndication provider, so you need to be sure you use a good one, and ask the right questions before engaging
Content syndication is the very front end of a much bigger process. Your expectation should be that content syndication is a catalyst, not a standalone strategy
🤫 PS: Looking for pricing on content syndication leads? Get a price list here
What Is Content Syndication?
When you syndicate content, you're essentially re-publishing your company's original content on third-party sites. This can be a great way to reach new audiences and get more mileage out of your valuable content.
However, syndicating content effectively requires a clear vision of who your target prospects are. If you don't have a good understanding of their needs and interests, your content may not resonate with them and they won't become leads or customers. You'll essentially have wasted money.
As long as you find the right publishers that align with your target audience's interests, syndication can be an extremely effective way to reach net-new audience.
How Is ABM Content Syndication Different from Any Other Syndication Program?
ABM is all about aligned sales and marketing, personalization, and building deeper, lasting relationships. That relationship building has to start somewhere, and content syndication can be a great front end to the process.
ABM content syndication is a process of sharing relevant and targeted information with a carefully curated list of accounts—your ABM account list.
This differs from broader content syndication programs, which cast a wide net in an attempt to uncover new audience you may not even be aware of and bring them into the fold.
Because ABM content syndication focuses on a comparatively small number of target accounts, it can be more expensive than other syndication programs. However, it can also lead to higher ROI since an ABM strategy sells high priced products and services to high value accounts as a general rule. Cracking even one of those accounts can make even more premium content syndication programs well worth it.
Why You Should Syndicate Content to Your Target Account List
When you're creating great content, it's tempting to want to share it with as many people as possible. After all, the more eyes that see your work, the better, right?
Well, not always. In some cases, sharing your content with too large an audience can actually be wasteful. Since personalization is a key component of ABM, the content you create will likely only be super relevant to a small audience. That's where hyper-focused syndication comes in—syndicating your content to a smaller, more targeted audience instead of blasting it out to everyone and their brother.
Why is this a good idea? For one thing, it allows you to focus on building and extending relationships with key accounts rather than trying to win over just anybody. Syndicating ABM content to target accounts helps you reach parts of the buying group that you may not already be in contact with. As you probably know, the modern B2B sale involves a number of stakeholders and ABM is laser focused on understanding that buying group and then growing rapport with each member.
Perhaps the best reason to syndicate content specifically to ABM accounts is because it helps increase account penetration. When you share great content with tertiary decision makers at target accounts, they may be more likely to support your primary decision maker(s) in doing business with you. And that's what ABM is all about—getting in front of as many members of the buying group as possible and guiding them towards a purchase decision.
What Are the Challenges with ABM Content Syndication Campaigns?
When it comes to content syndication for ABM, there are a few challenges. One of the main problems is that it can be tough to stomach the cost of syndicating content to such a small list. After all, it's comparatively higher than broader programs that cast a wider net. On a CPL basis, a program can cost as much as 2x what a program with looser targeting would cost.
Another issue is that many syndication networks will struggle to accurately deliver content to your target accounts and only your target accounts and still hit the lead goal. This can be a major problem, especially if you're relying on the network to help build relationships with net-new prospects.
A large suppression list that excludes contacts you aren't allowed to e-mail anymore and accounts where you're already satisfied with account penetration can further complicate the syndication program and trip up the provider. It's important to work closely with your provider so they understand which accounts are off-limits and why. And then make sure they can actually deliver leads that meet your filters.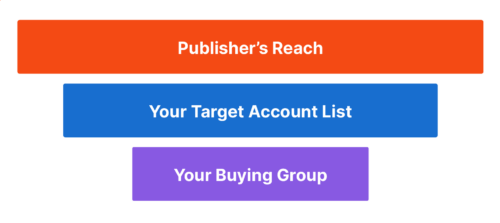 Finally, "land and expand" is a significant component of an ABM strategy, and syndicating content to new parts of a target account without coming across as unorganized to existing relationships can be a challenge. Make sure you plan carefully and give your provider plenty of good data to work with so they can properly execute against your campaign goals without undermining your current relationships.
What To Look for in an ABM Content Syndication Provider
When looking for a syndication provider, there are a few key things to keep in mind.
Suppression Lists
First, make sure that the provider can handle large suppression lists to ensure compliance with CAN-SPAM regulations and so you can avoid paying for leads you already have in your database. Many providers promise high lead volumes but cannot deliver when large suppression lists are applied.
Complex Lead Filters
Second, ask if the provider can target leads based on your specific criteria, such as company demographics, contact job titles, and industry verticals. This will help you weed out low-quality leads before they enter your system and further increase the possibility of uncovering serious opportunity.
Lead Delivery
Third, be sure that the provider can send you leads in a format that is easy to use. This will save your staff time and labor in acting on new leads and allow you to move more quickly in your follow-ups.
Intent Follows Good Contact Data
Fourth, consider whether the provider offers business email filters to block bad lead data such as personal emails (Gmail, Yahoo Mail), which will improve the overall quality of the leads you pay for. A lead who is unwilling to divulge their business email likely also has lower purchase intent.
Program Scope
Fifth and finally, ask about delivery times and make sure that there is a guaranteed minimum number of leads delivered per period (weekly, monthly, etc). When working with a syndication partner, it's important to have clarity on all aspects of the campaign so there are no surprises down the road. Some providers will commit to a certain number of leads, but struggle to deliver them in a timely manner when the rubber meets the road.

Types of Content That Work Well for ABM Content Syndication
When it comes to content syndication for account-based marketing, you can't go wrong with e-books, whitepapers, and infographics. These pieces are standard fare for most B2B companies, and they're still a great way to reach your target accounts.
But don't stop there! Videos, podcasts, and other types of multimedia assets can help you stand out from the sea of words. They're also a great way to show off your company's expertise and build relationships with potential buyers.
So don't be afraid to experiment with different types of content. You never know which one will resonate best with your target accounts.
Getting the Most Out of ABM Content Syndication
ABM content syndication can be a great way to get your target accounts to take notice of you and your offering. But it's not the only thing you need to do in order to be successful with ABM. You also need a nurturing strategy in place for the leads you generate through syndication, so that you can continue to build the relationship you've begun with that first piece of content.
In addition, it's important to track key engagement metrics for your campaign so that you can evaluate its success and determine next steps. Good ABM content syndication partners will track some important metrics FOR you, but it's always a good idea to have an understanding of what they are yourself.
Finally, make sure you are crystal clear on who your persona is and that the content you're syndicating will be useful to them. Nailing the persona-content fit will help increase conversions and ensure that you're reaching the right people with your message.
Custom ABM Content Syndication Programs
At ActualTech Media, our team of syndication experts partners with the world's best IT marketers to build internal lead databases and target in-market prospects with custom syndication programs that hit the mark every time.
To request a quote and learn more about bundled content syndication programs, contact ActualTech Media today.