Content Marketing, Content Syndication
An Introduction to Gorilla Guides
Article Summary
Gorilla Guides, crafted by ActualTech Media, are comprehensive printed and electronic books designed to educate IT buyers on various technical challenges and their solutions. These guides delve deep into technical topics, ensuring a thorough understanding for readers. The article emphasizes the importance of high-quality content in the B2B landscape, noting that many IT vendors often struggle to produce consistent, top-tier content. Gorilla Guides address this challenge by offering in-depth insights into IT topics, ranging from 40 to over 100 pages. These guides are versatile, allowing vendors to use them in various ways, from lead generation to content marketing. The article also touches on the origin of the "Gorilla Guide" name, highlighting the brand's unique approach to making complex topics digestible. Feedback from readers and clients has been overwhelmingly positive, with many praising the technical depth and clarity of the guides. The success of Gorilla Guides is evident, with one client attributing over $2.54MM in sales opportunities directly to a Gorilla Guide.
Part IV of This 10-Part Blog Series on Enterprise IT Content Marketing Fundamentals
In the previous article we discussed: Using Outreach for Content Marketing.
In This Article:
What Are Gorilla Guides?
Why Gorilla Guides Are Effective
Gorilla Guides vs. the Competition
🤫 PS: Looking for pricing on Gorilla Guides? Get a price list here
In an age where gimmicks and intrusive promotional tactics no longer work how they used to—especially in a highly competitive B2B landscape—a sure-fire way to get noticed, hit your MQL quota, and have prospects coming to you with their challenges in droves is to publish and promote content that:
Educates and informs your target audience about potential issues and their solutions
Helps you establish authority in your domain
Pretty simple, right?
Unfortunately, that's easier said than done. Crafting and pushing out high-quality content on a day-to-day basis can be challenging. For that reason, IT vendors with limited in-house resources often either don't create enough content or end up publishing sub-par assets by outsourcing to freelancers who may not completely understand and relate to the pain points of their prospects.
Considering that, how does an IT vendor manage to attract relevant prospects with high-quality content without compromising on writing quality or technical depth?
Enter: Gorilla Guides.
What Are Gorilla Guides?
Gorilla Guide is a respected brand of in-depth and highly detailed printed and electronic books, by ActualTech Media (that's us, by the way—hi!), that help educate, convince, and convert IT buyers on the behalf of solutions vendors (our clients). Each Gorilla Guide helps its readers understand various IT challenges and present compelling solutions, as well as how a certain vendor's technology can help overcome the obstacles at hand.
These guides dive deep into the technicalities of the topics, leaving no stone unturned and paint a comprehensive, 360-degree picture for the readers.
Kind of like this guide you're reading right now.
By leveraging Gorilla Guides, a vendor can give a boost to their demand generation funnel—not only by using the Gorilla Guide itself, but also by using the Gorilla Guide as source material for delivering other ready-to-go messages/assets (reports, how-to-guides, newsletter copy, ad creative, and more).
A typical Gorilla Guide is anywhere from 40 to 100-plus pages long.
The number of ways a Gorilla Guide can be deployed is astronomical. Your Gorilla Guide will come with a permanent, unlimited, and unrestricted use license, giving you complete freedom to make use of the content however you deem fit. Want to distribute your guides to prospects and stakeholders in trade shows? Sure! Planning on generating new leads by gating the content? You got it. Want to extract tidbits of information for your email marketing campaign? Do it! Want to publish each chapter of the book as individual blog articles on your website? Great. Perhaps you'd like to use the diagrams for the book in some ad creative. Good idea!
Once we finalize and hand over your Gorilla Guide, the content is yours to leverage in as many ways as you can think of. And because you've already vetted the content during the publishing process, sourcing new content from the already-approved Gorilla Guide shortcuts the process to creating more!
Note to Reader: Pay Attention
You might be wondering: "What makes these Gorilla Guides so special?" Well, it's the fact that we actually get the content! Every Gorilla Guide is crafted by a recognized author who is well-versed in the technology that it discusses. Having spent years in the industry, our technical writers and editors understand the challenges that IT leaders face on a day-to-day basis and the nuances of technical writing. Our broad knowledge of different enterprise technology allows us to cover your solutions and topics of choice in great depth, while steering clear of technical errors. Compared to your average content outsourcing outfit, we stand head and shoulders above the rest when it comes to understanding your audience and your product without needing you to hold our hand.
To top it off, we'll promote your finished Gorilla Guide with our engaged audience of avid readers and showcase it in our full library at gorilla.guide.
At the time of writing, we have more than 100 Gorilla Guide books either in the market or in production, all on advanced IT topics, such as Hyperconverged Infrastructure, Enterprise Security, Oracle Licensing, and End-User Computing, to name a few.
Why the Name "Gorilla Guides?"
We get this question all the time.
What's in a Name?
We love "Gorilla Guide" because there are so many ways that the series can be viewed.  The term guide in this context can be a printed or virtual book, or it can be thought of as being led on a journey of discovery by a fun, friendly, and familiar gorilla as a guide. And we love our gorilla as well. He's strong, yet approachable. He's highly intelligent, yet not egotistical. He's exactly the kind of guide you want as you're learning about new technologies!
We first got the idea of starting the Gorilla Guide series when a client asked us if we could create a follow-up asset—a sequel of sorts—for a previously published book in a different series. This deeper book would dive further and discuss the "next part of the story." In short, they wanted an asset that took the next step in the education journey and brought the reader another step further down-funnel.
We, being the how-can-we-make-this-great-idea-work-for-lots-of-clients marketers that we are, ran with it and decided that, rather than just write them a standalone book, we'd write for them the first book in a brand-new series.
We held brainstorming sessions to try to find an alluring, alliterative appellation that we could couple with a disarming, distinctive mascot. Many pixels gave their lives as we went back and forth in Slack to come up with a name. Given our love of animals, on June 3, 2015, the name "Gorilla Guide" was uttered.
And the rest is history.
Gorilla Guides are one-of-a-kind, top-tier content assets that discuss what are often highly technical subjects with just the right depth, helping readers navigate the dense technology jungle. In fact, about 90% of our readers say that out of all the different assets they read, the Gorilla Guides went into the perfect technical depth for them.
To make the seemingly overwhelming information easy to digest, we came up with an endearing gorilla mascot, who became the face of the series (Figure 11). The gorilla pops up with helpful advice and additional learning opportunities throughout the book via callouts, helping readers solidify their understanding of the topics and enabling them to come up with bright new ideas.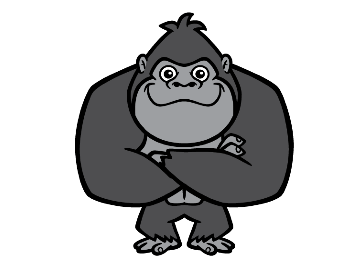 Gorilla Guides Drive Results
While Gorilla Guides are meant to be shared as whole, comprehensive, educational, and evergreen assets with prospects, what makes them special is that they can provide you with a solid foundation for many additional content marketing efforts.

Let's See What the Audience Has to Say!
Don't take our word for it. Here's some positive feedback that we've received from our clients and audience over the years:
"I assume the Gorilla Guide is written to a technical audience, but the same can't be assumed for a [competing] book."
"I prefer to be thought of as knowledgeable and capable; I don't get that feeling from [competing] books."
"The Gorilla Guides are usually more to the point [than other books], and more concise. Plus, it has a gorilla on the front, and everybody knows gorillas are cool."
A single Gorilla Guide can easily include enough substance to fuel your content marketing efforts for a whole year. You can instantly get the substance for your messages by extracting relevant information and using it to engage your audience segments through different touch-points.
The success of these guides speaks for itself.
Since we started the series, we have successfully helped clients generate noteworthy pipeline time and time again. For example, one of those clients was a leading Hyperconverged Infrastructure vendor, who generated $2.54MM in sales opportunities directly attributed to a Gorilla Guide.
Gorilla Guides vs. the World
While there are quite a few "learning-made-easy" brands in the market that address technology topics, no other book series addresses the complex world of IT like the Gorilla Guide brand does.
In terms of depth, technical accuracy, and tone, Gorilla Guides take the cake.
Instead of producing assets on virtually every content area, we focus on the one thing that we know best: the business and technology of IT.
This laser focus on one area and "doing one thing better than anyone else" allows us to double down on our abilities and make full use of our collective knowledge—making us the go-to brand in our niche. In our next article we will discuss: Developing A Strong SEO Foundation