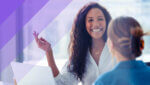 Webinar Marketing
10 Wins a Webinar Marketing Agency Can Deliver for You
Article Summary
Webinars have emerged as a dominant lead-generation tactic in the B2B sector, with 53% of B2B marketers identifying them as the primary method for generating high-quality leads. However, to truly harness the power of webinars, a comprehensive strategy is essential. This is where webinar agencies come into play. These agencies streamline the webinar process, offering bundled services, technical expertise, and access to a broad network of potential leads. For businesses contemplating outsourcing to a webinar agency, this guide provides insights into the benefits, including bundled services, a proven track record, extensive marketing expertise, and data-driven approaches. The article also highlights the advantages of working with a webinar agency, such as access to larger audiences, high-quality leads, competitive positioning, turnkey webinars, custom content, varied formats, seamless execution, data reporting, content syndication, and pre- and post-event strategy support. The overarching message is that a collaborative approach with a webinar agency can amplify a company's marketing efforts.
Over the past few years, webinars have fast become one of the top lead-gen tactics in the B2B world. In fact, more than half of B2B marketers (53%) say they're the No. 1 way to generate high-quality top-of-the-funnel leads. In other words: Your B2B brand needs a webinar strategy, and stat.
But generating consistent leads and building brand awareness through webinars requires more than executing an event or two—you need a full-scale strategy. In that case, if you're like many other digital marketers, your first question might be: Where do I start?
Enter: Webinar agencies.
A webinar agency simplifies the process of launching a new webinar strategy by bundling services, providing expertise, handling technical execution steps, and giving you access to the vast network of potential leads you need to build an audience for your events.
If you're already considering outsourcing to a webinar agency (or if the above-listed benefits sound like something you need), this guide is for you. We'll cover everything you need to know about knowing when you need to outsource and choosing the best agency partner for your business.
Quick Takeaways
Webinar agencies bundle the many moving parts of executing a webinar strategy into convenient service packages
Things to look for in a great agency include a proven client track record, webinar event examples, data-driven approaches, and compatible communication styles
Webinar marketing agencies open up access to scalable lead gen through their robust networks of industry buyers and sellers
Working with a webinar agency allows marketers to focus on brand messaging and actual customers (vs. executing technical tasks)
Agencies prove their value through performance analytics and insights, which in turn help companies make decisions and improve their strategy
Most agencies deliver both turnkey and custom content, and many offer content syndication services to boost the long-term ROI of your assets
What Is a Webinar Agency (and When Do You Need One)?
A webinar marketing agency handles all those many moving parts we mentioned above to provide end-to-end webinar strategy services—they handle everything from topic ideation, webinar promotion, and webinar lead gen to attendee follow-up and content syndication (and much more).
While no two webinar agencies have exactly the same service packages, the best ones will work with you to create a plan that both aligns with what they offer and meets your unique needs.
In the sections that follow, we'll discuss what to look for in a great webinar agency and how hiring one will help your business win. But before we get there, there's one important question to answer: How do you know when you actually need to hire an agency?
Knowing when to outsource is a common challenge for business leaders. When it comes to your webinar marketing strategy, hiring an agency can seem like a heavy expense—especially if you already have an internal marketing team in place.
The thing to remember is that you're not just talking about a single webinar event. Executing a full-scale webinar strategy requires specific expertise, technology, and skill sets that your current team may not yet have—not to mention the significant time commitment required to plan and implement your new strategy.
If you're launching a webinar strategy for the first time, or you've tried to launch one with limited success, hiring a webinar agency is probably the best option for you. Contrary to common assumption, it's normal—and effective—to have an in-house marketing team and to outsource certain activities that require additional support.
In fact, response rates from the Content Marketing Institute's most recent B2B Content Marketing Report suggest that the most successful marketers have a combination of dedicated internal marketing employees and outsourced service providers.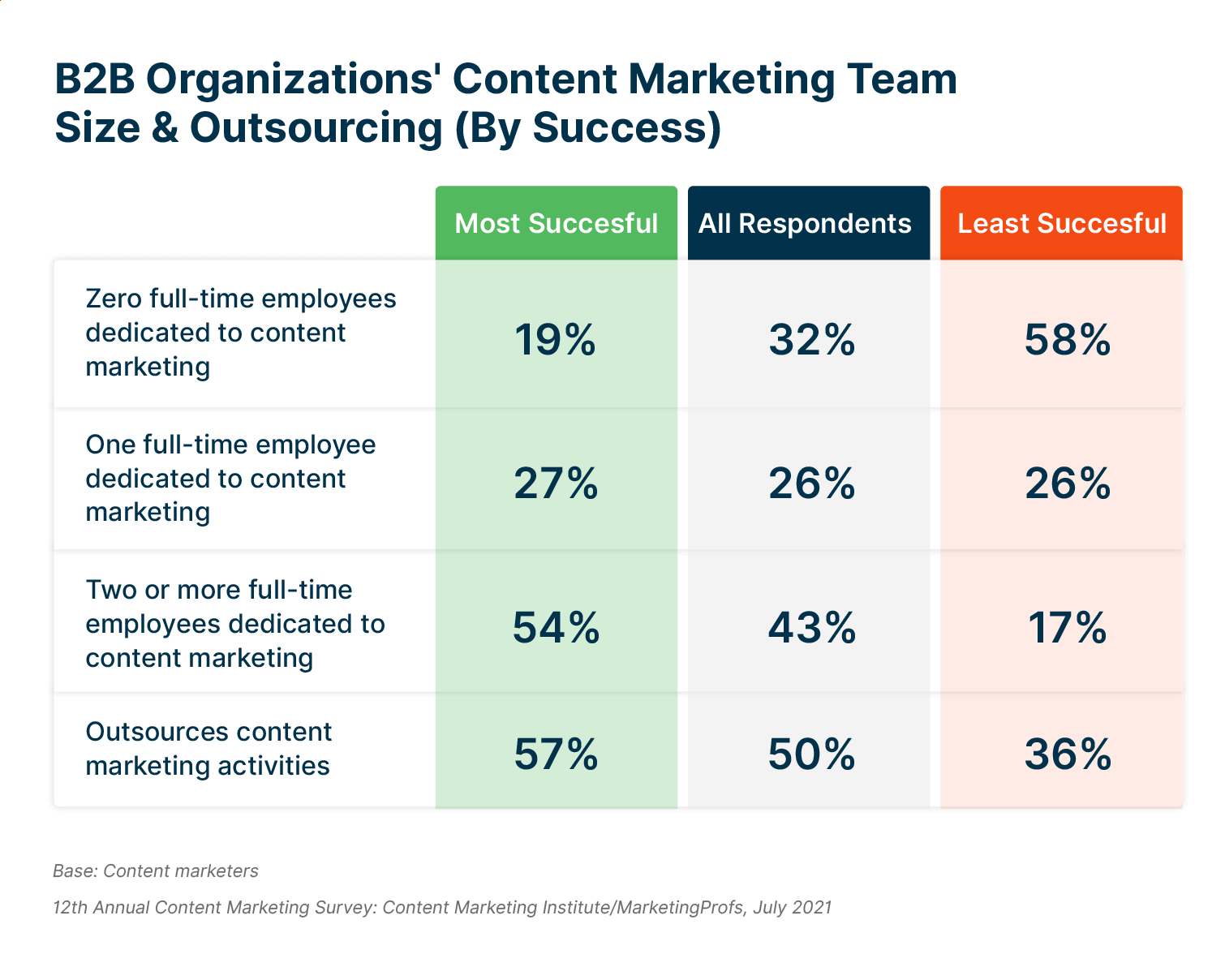 Once you know that outsourcing is the right choice for your business, the next step is to find a great agency. Let's look at six things to look for in a potential webinar agency to ensure they'll deliver the event quality and results you're looking for.
What Should You Look for in a Great Webinar Agency?
Detailed Product/Service Packages
You should never have to guess about what a webinar marketing agency provides. When you visit their site, look for detailed service pages that outline exactly what the agency offers, plus how services can be bundled and packaged.
On ActualTech Media's website, for example, you can hover over "Services'' on the main nav bar and see our five core offerings—Multi-Vendor Webinars, Custom Webinar Programs, Content Syndication, and Custom Content—each with its own dedicated page. In addition, you can visit the Promos Hot Sheet page to see special and limited-time promotions.
Proven (and Public) Track Record
An agency's track record with past clients is one of the most reliable ways you can evaluate their service quality. Look for reviews and testimonials on places like Google Reviews or G2, as well as case studies published by the agency that demonstrate how their services have delivered value for specific clients.
As you narrow down your choices and begin to talk to sales teams, an agency's reps should also be able to support their marketing and sales messaging with real-world examples.
Extensive Webinar Marketing Expertise
Webinar promotion is one of the most crucial parts of overall webinar strategy success. You'll need access to large audiences, exceptional targeting capabilities, the ability to promote across many channels, and an effective approach to managing registrants and attendees.
Your webinar marketing agency should be the expert on all of this. Further, they should be able to tell you in detail about the tools, technologies, and processes they use to execute.
Webinar Examples
There's nothing like seeing the real thing—actual webinars an agency has hosted or produced for their clients. If the agency hosts multi-vendor webinars you should be able to find a dedicated webpage for replays or upcoming events (see a snapshot of ours below). If they're focused more on company-specific webinars, ask for an invite to a client's event or a link to watch a replay.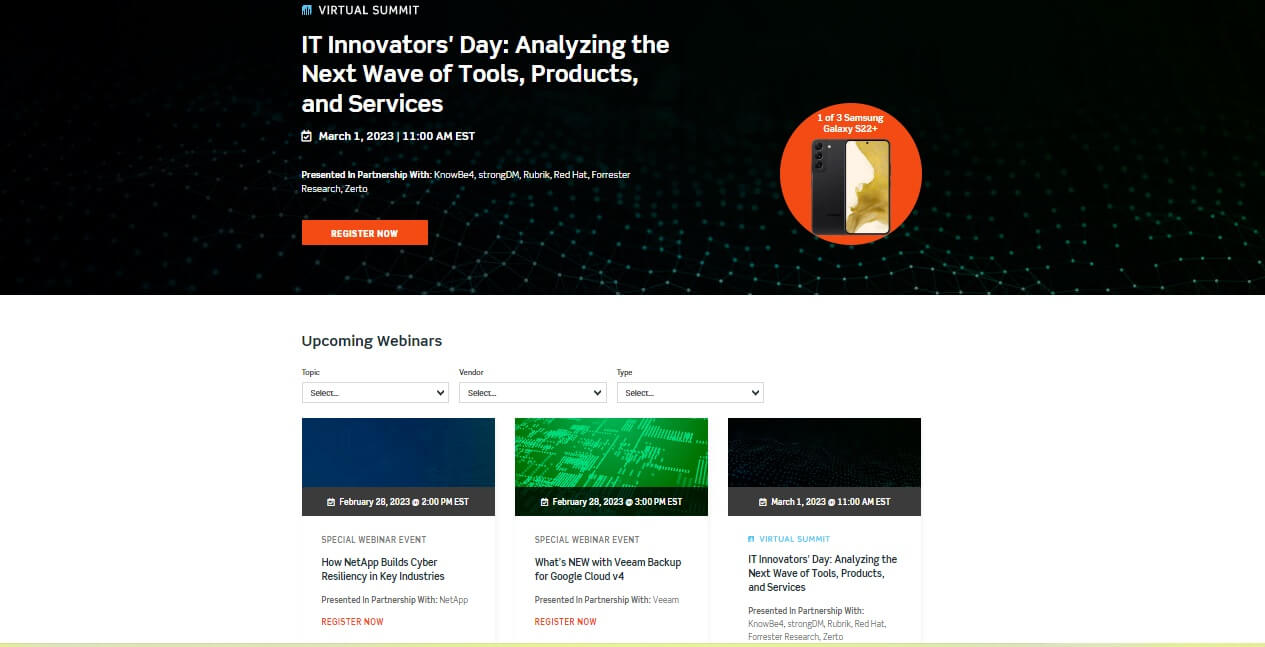 Data-Driven Approaches and Reporting
Most agencies are pros at data-driven reporting—after all, it's how they prove their value and effectiveness to clients. Still, it's a good idea to ask about the analytics tools an agency uses to track results, how they use data to drive strategy and decisions, and how they leverage it to report on webinar performance and strategy results.
Communication Style and Culture
As a marketing leader, you know how important it is to target customers that are best fit for your business. The same principle applies to hiring an agency. Not only does this mean they need to have the right product/service offerings for your needs, but also that intangibles like culture and communication style must align with the way you operate.
Get to know the people at potential webinar marketing agencies you're considering and don't hesitate to ask questions about communication and culture. In the long run, paying attention to these factors pays off in the form of an enjoyable and productive working relationship.
10 Wins You Can Get from a Webinar Marketing Agency
Access To Larger Audiences
Effective webinar lead generation starts with getting enough attendees at your events. Industry research shows that the average webinar attendee rate hovers around 40%. That means to get the amount of attendees you want and expect, you'll need double the amount of registrations.
Doing so, of course, requires access to a wider audience than you may have as a single company marketing team. Agencies have wider networks that allow you to expand your reach when promoting your events. Not only will your events be better attended as a result, you'll be able to build stronger brand awareness with your target audience.
High-Fit Leads (at Scale)
Lead generation is a priority goal for every B2B organization, and webinars are now firmly at the top of the list when it comes to both cost effectiveness and lead-gen ROI.
Research conducted by SEO agency First Page Sage over three years found that B2B marketers now rate webinars as a central part of their strategies—right alongside email, thought leadership content, and paid ads.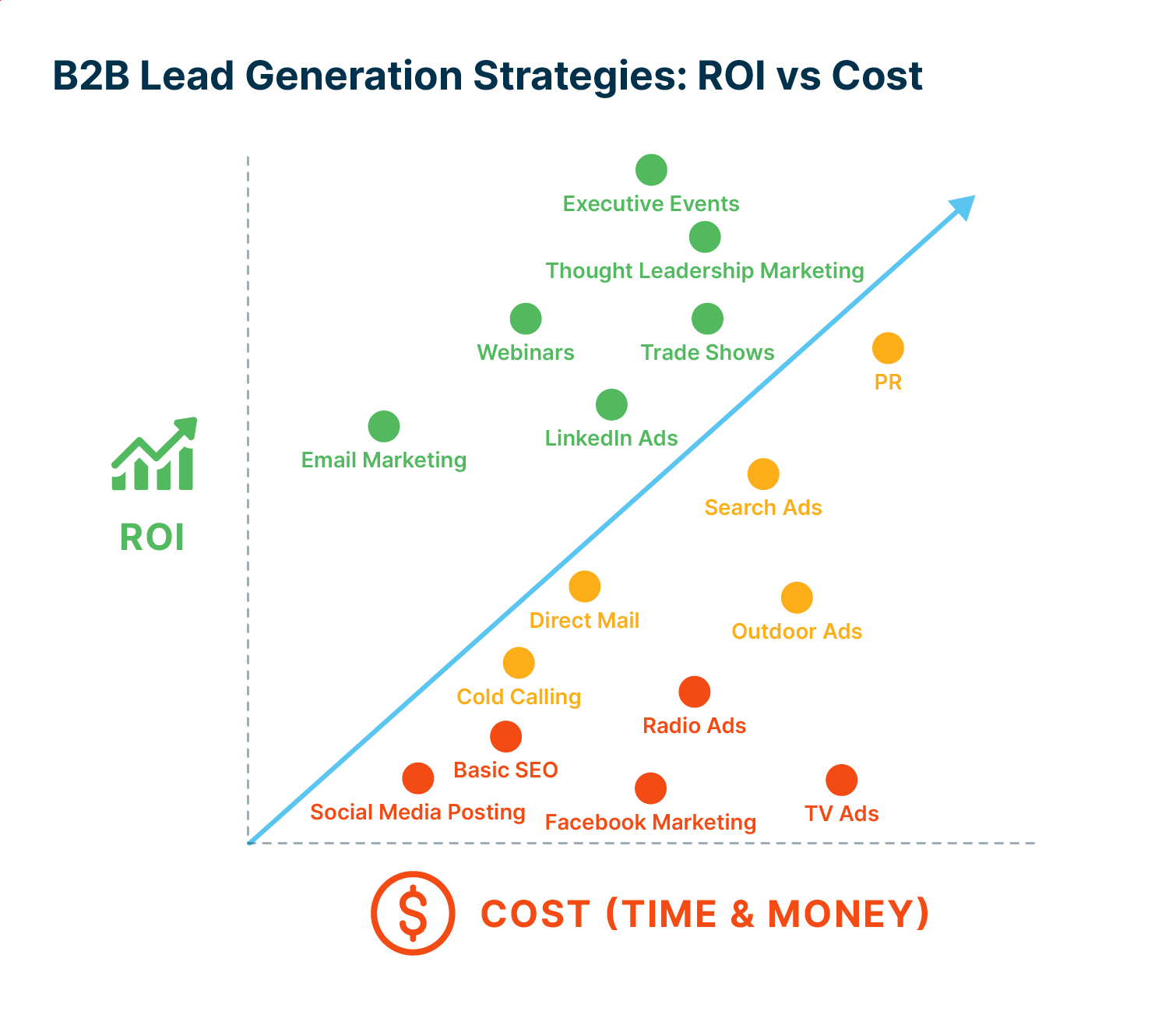 Webinar marketing agencies can help you quickly launch and scale your webinar lead generation strategy for faster time to value and bigger impact on revenue. For example—participating in just one ActualTech Media multi-vendor webinar guarantees that you'll receive 200 to 1,200+ leads!
They won't be just any leads, either. A great webinar agency takes time to target, segment, and deliver you a list of leads likely to actually translate to closed deals for your business.
Competitive Positioning
B2B buyers are smarter than ever—mostly because they have more access to information than at any time in the past. In minutes and with just a few clicks they can (and do) evaluate potential vendors against their competitors to help them make a purchase decision.
Agency-hosted multi-vendor webinars allow you to take control of the situation, placing yourself right alongside top competitors in your space so that you're in the driver's seat about messaging and positioning.
Not only does this allow buyers to see exactly why they should choose you over competitors, it gets the right buyers to your business. The reality is that some customers will choose your competitors, and in some cases, that's likely for the best (i.e. they're a better fit for their needs).
By acknowledging this, emphasizing your strengths, and following up well with the buyers that choose you, you're putting yourself in a better position to convert leads at a higher rate.
Turnkey Webinars
Video production is definitely not as complicated or expensive as it once was, but it still does require time and expertise that most internal marketing teams don't have. When you work with a webinar agency, you'll have access to turnkey webinars ready to launch—in most cases, all you'll have to do is show up.
Custom Webinar Content
In other scenarios, you may be looking to produce a webinar totally unique to your business. In these cases, webinar agencies can still help. The win is that they have the right tools, templates, and manpower to make the creation of custom webinars faster, easier, and more affordable.
Varied Webinar Format Options
Agencies work with many clients who have varied needs. In most cases, that means they execute a number of webinar formats (i.e., single presentations, panel discussions, demos, and so forth). The ability to enhance your webinar strategy with multiple formats allows you to expand your reach to leads with different needs and at separate stages of the pipeline, for example:
Early-stage buyers who want to learn more about a topic related to their needs
Middle-stage buyers who want to evaluate their vendor options
Later-stage buyers who want to get product- and company-specific information
This list isn't exhaustive, either. When you work with a webinar agency, you'll know you can present your goals and needs in a specific scenario, and they'll help you craft a webinar event or strategy to meet it.
Seamless Event Execution
As a thought leader and marketing expert in your space, you (rightfully) want to focus on your content and the potential customers who will be at your webinars. Webinar agencies seamlessly handle the technical aspects of running a webinar so you don't even have to think about it, let alone worry about something going wrong.
You'll have access to the best tools and technologies, reliable audio/video equipment, quality connection testing, and experts who can run the show from start to finish.
Frequent Data Reporting + Analytics
Data is one of the most important assets you have as a marketer, and good agencies provide it in spades. As we've mentioned before, data reporting is the primary way agencies prove their value to you as their customer, and it's also how they help you achieve the lead-gen results you want from your webinar efforts.
The great thing about working with an agency is that they'll take the raw data generated by your webinar marketing and execution tools, and turn it into real insights you can use to make decisions, convert leads, and improve your webinar strategy over time.
At ActualTech Media, for example, we deliver a comprehensive Post-Event Action Report (PEAR) that includes lead reporting, performance analytics, and lead follow-up recommendations. Below is a quick snapshot of a sample PEAR report, and you can check out the full version here.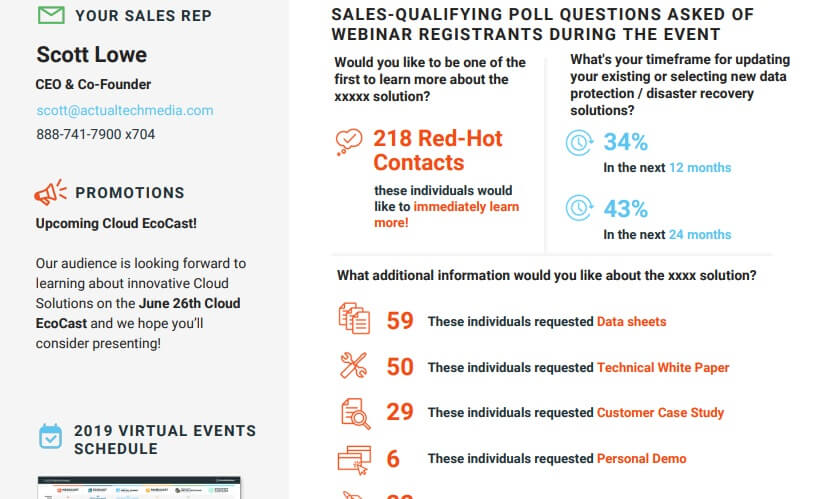 Content Syndication
Content syndication is the strategy of distributing digital assets—like webinar recordings—to relevant publishers who share it across their own channels. Data is then funneled from those channels to your marketing team so you can grow your pipeline and pursue more leads.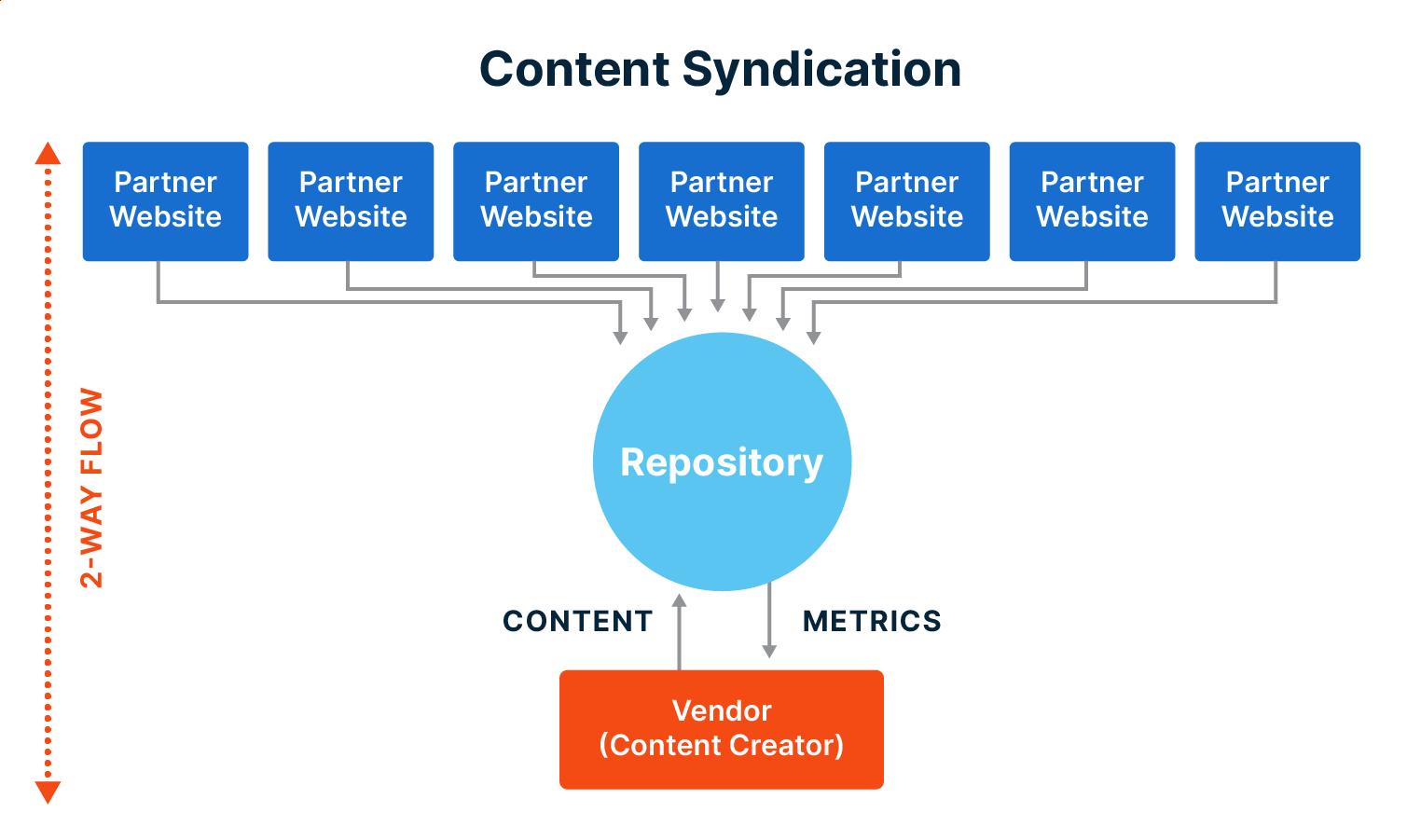 Content syndication is one of the surest ways to boost the ROI you earn on your webinars long term, and most agencies are experienced at executing it for clients. Agencies have vast networks as well as automated tools, platforms, and processes to execute syndication at scale.
Further, agencies can target syndicated content in sophisticated ways that helps you meet more than one goal with your strategy, including lead gen, retargeting specific audiences, and boosting general brand awareness.
Pre- and Post-Event Strategy Support
Webinars are cost-effective and proven to yield real ROI, but they're a financial investment for your organization. One of the biggest wins you'll earn from working with an agency is pre- and post-event strategy support that guarantees you get the absolute most from what you invest in your webinar events.
From planning and promotion to execution and follow-up, a great agency will help you build an end-to-end strategy that's fit for your business and helps you achieve your goals.
Final Thought: Can You Hire an Agency and Still Own Your Strategy?
One of the most common and valid questions marketers have when they consider outsourcing is whether or not they can still truly own their strategy when they don't execute it in-house.
Further, how can you trust an agency to represent your brand as authentically or as well as you do in your other marketing efforts?
The answer is simple: Great webinar agencies don't look to simply take over your strategy—they want to work in partnership with you the entire time. You remain the strategy owner, and the agency acts as a guide and support system to help you execute it with the most possible success.
This is one of the reasons we mentioned communication style and culture as something to look for and evaluate in potential agencies you may choose. In addition to the expertise, tools, and experience you want your agency to deliver, you also need compatible working styles to execute a strategy together.
The ActualTech Media Advantage
If you're a B2B tech company looking for a webinar marketing agency to support your strategy, ActualTech Media is here to help. We connect B2B tech marketers directly to capable, motivated audiences in hot-topic industry events that generate 200 to 1,200+ high-fit leads for your business.
We also provide full-scale strategy support and a number of additional content services that can help you establish your brand as a thought leader in your space, including content syndication, content marketing, branding, design, and more.
Ready to explore how we can help you grow your business? Get in touch with us today to learn more and get started.