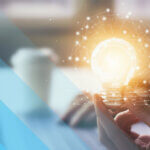 Tech Marketing
5 Thought Leadership Marketing Strategies for B2B Businesses
Article Summary
Thought leadership is a powerful tool in IT marketing, but the internet is flooded with content that lacks impact. Effective thought leadership establishes a brand's authority and influences decision-makers to engage with and purchase from that brand. The article emphasizes the importance of selling ideas rather than products, positioning oneself as a leader beyond just content, using diverse content formats, distributing content across multiple platforms, aligning content with business goals, focusing on the core message, and setting measurable outcomes. Thought leadership isn't just about sharing ideas; it's a strategic approach to B2B content marketing that targets key decision-makers. Leveraging various content formats and distribution channels can amplify reach, and aligning content with business objectives ensures it serves a marketing purpose.
Anyone in IT marketing for any length of time will have come across the phrase "Thought Leadership." The Internet has become oversaturated with thought leadership content that isn't impactful or useful, and few businesses understand how to use thought leadership marketing to grow their business effectively.
Dive into what thought leadership is and strategies for using it in your tech marketing to cut through the noise and see results you can measure.
Key Takeaways:
Thought leadership content establishes a brand as an authority in the industry
Thought leadership content motivates decision makers to purchase from a brand
Use creative media formats and distribute your thought leadership content on multiple channels for a greater reach
Using your thought leadership for lead generation provides measurable marketing results
🤫 PS: Looking for pricing on custom Tech content? Get a price list here
What Is Thought Leadership?
Thought leaders are experts in their field that can educate others on trending or innovative topics. About 70% of people agree that brands can be thought leaders much like individuals.
According to a SurveyMonkey report, a plurality of consumers believes the essential qualities of a thought leader include:
Clear communication
Challenging message
Data-backed claims
New ideas
Strong opinions
Content that thought leaders publish is considered thought leadership content. It can be a blog post, e-book, webinar, video, or any digital communication that conveys their message. Thought leadership is more than just a strategy for sharing new ideas. It's also effective for B2B content marketing for tech companies and reaching key decision makers.
How Effective Is Thought Leadership Marketing?
Thought leadership is a valuable marketing tool for educating decision makers on a complex topic and encouraging them to purchase or connect with your brand. About 54% of B2B decision makers say they purchased a product after engaging with thought leadership. In addition, 53% of decision makers say they increased how much business they did with a company.
Because of how much influence thought leadership has on marketing actions, thought leadership marketing is now a standard part of many B2B marketing strategies.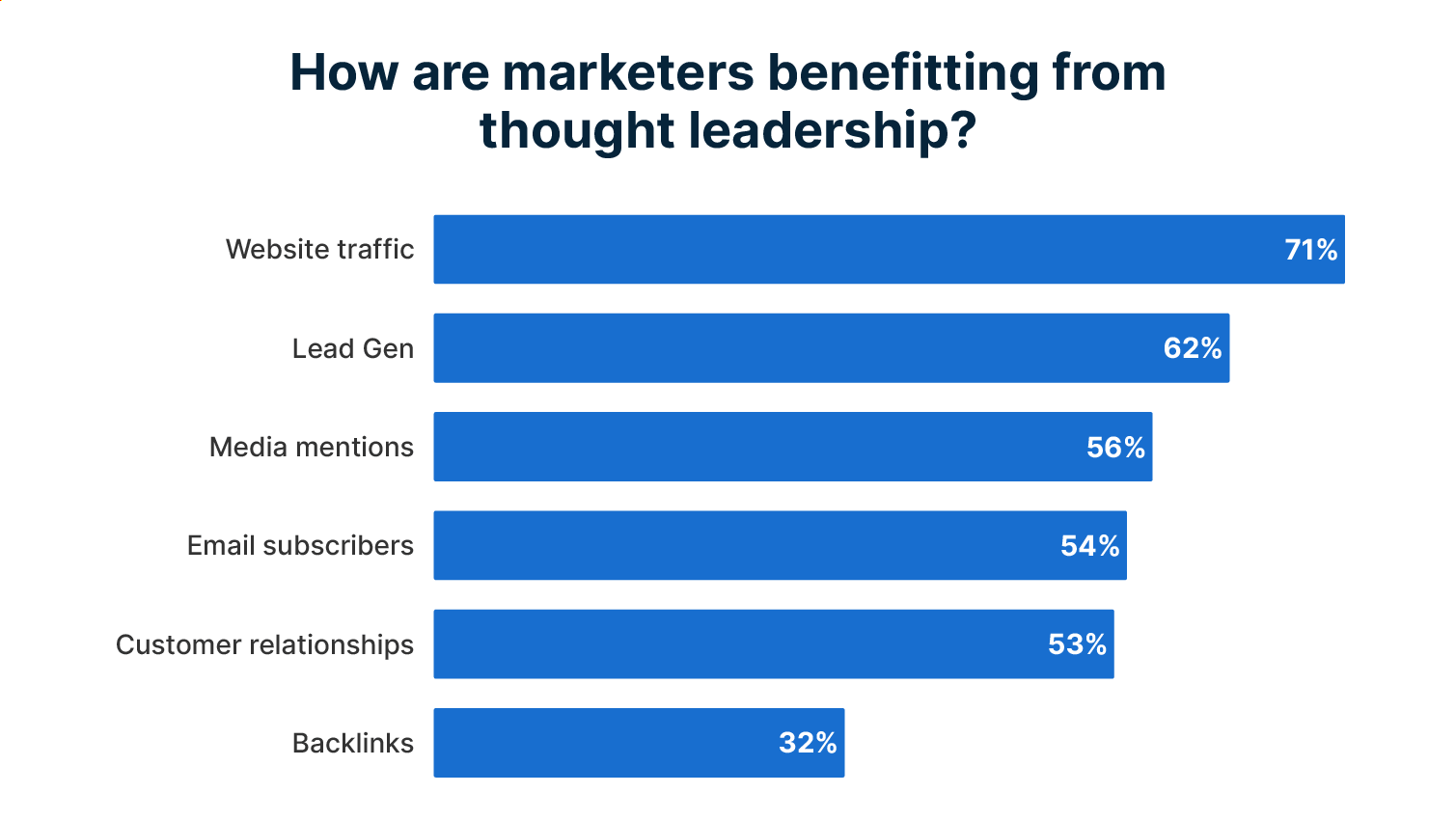 5 Strategies for Thought Leadership Marketing
Use these five strategies to improve your thought leadership marketing to position your brand as an authority and see measurable marketing results.
1. Don't Sell Products—Sell Ideas
Who you're speaking to is just as important as what you say. For example, when you're sharing research and ideas from your industry, you might be tempted to talk from the perspective of a business owner. This type of thought leadership is educational for other business owners selling similar products but isn't as effective for thought leadership marketing.
If you want your audience to engage and respond to your thought leadership, you must shift the focus from your business to their pain points. For example, instead of using your content to sell products and services, you use it to sell ideas, benefits, and results. You won't discuss how you create your platform if you're a software business. Instead, you discuss the time or money businesses save using automation platforms like yours.
2. Establish Yourself as a Leader Outside of Your Content
While thought leadership content is a single piece of content, a thought leader is a persona your business must adopt. You can establish yourself as a thought leader by commenting on other thought leadership content, participating in relevant groups on sites like LinkedIn, and guest posting on websites of people already holding the title.
By repeatedly appearing on other thought leadership content, your audience will begin to recognize your name and respond more positively when you post your thought leadership content.
🤫 PS: Looking for pricing on content syndication leads? Get a price list here
3. Use Creative Thought Leadership Formats
Content is a broad term. Thought leadership can come in many forms, including:
IT webinars
Whitepapers
Case studies
Infographics
Videos
E-books
Blog posts
To increase your brand exposure, use a variety of formats and distribution channels for sharing your content. By diversifying your thought leadership assets, you also diversify the audience interacting with your content. For example, some of your audience might be more inclined to read an e-book, while others prefer to watch a webinar. When you use both formats, you can reach more of your audience.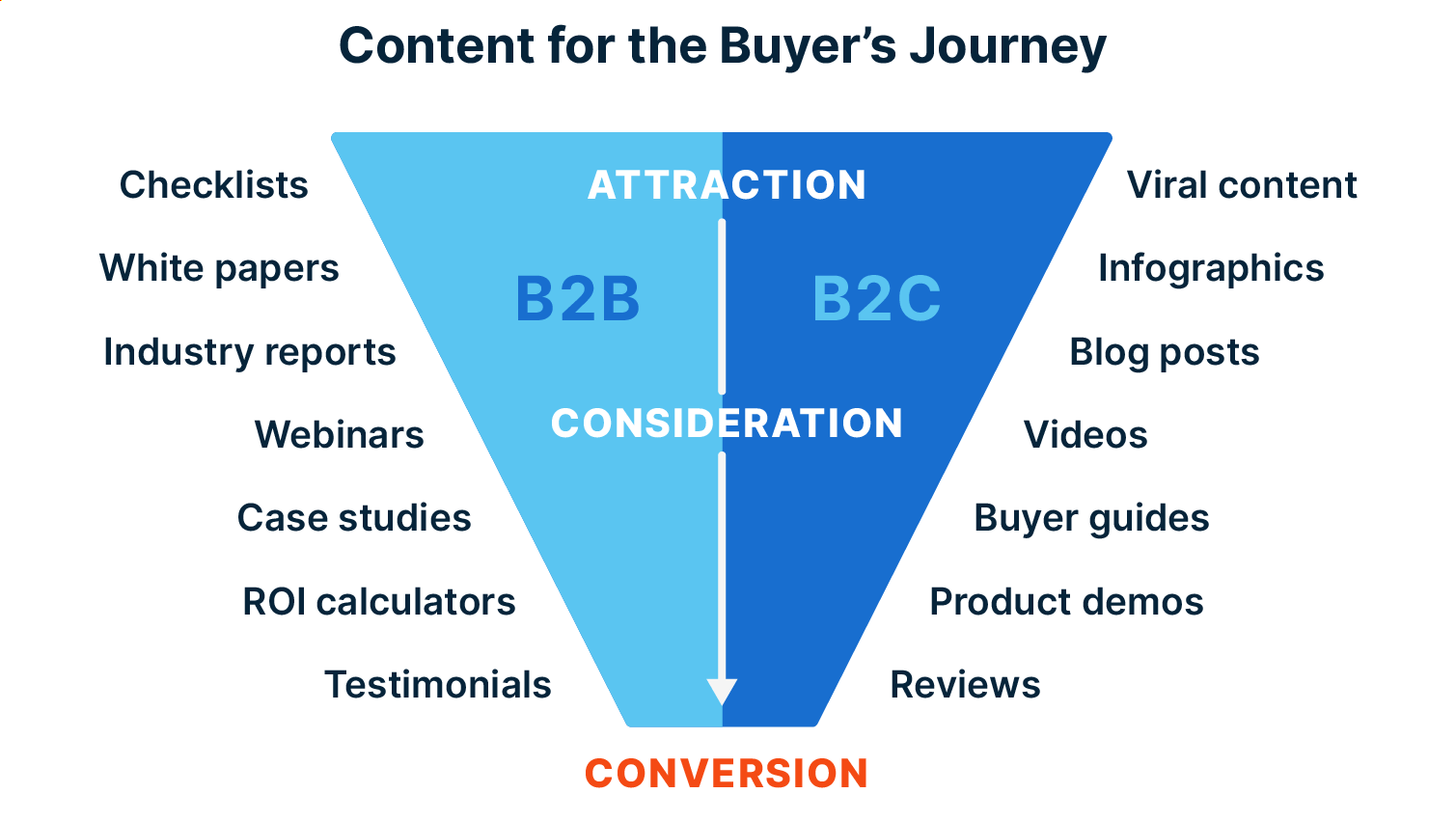 4. Distribute Your Content on Several Platforms
Turning thought leadership content into a marketing strategy requires a carefully planned distribution strategy. How you distribute your content and who sees it will influence your results. Sharing your thought leadership content on Facebook would reach billions of consumers, whereas LinkedIn is a platform for sharing B2B thought leadership with business professionals.
Some examples of effective channels of distribution for your thought leadership marketing content include:
Niche multi-vendor webinars
B2B Content syndication on authority sites
Company blog
Guest posts on other blogs
Social media (LinkedIn is the top B2B marketing social media channel)
5. Align Your Goals
Without a marketing goal, your thought leadership is just educational content. However, you must align it with your business goals if you want it to work with your marketing strategies.
Some examples of business goals include:
Demand generation
Lead generation
Lead nurturing
Conversion
While thought leadership will rarely be conversion copy, it works well for creating demand or nurturing leads. In addition, you can use research and data to support your services and how they improve businesses.
For example, a case study on how automation saves companies time generates a demand for your automated platform while also educating your audience on modern innovations in business.
6. Focus on Your Message
To build trust with your audience, invest in quality content that's reliable, backed by data, and thought-provoking. It shouldn't just convey a message but drive an action or response in your audience. That action will center around your business and products for thought leadership marketing.
When you introduce new ideas, you encourage discussions after the content ends. Conversations are what will increase your exposure as your audience will keep talking about your brand with others and share the digital asset to provoke more conversations.
7. Establish Measurable Results
Establishing metrics before creating thought leadership is how you'll measure your content's success. In 2020, 79% of marketers planned to prioritize lead generation in their strategies, making it one of the top metrics for measuring content success.
When you turn your thought leadership content into gated content, you can exchange it for your audience's contact information. This allows you to turn your audience into leads and follow up with them after interacting with your content.
ActualTech Media helps you generate leads by creating compelling thought leadership content and sharing it through multi-vendor webinars for lead generation or content syndication for lead generation. You can also post and share it on your own company website to use for additional leads.
Create Memorable Thought Leadership Content
ActualTech Media's custom content options help you create memorable content that's unique yet educational. You can choose to create e-books, whitepapers, blogs, infographics, video, and more creative digital assets.
Contact us to learn more about our content creation solutions.