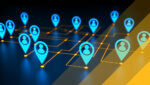 Content Syndication
How To Choose the Right Content Syndication Network
Article Summary
Content syndication is a pivotal strategy for lead generation, allowing businesses to distribute their digital assets on third-party platforms. This approach is designed to capture lead contact information for nurturing campaigns. The essence of content syndication lies in the network chosen. These networks, which can be cost-per-click or cost-per-lead, share your content with their audience, either through website partners or direct emails. For instance, an e-book can be shared on a third-party publisher's site, and as their audience accesses the content, businesses receive a list of potential leads. It's crucial to select a content syndication platform that aligns with your niche and goals. Such platforms not only connect businesses to relevant networks but also handle distribution complexities. To optimize content syndication, businesses should focus on niche platforms, align their network with syndication objectives, understand additional service requirements, and prioritize data reports for performance insights.
Content syndication for lead generation is distributing your digital assets on third-party sites as gated content for your target audience to download. You use this strategy to gather lead contact information, which you then use to reach out to them via email or other contact formats in a nurturing campaign. One of the most critical parts of content syndication is your network.
Explore what a content syndication network is and how to find the best fit for your marketing goals.
Key Takeaways:
Content syndication networks share your content on their platform to generate leads
Targeted content syndication focuses on the networks with direct access to your niche audience
A content syndication platform connects you to your niche audience and supports you in related tasks like content creation
🤫 PS: Looking for pricing on content syndication leads? Get a price list here
What's the Role of a Content Syndication Network?
Content syndication networks are service-providers that share your digital asset with their own audience. This can be done through their network of website partners, or through a contact list directly by email.
For example, when you create an e-book, you can share that digital asset on your website. However, you can generate more leads by sharing that e-book with a third-party publisher with closely related content. The publisher will post your digital asset as gated content on its site or through emails. Then, as its niche audience fills out the contact form, you'll receive a list of those interested leads.
Different Types of Content Syndication Networks
There are two primary types of content syndication networks: cost-per-click and cost-per-lead.
Cost-per-click: A general strategy where you pay every time a reader clicks on your published content
Cost-per-lead: A targeted strategy where you pay for the leads you generate
Cost-per-click networks are a group of content syndication vendors with a widget on their websites. When you upload your content on their platform, it's blasted across the entire network and appears in those widgets at the end or next to the network's native content. This strategy reaches a broad audience and is for increasing brand awareness, but doesn't generate leads.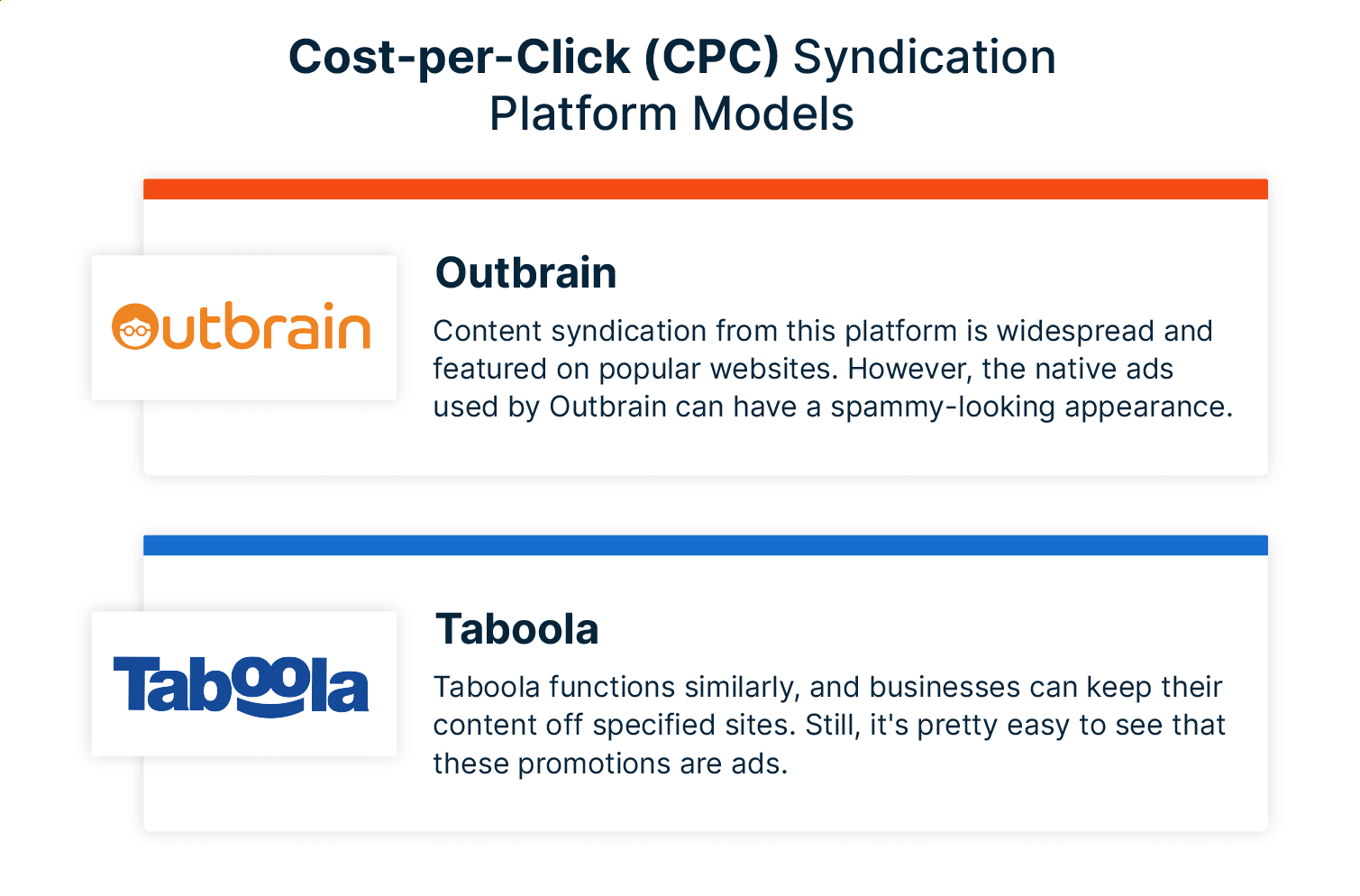 When you use a cost-per-lead strategy, you share gated content with a niche audience of interested buyers. You aren't reaching the mass public through content syndication networks for lead generation. Instead, you're sending your marketing content to a select few that match your ideal B2B customer profile.
For example, ActualTech Media's content syndication services use filters to help you target your audience on a direct network between you and a specific audience. You can define your audience with characteristics like job title, location, industry, and company size. We then share your digital asset with that audience and many choose to share their contact information to receive the gated content asset.
Why You Need a Content Syndication Platform
We mentioned a content syndication platform several times because it's another essential piece of the content syndication puzzle alongside a syndication network. A platform acts as the mediator between you and a network. It has two primary functions:
First, it can connect you to the most relevant network. No need to spend countless hours scouring the web to find a publisher that might have your audience. Instead, you can work with a platform that has built up a reliable niche network that gives you direct access to your buyers.
Second, it does all the heavy lifting. As a tech company, your main task is to grow your business. You can focus more time and energy on providing the best tech services to your customers when you work with a content syndication platform because it performs all the complex parts of distribution.
A content syndication platform, like ActualTech Media, takes care of distributing content and tracking its performance. In addition, ActualTech Media uses content syndication as a lead generation strategy by adding forms to your content so you can collect valuable information from your readers to add to your database of leads.
4 Tips for Finding the Right Content Syndication Network
Use these four tips to find a content syndication platform that connects you with a network of industry-specific publishers.
1. Find a Platform in Your Niche
Instead of finding a content syndication platform and asking if they have a network that reaches a tech audience, you can go directly to tech marketing companies. With tech marketers, you're guaranteed to reach your intended audience when working with their platform within that industry because the tech marketers also understand where your audience is and what publishers are willing to share your digital asset with them.
2. Align Your Network with Your Syndication Goals
Content syndication for lead generation is a powerful strategy as it provides the best metrics for tracking the success of your content syndication. In addition, you receive leads in return to fill your sales pipeline, which is a top content marketing goal.
Your content syndication network should include publishers that support lead generation by gating your content and collecting leads you can nurture.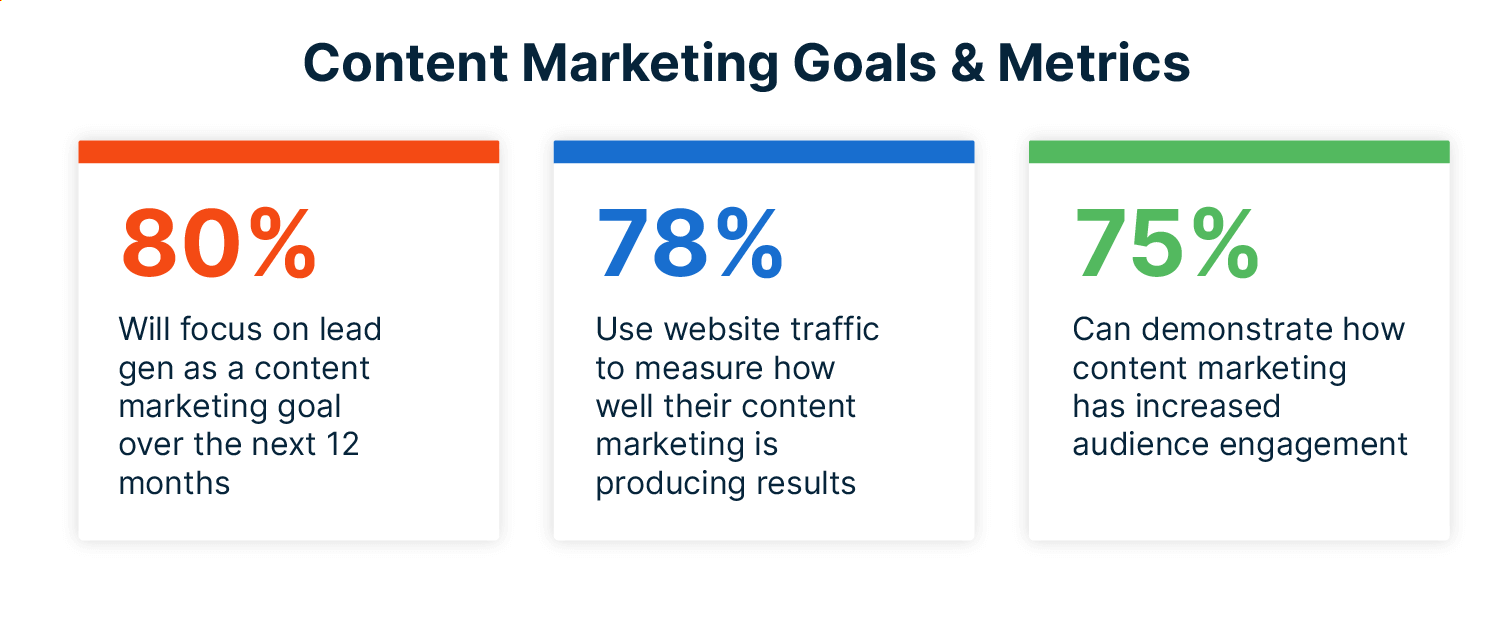 3. Know What Other Services You Need
Content syndication for lead generation involves many other parts beyond just sharing a digital asset. It also includes research, content creation, customization, and distribution.
Working with a content syndication platform gives you access to tools and resources for most of your needs beyond just connecting with a network for publishing.
For example, ActualTech Media also offers content creation services to help you create fresh and customized content for your intended audience. Some of the content ActualTech Media can help you with includes:
Whitepapers
Videos
Infographics
E-books
Tech briefs
Tech comics
4. Request Data Reports
Knowing how your digital asset performs helps you optimize future content and strategies. For example, your lead generation data tells you how many people downloaded your asset or signed up for the webinar, then how many of the downloads were by leads that match your ideal customer profile.
It also gives you the data you need to respond to the leads you generate.
For example, knowing the title of the buyer who downloaded your e-book allows you to put them in an email list with those that have similar titles. Then you can customize your emails for that role during your email drip campaign.
Reach Your Target Audience with Content Syndication
ActualTech Media connects you to your target audience through a network of niche publishers ready to share your digital asset with interested buyers.
Learn more about our specialized tech content syndication services for lead generation.