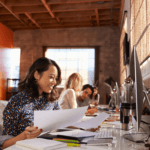 Content Marketing, Content Syndication
5 Keys To a Successful Content Syndication Campaign
Article Summary
Content syndication is a powerful marketing tactic that republishes content on third-party websites, publications, or email lists, often with firms that distribute content at a large scale. This approach can significantly amplify the reach of content, driving awareness, contact database growth, and lead generation. To design a successful content syndication campaign, it's essential to first identify clear goals, whether it's expanding the audience, increasing brand awareness, or building a sales opportunity pipeline. Adopting a targeted approach with the right lead filters ensures that the content reaches the intended audience. Repurposing high-performing content can maximize the return on investment, eliminating the need to create new content. It's also beneficial to diversify the content assets used over time, keeping the offerings fresh and engaging. Once leads are generated, it's crucial to nurture them appropriately before passing them on to sales, ensuring a higher likelihood of conversion. Proper follow-up and engagement strategies can further enhance the effectiveness of content syndication campaigns.
You've worked hard to create great content and posted it on all the right channels—your blog, social media, your website … but you just aren't generating the leads you need from that piece of content. This is where content syndication comes in as one of the most reliable marketing tactics for generating awareness, contact database growth, and leads.
Before we get too deep into the benefits (and there are a lot!), let's define what content syndication is: Content syndication means republishing content, whether an article, video, webinar recording, whitepaper, e-book, etc. on one or more third-party websites, publications, or email lists, usually with a firm that distributes content at scale.
So let's jump into some best practices for designing a successful content syndication campaign. The goal here is to get the most "bang for your buck" with the highest possible ROI.
🤫 PS: Looking for pricing on content syndication leads? Get a price list here
1. Identify Your Goals
Everyone has different goals when it comes to content syndication. Is your goal to expand your audience or in-house email lists? Increase brand awareness? Build your sales opportunity pipeline?
If you can nail down what you're looking to achieve with your campaign your followup motions become much clearer, leading to better outcomes.
2.  Use a Targeted Approach with the Right Lead Filters
Content syndication programs can be tailored to your targets and work best when you've got a clear idea of who you're looking to reach.
To help get you started, here's some of the most common lead-targeting parameters technology marketers decide on when building their campaigns:
Geography
Company size range
Job titles or roles (the difference here vs. titles is that "job roles" are more broad and may capture additional leads with titles you need but didn't think of)
The maximum number of contacts per company that you'd be willing to accept in your lead results (don't necessarily shoot for only one contact per company—oftentimes buying teams inside your target companies are larger than you think, so the more applicable folks you can reach inside each company the better)
Target account list (TAL)—this could be your Account-Based Marketing list or a list of accounts that you're trying to reactivate (for best results, we recommend making sure your TAL consists of at least 500 companies)
Custom questions you'd like to ask the lead when they're filling in the download form (for example, purchase timelines, current tech they're running that your solution is geared for, etc.)
Compliance or specific opt-in questions you'd like added to download process
* If you have a specific audience you want to target, choose a content syndication provider who's a trusted leader in that space that will guarantee they'll get you those leads you need and has the track record to prove it.
PS: Our CMO here at ActualTech Media recently shot a quick walkthrough video of a real-life campaign case study that can you help you discern how some of the top technology vendors think about content syndication campaigns:
3. Repurpose Your Best-Performing Content

The beauty of content syndication? There's no need to create new content—just use the best-performing content assets already in your resources library. You've likely already worked hard to create great content, you just need to get it generating leads for you. As a bonus, reusing your existing content in new channels stretches your content creation budget and helps provide ROI data for the next time you're in need of budget for outsourcing more content.
PS: If you're in need of fresh content assets, ActualTech Media can help—just drop us a line!
4.  Mix up the Content Assets You're Using
Once your content syndication program is up and running, it's important to switch up your assets over time. Some examples of engaging assets are recorded webinars, checklists, how-to guides, videos, and e-books—but whatever you choose to run with, keep it fresh. We recommend starting your program with your top three best-performing content assets.
Technology buyers read a tremendous amount of content. In fact, 55% of IT buyers consume 3 to 10-plus pieces of content per month! Here's a stat from a technology buyer survey we ran recently:
How Many Pieces of Technology Content Do You Typically Consume Each Month?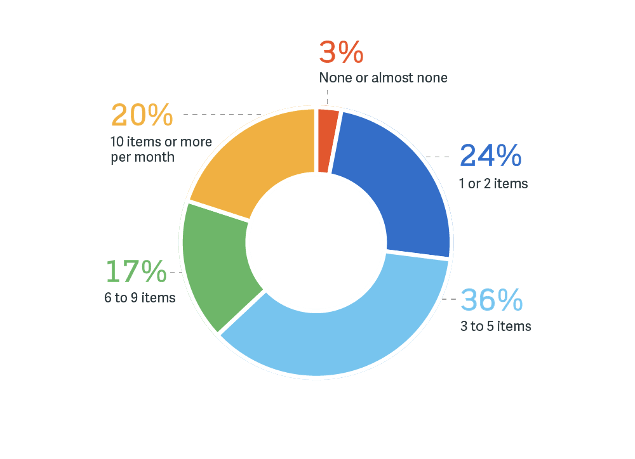 5. Nurture Your Leads Properly Before Handing Them to Sales
As a marketer, have you ever downloaded a piece of content that caught your eye only to get a phone call right away with a meeting request? How likely were you to take that call? Likely, it was a bit premature. Similarly, "dialing-for-dollars" as soon as you get your content syndication lead list can be less effective than you might hope.
Instead, set up an email automation with a few additional pieces of helpful content for your leads before passing the leads to sales. Track who's opening your second and third emails and pass those folks up to sales for a more successful outreach effort.
*A key here is to follow up promptly with the additional pieces of helpful content as quickly as possible. For instance, if you receive your lead deliveries weekly, have your email followup automations set and ready to go so you can just upload your leads to them each week and get the process going.

Bonus tip: You're bound to have some folks that don't engage on the nurturing/followup emails and that's to be expected. Add them to a more general "newsletter" or promotions list to keep them warm and familiar with your brand. If they engage with one of these newsletter/promo emails move them back up to additional email automations that are designed to rekindle interest. If they engage there, hand them off to sales.
How To Start a Campaign Right Now
Our demand generation team at ActualTech Media can help you set up a complete content syndication program in just days, with guaranteed leads coming your way within two weeks. All we need from you is your goals, lead filter preferences, and how many guaranteed leads you need delivered and when. We handle the rest!
If you'd like to learn more about how we can help you with your content syndication needs, get in touch with us!