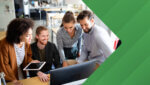 Content Syndication
The How and Why of Content Syndication in Tech Marketing
Article Summary
Content syndication is an effective strategy for tech marketing, focusing on distributing digital content to specific, high-value accounts rather than a broad audience. This method ensures that the content reaches the intended audience, leading to better lead generation. The process begins by identifying clear marketing goals, which guide the choice of content format and target audience. Emphasis is placed on creating high-quality digital assets that offer value and establish brand trust. Collaborating with a content syndication platform can further refine the targeting process, using filters like industry, title, location, and business size. Tracking results is crucial to assess the strategy's success and identify areas for improvement. Once leads are generated, nurturing them becomes essential. This involves understanding their intentions, addressing their concerns, and guiding them through the buying process using tools like email campaigns, webinars, and content marketing. This approach ensures that the leads generated are not only numerous but also of high quality.
You've heard those promises before where a company says it can bring in thousands of new leads at a low cost. When you look closer, you realize nearly every lead is unusable and ineffective because they have little to no interest in your brand or products. However, you can avoid that frustration by skipping mass marketing strategies and using direct marketing to the accounts you want to attract through B2B content syndication for lead generation.
Learn how content syndication works, why you should use it for marketing, and five steps you can take to get started.
Key Takeaways:
Content syndication is a direct marketing strategy that targets a few high-value accounts
Use filters to reach the audience you want instead of relying on unpredictable algorithms
Connect content syndication to your larger marketing goals for more valuable results
🤫 PS: Looking for pricing on content syndication leads? Get a price list here
What Is Content Syndication for Lead Generation?
There are two primary forms of content syndication: content syndication for lead generation and mass-market content syndication.
Content syndication for lead generation is a marketing strategy for distributing your content to highly  targeted accounts. You work with a content syndication platform that has access to leads within your target audience and sends a digital asset directly to those leads. The leads access the digital content by filling out a form that captures the contact's information, which you receive to fill your sales pipeline.
By contrast, mass-market content syndication reaches a large audience all at once for brand awareness. Businesses who use this strategy work with a content syndication platform and upload their content, usually blog posts. The platform then blasts that post across multiple websites simultaneously with little control over who sees your content or where it appears.
Why Should Tech Marketers Use Content Syndication for Lead Generation?
Most marketers agree that lead generation is a top priority. However, there are several strategies for generating leads to choose from. So, what makes content syndication for lead generation unique?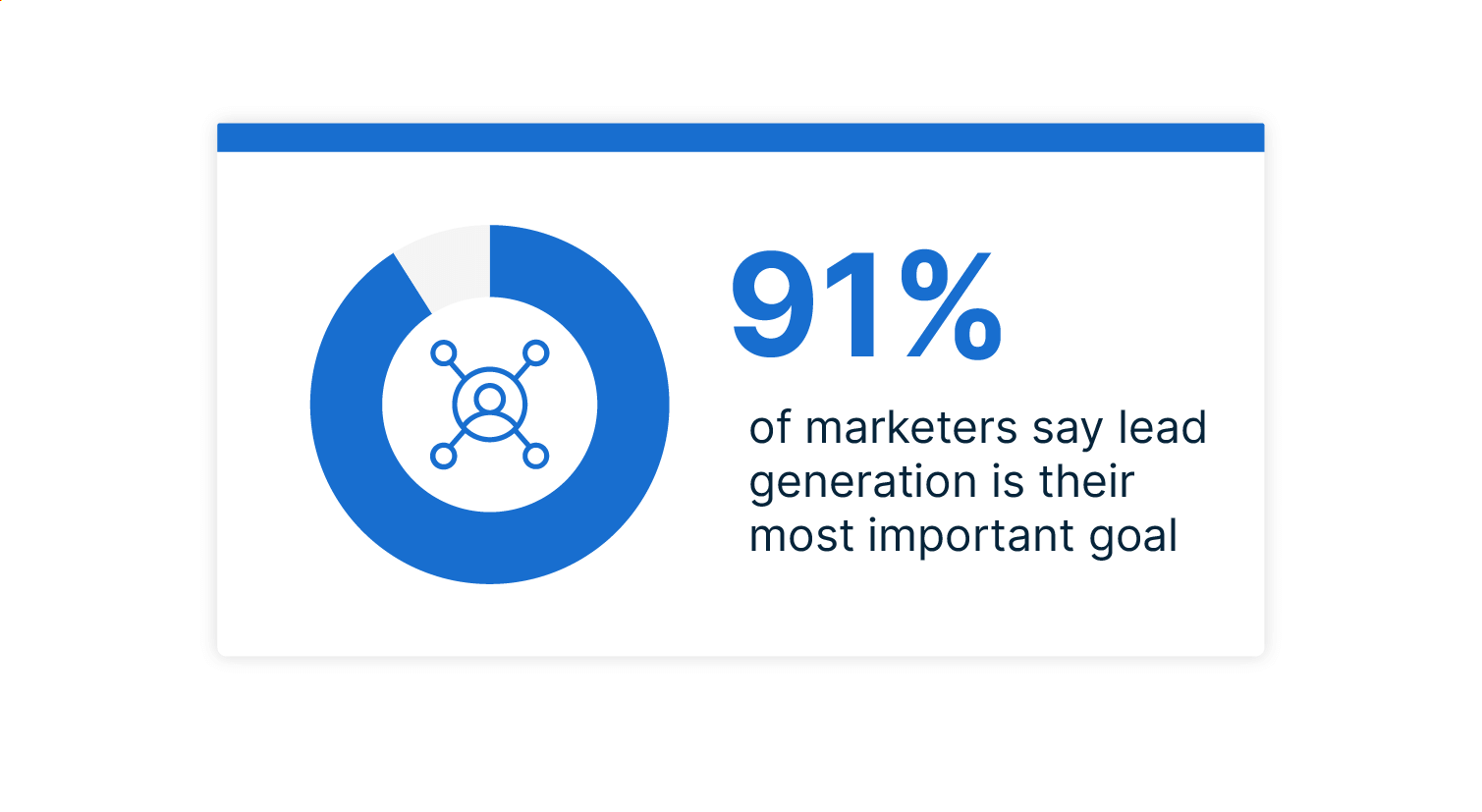 One of the primary differentiating factors of content syndication for B2B is its direct marketing strategy. You aren't relying on hard-to-predict search algorithms to pull up your content or for your ideal audience to stumble upon it.
Instead, you have more control over who sees it and how you distribute it. Because you have more control, you can make the rules. For example, you might use a target account list for your account-based marketing strategy so you can distribute personalized content for a few select high-quality accounts.
You can also choose qualifying rules, like a specified number of actions a buyer needs to perform before they become a lead. When you create these rules and use filters, you can guarantee that the leads you bring in are genuine leads with a high potential to buy, not random Internet users who stumbled on your content. Therefore, when you invest in building a relationship with those leads, you know they have a greater chance of converting to sales-qualified leads.
How To Use Content Syndication for Lead Generation
Use these five steps to effectively use content syndication marketing for B2B lead generation.
Step 1: Identify Your Goals
Content syndication for lead generation is a crucial step in the buyer's journey from brand awareness to sales-qualified leads. This step provides interested buyers who aren't ready to make a purchase commitment to perform a less daunting task: filling out a contact form. This form gives you the information you need to nurture that lead and remove the remaining roadblocks to help you reach your marketing goals.
To get to your end goal, you need to establish smaller, more specific goals to move you in the right direction. These goals will guide you in choosing the content format to use (like e-books, whitepapers, or videos), who you want to reach, and what you'll do with the leads after you add them to your database.
Step 2: Create Quality Digital Assets
Content for content's sake won't yield the results you want or help you reach your marketing goals. Creating quality digital assets is key to successful content marketing in today's market. Quality content has the authority and expertise necessary to build brand trust.
For example, thought leadership can be quality content if you invest in content that offers value, supports its claims, and shares new insights on a topic. Unfortunately, most thought leaders don't create quality content. However, that's an opportunity for your brand to stand out with innovative content formats and fresh ideas to capture the attention of your target B2B buyers.
For instance, ActualTech Media creates tech comics, tech briefs from original research, and webinars for lead generation to reach your audience with quality thought leadership content.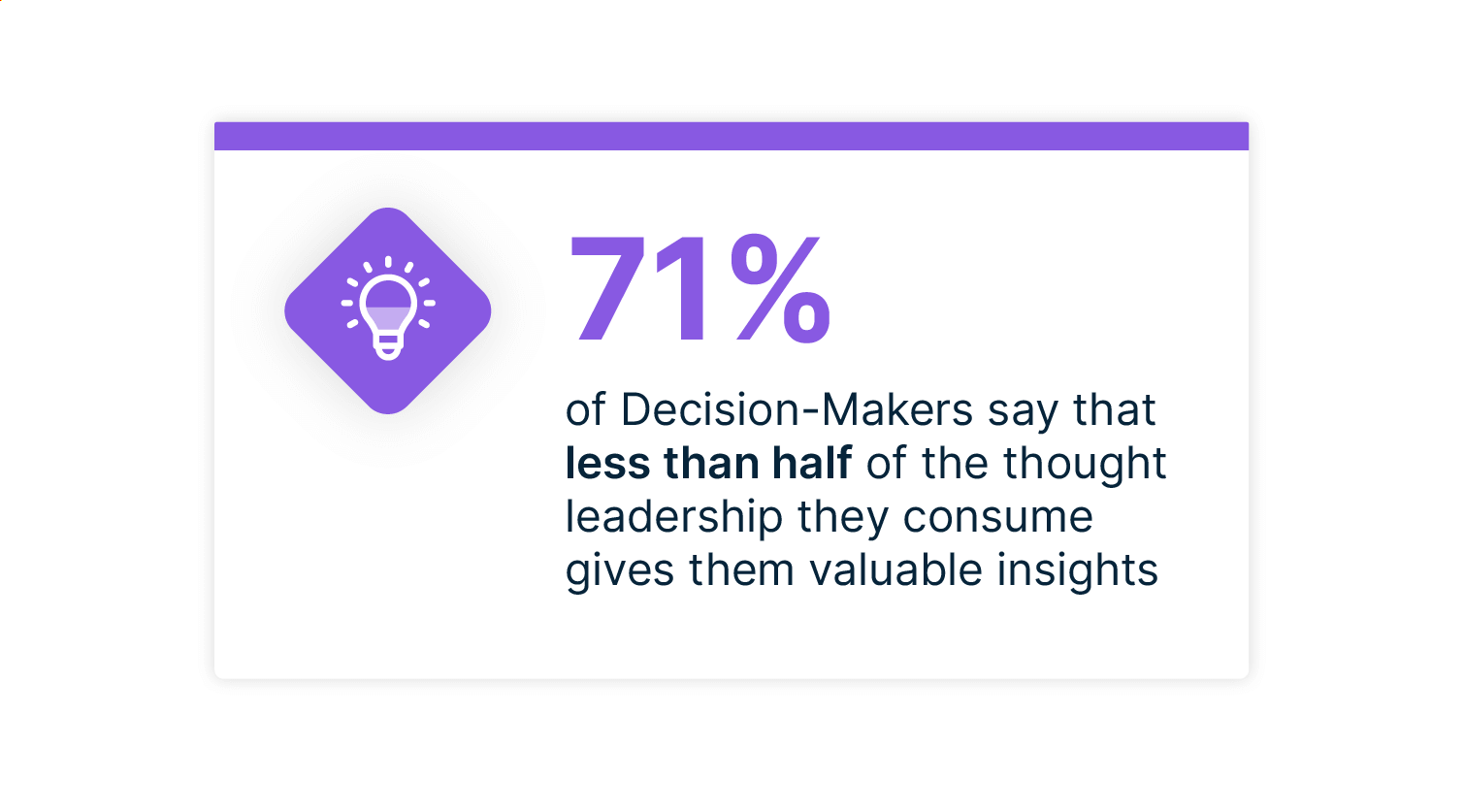 Step 3: Work with a Content Syndication Platform
A content syndication platform has access to leads that match your ideal buyer persona. When you work with a content syndication platform like ActualTech Media, you can share your content directly with those leads by targeting them using specific filters.
For example, ActualTech Media offers several filters, including:
Industry
Title
Geo or location
Business size
Step 4: Track Your Results
As with any marketing strategy, you should always come back to your goals to evaluate your progress against what you want to accomplish. For example, are you generating the number of leads you hoped for?
Tracking your results gives you a more accurate picture of your content syndication's success. It can also alert you to areas for improvement.
When you work with ActualTech Media, we offer comprehensive reporting and analysis so you can make the most informed decisions for your marketing strategy to ensure you're always maximizing your return.
Step 5: Nurture Your Leads
Lead nurturing is the stage between generating leads from content syndication and handing them off to your sales team to close the deal. Through lead nurturing, you can identify the contact's intentions and decide if they're ready to make a purchase decision, need more time, or aren't a qualified match for your product.
By taking time to perform this step, your sales team doesn't waste time calling leads that aren't sales-ready, as 80% of leads don't purchase from your company. In addition, you avoid losing potential sales by pushing a decision too soon before addressing all concerns.
Some effective ways to nurture your leads include:
Email campaigns
Direct mail
Webinars
Content marketing
Ads
Improve the Quality of Your Leads
Are your current lead generation tactics not yielding the results you hoped for?
ActualTech Media focuses on quality leads over quantity to guarantee that the leads you collect align with your target audience.
Contact us to learn more about our content syndication services for tech companies.