Aren't webinars a thing of the past that faded out alongside social distancing and mask mandates? Will webinars still work in 2023? While webinars did see a temporary boost from COVID-19, tech webinars remain relevant in a post-pandemic world and have become a backbone of B2B marketing today with no signs of slowing down.
Explore six webinar statistics that show why tech webinars are still effective and should be part of every marketer's toolset and 2023 tech marketing plan.
Key Takeaways:
Webinars saw a boost during the pandemic but continue to gain popularity post-pandemic
Tech webinars are among the most popular webinar niches available today
Webinars are versatile, and part of a modern integrated marketing strategy
What Are Tech Webinars?
Tech webinars are online presentations to educate and engage a large audience of tech professionals. Webinars are a chance to target a specific audience through a niche topic within the audience's industry. Webinars are also a powerful lead generation tool as marketers collect information from attendees when the attendees sign up for the event.
COVID-19 breathed new life into webinars as companies saw an 87% increase in attendance since the pandemic. That number continues to rise as webinars remain popular in the tech industry for B2B marketing.
A major influencer in the popularity of webinars is their convenience. Tech professionals don't need to sign up for dozens of demos to find the best software. Instead, tech professionals can attend one event that compares the latest products in the market side-by-side.
6 Reasons Why Tech Webinars for Lead Generation Are Essential Today
Here are six reasons webinars in 2023 are still a central part of B2B tech marketing and support B2B goals and strategies.
1. Nearly One-Third of Webinars Are by Tech Companies
The tech industry is one of the top niches for using webinars because webinars are highly effective in reaching tech professionals. Software and technology businesses host nearly a third of webinars.
Webinars work well for tech professionals because marketers can explain complex topics and break down difficult-to-understand concepts in an interactive space that allows for questions and answers. Webinars are also a longer form of content compared to blog posts or short YouTube videos, which provides marketers with plenty of time to dig deeper into the wonderful world of software, technology, and data for better audience understanding.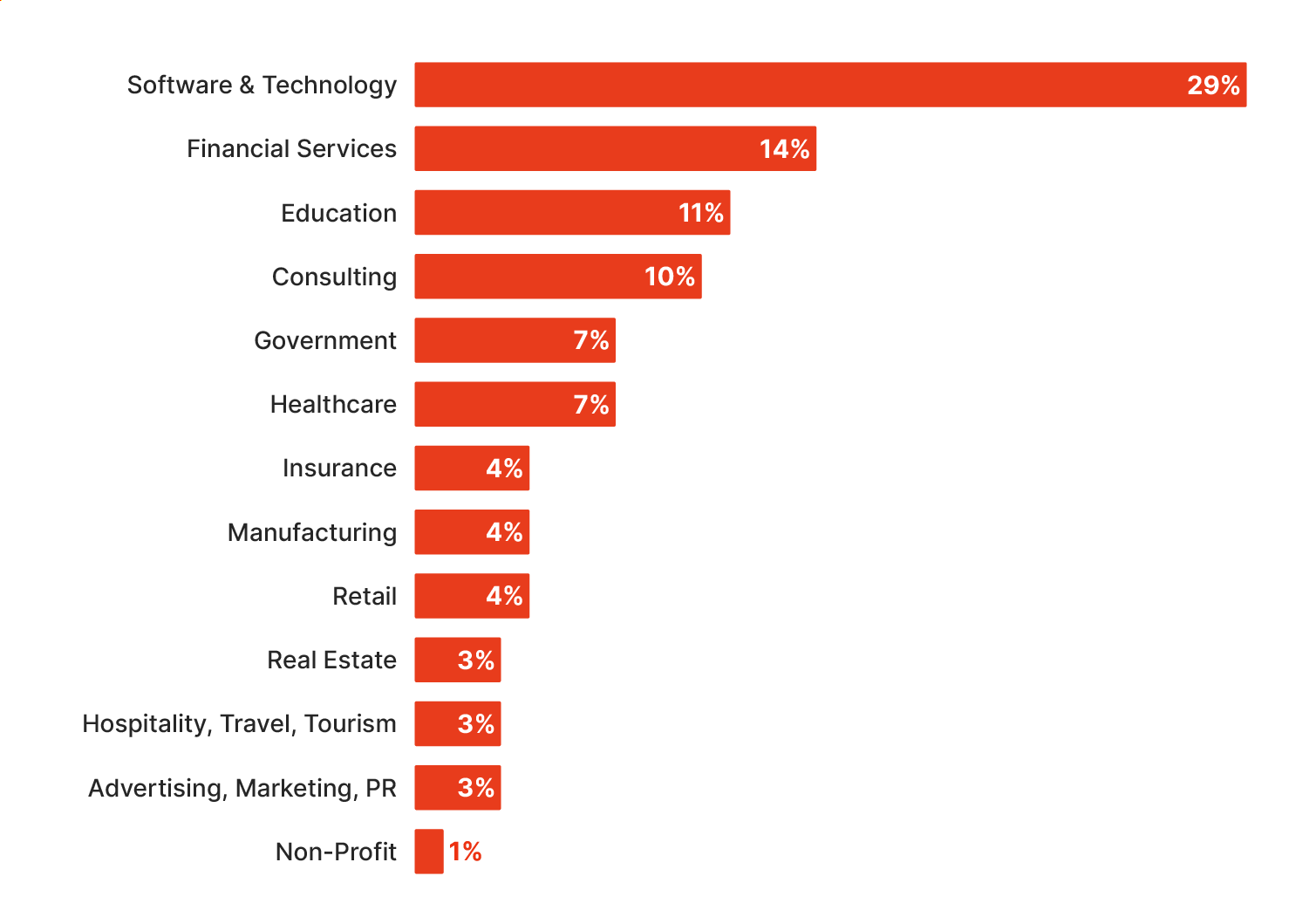 2. Webinars Continue To Grow in Popularity
Between 2019 and 2020, webinar use skyrocketed from 46% to 62%. However, that jump wasn't a temporary growth due to the restrictions on live events and meetings. The increase in webinar trends shows no signs of slowing down in the near future. Today, 95% of businesses say webinars are a crucial part of marketing.
For example, three times as many users searched the term "Zoom" in 2021 than in 2019, despite the reintroduction of live events. While webinars grew in popularity recently because they were one of the only options available during the pandemic for meetings and events, many marketers realized the value of webinars and continued their use in today's post-pandemic society.
3. Webinars Reach 92 Million Remote Workers
What makes webinars so attractive in a post-pandemic world?
While COVID-19 forced offices to use remote working environments, many saw a positive side to online business structures and continue to allow remote work. Today, 58% of U.S. workers work remotely, at least part time.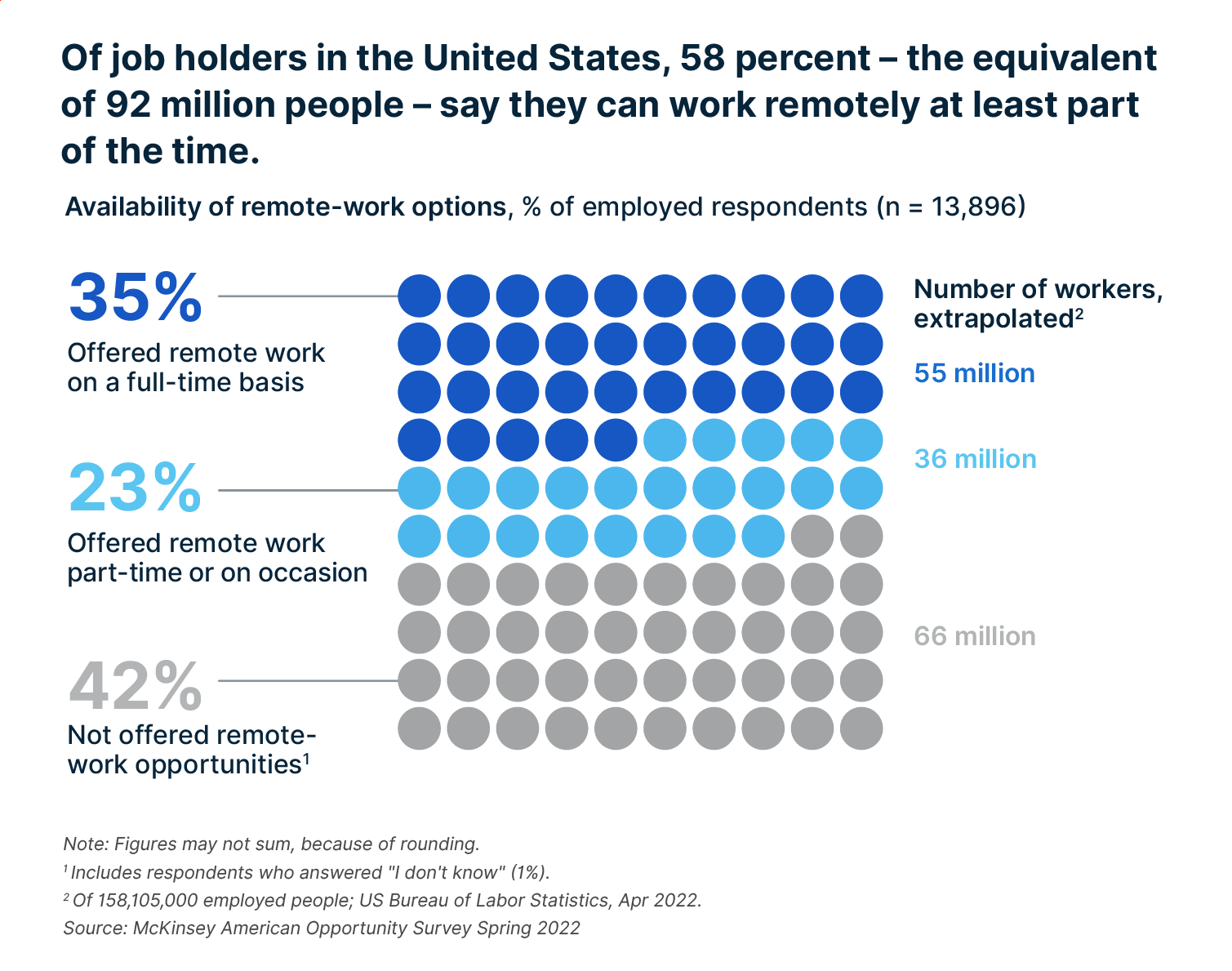 Because of the increase in remote work, there's also an increased need for remote events, even though professionals can attend live events. Remote events like webinars connect a scattered tech workforce in their homes and don't keep marketers restricted to a set geographic area around an in-person event.
4. Webinars Generate Quality Leads
According to 89% of marketers, webinars are more effective than all other channels for generating qualified leads. In addition, Webinars for lead generation work well as a top-of-the-funnel strategy because marketers can target a specific audience through the webinar's themes, then capture interested leads when viewers sign up for the event.
For example, ActualTech Media hosts multi-vendor webinar events for anywhere from a couple hundred to over a thousand attendees. These attendees are all tech professionals looking for thought leadership content. Businesses can position themselves as an authority by presenting at one of these events and diving into an area in the tech industry where the presenter's business is an authority.
5. Webinars Nurture Customers and Leads for Higher Sales
Nurtured leads, on average, spend 47% more than non-nurtured leads, and webinars can help marketers see those results.
Webinars aren't just for the top-of-the-funnel content. Webinars also work well in the middle of the funnel, where leads know about a brand but aren't sure they're ready to purchase.
First, business leaders can present middle-of-the-funnel content during a webinar to move leads through the sales funnel by educating the leads, creating demand, and convincing the lead to make a purchase decision.
Second, Webinars allow presenters to understand the market better. During the event, presenters meet hundreds of attendees in the tech industry and learn about the attendees' needs. Then, the presenter can offer more relevant solutions for tech professionals.
As the presenter interacts with the attendees, he learns about their titles and businesses and has a chance to answer direct questions the audience asks during the Q&A session. These details allow marketers to personalize future interactions when qualifying leads.
6. Webinars Bring in Leads Even After the Event
Webinars are more than a single-time event. Marketers can still access the recording even after the event ends to post on-demand to continue bringing in leads. While 47% of webinar views occur within the first 10 days, 24% occur within 20 days, and 10% occur within 30 days.
Marketers can use webinar recordings in various other strategies, including:
Content syndication
Blogging media
Social media content
Email marketing
The versatility of webinars makes them an essential part of marketing in today's digital age.
Join a Webinar for Lead Generation
ActualTech Media is a leading webinar host in the tech niche. We offer multiple opportunities for technology experts and businesses to present in front of a tech audience. Some of the webinar options are:
Multi-vendor events with multiple presenters
Single-vendor events with one presenter
Panel webinars with a group of presenters
Custom webinars cultivated to each business's needs
In each option, we take care of the technical side of the webinar so you can focus on your presentation.
Join us for one of our upcoming tech webinars for lead generation.