High-quality lead generation is the bread and butter of B2B marketing—especially in tech and other niche industries. B2B marketing teams with developed, targeted, and sophisticated lead gen practices outperform their competitors by a staggering 133% in terms of revenue.
Still, a consistent majority of marketers identify quality lead generation as their top challenge.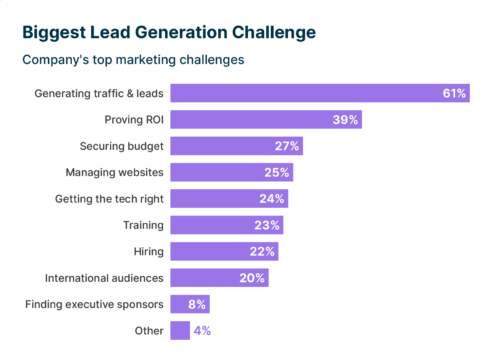 In this guide, we'll help you bridge the gap between knowing that quality leads matter (almost everyone does) and actually generating best-fit leads for your business. We'll cover four key questions you can ask to get to the root of your lead gen challenges, plus best practice tactics for resolving them.
Key Takeaways:
B2B marketers with smart lead generation strategies deliver at the bottom line, but most companies still struggle in this area
Understanding the strengths and weaknesses of your lead generation efforts requires an honest self-evaluation of your content creation and other marketing activities
To successfully generate high-quality leads, content must deliver unique value to and authentically connect with best-fit, purchase-ready audiences
4 Questions To Ask if You're Not Getting High-Quality Leads
The Internet is crowded with content—7.5 million new blogs and other pieces of content hit the web every day vying for customer attention. To boot, B2B buyers are smarter than ever. They do most of their research independently before ever reaching out to a sales team, and they look for brands that show a savvy understanding of their industry and needs.
If you feel like your lead generation efforts are coming up short, the problem could be rooted in your content. To stand out to your target audience, your content must be customer-focused and include clear, compelling messaging to emphasize the value your brand delivers.
The following four questions can help you assess whether your current content is hitting the mark.
1. Does Your Content Solve Real Problems?
Content marketing works because it delivers real value to potential customers. Whether you're hosting a webinar, consulting with industry experts to publish whitepapers and e-books, or maintaining a regular blog, your content must deliver unique insights and actionable solutions for the business problems your target audience experiences.
Valuable content builds brand credibility and establishes your brand as a thought leader and expert in your space. It also influences decision makers—according to Edelman research, nearly 90% of high-level decision makers say quality, data-backed thought leadership content enhances their perception of an organization.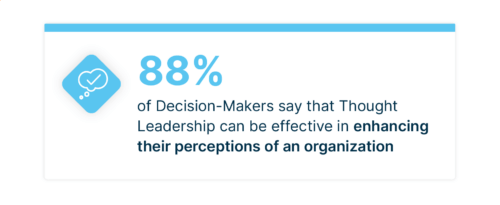 The takeaway: If your content isn't bringing in high-quality leads at the rate you need, consider its quality and tone. Does it address actual customer problems? Does it add a unique perspective to existing industry knowledge? Companies that can confidently answer "yes" to these questions achieve seven to eight times the ROI of competitors who publish standard-quality content.
2. Does Your Content Add Anything Unique to the Discourse?
It's easy to churn out content with the same responses to trending topics and questions in your industry. Companies do it all the time, and it's why Google queries often yield dozens of results with the same insights, statistics, and answers. Today's B2B customers look for brands that do more—those that know the existing discourse and add something new and meaningful.
If you know what your target audience is looking for (which should be your first step—before you create content), many of your competitors do, too. To stand out and grab the attention of high-quality leads, your content needs to move beyond the status quo. Some ideas: include opinions and commentary from your internal SMEs, conduct original research, create graphics and video, or share a devil's-advocate take on an oft-recycled topic.
3. Does Your Content Specify a Clear Course of Action?
Approximately 96% of potential leads are not yet ready to buy when they first visit your website—but that doesn't mean they aren't prepared to take intermediary steps. Your content should be designed to pave a clear path toward lead conversion, motivating leads to share contact information, download content, attend events, and more.
You can do this with a compelling call to action (CTA) that intentionally moves leads to the next logical step in the process. For example: You may ask a first-time visitor to your website to share their email address so you can engage them further with a drip campaign. A lead that's attended multiple events and shown purchase readiness should be asked to take bigger action, like scheduling a 1:1 demo.
The important thing is to know which stage of the funnel your content is targeting and what the right steps are for prospects at that stage, then include a CTA that aligns accordingly.
4. Are You Even Talking to the Right Audience?
To return high-quality leads, your content needs to speak to the right audience. This means doing the work before you publish. Be sure you're taking steps like:
Developing a thought-out content strategy
Researching your ideal customer profiles (ICPs) and target account lists (TALs)
Customizing content by audience segment
Selecting the right channels for distribution
When content quality isn't the issue, the shortest route to success is refining your message and crafting content to align with individualized needs—needs by segment, industry, funnel stage, or any important factor you use to differentiate target audiences.
Engage with Motivated, Purchase-Capable Audiences Selected for Your Content with ActualTech Media
Join other leading tech vendors in your niche for ActualTech Media's ready-made, hot-topic technology webinars. Partner with ActualTech Media and stand shoulder to shoulder with the biggest vendors in your field with full turnkey control.
Request a detailed service price list today.