Webinars are taking the digital marketing world by storm—they've become a primary way for B2B brands to generate leads and educate audiences about their products and services.
The thing is, as webinars get more popular, the market gets more competitive for buyers' time.
How can you make your webinars stand out in the crowd? You need to think more innovatively while also taking a more comprehensive approach to webinar promotion—doing it before, during, and after your event.
In this complete guide, we'll dive deep into 15 webinar promotion tactics to help you effectively market your events, drive more interest, increase attendance, and maximize ROI in the forms of new leads and converted sales.
Quick Takeaways
Webinar promotion needs to happen before, during, and after your event for full ROI
Written webinar promotion content (like emails and landing pages) must be concise and include prominent links to important action steps—most importantly, registering
Leveraging partners in your network for promotion support is a powerful way to expand the reach of your webinar promotion strategy
Webinar follow-up should be sent within 24 to 48 hours after the event and include both attendees and non-attendees
Your webinar recording can be turned into a long-term lead-generating content asset
Webinar registrant/attendee data is an important resource for measuring performance and continuously improving your events.
Before the Webinar: Positioning for Success
Nail Your Registration Landing Page
Your registration landing page should serve as a digital hub for your webinar. It should be the single destination where all other webinar promotion materials—emails, social media, display ads, and the like—send potential attendees to learn more about the event.
When a visitor arrives on your webinar registration page, you want to immediately draw them in with exciting above-the-fold content, then follow up by providing all of the important details they need to know about attending.
Here's a helpful checklist for what to include on your page:

Webinar title and tagline
Host and speaker information
Date, time, and event link
Images (branding visuals, speaker headshots, and so on)
On-page registration form
Detailed description of the event
While your webinar landing page does need to be comprehensive, it can't be cluttered. It's not the place to include things like larger brand promotions or extensive information about your company. Keep things all about your event, make your CTAs prominent, direct visitors in every way possible to register, and save other promotion opportunities for later.
Write Compelling Webinar Promotion Emails
We hear a lot about email fatigue, too-full inboxes, and the challenge of getting recipients to even notice (let alone open) your emails. It's all got some truth to it, but far and away email still remains the most preferred and most effective way to get in touch with your audiences.
Fortunately, webinar promotion emails generally fall into the category of messages professionals like to receive—if they're getting an invite to an online event, it's presumably about something they care about and/or hosted by a company they've intentionally connected to in the past. Even better, B2B buyers want to attend webinar events—to the tune of 40% saying they attend them specifically to inform purchase decisions.
All of this is to say your webinar promotion emails, when targeted effectively, will be welcome.
So how do you make them stand out?
Start by personalizing your efforts—segment your lists, use your email marketing platform to customize messages (i.e. insert names of individuals or companies), target the right webinars to the right audiences, and make them well designed and visually pleasing.
As with your registration landing page, keep your email focused on your webinar. Include the important details, but don't overload it with copy. Use imagery and make the most critical information prominent—the title of your webinar, the host and speakers, the date, time, and location, and of course your CTA to register.
Create Promo Content
You can make webinar promotion for your event easier to execute on a wider scale by creating a suite of content assets at the start—things like social media graphics, banner images, webpage templates, email templates, and more. These assets help ensure branding is consistent and can be made shareable to partners and other promoters (like employees, for example) who help spread the word about your event.
It also saves time creating assets on an as-needed basis, and if you're running a webinar series (or run webinars frequently) you can reuse assets with only a few simple changes.
Grab Attention with Popup Forms
Popups get a bad rap, but they're actually quite effective (and not too intrusive) when you use them the right way. Exit intent popups, for example, only appear as a user is clicking away from a page and can be used to re-engage abandoning visitors to your webinar landing page or to capture new interest from those exploring related topics elsewhere on your site.
The consensus on exit page popup conversion rates vary, but they're consistently found to convert at a higher rate than display ads and can be even better aligned with user interests and behavior (ex: offering a way to learn more about a topic that already interests them).
Popups should include even less information than your registration page or webinar promotion emails—keep it to the webinar title, date, time, and registration form when you can. The most important thing is to get your online visitor to convert while intent is there, then you can follow up with more details through other channels.
Promote on Social Media
The No. 1 reason consumers follow brands on social media is to learn about new products and services, according to a survey by Sprout Social. Other reasons listed include staying up to date on company news, to be entertained, to be educated, to communicate with brands, and to connect with other people. Consider that collectively, and your webinar promotion is exactly the kind of content buyers are looking for when they follow you on social media.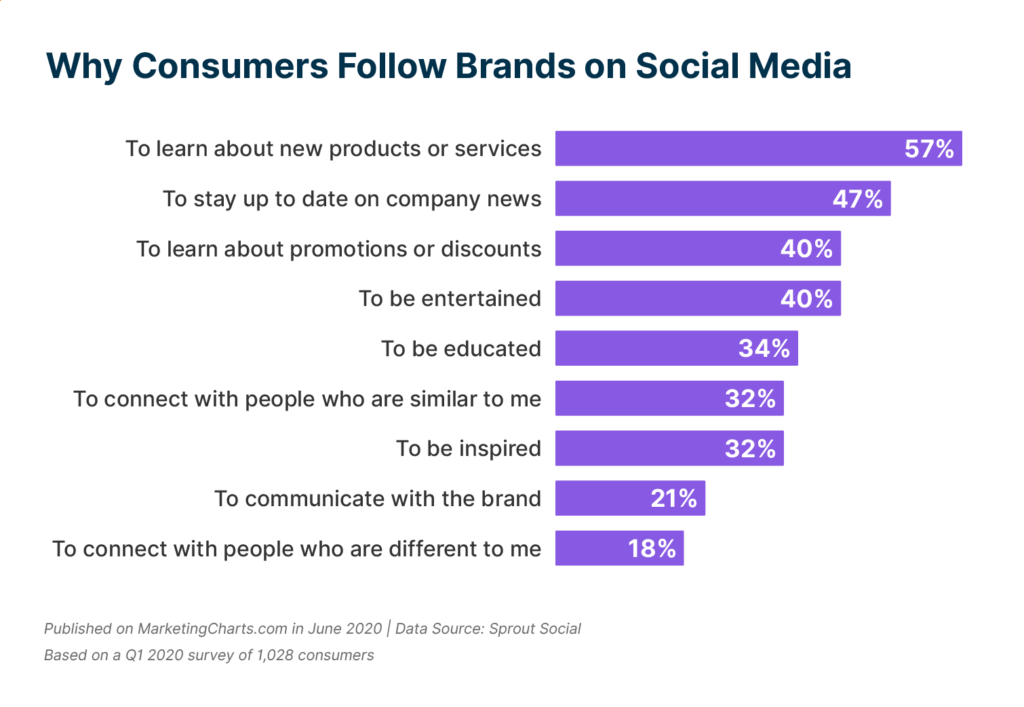 Maximize your promotion potential by posting about your webinar frequently and across all the platforms you use. Encourage organic sharing by speakers and employees on their own profiles when it makes sense. Make the process easy by creating a posting schedule and using an automated tool to execute it leading up to the event.
Leverage Your Network for Promotion Support
Your professional network can be a huge resource for webinar promotion support leading up to your event. The obvious ones, as mentioned already, are speakers and employees. But you can also depend on hosting partners, vendors, and other peers to share your event (especially if you're willing to do the same for them).
Ultimately, organizations want to share content that's valuable to their audiences. If your webinar and company aren't directly competitive with theirs, most will be open to sharing it.
The key here is that you'll have to ask. Don't be afraid to send a friendly request out to your network telling them about the event, emphasizing why and for whom it's valuable, and encouraging them to share it with their own audiences where it's relevant.
Have a Reminder Schedule
Initial registration for your event is great—but it's only the first step. To secure high attendance at your webinar, you'll need to set an automated reminder schedule so registrants keep it top of mind.
Automated webinar email reminders are the easiest and most effective way to do it, and most online event platforms have built-in features for this purpose. Other reminder methods include calendar appointments, social media notifications (if your event is hosted on a social platform) or even SMS text messages.
During the Webinar: Making the Most Out of Your Time
Set the Stage with a Clear Agenda
The need for promotion doesn't end with pre-event tactics, and even when someone signs on to your webinar, you can't assume they'll stay. More than 65% of professionals say they've left a webinar early, and much of the time it's due to unclear value or direction.
Kick your event off with a clear agenda. Let attendees know the order of events and how they'll get ROI from the time they spend there. Plan your event thoroughly in advance so you can share this information and make the most out of the time you have with your audience.
Make It Interactive
Remember that connecting with new people is one of the top reasons people attend webinars. While much of the value of your webinar is in the content you share, your attendees will find the event more engaging when they can actively participate.
Work interactivity into your webinar with tactics like survey and poll questions, live chat, and Q&A sessions with your webinar speakers. These activities have benefits for you as the webinar host, too—you can get a sense of how attendees are receiving your event content, ask questions designed to obtain attendee feedback, and collect data you can analyze later to gain more insight about your audience.
Promote Future Webinar Events
During your current webinar is a perfect time to promote additional upcoming events you're hosting, whether in the same webinar series or on separate standalone topics. You can capitalize on attendees who are actively enjoying your content in the moment and motivate them to register for more.
There are a few ways to do it—if you're covering a topic during the main portion of your webinar, you can mention other webinars that will cover related content and link to them so your attendees can save it and/or register right at that time. The drawback is that you might distract your attendees away from the webinar you're currently running.
Another option is to wait until the end of your webinar to spend a few dedicated moments on what's coming up on your event schedule. As always, be sure your registration link is available and prominent as you talk about the event.
After the Webinar: Capitalizing on Follow-Up
Be Quick About Follow-Up
Best practice is to reach out within 24 hours after your webinar to thank attendees and close the loop on follow-up messaging you want to share with attendees. As with your pre-event webinar promotion emails, make these messages personalized, well-designed, and straight to the point—don't be too copy-heavy and make your CTAs stand out.
If you're conducting a feedback survey (we recommend that you do), include it in your follow-up email so attendees can complete it while your event is still fresh in their minds.
Other things to think about including in your follow-up email are:
Promotion for future webinars ("save the date" messaging, registration links, and so on)
Guidance on next steps to purchase (like sales reps contact info or a product demo link)
Recording of your webinar and encouragement for attendees to share it
Other ways attendees can stay connected with your brand (such as email subscription and so forth)
Decide which next-step actions are most important to you and prioritize those in your follow-up—don't try to include everything at once and overload your audience. Remember, the goal is to get them to take a single next step to keep them moving down your pipeline.
Reach Out to No-Shows
Don't forget about webinar registrants who didn't actually attend—there are plenty of reasons someone may miss an event, and it's likely that many of your "no-shows" are still interested in what you have to offer. Segment non-attendees into a separate list and start with a "Sorry we missed you!" (or similar) message sent at the same time as your attendee follow-up.
Include a recording of your webinar (if that makes sense), provide a recap of the most valuable takeaways, and share the same invitations to connect with your sales team that you shared in your message to attendees.
You'll be surprised by how many busy professionals (who may not even have meant to miss your event) will be thankful for this outreach and engage with you after they receive it.
Send a Feedback Survey to Attendees
Your post-event survey is one of the most important sources of data insight you can use to measure webinar performance and continually improve your content. The good news? It doesn't have to be complicated. Many brands stick with a simple net promoter score, then follow up with one or two open-ended questions to get qualitative feedback.
Analyze Your Webinar Data
Put a process in place to organize and analyze your data right away. A data intelligence software platform can help you centralize your webinar (and other) audience behavior data in one place, and provides the analysis capabilities you need to turn raw data into actionable insights.
Zoom in and out to look at your data from both a granular and holistic perspective—for example, to explore how your audience from a single webinar felt about the topic or interacted with your speakers, but also to look at engagement data over the course of every webinar you've run during a set period of time. You can then look for trends that inform future action.
Repurpose Your Webinar Recording
Your actual live event is only the tip of the ROI iceberg for your webinar. Leverage your event recording as a content asset in other places after your event is complete. Share on social media, write a blog recap (and include the video link), and keep a gated content landing page active so people can still register to watch it.
This is one of the reasons webinars are so worthwhile—for as long as your webinar content is relevant, you can use your live event recording as a long-term lead generator.
Webinar Promotion Examples to Inspire You
Ready to level up your webinar promotion strategy? Below are some great examples to inspire you as you get started.
ActualTech Media's Webinar Event Center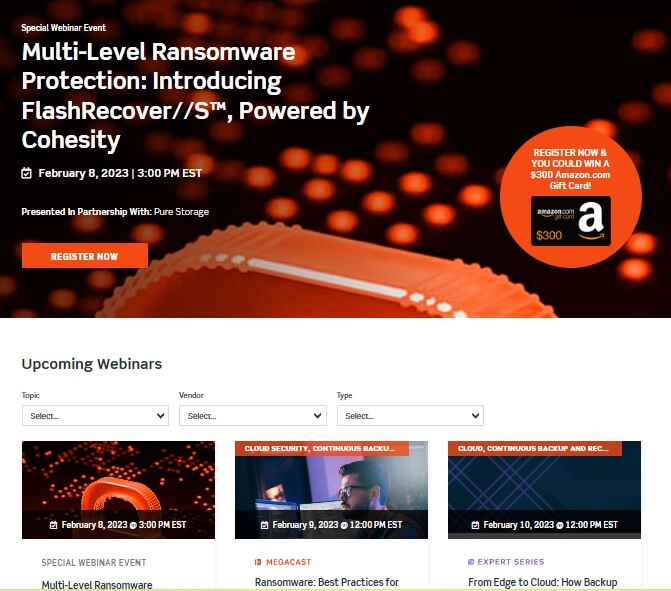 In addition to our individual webinar event promotion, ActualTech Media provides a central hub for our new and established audiences to browse events and register for those that may be of interest to them.
We aim to make the experience seamless by providing quick snapshots of each webinar on the page, links to individual landing pages, and a seamless way for users to search by topic, vendor, or event type.
Vidyard's Partner-Driven Webinar Promotion Strategy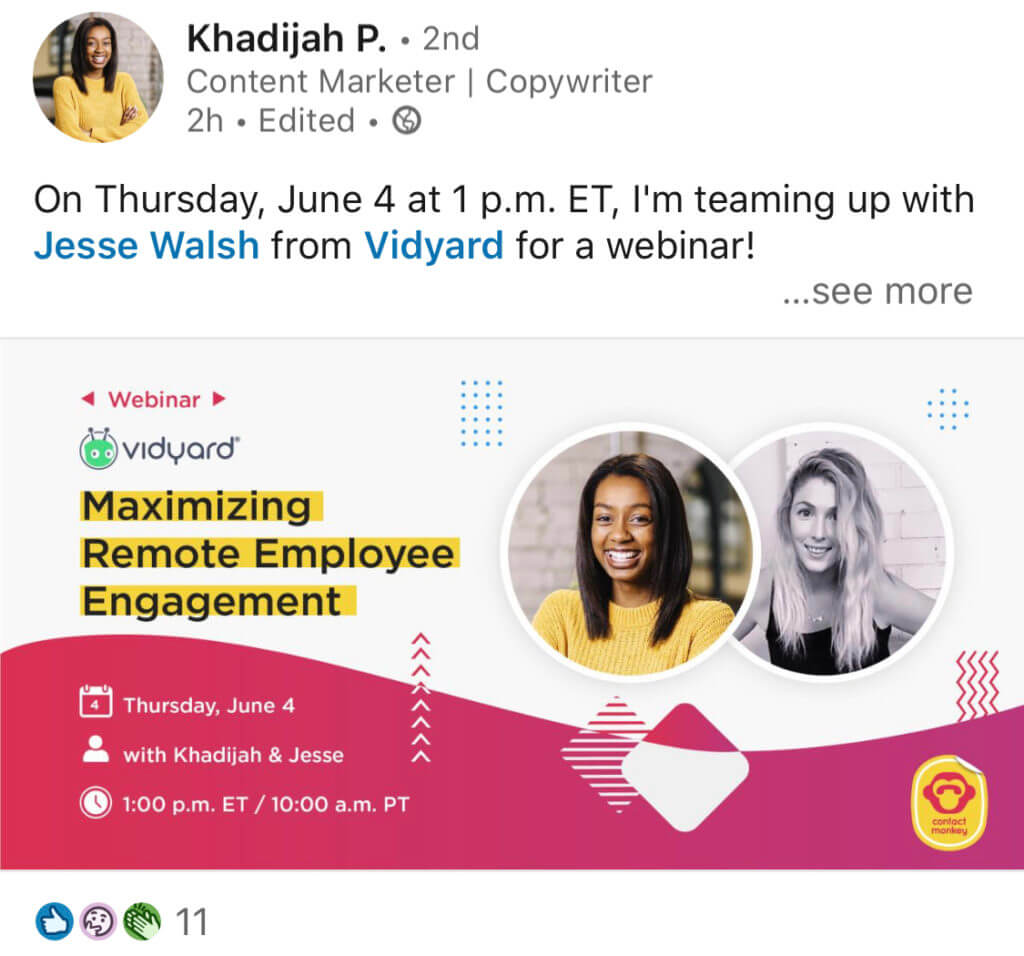 In this simple but effective example of social media webinar promotion, Vidyard partnered with the guest speaker for their upcoming webinar to promote it on her personal social media profile, and thus gained access to an expanded network of potential interested attendees.
UserTesting's "We Missed You" Email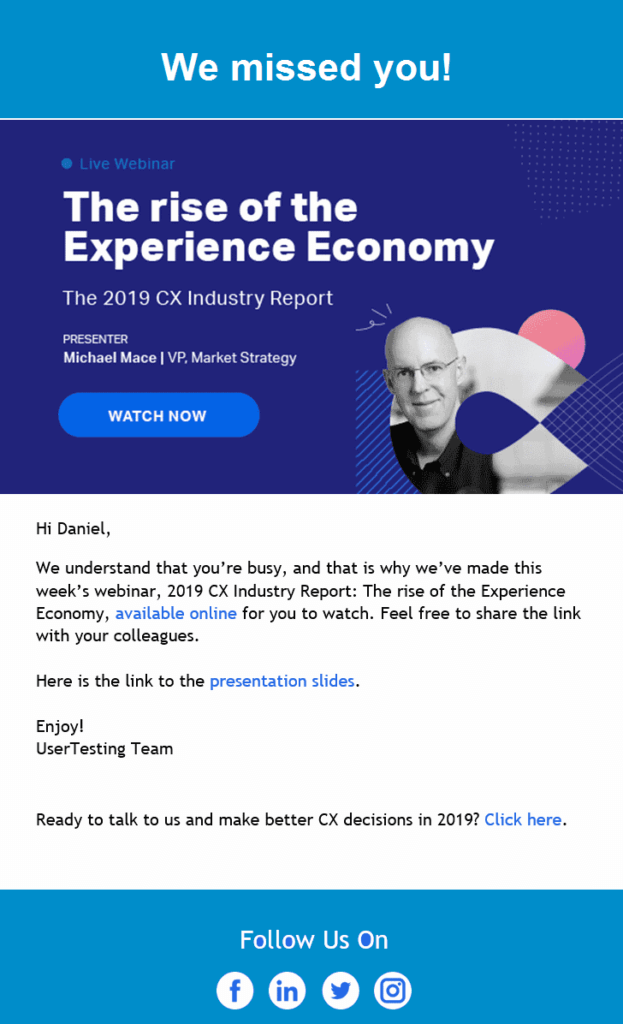 UserTesting manages to fit multiple webinar follow-up best practices in a single concise email—it starts with a personalized "We missed you!" message to let the non-attendees know UserTesting still values their interest.
In the body of the email, links are prominently shared to drive further action (to the webinar recording and slides, and to get in touch with the sales team), as well as a friendly invitation to share the recording with others.
ActiveCampaign's Attention-Grabbing Social Content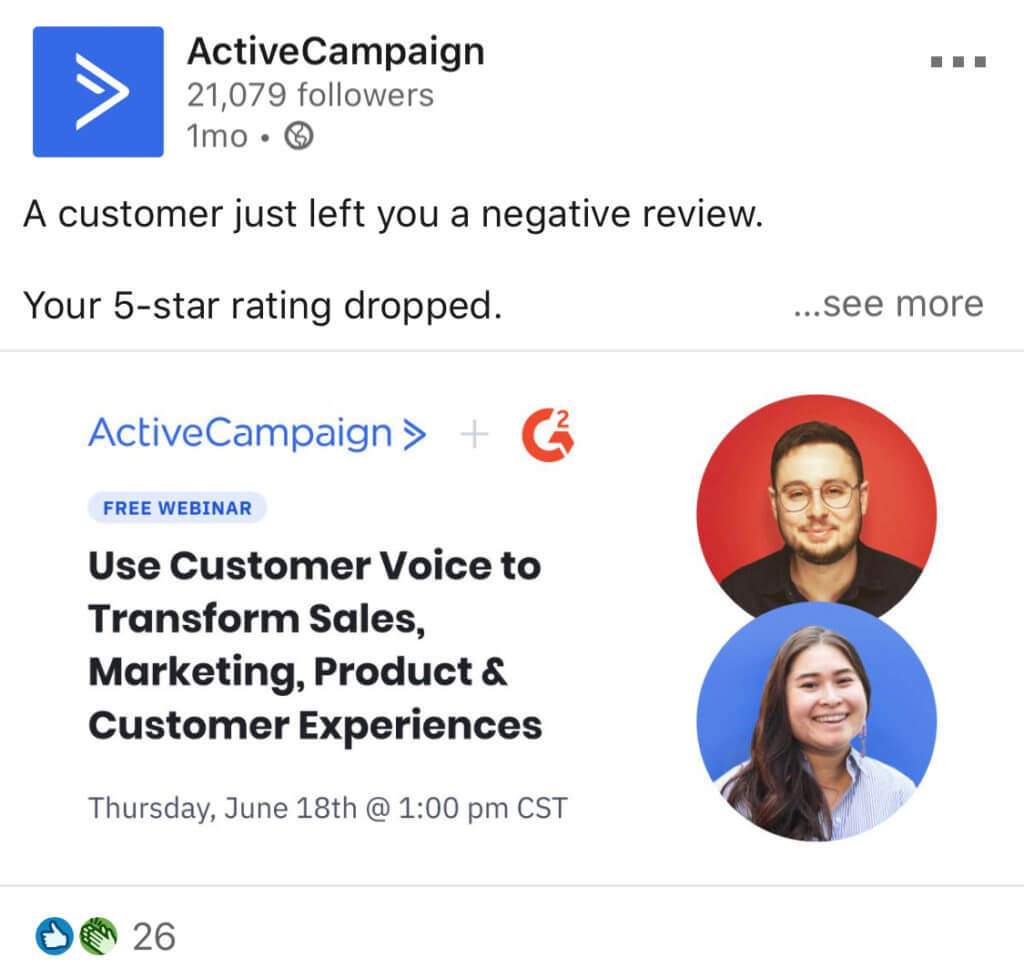 We love this social media webinar promotion example from ActiveCampaign for two reasons—first, it uses attention-grabbing copy to make a potential attendee stop their scrolling. Second, that copy addresses a critical pain point for organizations that the webinar is presumably going to address, immediately communicating the value of the event.
Wix's Straight-to-the-Point Landing Page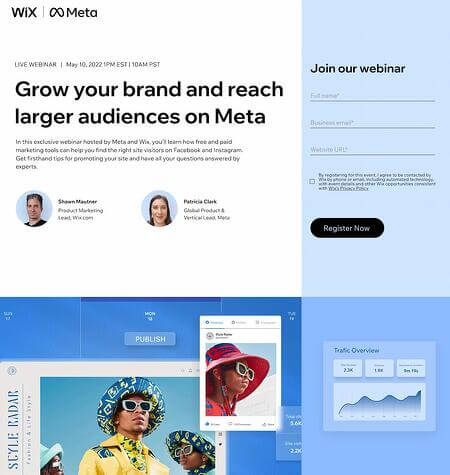 We talked a lot about landing pages in this guide, and this example from Wix is a good one. Some of the things we like about it: concise copy, clear above-the-fold messaging, a short form that can be quickly completed, and a clean webpage design.
Over to You
Ready to make webinars a central part of your brand promotion strategy? ActualTech Media can help. We connect B2B tech marketers directly to capable, motivated audiences in hot-topic, multi-vendor industry events.
Get in touch with us today to learn more about how we can boost your webinar ROI to help you grow your business.