Webinars are everywhere in 2023. Thanks to the onset of the pandemic a few years ago and the overnight adoption of digital communication it required, webinars quickly made the jump from a sometimes-used alternative meeting method to a central part of B2B digital marketing and lead generation strategies.
Today, 45% of B2B marketers say webinars are their most effective demand gen tactic and a whopping 91% of B2B professionals say they prefer webinars over other content types.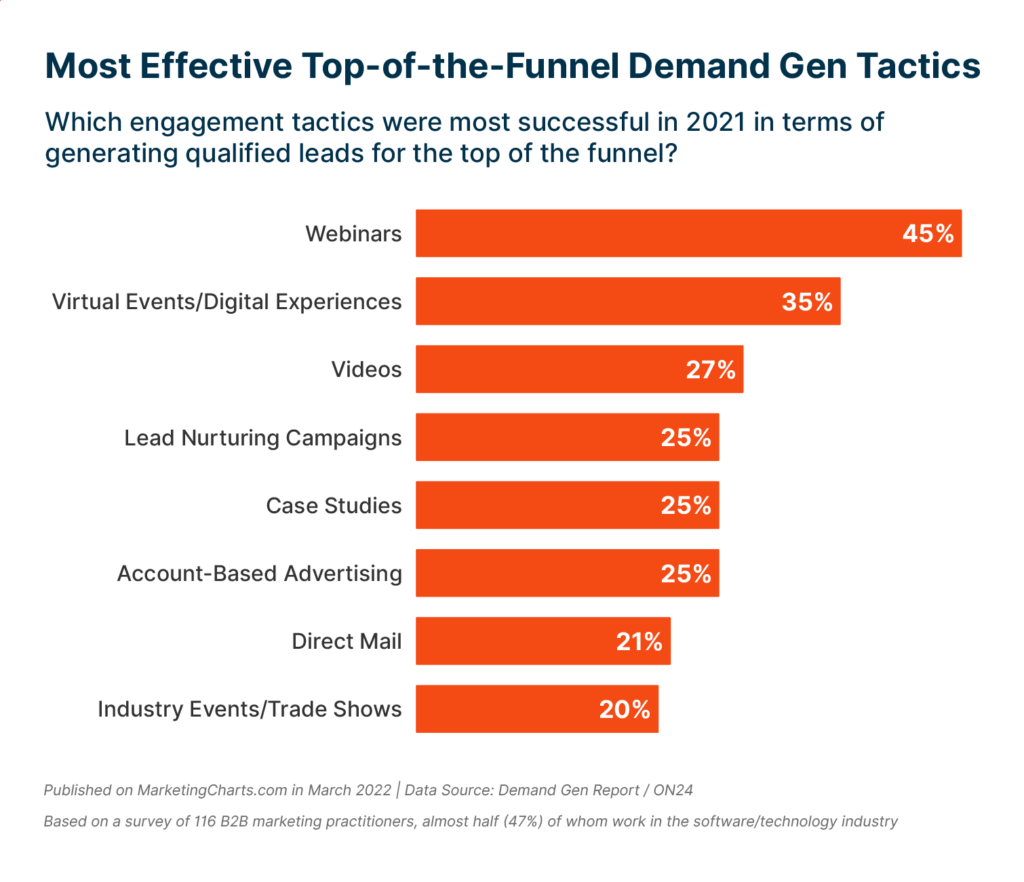 So—the good news? Webinars have seriously expanded the net companies can cast out to their target audiences. The not-so-good news? Webinars are working, so everyone is starting to do them.
How can you differentiate yours? Enter: the webinar series.
The webinar series is exactly what it sounds like—a set of several webinars bundled together and shown over the course of a few days or weeks. They cover related topics and give everyone involved (hosts, speakers, and attendees) multiple opportunities to interact.
Most importantly, they increase the likelihood of walking away with high-potential leads for your business.
If you haven't done a webinar series yet, now is a good time to consider it. In this article, we'll explore why. We'll walk through six compelling reasons a series is better than a single event for webinar lead generation, plus tips from the ActualTech Media team on how to execute effectively.
Quick Takeaways
Webinar series give you more opportunities to engage with your audience and build a connection with potential buyers
Companies can use webinar series events to learn about their audience and customize content to their needsWebinar series leave plenty of time for direct engagement through discussion, Q&A, and coverage of multiple topics
Initial no-show attendees can be re-engaged to attend future events in a series.
Storytelling—one of the most compelling methods for building a sales case—can be implemented more effectively in a series
5 Reasons a Webinar Series Is Better Than a Single Webinar
More Chances To Engage with Potential Leads
It's no secret in the B2B world that it takes multiple "touches" to convert a lead—about six to eight on average, according to most industry research. That means a single webinar requires additional follow-up through other channels, like an email or a phone call.
Those tactics are fine (and can often be used in conjunction with webinars), but if more than 90% of B2B buyers prefer webinars, why not follow up with another one?
A webinar series gives hosts, speakers, and attendees the opportunity to get to know each other and build potential relationships—ones that, for B2B providers, can lead to converted sales.
Enough Time To Cover Multiple Topics
The most engaging webinars are interactive—they invite attendees to engage directly with the host, speakers, and content by asking questions and providing their own take on what's being covered.
But cramming all of your content into a single session can mean that time for guest comments and Q&A gets shortened or skipped. In many cases, this can be the difference between your webinar attendees getting what they needed from your event or feeling like they got cut short.
A webinar series provides plenty of time to cover all important topics and content without having to sacrifice the attendee engagement that's so critical for generating leads. In fact, hosts can facilitate conversation with tools like audience survey questions throughout the event.
"Survey questions can be an incredible tool for gauging the audience's knowledge level," shares Scott Bekker, ActualTech Media's director of Webinar Programs. "From a speaker's standpoint, it's helpful to ask these questions so they can understand what really needs to be covered more in-depth or what topic areas the audience wants to focus on."
Content Can Be Tailored to Attendee Needs
Another benefit of asking survey questions, particularly when you're running a webinar series, is that you can tailor future content to the specific needs of your audience.
While B2B companies have ideal customer profiles and buyer personas that guide webinar marketing, the exact audience makeup—and the interest of those in it—can vary by any number of factors (for example, the topic being covered or a certain industry being targeted).
A webinar series presents an opportunity to learn about your audience in the first session, then design custom webinars that align content directly with what buyers need.
Given that 68% of B2B buyers say an understanding of company- and industry-specific needs is the reason they chose one vendor over another, this tactic can be a huge conversion driver when executed successfully.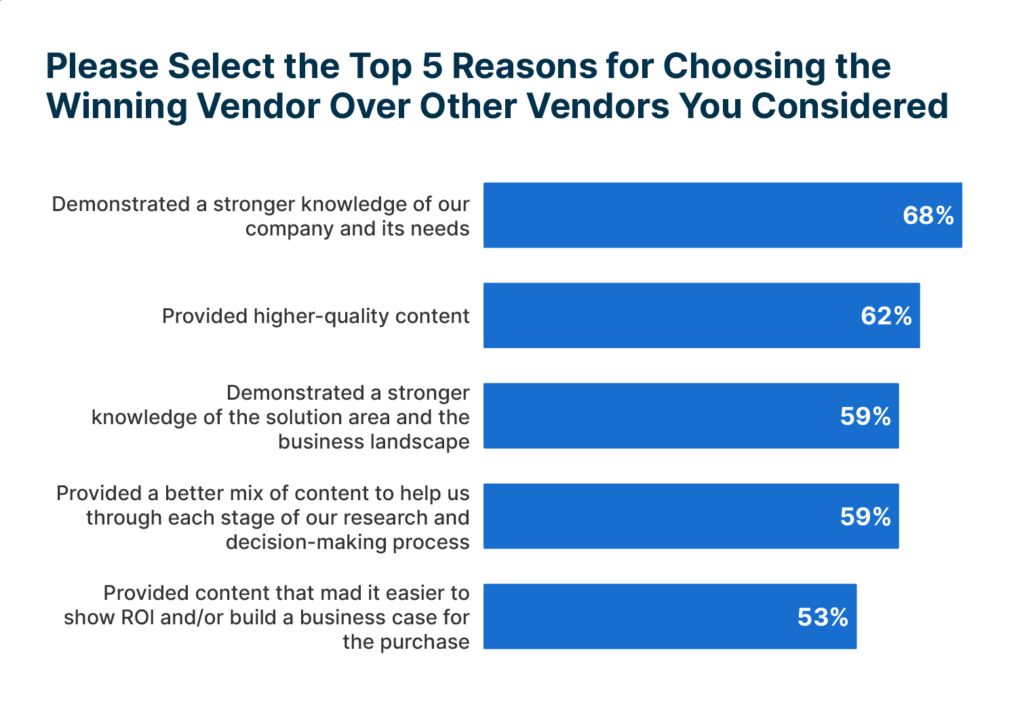 No-show Attendees Can Be Re-engaged
Industry research generally agrees that the number of registrants who actually attend webinars is about 40% to 50%. That's a huge chunk of potential customers you might miss out on by only holding a single webinar. On the other hand, if you go with a series, you have an opportunity to re-engage your no-shows by sending a recap or even recording of completed sessions.
There are countless reasons someone might sign up for a webinar and then not attend, including that they just forgot. A follow-up and recording can get them right back on board and prevent high-potential leads from falling off.
A Series Tells a Story
Last but definitely not least—a webinar series builds momentum. Or, as ActualTech Media's Webinar Moderator Jessica Steinbach says: It tells a story.
"What I like about the idea of a webinar series is that you can set a story arc and set the journey where you want the audience to go with you," says Steinbach. "You can build excitement and then you can bring it home by ending with something valuable for your audience to walk away with."
Storytelling keeps audiences more engaged, builds emotional connection (a key contributor to final sales decisions), and increases the likelihood that more webinar attendees will enter your pipeline as bonafide leads.
The Bottom Line
Webinars have proven to be one of the best lead generators for B2B businesses. But now that most companies are doing them, marketers need to figure out how to make their events stand out. Running a webinar series is one of the most effective ways to do it.
With more time to engage your audience and a greater ability to build momentum with multiple topics and compelling stories, a webinar series can help you boost leads and conversions while building better connections with your potential customers.
Maximize Your B2B Webinar ROI with ActualTech Media
The team at ActualTech Media can help you level up your webinar lead generation by connecting your content with capable, motivated audiences in hot-topic, multi-vendor industry events.
Ready to learn more? Check out our 2023 webinar schedule and contact us today to schedule your initial consultation.