Contact
Over half of marketers host up to 50 webinars annually, with some running as many as 150 webinars a year. As a result, B2B buyers have plenty of webinars to choose from, so marketers need to step up their webinar lead generation game if marketers want to continue attracting potential buyers to the business.
Use this guide on webinar lead generation to ensure your webinar stands out in the tech industry as a source of authority content, which will result in higher-quality leads and more conversions.
Key Takeaways:
Most marketers say webinars are the most effective tool for lead generation
Webinars for lead generation focus on informational topics rather than promotional content
Use follow-up strategies like email drip campaigns to nurture the leads generated from webinars
Why Webinars Are Useful Tools for Lead Generation
According to 73% of B2B marketers, webinars are the most effective strategy for generating quality IT leads. So, what's the webinar's secret?
Webinars combine authority content with personal interactions. That key ingredient of direct interaction makes webinars stand out above blog posts, e-books, and other forms of online content. Rather than a passive audience skimming through digital content, webinars require active engagement from the audience with a speaker, and the platform provides opportunities for that audience to respond and ask questions in real time.
Marketers use those interactions to understand the audience more personally than other engagement channels like blog posts. Taking the step to understand the audience is a key part of marketing, as personalization yields a greater return than marketing the same way with the same message for each lead.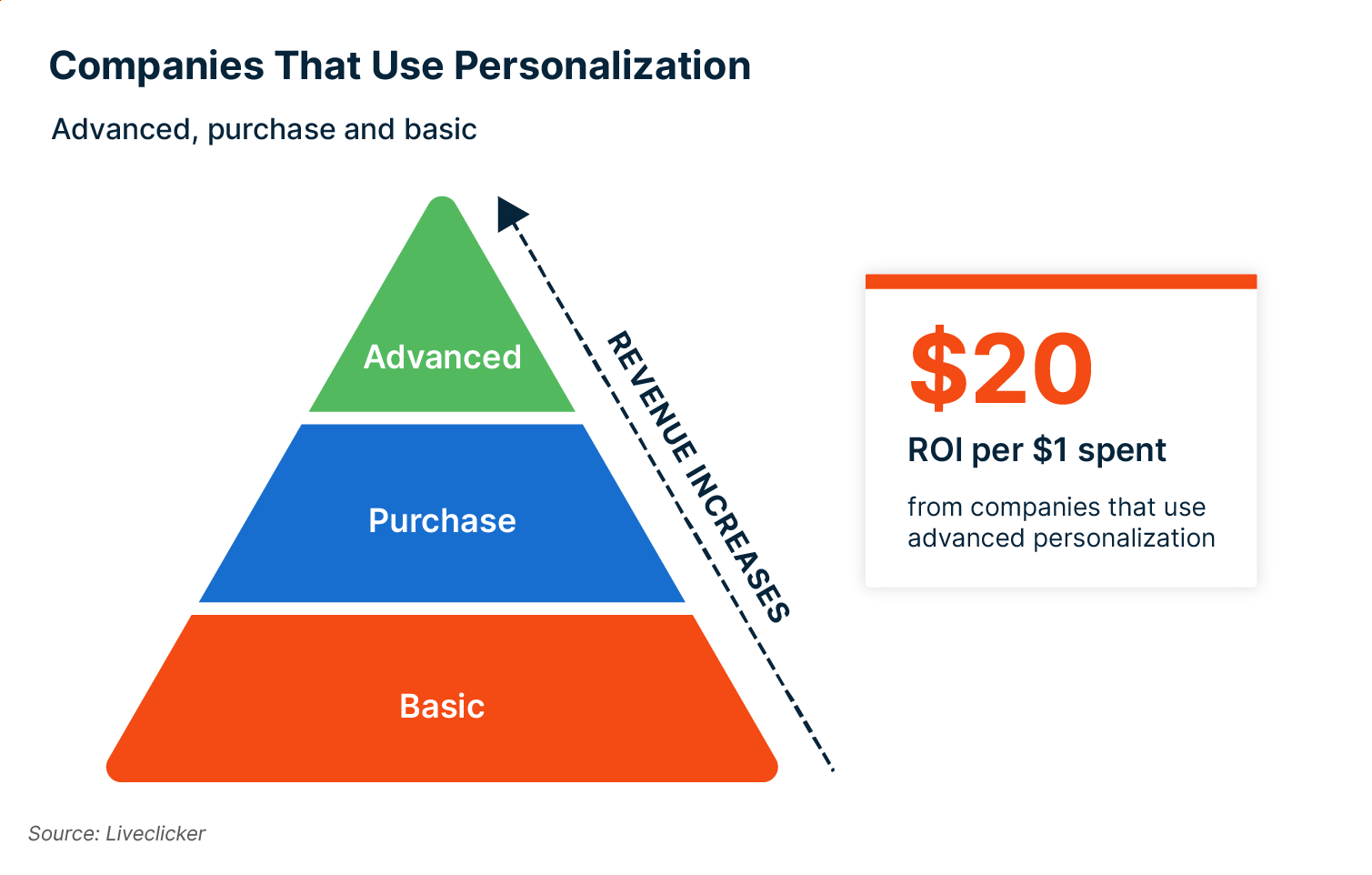 For example, a blog post might discuss the benefits of a product for the general B2B buyer. However, once a business engages with those readers through a webinar, the business will learn the different titles, industries, and questions from that audience.
These details allow marketers to address specific needs among their audience. For instance, marketers can send decision makers in the financial industry content that specifically addresses how software helps those in financial businesses. This hyper-targeted messaging helps B2B buyers find more relevant answers to their questions and allows B2B marketers to identify customers in the greatest need for the marketer's software solutions.
6 Tips To Improve Your Webinar Lead Generation
Use these six webinar lead generation tips to help you be more relevant to your audience and build webinars that convert.
1. Have an Ideal Buyer in Mind from the Start
Marketers who want to generate quality leads from webinars must first define a quality lead. For example, are marketers looking to attract decision makers within a specific industry? Perhaps a marketer wants to host a webinar to connect with buyers interested in the business's products in the past.
Once the marketing team understands the target audience, the team can focus on building a webinar strategy that attracts that audience through quality information and relevant solutions specific to the buyer.
2. Prioritize the Audience
The audience doesn't want to attend a 45-minute sales pitch. The top reason B2B buyers won't sign up for a webinar is that the topic is too marketing-focused or product-focused. Conversely, the top-performing webinars are communication webinars.
Sharing ideas, new advancements in the industry, and the latest news are ways to create a communications webinar focusing on the audience rather than a business. These webinars focused on audience-specific topics will attract attendees most interested in the business's solutions.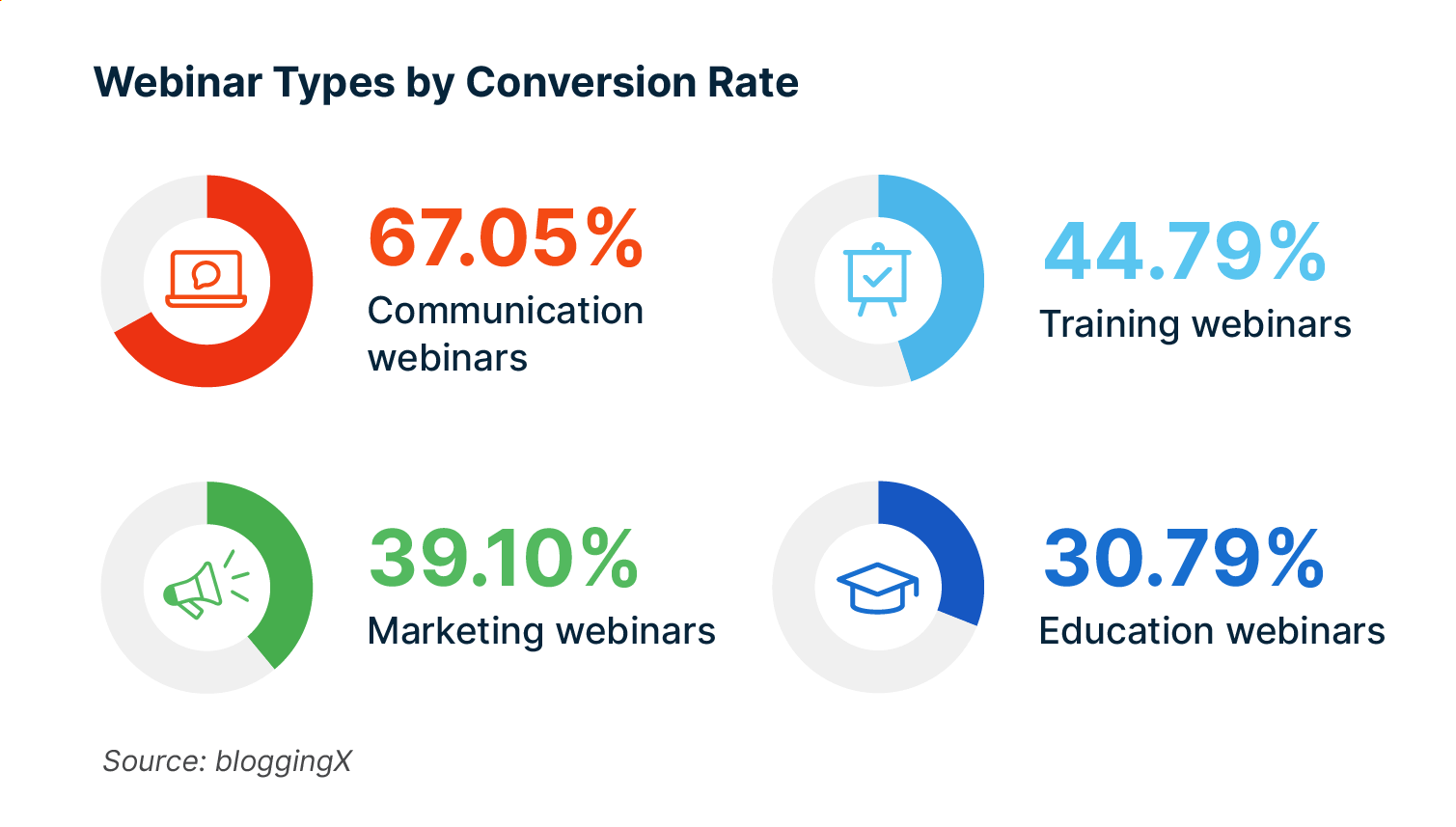 3. Make the Webinar Interactive
The advantage of live webinars is the chance to engage an audience through face-to-face interactions. After all, engagement is the key to a successful webinar.
Some ways to engage your audience include:
Using visuals
Backing claims with data and research
Having energy during the presentation
Providing resources to download
Having a Q&A session
For instance, 92% of webinar attendees prefer to attend webinars with a Q&A. Allowing attendees to submit questions before the event or take questions during the event ensures the presenter addresses all relevant concerns.
4. Analyze Webinar Interactions
Not everyone who attends webinars are interested in further information about the business. Therefore, marketers should create a lead scoring process that helps them identify B2B buyers who have a need or interest in the company from those that attended the webinar for the information but aren't potential buyers.
Marketers can start by looking at the registration form. Marketers can analyze each attendee's registration form to ensure any future communications are relevant to the attendee and the attendee's industry. For instance, marketers would send out follow-up information according to job title, so each attendee receives information directly relating to their needs.
Marketers can consider how the attendees interacted during the webinar. For example, webinar attendees often ask questions during the Q&A. Marketers can help attendees find answers by sending those leads links to more information related to the participant's question.
In addition to webinar data, marketers should also consider data in their pipeline. For instance, some attendees might have already attended several other webinars. These attendees are more likely to be interested in the middle or end-of-the-funnel content than someone who attended their first webinar.
5. Follow Up with the Leads
What do you do with leads from a webinar?
Webinar lead gen events don't automatically end in conversions. However, that is a tech marketer's ultimate goal. Lead nurturing is building a relationship with attendees to allow those potential buyers to get to know the business and products and make an informed buying decision.
Some ways to nurture leads and help in the B2B buyer's decision-making process include:
Sending downloads related to the webinar content for the attendee to use
Sending out thank you emails to the attendees
Adding leads to a drip campaign to slowly build a relationship with the attendees and identify the most interesting leads
6. Offer the Webinar On-Demand
Webinars can continue to collect leads for over 30 days after the event. While live webinars are still more popular, 43% of viewers will watch webinars on demand.
An on-demand webinar is a recording of the webinar. Attendees can access the webinar by filling in a signup form and viewing the video through the cloud. While the speaker won't be able to engage with the on-demand attendees in the same way as live attendees, marketers can still connect with the viewers, and the viewers can access the same downloads as live attendees.
Generate More Leads with Webinars
ActualTech Media offers B2B IT professionals opportunities to present in leading tech webinars. Share your industry knowledge and tech solutions with an audience of engaged and interested B2B decision makers eager to learn the latest news and insights from the tech industry.
Contact us to learn more about our webinar lead generation opportunities.