Audience is everything when it comes to the success of your webinar strategy. As marketers, we often focus on audience size as the top measure of success. But webinar audience engagement is what ultimately matters most—and it's what translates to higher conversion rates and sales later on.
Audience engagement requires targeting, and that's what we'll cover in this guide. First, we'll help you reframe your thinking to align with your buyers' motivations, then define best-fit audiences for your brand, and, finally, capture webinar audiences that deliver the ROI you need.
Quick Takeaways
Buyers are motivated by sellers who demonstrate how they can solve their problems
The jobs-to-be-done framework can help you shift your marketing lens from solutions to buyer problems and needs
Collecting and analyzing lead and customer data gives you an objective foundation on which to build your target webinar audiences
Ideal customer profiles (ICPs) and buyer personas can be used to solidify and share key audience traits
Webinar topics, schedules, and promotion channels should be centered on established buyer needs and preferences
Personalization in your outreach matters—most B2B buyers choose the vendors who best understand their unique needs
Collecting webinar audience feedback during and after your event gives you insight you can use to target follow-up and improve your events over time
Getting your sales team on board with your targeting strategy ensures a more seamless end-to-end buyer experience
Jobs To Be Done: Tapping Into the Motivation Behind Your Webinar Audience
We all want to believe that buyers are attracted to our brands because of our quality products and services. The reality, however, is that purchase motivation is much more self-centered. B2B buyers have a job to do—a problem they need to solve for their organizations.
They aren't looking for a particular product or brand, they're just looking for the provider with the most effective solution.
Tony Ulwick (who coined the term) and other innovators in the 1990s, most notably Harvard Business School's Clay Christensen, formalized this concept by calling it a "job to be done" (JTBD)—the thing a B2B buyer needs to accomplish for their company through their purchase decision.
The JTBD framework is centered around the idea of shifting your marketing lens from solution-focused to problem-focused. Rather than emphasizing the features of your brand and its offerings, tap into the problems and needs of your audience so they feel understood.
Here's a hypothetical example of JBTD thinking from Clay Christensen:
Another oft-repeated JTBD saying is this: Buyers don't want a six-inch drill, they want a six-inch hole. In other words, it's not about the specifics of what you have to offer—it's about how well it meets the buyer's current need.
So what does this all have to do with webinar audiences?
Informational webinars are often one of the first steps buyers take in their journey to find new solutions. That means when they're looking for events and/or deciding whether they'll attend a particular one, they're thinking about the problem that their company is experiencing.
When you tap directly into that thought process, you're more likely to grab buyer attention and convert them to event attendees.
But even when you understand the JTBD framework and use it in your webinar promotion, it needs a targeted approach behind it (i.e., it needs to reach the right potential buyers) in order to be effective.
In the next sections, we'll dive deeper into how to define your target webinar audiences and implement the right marketing strategies to reach them.
Defining Your Target Webinar Audience: 3 Key Steps
Start with Customer Data
Eliminate the guesswork that goes into most traditional buyer personas by basing your updated target audience on your actual customer data. Gather buyer data from all of the sources you use in your marketing and sales strategy. This usually includes things like:
Your CRM system
Email and/or newsletter subscriber lists
Social media follower lists
Customer orders and transaction histories
Survey respondents
Event registration/attendee lists
Web tracking software
Streamline your data into a singular source and format so you can view, mine, and analyze it as a whole vs. several separate datasets. You don't need a fancy analytics system to do this — Excel spreadsheets work just fine for building a large list and categorizing data points.
Once you have your list created, spend time doing some audience analysis. Break down your audience by attributes like industry, company size, purchase behavior traits, individual position title, budget, level of engagement, type of engagement, or any other point that's valuable to consider in your next step—building your ideal customer profiles (ICPs) and buyer personas.
Build Your ICPs and Buyer Personas
ICPs describe organizational attributes of your target audience. In this step you're looking at any traits from your initial analysis that describe companies—we're not focusing yet on the decision makers within them.
Many organizations, especially larger enterprises, have multiple ICPs that fit with different parts of their product/service portfolio or that use their products and services in different ways. Create a separate profile for each of them.
Once you have your ICPs outlined, move on to individual purchase decision makers. Remember—your focus should be on the motivation behind a purchase and traits that impact it. Things like job role, level of experience, or areas of expertise are relevant, but others such as gender or age may be less important.
It's OK to note demographic trends as part of your efforts to understand your audience, but your targeting efforts shouldn't be limited or even primarily focused on them. The best predictor of potential engagement with your webinar events is a need for what you have to offer.
Segment Your Target Audiences
After your ICPs and buyer personas are complete, think about how you want to segment your audience. This is different for every company. At ActualTech Media, we segment largely by industry because our topical webinars have industry-specific relevance. To make our audience segments clear, we create one-page summaries with data-driven overviews.
Below, you can see a snapshot of both our full audience overview and how we drill down into industry-specific segments, like Data & Analytics and Cybersecurity.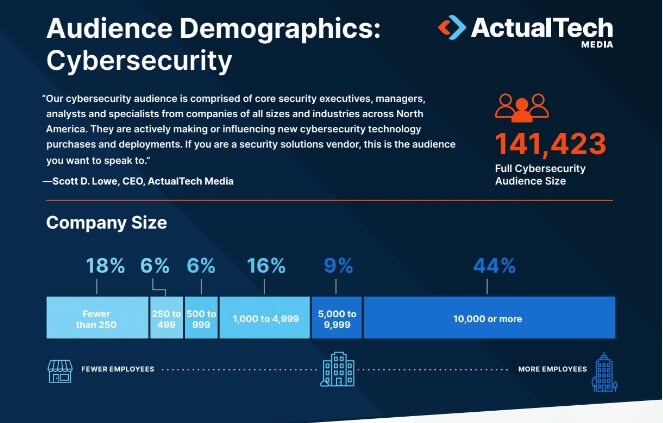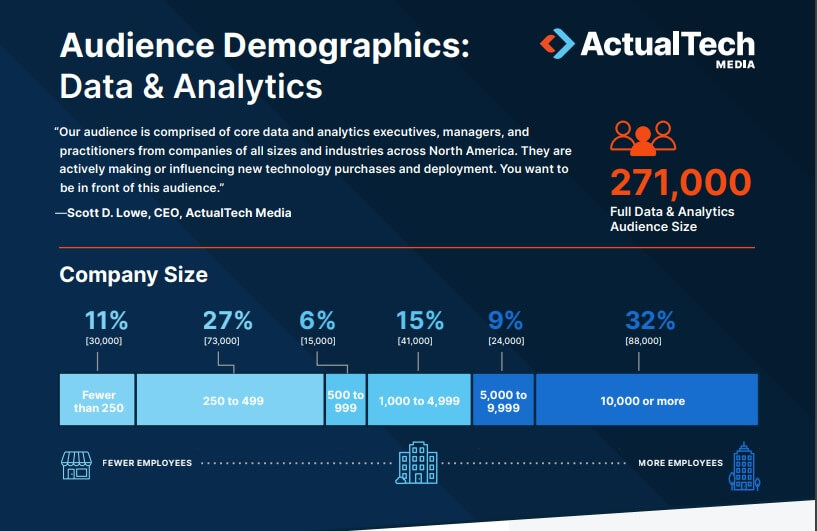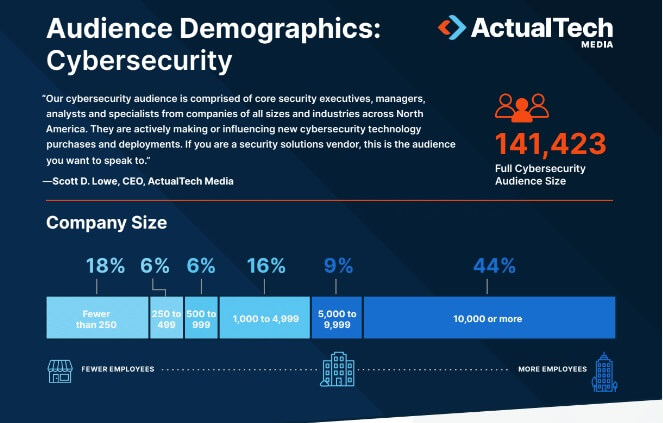 Targeting Your Webinar Audience
Create a Buyer-Focused Webinar Schedule
Effective targeting starts by building your webinar strategy around your audience. Consider first and foremost what your audience cares about. Ask questions like:
What topics help inform buyer purchase decisions?
Who within our organization or industry will they want to hear from?
How can I help my audience solve problems or accomplish goals?
Choose topics, speakers, and formats based on what works best for your unique audience. Use data from past events and other sources of buyer/customer data to align your strategy with their priorities.
Find Them Where They Already Are
What channels does your audience use to engage with your brand? For some, it might be LinkedIn or another social media platform. Others may primarily interact through email and content marketing engagement. Still others might lean more on trade shows and traditional in-person engagement methods. In most cases, it will be some combination of these.
The key is to know which channels your audience prefers and meet them where they already are. Just as you aligned your webinar strategy with their needs and interests, you want to plan your targeting and webinar promotion to align with their current behavior.
By doing so, your target buyers are much more likely to see and engage with your events.
Personalize Your Outreach and Follow-Up
Nearly three-quarters (68%) of buyers say they chose their current vendors over others because they showed a strong understanding of their industry- and company-specific needs. To connect with your audience and establish the kind of trust required for them to make a purchase, every part of your webinar strategy needs to be personalized.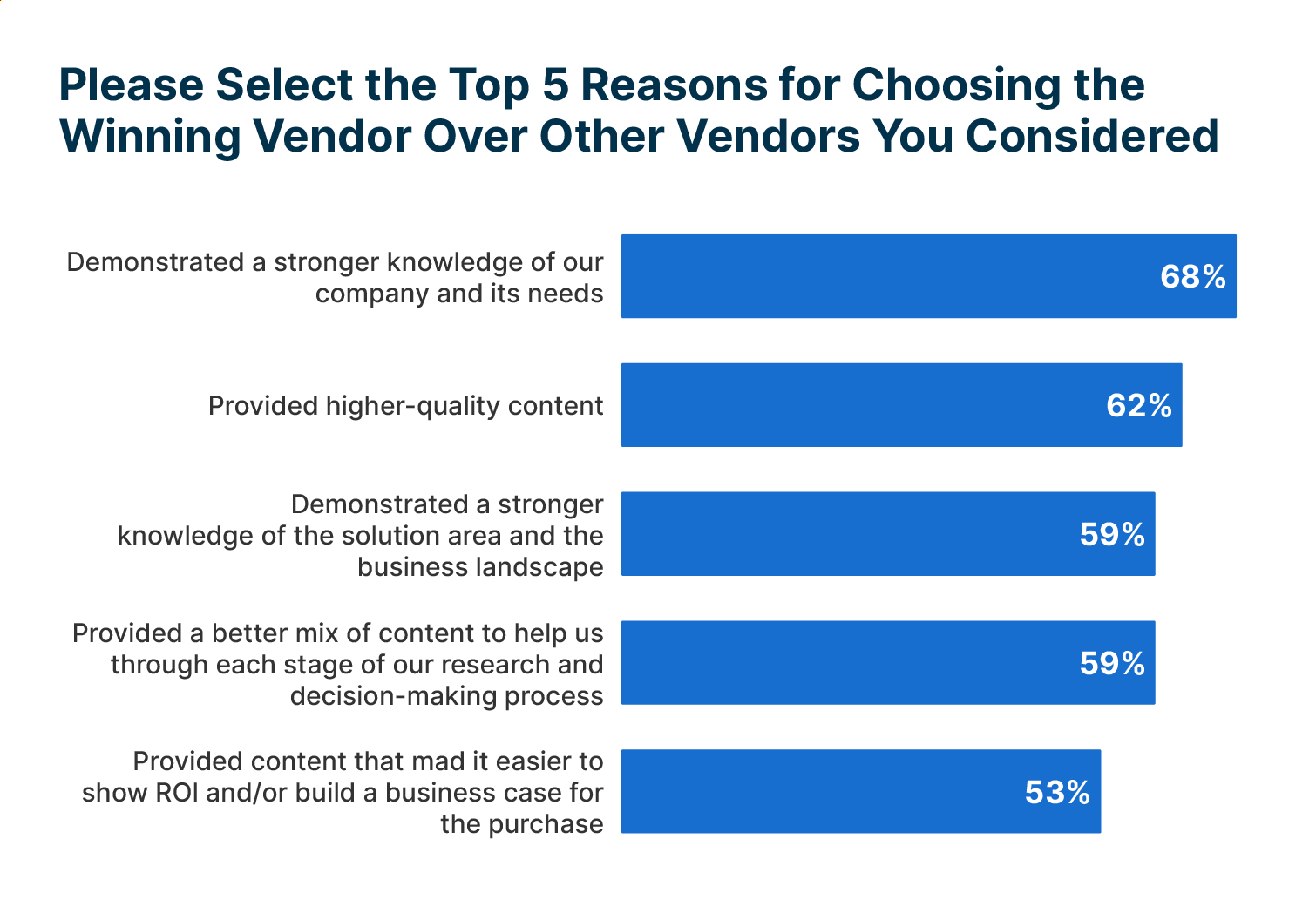 Fortunately, there are tools available today to help brands automate and execute personalization at scale. Most CRMs integrate with these tools (think email marketing software or data analytics tools) to make the process seamless.
Ways to personalize your outreach include:
Include personal information like first names or company name in your emails
Segment your lists and customize email messaging based on each audience
Target ads for individual webinars to the audiences for which they're most relevant
Mention a specific problem/need your audience has that your event will address
Engage Them at Your Event
Targeting your audience can happen even during your live events. Use interactive tactics like survey questions, in-event discussions, and Q&A to get your webinar attendees more engaged and gain insights that can help you connect with them better.
For example: One of the questions we ask at our multi-vendor webinars is: "Which of these vendors would you like to hear more about after the event?"
This both helps vendor participants understand the success of their participation in our webinars and ensures they can target their follow-up to the attendees who are most interested in what they have to offer.
In addition, asking attendees how they'd rate your event and/or if they would recommend it to others can help you design future events to better meet your audience's preferences.
The takeaway: In-event engagement both improves your targeting capabilities during post-webinar follow-up and allows you to create better events that attract the right attendees in the future.
Align Your Strategy with Your Sales Team
Your sales team will be essential to the continuation of a great buyer experience after your webinar events—and marketing and sales alignment is required to make it happen. As you build your strategy for webinar audience targeting, keep your sales team in the loop so they can build complementary strategies later on in the sales process.
For example, they may assign certain reps to specialize in each target buyer segment. They can create sales enablement materials and pitch presentations around particular buyer problems and needs. They'll also better understand your lead qualification and scoring standards, so they can accept and follow up with the right leads.
The point: Your webinar targeting strategy is what gets people to the event, but your sales team is the key to actually converting them to closed deals.
Ask for Audience Feedback
We touched on audience feedback a bit as it relates to in-event engagement, but you can collect deeper insights by following up with post-event surveys. Surveys can include both objective rating scale questions as well as open-ended questions that complement quantitative data with qualitative insights.
When webinar audience feedback is collected systematically over time, you can use it to identify trends and refine your targeting strategy to meet their preferences, interests, and needs.
Wrapping Up: Why Targeting Is an ROI Essential
As marketers, when we think about webinar success, we often think most about webinar audience size. The wider we cast our net, the more attendees we'll have at our event, and the more leads we'll ultimately convert—right?
To some extent, yes. The industry average for registrants that actually translate to attendees is less than 50%. You'll need to promote your events effectively to a large audience in order for them to be well attended. That said, over time, failure to target your strategy leads to low conversion rates that will surely be noticed by sales teams and leaders.
Fortunately, thanks to the tools and technologies available today, marketing teams can target the right webinar audiences while still promoting and following up at scale. By doing so, you can transform your webinar events from just another marketing tactic to a core part of your lead generation strategy.
ActualTech Media Can Connect You with Motivated Leads
ActualTech Media connects B2B tech marketers directly to capable, motivated webinar audiences in hot-topic industry events. Our events will generate 200 to 1,200+ high-fit leads for your business.
We also provide full-scale strategy support and a number of additional content services that can help you establish your brand as the top choice for your target buyers, including content syndication, content marketing, branding, design, and more.
Ready to explore how we can help you grow your business? Get in touch with us today to learn more and get started.