Is your content reaching the right audience and attracting quality leads? A data-driven content strategy will take your tech content to the next level by backing your decisions with hard data instead of basing your content on guesses and brainstorming sessions.
We'll look at five steps you can take to plan and execute a data-driven content strategy for tech marketing.
Key Takeaways:
Data will help you build a proactive strategy for content creation
Data-backed decisions will save your tech company time and money lost from ineffective strategies
Data provides insights into your audience, niche, and growth that influence your content decisions
🤫 PS: Looking for pricing on content syndication leads? Get a price list here
Why Is Data-Driven Content Necessary for IT Marketing?
A proactive data approach to content for tech companies eliminates wasted time spent brainstorming to create content that falls short of your goals. Instead, you can use the data you have accumulated about your audience and industry to develop strategic content based on known audience behavior and results.
Today, 95% of B2B tech marketers actively use content marketing, and 75% plan to increase their content creation over the next year. However, when you create more tech content, you don't just want it to be better than your competition. Instead, you want it to stand out as original — filling a unique need. You can do this most effectively by having deep data insights into your audience and industry.
5 Ways To Create a Data-Driven Content Strategy
We'll explore five ways to use data to create a content strategy that will help you stand above your competitors as a unique and trusted adviser in your industry.
1. Identify Your Content Goals
When you create content just to make more content you waste time and resources. Instead, your content should have a purpose that helps you reach your technology sales and marketing goals. Here are some potential goals for your tech content:
Educate your audience about your products and services
Create a demand for your products by translating complex technology into simple terms so that your audience understands its purpose
Build trust with your audience by sharing quality, empathetic, thought leadership content
Encourage a specific response like requesting a demo or asking for more information
Once you know your end goal, you'll have better direction for using your data in content creation.
2. Gain Data Insights into Your Audience
One of the first data insights you should begin collecting and analyzing is who your audience is and what their pain points are. This information will guide what content you create, the style of your content, and where you share that content.
Here are some audience insights you can gather while examining your data:
How large are your target businesses, and what is their budget?
Who is the primary decision maker within the company?
What is the typical demographic of the decision maker?
Where are those businesses located?
What pain points do they face?
What are the business's current unfulfilled needs?
This data will help you form your content based on a specific persona versus generalized content that will blend with your competition. In this way, you can write to your target audience, which attracts quality leads.
3. Create Audience-Centric Content That Fills a Need
Knowing your audience helps you create content that your customer is looking for. For instance, 96% of B2B buyers are looking for thought leadership content. You should also create content in formats that are most likely to connect with your audience.
Below are some examples of top B2B content formats that businesses respond to.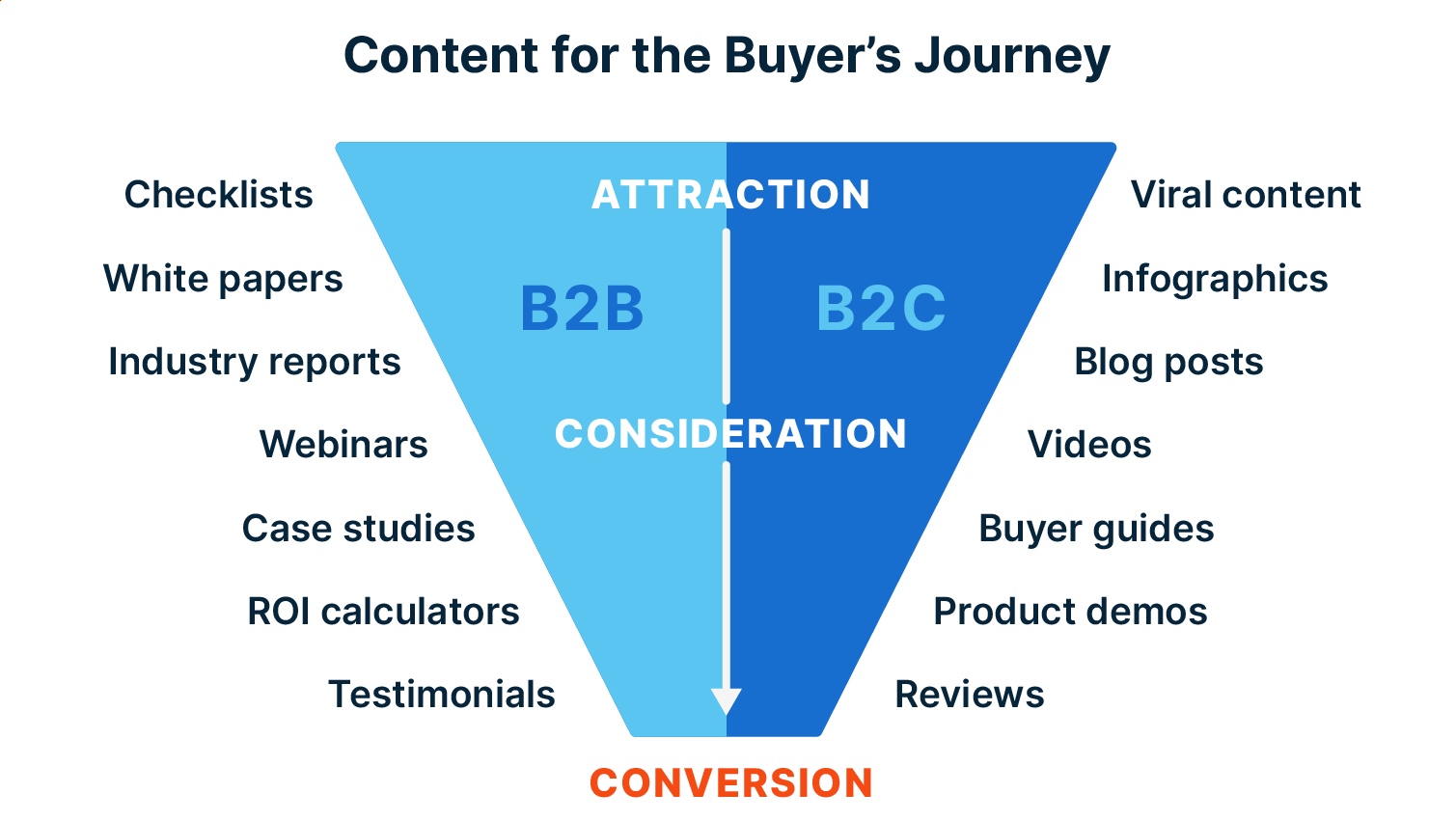 Most technology platforms and services require a more significant financial investment. This can be a roadblock for much of your audience because they don't want to make the financial investment without first knowing that your tech product or service will save them money. That's why you should also use data insights to discover needs before positioning your products and services as solutions to those needs. In this way, you shift your content's focus away from you and on to your audience.
4. Distribute Your Content
When you create a data-driven content strategy, include a detailed plan for ensuring your content lands in front of the right audience. For instance, in 2021, the most visited websites were Google, YouTube, and Facebook. However, are those the places where your ideal customer frequents?
Data will show you which platforms and channels your audience is most likely to respond to. For example, the following data report shows where B2B content marketers are investing most of their budget in 2022 as these are some of the most effective ways of reaching business audiences through content.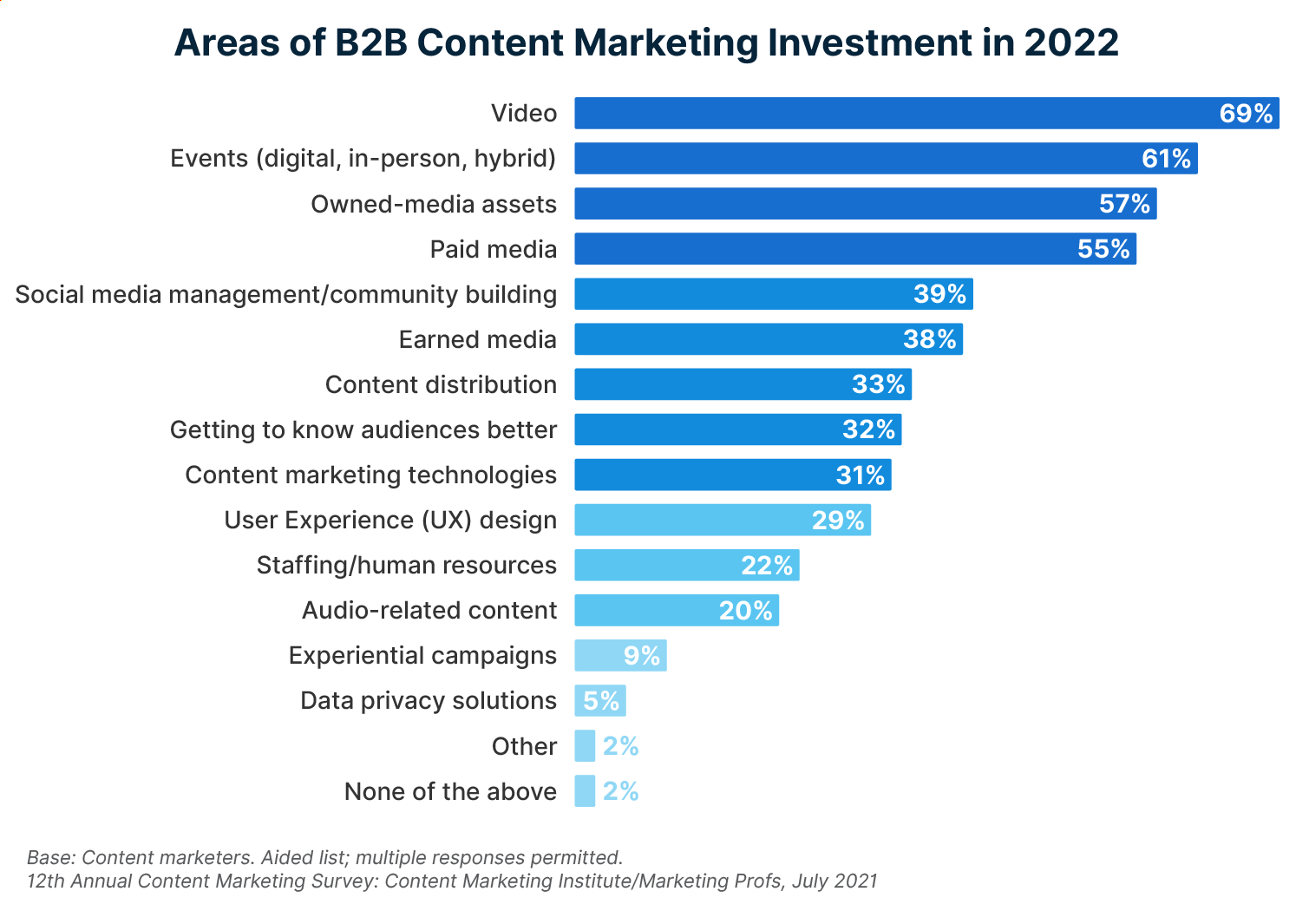 Another insight your data can provide is when to share your content. Consumer insights will show you when your primary decision makers are most active. These are the ideal times and days to reach your audience versus sharing content in the evening or on weekends when many employees don't engage in work-related research.

5. Continue To Improve Your Content Strategy
You might use second- and third-party data for making content decisions when starting a new content strategy. However, the more content you publish, the more first-party data you'll have to use when choosing the most effective ways to distribute your content.
Some of the insights you collect from your content include:
How viewers engage with your content
The type of content that resonates best with your audience
How your content influences your business's revenue
As you collect these insights, you should go back and update old content. This will keep it  relevant by incorporating new data insights to ensure it continues to work toward your business and marketing goals.
Get Your Content in Front of Your Audience
Do you need help getting your tech content in front of the right leads?
Our content syndication lead generation programs help you reach your target audience. We can help you find your audience using geos, job titles, company size, and more. In this way, you can use data you have about who your audience is and what they want to increase revenue attribution for your content, because the right audience is seeing what you have to offer.
Request a quote for a program and start transforming your data-driven content strategy.