What's the difference between video conferencing, live streaming, and webinars, and why should businesses care? While webinars might blend in with several other video streaming services, they have different uses in the marketing industry. Webinar hosting platforms aren't just a passing trend from COVID-19—they're an essential part of a modern marketing strategy.
Learn what a webinar hosting platform is, what types of platforms are available, and what type of webinar hosting platform is best for your business.
Key Takeaways:
Webinar hosting platforms are tools for holding virtual events with a large, targeted audience
Webinars can be live, on-demand, or pre-recorded, giving the audience options for viewing them on their time
Multi-vendor webinars are live events held by a technology company that performs all the behind-the-scenes setup and hosting
🤫 PS: Looking for pricing on Tech webinars? Get a price list here
What Is a Webinar Hosting Platform?
A webinar hosting platform is any tool that can hold a one-to-many virtual event. Roughly 67% of marketers are increasing their webinar budgets to include webinar hosting platforms.
The most common uses of webinar hosting platforms include:
Presentations
Meetings
Seminars
Training
While you don't need to be a tech expert to host a platform, having advanced knowledge of how technology runs helps you host a smoother event. For example, expert experience in webinar hosting helps the monitors and hosts respond faster when technology issues arise and know how to monitor events to provide the most engaging experience for your guests. Thankfully, you don't have to be both the host, monitor, and presenter.
You can use a webinar hosting service like ActualTech Media to create the best experience for your audience. These services provide a white-glove experience by taking care of the highly technical side of the event so that you can focus on what you'll present and how you'll follow up with your audience after the webinar.
Webinars vs. Video Conferencing vs. Live Streaming
What makes webinars different than other video streaming tools is the scale with which you use them and the targeted audience you address.

Video conferencing is generally between a small number of participants and promotes two-way conversations. Conversely, webinars primarily have one presenter, and the others are silent and interact through chat, Q&As, hand raising, and polls.
Live streaming functions similarly to webinars because it also has a primary host presenting to a large audience. However, live streaming is a presentation or entertaining video you share on social media for a broad audience to view. Webinars tend to be exclusive or limited in attendance so that you can target a specific audience for marketing purposes.
Different Types of IT Webinar Hosting Platforms
There are four primary webinar formats your platform can support, depending on what service you use. Often, these formats overlap where several options are available for the same webinar. The top webinar platforms will mix both engagement options with flexible viewing options.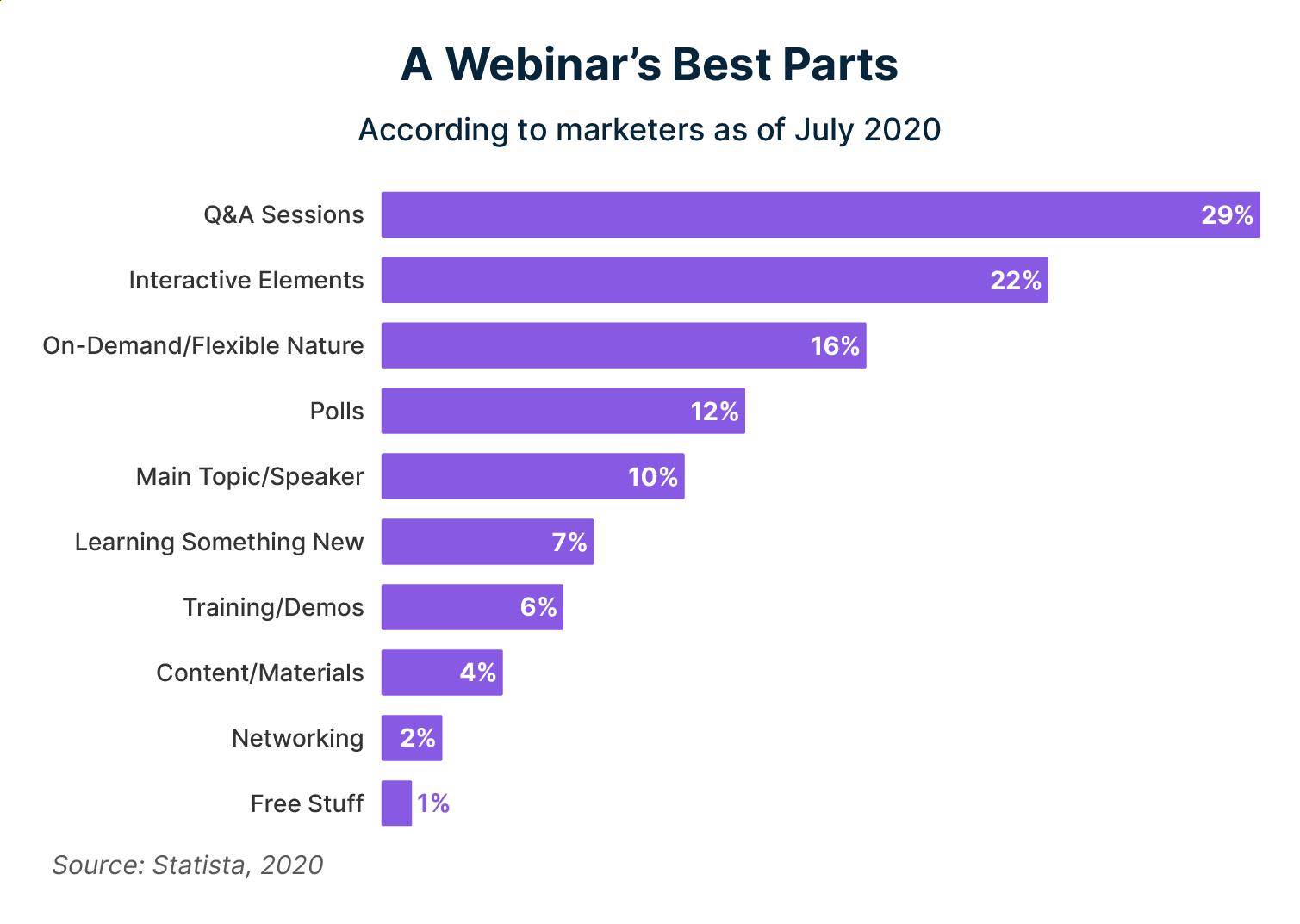 Live Webinars
Live webinars occur in real time. They require the ability to stream your presentation and the video you present. Live webinars allow for greater audience participation— the presenter speaks, guests can download resources, post questions, and participate in virtual activities.
On-Demand Webinars
On-demand webinars provide greater flexibility for your audience as they all don't have to attend simultaneously. Instead, they sign up, and the live webinar recording is stored in the cloud for them to access when available.
Customers value webinars with on-demand options for the flexibility it offers.
On-demand webinars can work alongside live webinars as a flexible solution for those that can't make it to the live event. While you can't interact with on-demand audience members in real-time, you can monitor and respond to comments, provide access to resources, and allow those members to submit questions before the event to still involve them in the presentation.
Pre-Recorded Webinars
Pre-recorded webinars are events that were initially live or created solely for distribution. You can publish these webinars on YouTube, your website, or other websites. Pre-recorded webinars might not have the same interaction level as live webinars, but you can still incorporate polls and commenting to encourage a response.
When you distribute a live webinar after it occurs, you can continue to collect leads, making it an ideal marketing tool and an essential component of your webinar hosting platform.
Multi-Vendor Webinars
Multi-vendor webinars are ready-made technology webinars that you can present to an audience that the webinar platform has already attracted. You don't need to set up the webinar, host, or moderate the event.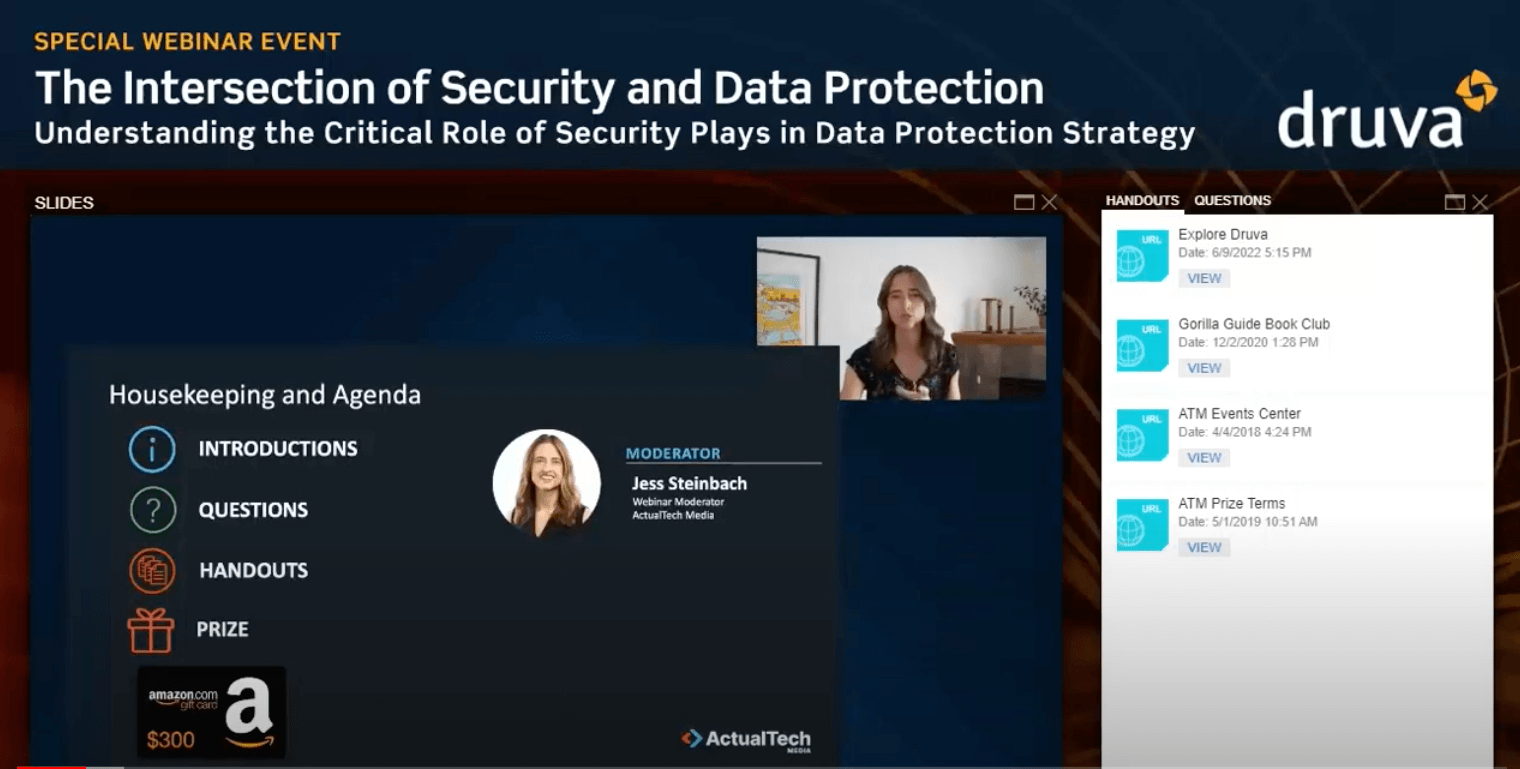 Image from YouTube
Benefits of Using a Multi-Vendor Hosting Platform
Here are five reasons why a multi-vendor hosting platform is the best solution for reaching your marketing goals.
1. Webinars Generate More Leads
Webinars are excellent lead generation tools because of their growing popularity. Unlike other forms of online content, your viewers must exchange their contact information before viewing your webinar, which gives you essential data for following up with those leads after the event.
Webinar lead generation "is the primary goal" say 76% of Tech Marketers.
The average webinar can generate between 500 and 1,000 leads depending on the format. However, at a multi-vendor webinar, you have the opportunity to reach more than 1,000 leads at one time.
For example, ActualTech Media's Virtual Summit webinar has a minimum of 1,200 guaranteed leads. At this event, you present alongside 7 to 12 other experts in the technology industry.
2. Receive Expert Hosting
Unfortunately, nothing ever goes as planned when dealing with the Internet, computers, and streaming features. Power outages, connectivity issues, and computer glitches are just a few of the many problems that commonly occur during webinars.
When you leave the webinar hosting to the experts, you can eliminate many issues. When problems occur, you can count on the hosting team to have your back and resolve the problems quickly and efficiently to minimize negative repercussions and salvage the event.
3. Minimize Your Tasks
Preparing and presenting is very time-consuming. You have media to compile, research to perform, and speeches to practice. Worrying about setting up and monitoring your event is an unnecessary burden. Hosting a webinar takes time away from preparing your message and can distract you during the event.
Using a multi-vendor webinar platform allows webinar experts to handle the legwork so that you can invest all your time and energy into creating the most memorable and engaging presentation for your audience.
4. Flexible Webinar Uses
Multi-vendor webinars have very flexible uses. You receive the best of all the webinar formats. You can present live, on-demand, and receive a recorded version of the event that you can post later and continue generating leads long after the event ends.
5. Build Trust with Your Audience
Multi-vendor webinars include some of the leaders in your industry that present alongside you. Together, you build each other's rapport with your audience and increase your audience's trust in your thought leadership content.
Be Part of the Next Multi-Vendor Webinar
Experience the complete white-glove webinar experience through ActualTech Media's multi-vendor webinars. Let us handle the setup, monitoring, audience, and lead generation aspect. You can bring your expert knowledge to that audience and acquire hundreds or thousands of new, quality leads from the tech niche.
Contact us to learn more about our upcoming webinar events.