IT professionals need to stay updated on the ever-changing tech landscape. However, when juggling multiple competing priorities, you have little time left over for research and developing new strategies. Finding a source of reliable live and on-demand free IT webinars provides a trusted stream of the latest industry updates to help you stay on top of trends and remain competitive in the tech industry.
Explore where you can find a list of free IT webinars and how that can help you remain relevant in the tech industry.
Key Takeaways:
Webinars are virtual events for education, tech marketing, and networking
ActualTech Media is a leader in the IT webinar field, offering a library of free tech webinars from industry experts
Advantages of using ActualTech Media's webinar library include: free events, advanced search, the chance to engage with multiple vendors at once, and options for presenting roles
On-demand webinars are the most popular type of webinar today
Presenting in a webinar hosted by ActualTech Media will increase your business's exposure and help you generate new leads
Other trusted sources for free IT webinars include Eventbrite, Google, Gartner, and the IEEE Computing Society
🤫 PS: Looking for pricing on Tech webinars? Get a price list here.
Why IT Webinars Are the Solution for Busy IT Marketers
No matter what area of IT you work in, you spend a large portion of your time researching and understanding your industry. For example, marketer researchers spend most of their time collecting and analyzing data.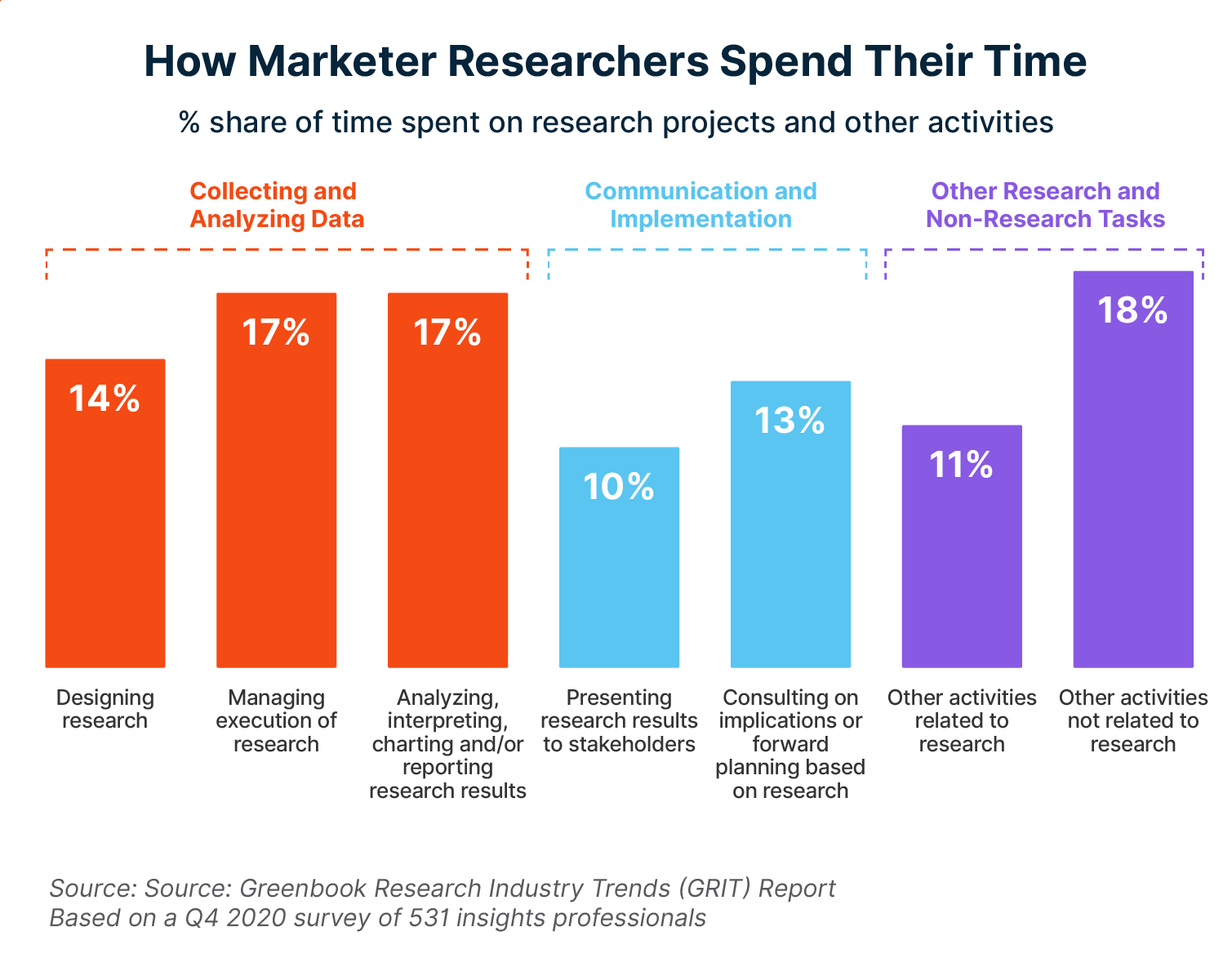 There are several places you can find information about your industry, including:
Websites
Blog posts
Social media posts
E-books
Whitepapers
Videos
However, webinars are one of the most valuable sources of industry data from tech experts because they occur in real time, give a chance for Q&A to help you understand the data, and come in an engaging and memorable format. That's why over half of B2B professionals attend webinars weekly. In addition, webinars offer timely information on the most relevant topics of your industry.
You can spend less time searching for webinars and more time engaging with live events by finding a reliable source of trusted webinars.
What Are IT Webinars?
A webinar is an online event where a presenter connects with an audience using a video conferencing platform. Through webinars, you can watch videos, share screens, and encourage engagement between the presenter and the audience through polls and comments.
Roughly 67% of marketers are increasing the resources they invest in webinars as this IT marketing and educational platform grows in popularity. Market research indicates that it could become an $800 million industry by the end of 2023.
Where Can You Find a Complete List of Free IT Webinars?
The IT industry has trusted ActualTech Media for more than 10 years to deliver consistent, quality webinars. On our events page, you can hear industry leaders address all the hottest topics. In addition, IT professionals trust ActualTech Media for their needs because the webinar hosts are also IT professionals.
Advantages of Using ActualTech Media To Find IT Webinars
ActualTech Media's technology webinars bring industry experts together in one convenient location for you to watch and listen to them on-demand or in real time. Here are six benefits of using ActualTech Media's list of free webinars to stay updated on the latest industry news and reports.
1. Free to Attend
ActualTech Media webinars are free to attend. They offer quality experiences without you having to make any financial commitment. All that you need to do is sign up with your contact information so that the presenters can offer more insights about their topic, resources or companion materials, or gifts for attending their presentation.
2. Employ On-Demand Options
Most professionals agree that on-demand webinar options are the most important feature of a webinar. Nearly one-third of webinar viewers watch them on demand because of the convenience of viewing the event on a flexible schedule.
On demand allows you to sign up for your webinar of choice but watch it on your schedule. This helps it fit into your busy life, and you don't need to worry about missing an important presentation because last-minute work or personal obligations came up.
Even in an on-demand format, you can access the resources and after-event information from the presenters.
3. Attend Last-Minute or Advanced Events
Roughly 29% of attendees register within 24 hours of a webinar's start time. In addition, 15% register more than two weeks before a live event. Whether you're looking for a live event at the last minute or want to plan a month in advance, ActualTech Media can accommodate your schedule.
Use our free webinar list to search for events on your chosen day. You can even find some marked "today" for last-minute viewing.
Of course, if you can't make the live webinar, you can always attend it on demand and not miss any events.
4. Perform Advanced Searches
The benefit of finding webinars through a reliable source's list is that you save yourself the hassle of searching online for upcoming events and wondering whether they'll offer any value. However, if you still need to scroll through pages of webinars to find one that interests you, you aren't saving much time.
Thankfully, ActualTech Media makes finding the perfect webinar fast and convenient.
The topic filter allows you to search from a couple dozen different technology niche topics. You can also search for vendors to stay updated on the latest news from your favorite IT companies.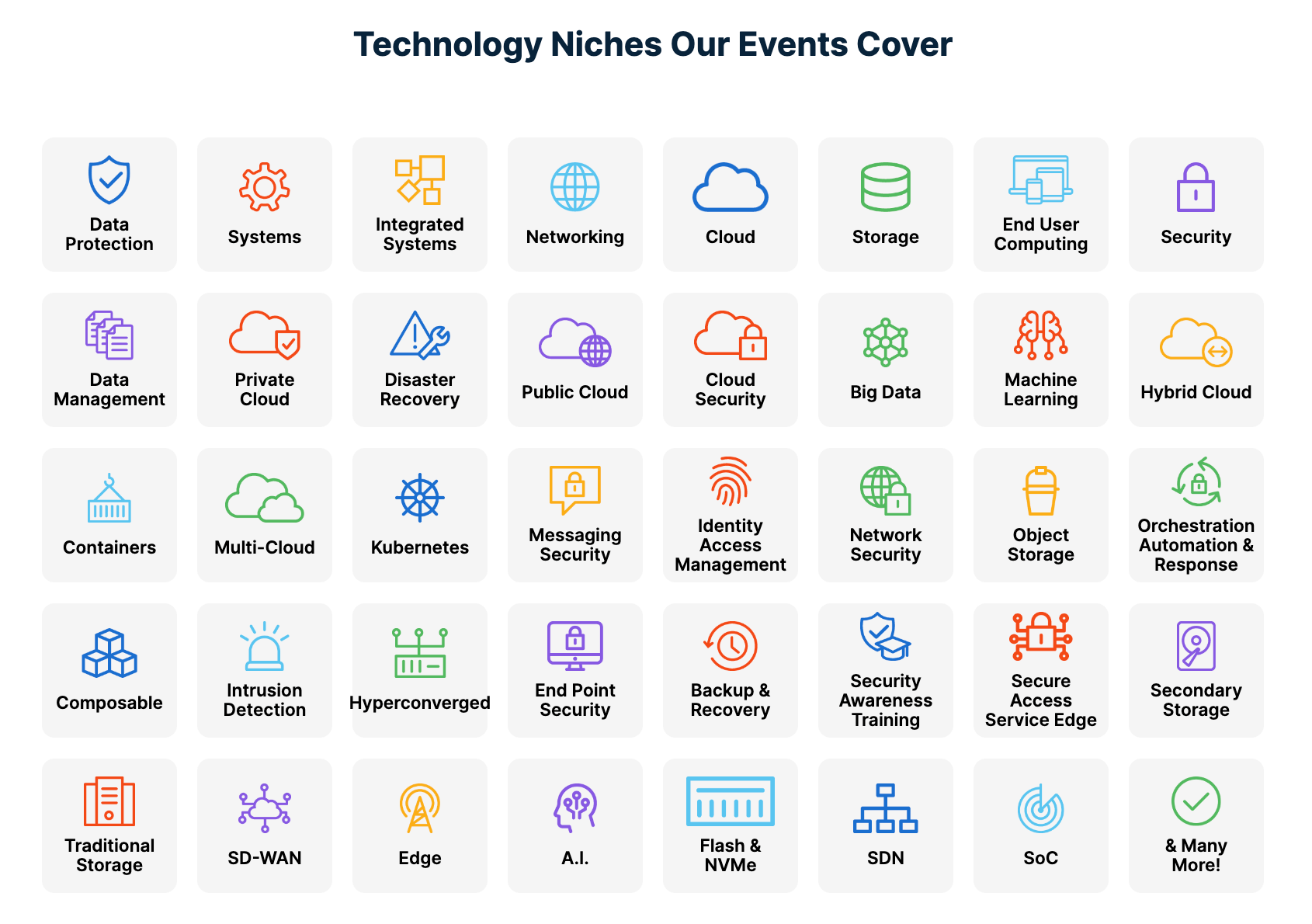 Image from ActualTech Media
ActualTech Media offers several types of webinars. For example, EcoCast webinars are smaller presentations with two to six presenters discussing topics in more targeted focus themes. You can also join larger events like Virtual Summits with over 12 presenters that address broader trending technology topics. In addition, the Gorilla Guide Webisode Series helps you understand complex issues and solves common problems.
5. Engage with Multiple Vendors at Once
If you're a purchase decision maker, you know that vendor research is one of the most time-consuming parts of the buyer journey. No matter how much time you spend on vendor websites, engaging with content, or talking to sales teams, comparing your top options can still feel challenging.
ActualTech Media webinars allow you to get to know the vendors in your space by seeing them discuss hot industry topics right alongside each other. You can go beyond basic features/benefits comparisons to really get a sense of who the experts are on topics you care about most.
6. Build Your Expertise on Important Topics
Watching webinars and engaging with industry experts on timely topics helps you build your own expertise in those areas. In turn, you can play a role in positioning your brand as the expert to your own clients and audiences.
Further, you can get ideas for content you might create on your own site (blogs, e-books, or your own company-hosted webinar events) to engage potential clients.
7. Get a Sense of Industry Sentiment
It's helpful to get a sense of overall industry sentiment on events, trends, and issues as you share your own commentary and engage with your audiences. You can hear what experts have to say about a range of topics in ActualTech Media's webinar library, then use it to build better understanding of your industry and even predict upcoming trends.
8. Research Your Competitors
ActualTech Media's free IT webinars provide a third-party channel for you to research competitors by watching events where they're featured. Not only will you hear them talk about pressing issues, you'll also hear them pitch their own products and services.
Using that information, you can better position your own brand as the better alternative.
Present Your Own Insights
While webinars are a great place to learn, they're also a platform for sharing your insights and knowledge about the tech industry. In addition, each webinar you see on the schedule is an opportunity to connect with other tech professionals and build your network by presenting in a webinar.
ActualTech Media encourages tech companies and IT experts to join one of the multi-vendor webinars for a chance to share thought leadership tech content and gain new connections. You leave each webinar with several hundred or thousand quality new leads you can nurture and connect with outside of the webinar.
10. Sponsorship Opportunities
You don't have to present in a webinar to gain new leads. Sponsoring a webinar gets your business's name in front of a large audience. You also have access to the audience's contact information for connecting with and nurturing after the event ends.
Where Else Can You Find Free IT Webinars?
ActualTech Media is the only place where you'll find tech webinars consistently featuring a range of industry experts, vendors, and professionals offering objective and thought-leading commentary on timely topics. But there are other resources out there to find IT webinars around training, company-specific topics, and industry news.
Below are trusted resources you can try in addition to ActualTech Media's library.
EventBrite
EventBrite is one of the largest online event hubs, and over the past few years its focus on digital events has significantly increased. On Eventbrite, you can simply search for the topic you want to know about, filter by "online events," and you'll find an expansive list of options.
Note that Eventbrite will show you both free and paid webinar events, so you'll also need to filter by "free" if you only want access to those.
Google
Google's Digital Garage offers tons of introductory, educational, and live training content around IT and tech topics important to industry professionals.
While its webinars aren't as commentary-focused as ActualTech Media's or some other resources here on our list, Google's webinar library provides a massive resource for employees in the industry aiming to learn new skills and stay up-to-date on trends.
Gartner
Gartner is one of the most respected organizations in the business world, and while much of its content is available to clients only, Gartner's webinar library is largely open to the public.
You can use its IT Webinars search page to find events covering the topics you care about, then register to attend right on the Gartner website.
Forrester
Like Gartner, Forrester is another trusted source of business insight on a wide range of specialties and functions. You can easily search its on-demand webinars page for IT-related topics and/or register to attend its upcoming live events.
Forrester's webinar search page features a helpful topic drop-down topic menu so you can drill down your search to the specific topics you need to know about.
McKinsey
McKinsey is one of the top research firms in the world, providing exceptional insight on a range of business topics, including IT. It features expert-led webinars around timely topics and pressing issues, all of which feature a presentation and live Q&A.
The only drawback of McKinsey's webinar site is its limited searchability. You can see the range of important topics they cover in their webinars, but you have to scroll through them all to find the IT webinars within their larger events library.
IEEE Computer Society
The IEEE Computer Society is made up of industry professionals and academics from all areas of computing and aims to fuel engagement around technological advancement. It offers four IT webinar categories: Build Your Career, Distinguished Lecturer, Standard Activities, and Additional Resources.
You can browse the archive for all four categories to watch on-demand webinars that interest you, or sign up for upcoming live events.
The ActualTech Media Advantage
Just as you turn to webinars for expert industry insights, your target customers do the same. By hosting and participating in hot-topic webinars, you can position your brand as a leader in your field.
If you're a B2B tech company looking for a webinar marketing agency to support your strategy, ActualTech Media is here to help. We connect B2B tech marketers directly to capable, motivated audiences in hot-topic industry events that generate 200 to 1,200+ high-fit leads for your business.
We also provide full-scale strategy support and a number of additional content services that can help you establish your brand as a thought leader in your space, including content syndication, content marketing, branding, design, and more.
Ready to explore how we can help you grow your business? Get in touch with us today to learn more and get started.