Over half of B2B professionals attend webinars weekly. However, getting your audience to your webinar and having those viewers leave with a positive impression of your brand requires a complex process of running a webinar platform that can provide the best experience. This isn't an easy task, and many marketers fail to put together all the necessary pieces for a memorable webinar.
Learn about different tech webinar platforms and why the best webinar platform is one where experts run the webinar, and you can focus on presenting your content.
Key Takeaways:
There are over 100 different webinar platforms to choose from, but not all platforms have the same capabilities
Everyone who's going to use the platform should work together to compile a list of non-negotiables before selecting the best platform
Free demos allow you to dig into the platform and see whether it can perform the features you need
🤫 PS: Looking for pricing on Tech webinars? Get a price list here
Different Types of Webinar Platforms
Any platform with audio and visual capabilities that you can use to host a virtual seminar could be considered a webinar platform. However, not all platforms are equally capable of handling the extensive needs of technology webinar hosts.
For example, a simple platform like Zoom can perform basic webinar tasks, including:
Streaming video and audio
Recording the webinar for posting later
Sharing files
Commenting and audience interaction
Screen sharing
It works well for small meetings and intimate gatherings. However, Zoom would fall short if you want to generate a couple hundred leads from a large-scale webinar.
That's when you would need to explore platforms with more advanced capabilities that can handle additional tasks like ticketing, advanced slides, lead generation strategies and tracking, and polling. However, running larger platforms also means more technical details to understand. Instead of trying to run a complex and interactive webinar on your own, you can hire a company like ActualTech Media to perform the technical side of webinars, and you can focus on your presentation.
6 Tips for Choosing the Best Webinar Platform
When researching webinar platforms, use these six strategies to ensure it meets your needs.
1. Set Your Goals
Before finding a platform, you should first list what you want to accomplish with your platform. Your primary goal and main message direct all decisions when planning and hosting your webinar.
Some examples of webinar goals might be:
Generating leads
Building brand authority
Selling products
Raising awareness
For example, you would need a platform with lead tracking and collection capabilities if you want to generate leads. ActualTech Media offers multi-vendor webinars as lead generation tools where we provide the audience expert-level content about various topics, and you have an opportunity to present to that targeted tech audience and generate new qualified leads.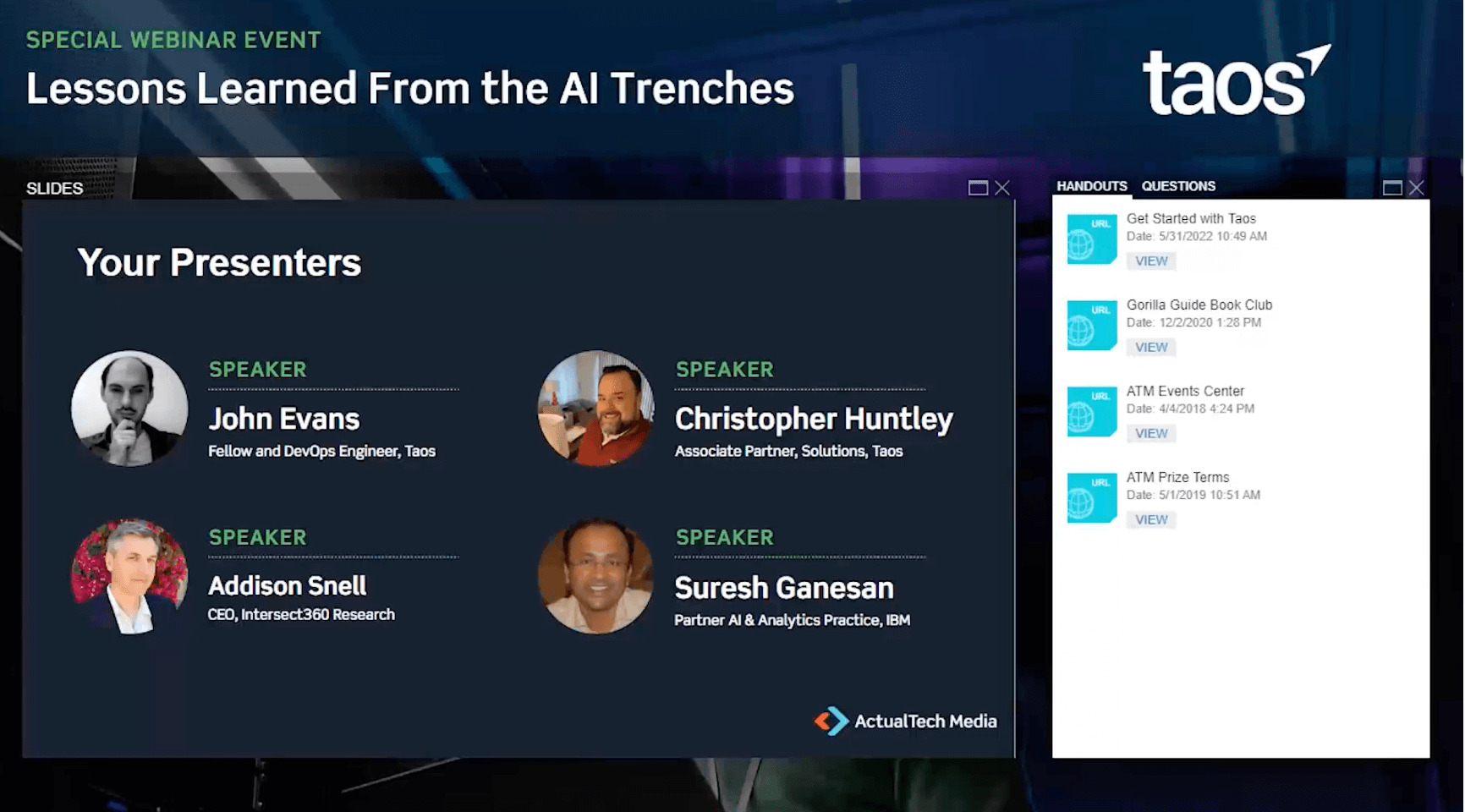 Image from YouTube
2. Determine Your Audience
After you have your goals, you can begin researching the audience most likely to help you complete those goals. For example, if you want to host a conversion webinar, your audience would need to be current leads who are already nurtured or new leads with high buyer intent.
As you profile your audience, explore the best ways to reach the audience to let them know about the webinar and what topics would resonate best with that audience. This data will help you piece together the structure of your webinar and content.
With an idea of your content, audience, and goals, you can start looking for a webinar that allows you to reach that audience with your target message. You should also consider where you want to share your recorded webinar, as you can continue to attract audiences for over a month after streaming the webinar. Using platforms that record your webinar in the right format to share is important to increase your reach after the event.
Attracting a quality audience can become overwhelming. However, instead of generating your own audience, you have options to use platforms that already have the audience. For instance, ActualTech Media offers webinars where you can present to your target audience in the tech niche.
3. List Your Non-Negotiables
G2 lists 87 tools that it qualifies as webinar software. This list isn't complete and misses several other key platforms for users to choose from. Altogether, there are over 100 options.

Because of the many options, you don't need to settle on a platform with only half the features you want. However, you can quickly become overwhelmed if you go through lists of webinar tools without an idea of what you consider the most important features.
Before you start researching tools, begin by listing non-negotiables. These are features your webinar platform must have. For instance, do you want screen-sharing capabilities or want to hold a multi-track recording?
When you research webinar platforms, also keep in mind non-traditional formats. For instance, instead of carrying the heavy load of hosting your own webinar from start to finish, you can present during a webinar that an expert webinar service already built for you.
4. Ask Everyone on Your Team for Input
Webinars are a group effort. You have a host, presenters, moderators, and content creators collaborating to create a memorable and successful event.
As you brainstorm ideas and list your non-negotiables, involve everyone in the process. Your content creators might have different non-negotiables than the host. For example, the presenter will be more concerned about the tools for screen sharing, whereas the moderator will have a list of features they'll want in the chat and questions tabs.
To simplify the process, look for webinar platforms that provide most of those roles for you. For instance, ActualTech Media provides a host and moderator, so you only need to bring a presenter to the webinar.
5. Find a Platform That Matches Your Needs
After compiling all the groundwork for your webinars, such as your audience profile, content, and features, you can begin searching for platforms that match your lists.
Webinars are worth the extra investment to get the right platform because a quality webinar tool will bring in quality leads. Marketers agree that webinars are more cost-effective in the long term because they lower your cost per lead.
Finding the right platform is only half of the process. You'll still need to set up and present on that platform. While a large platform might have many features, it won't generate results if you don't know how to use them. Instead of trying to host on a new platform, consider hosting through a webinar service that understands how to run virtual events.
6. Try a Free Demo
Free demos, trials, and subscriptions allow you to dive into the webinar platform and see its capabilities before you invest. You don't want to purchase a product only to discover that you can't perform what you need on the day of the event.
While trials and free subscriptions allow you to work with the platform yourself, demos give the platform provider a chance to demonstrate how the platform works. Demos are advantageous because they take less time to set up, and you don't need to overcome a learning curve since someone will walk through the platform for you.
Your demo is the time to get your questions answered and guarantee that the platform has all your non-negotiables. Instead of going with the first platform you see, try out several demos and see which one suits your needs the best.

How To Generate Leads with Your Webinar
ActualTech Media offers a different webinar experience. We have the audience. You just bring your knowledge to the webinar as one of the presenters at a virtual tech event. Our webinars are highly professional and can generate over 1,000 quality leads at one event.
Because we know webinars, we're also prepared for any situation.
Let us handle the legwork, and you can focus on your message. Together, we can bring professional and industry-leading webinars to the tech world.
Contact us to learn more about our webinar options.