Building a webinar kit involves a mix of physical tools and tasks that work together to create a memorable and rewarding event. For your kit to build a profitable webinar, you must ensure it fits together like a well-oiled machine. Behind every great webinar is a knowledgeable team working tirelessly to create the best possible event.
Learn the eight parts of a successful IT webinar kit and how a support team is essential to hosting a profitable webinar.
Key Takeaways:
Your webinar kit starts with a clear goal that holds your other tools together
Create engaging content that keeps your audience in mind
A supportive team will help you create a seamless event
🤫 PS: Looking for pricing on Tech Webinars? Get a price list here
What Is a Webinar Kit?
A webinar kit is a set of tools you need to host or present in a webinar. The physical implements you need are similar no matter what type of IT webinar you host. These include:
A computer or laptop
Internet connection
Webinar software
Webcam
Microphone or headset
Proper lighting
You might also want comfortable seating, plenty of desk space to organize your notes and props, and a quiet place to conduct the webinar.
However, your kit requires more than physical items. You also need other tools that support your message and enable you to perform the tasks necessary to engage your audience.
How To Build a Great Webinar Kit for Tech Marketing
These eight webinar tools ensure your tech webinar is successful and make the process as seamless as possible.
1. Establish a Goal
An essential tool in your webinar kit is your goal. It acts like tape, holding all your other pieces together. It provides direction as you create content, market the webinar, and measure your success.
A few of the top webinar benefits include:
Making sales
Building awareness
Developing a community
Educating your audience
Once you've established a general goal, build on it to make a specific, measurable target. For example, you might include a particular number of leads you want to generate or sales you want to achieve.
2. Research Your Options
There's more than one way to conduct a webinar. Knowing your goals will help you choose the most effective way to achieve them and what platforms will help you meet those objectives.
For example, if you only have a small, intimate group, you might want to use a simple platform like Zoom. However, if you have a couple hundred people attending, you'll want a platform that can support that size of an audience.
A webinar hosting platform working with full-service providers like ActualTech Media offers a complete white-glove experience for your webinar event. This includes marketing, bringing in an audience, and hosting the webinar. As a result, you don't have to worry about the technical tools you need when you use a webinar hosting platform. Instead, you can completely focus on your message and goal.
3. Develop Your Content
The next tool you need to add to your kit is your content. This is what you'll present during the webinar. Your audience will drive your content, so you'll start with the "who" before coming up with the "what."
Understanding your audiences means collecting and analyzing data on those prospective buyers, their challenges, and their goals. Then, you want your content to align with their needs so that your audience will respond to your message. ActualTech Media helps you target your message by bringing an audience of IT buyers to you.
Establishing learning objectives will guide your content creation. Your learning objectives are the key takeaways your audience will gain from your message and should align with your goals.
For example, if your goal is to make a sale, your learning objectives might include listing your offerings.
Your learning objectives also help you stay focused. For instance, knowing what you want your audience to gain from your webinar will help you filter out content that might distract from the main message. Helping you create the perfect content for your tech webinar is just one of the many added-value services included when ActualTech Media hosts your tech webinar.
4. Find an Engaging Speaker
Your message is as much how you present it as what you say. Finding the right speaker is a crucial component of your webinar kit. You need someone knowledgeable but who can also engage the audience. Roughly 32% of your audience will only engage with your content if your host is passionate about the topic.
While a subject-matter expert has an in-depth understanding of your topic, they might not always have the best speaking skills. To help support your main speaker, consider inviting someone with more speaking experience and energy to keep the webinar moving. For instance, ActualTech Media's moderators are skilled speakers who will keep your audience engaged.
5. Create Ways To Engage Your Audience
Your speaker can use additional tools to engage the audience. Some you should consider adding to your webinar kit include:
Q&A sessions
Polls
Pre-webinar questions
Downloadable resources
While many great options are available, you don't need to make your webinar too complex. Offering too many methods for engagement can detract from your message. Instead, settle on the most effective ones to reach your goals. For example, nearly one-third of marketers say Q&A sessions are a webinar's best feature.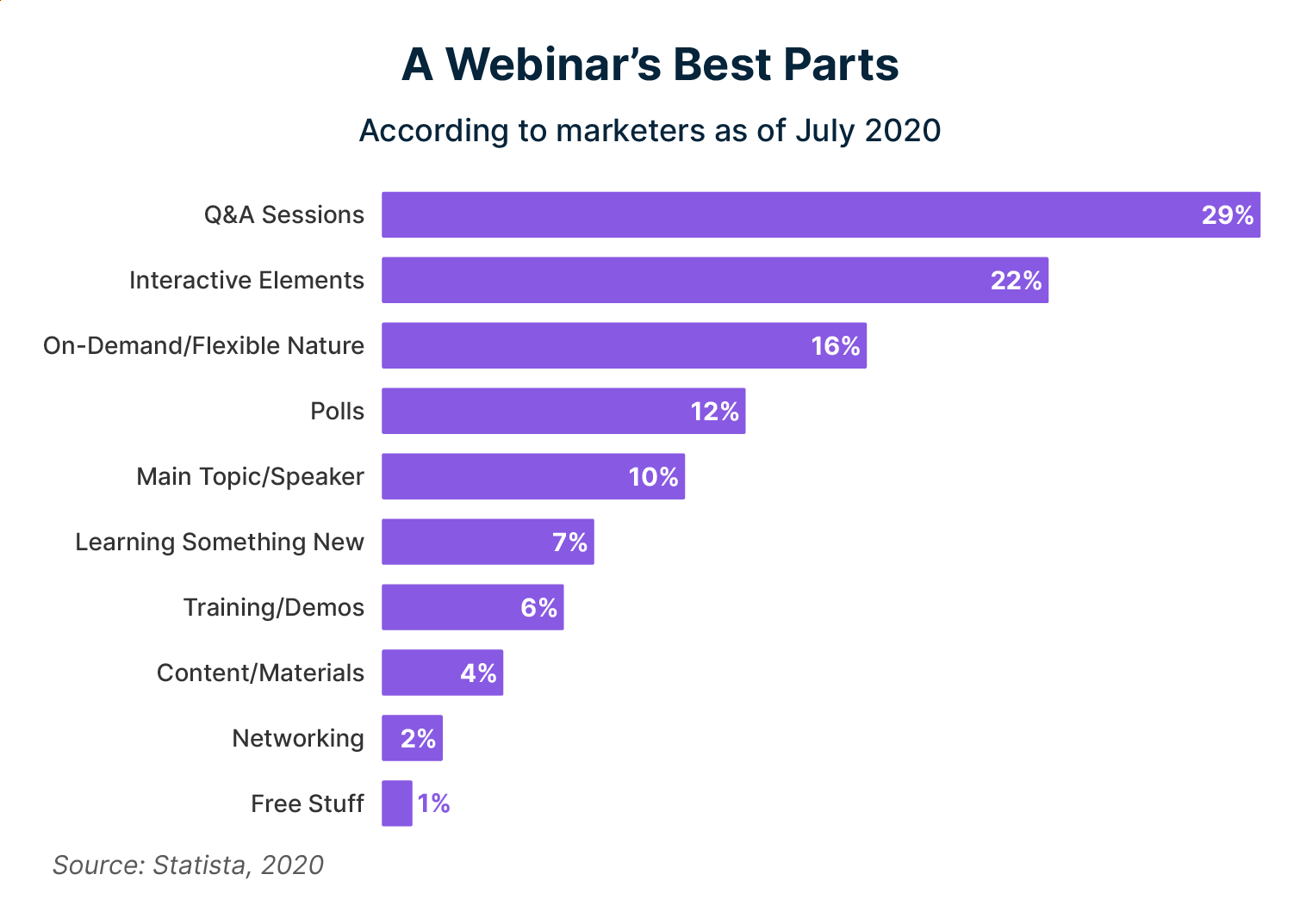 6. Build a Follow-up Strategy
Once the live event is over, you will receive a post-event action report  (P.E.A.R.) of audience information, like how they participated during the webinar, how long they attended, what resources they downloaded, and their responses to any polls.
Before the webinar occurs, plan for how you will use that information.
In addition, plan for how you will respond to the attendees. For example, will you send a thank you note? Will you add them to an email list?
Another essential component of your follow-up strategy is how you plan to nurture those sales-qualified leads. Experience has shown that teams that experience the most success with webinars have a strong lead nurturing plan beyond just an email or phone call.
7. Record Your Webinar
Your webinar recording plays a crucial part in your toolset. It helps with follow-up and can continue to generate leads for months after the event. When you record the webinar, you can use it again. You can also take pieces of it and use them in your social media strategy.
By resharing your webinar, you can reach new audiences with your content. Recording your webinar also allows you to offer an on-demand option. Customers say that on-demand options are the most valuable webinar addition.
ActualTech Media continues to optimize webinar recordings and offers them on-demand forever, allowing you to continue generating leads for months or even years after the initial event.
8. Find a Supporting Team
A webinar requires many tasks, including setting up the event, moderating, and presenting. Any individual who tries to juggle these tasks on their own can easily become overwhelmed, affecting the quality of your webinar.
Webinars don't have to be overwhelming or complicated. With the right team at your back, you are ready for every situation, and your presentation can feel like a breeze because you have expert support carrying most of the load.
Whenever you are dealing with technology, there are many potential problems. For example, there might be a power outage, the presenter's slides might not work, or the audience can't access important information. Your team can step in when issues arise so that the presenter doesn't have to worry about that aspect.
They can ensure the event runs seamlessly and the audience has a rewarding experience.
If you try to hold a webinar on your own without a team, you risk taking away from the audience's experience. You might also distract from all the hard work you put into your presentation because you must moderate and host.
ActualTech Media is every tech's dream team. We have the knowledge and expertise necessary for running professional and engaging IT webinars.
Assemble Your Ultimate IT Webinar Kit
ActualTech Media is your complete webinar kit. We have all the resources, tools, and support you need to build memorable and rewarding technology webinars.
Contact us to learn about our webinar hosting services.