On the heels of major changes to workplace culture precipitated by ongoing digital transformation and the recent global shift to remote work, knowing how to create a webinar has become one of the most reliable lead-generation skills for B2B tech vendors. B2B customer interaction preferences have evolved over the last two years, with 70% to 80% of B2B buyers now favoring digital communication or self service over traditional face-to-face sit-downs.
Webinars are an excellent adaptation to changing customer expectations, combining interactivity and digital technology. Nevertheless, pivoting from other digital marketing channels to hosting successful, lead-generating webinars is no mere lane change for marketing teams. Engaging, goal-focused content is just a start. Other critical components for creating tech webinars range from the requisite equipment—cameras, mics, and webinar hosting software—to less directly procurable essentials, namely purchase-ready audiences specifically needing a tech company's products and services.
Learn the necessary steps for creating goal-focused tech webinars and how to solve the more problematic variable of finding lead-rich audiences in this guide.
Key Takeaways:
Tech webinars have become a critical B2B marketing channel for presenting content to niche, targeted audiences
Lead generation is the primary goal of B2B webinars
Delivering a tight, goal-focused presentation holds your audience's attention and drives lead generation
What Do Webinars Involve?
Webinars are the virtual counterpart of in-person marketing events. Like physical events, webinars consist of an informative spoken presentation and accompanying multimedia content such as slides, videos, infographics, and audience interactions.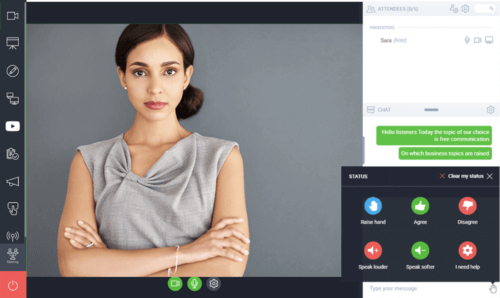 To create a webinar, hosts first need access to a web conferencing platform with file and screen sharing capabilities, cameras, mics, and other technical equipment, such as lighting kits, depending on the host's location.
During the event, one or more presenters deliver prepared content to an audience of virtual attendees, eliciting and answering questions at various stages. Webinar content should communicate a clearly defined purpose or goal to keep the audience engaged and responsive to a specific course of action. One example is demonstrating how a new product or service solves a common audience pain point or connecting an evolving industry trend to necessary adaptations.
What Is the Goal of Tech Webinars?
Tech webinars have two kinds of goals. The common goal shared across B2B tech webinars is quality webinar lead generation. However, individual webinars accomplish this by setting unique, content-driven goals.
Lead Generation
Webinars gather motivated, capable audiences to share information highly relevant to their current business needs. Webinar hosts may draw audiences through content syndication networks, reaching out to target account lists (TALs), or pushing new content to existing accounts.
Marketers use webinars to nurture leads and make personal contact with participating potential clients, whether during live webinar sessions or in follow-up through the registrant's contact information.
The rate and quality of lead generation are the metrics for success in B2B webinars. Across the board, 53% of B2B marketers confirm that webinars generate higher quality leads than other content marketing channels, and 62% of webinar attendees directly approach the hosting company for a product demo.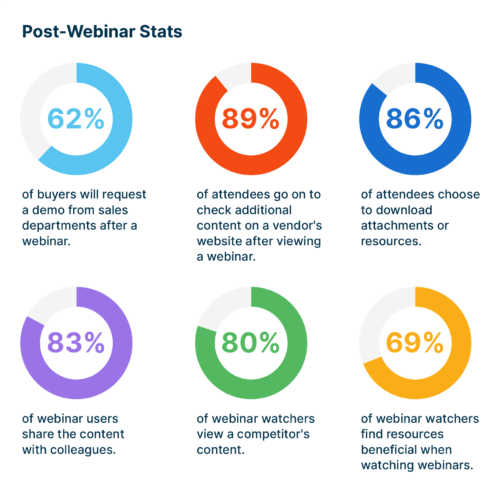 Goals for Individual Events
Naturally, B2B webinar hosts accomplish their primary goal of lead generation through content marketing, offering audiences something of genuine value, such as a solution to a problem or an advanced, actionable insight for their industry. Hence, optimal goals for individual webinars vary by content and audience but should always attempt to link an audience's need to a specific course of action.
Actions that fit this window of performance range from purchases to intermediary customer journey stages, such as subscribing to regular content, initiating product demos and trials, or reaching out to representatives for any kind of additional information after attending an event.
3 Tips for Creating a Goal-Focused Tech Webinar
The following guidelines will match a primary webinar lead-gen goal to an immediate, content-driven goal.
1. Define and Attract the Target Audience
Regardless of the content quality, a webinar host's success depends entirely on identifying the right audience and convincing them to attend with the right promotional content. Tech marketers who elect to handle audience targeting, promotion, and hosting on their own will need to write a custom plan involving:
Market research to refine parameters such as an ideal customer profile (ICP) and TAL
Personalized invitations through email, texts, and other direct messaging channels
Design for a custom landing page
Variated follow-up messaging for registrants at regular intervals leading up to the event
A follow-up strategy for registrants who ultimately don't attend
2. Iterate the Goal in Every Stage of the Event
Engaging webinars break content presentation and messaging into discrete stages, punctuated by audience interaction and changes in presentation medium. Typically, these stages contain an introduction with a significant question or thought-provoking fact, three to four slides or other audiovisual content, and end with a Q&A session.
Content creators should ensure that each stage and key message component speaks to the webinar's specified goal. Questions posed, dilemmas considered, and other thought exercises should attempt to elicit conclusions that match the desired audience response. Additionally, information in different formats, such as spoken presentation, video content, or infographics, should overlap in messaging and convey the same singular goal overtly in speech or text or subconsciously in visual content.
3. Follow Up After the Live Event
Not every goal conversion will happen during the webinar's live cast. Many potential leads and customers may need a final push through a follow-up call or email to get them over the fence. If registrants attended once, the tech marketing team knows they have a little bit of real interest in what the business has to offer. Cultivating that interest with outreach and invites to future webinars will ultimately yield more success in accomplishing goals.
Deliver the Best Webinar Content to Premium Target Audiences with ActualTech Media
At ActualTech Media, our team of webinar experts excels at developing custom webinar programs that connect your best tech content to the right niche audience, delivering your business new, high-quality leads at low CPLs.
Schedule an initial consultation with ActualTech Media today.