Only 48% of sales development representatives (SDRs) consistently meet their sales prospecting quota of bringing in and qualifying a set number of sales-qualified leads. This can be a combination of poor training, lack of resources, unclear instructions, or poor quota management.
When they fall behind on their quota, your sales team will fall behind with closing deals. In addition, you risk losing quality leads as the longer you wait to reach out to new leads, the less likely the lead will respond to you. The average B2B sales team takes 42 hours to follow up with a new lead. However, 38% of those leads never respond.
Learn how to speed up your SDR prospecting with more effective strategies to help your SDRs meet their quotas so you can qualify more leads.
Key Takeaways:
Focus on meeting daily KPI goals to avoid falling behind on your quota
Understanding who you're trying to reach and what their pain points are will help you find the best fit for your company
Persistence and variety are key to qualifying leads even after they initially don't express interest in your products
Your peers are some of the most valuable sources of information on effective lead  prospecting strategies
🤫 PS: Looking for pricing on content syndication leads? Get a price list here
1. Break up Your Quota into Smaller Goals
SDRs receive daily key performance indicators (KPIs). While you aren't required to meet them each day, they exist to help you attain your quota. While occasionally missing your daily KPIs won't significantly impact your quota, you want to avoid consistently missing your KPIs as that will start impacting your progress toward your goal.
Some examples of KPIs include:
Sending a set number of emails each day
Making a set number of phone calls each day
Finding a set number of new prospects each day
If you're struggling to consistently meet the daily goals, you should first try reevaluating the way you're prospecting rather than immediately requesting an adjustment to your daily goals. For example, you can ask other SDRs who consistently meet their daily KPIs for advice on handling the prospecting workload and consistently generating quality leads.
2. Understand Your Customer
A successful SDR prospecting strategy starts with understanding who you're trying to reach. Both sales and marketing should work together to build several buyer personas that accurately portray the ideal customer and their behaviors, as well as the businesses that customers will work for.
Use that persona to guide your search and qualification process so you can respond faster and make more accurate decisions on prospects when you spot someone who matches that persona.
Your buyer persona should include:
Company size
Primary decision makers
Motivating factors for purchasing
Known needs
Common behaviors
Company Location
When you come across someone on your search channels or sales prospecting tools that match most of those characteristics, you'll know they have the highest potential for purchasing. Therefore, you have a greater chance of qualifying that lead.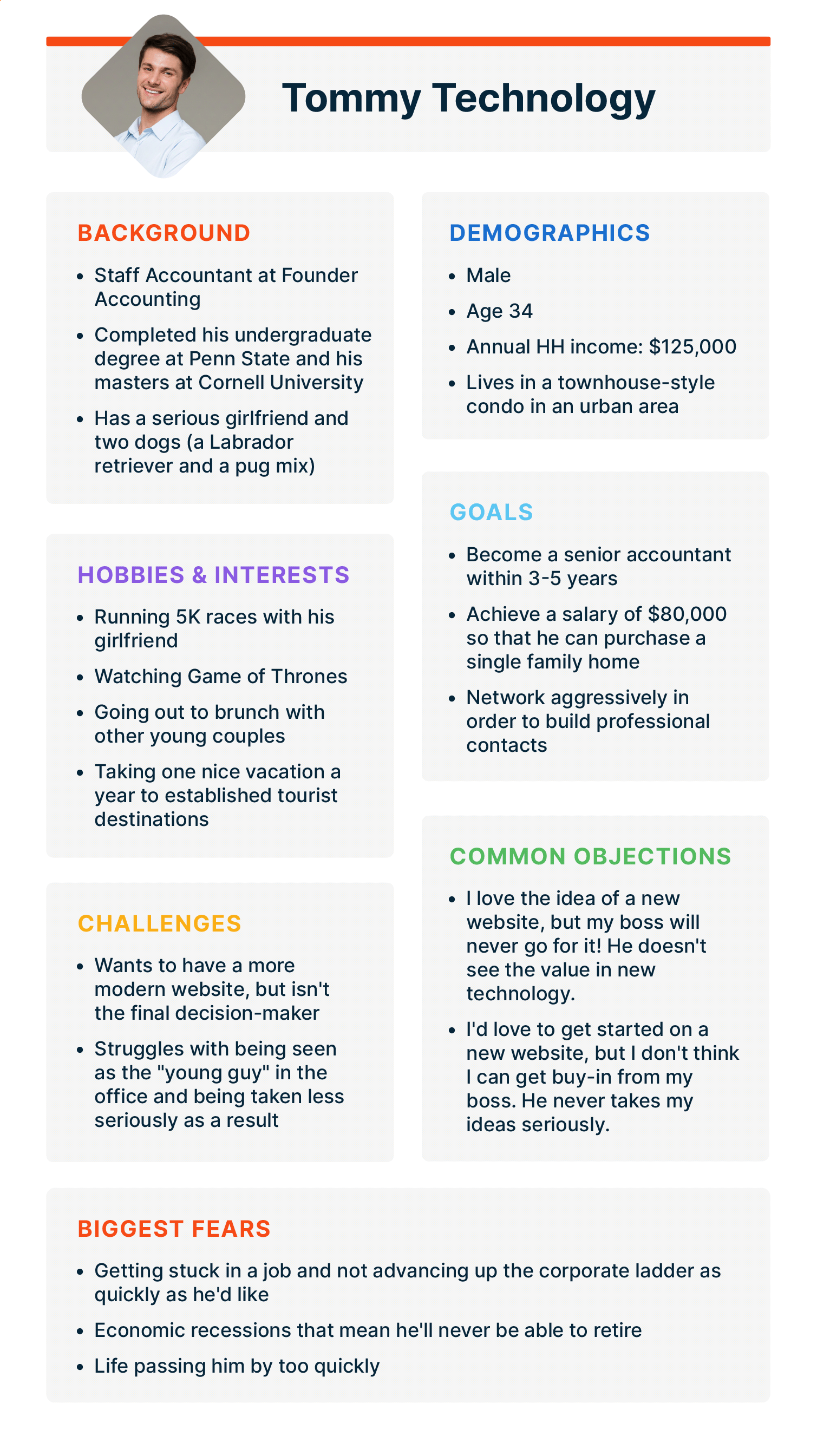 3. Use a Multi-Channel Strategy
On average, 60% of customers will say no at least four times before they might say yes. However, nearly half of sales representatives don't follow up after the initial no.
While you don't want to come across as annoying or off-putting in your follow-up attempts, you must be persistent in reaching your leads and preparing them for your closing team. Otherwise, you'll lose most of your potential clients.
One effective way to be persistent without intruding on them is to use multiple channels to reach the same lead. By switching up your outreach methods, you also don't come across as repetitive when trying to qualify the lead.
For example, you might send a marketing email after a phone call and then later connect with them on LinkedIn. If your lead didn't initially express interest in your products, you might also be able to generate interest in a smaller "yes," like downloading a free research report on their industry that you email them or inviting them to a webinar. This gradually builds trust with the lead and warms them up to your larger offers.
4. Personalize Your Message
Personalizing your approach also increases the number of leads you can turn into prospects. That's why 52% of B2B marketers plan to increase their investment in personalization technology. A personal approach tweaks your message for each market segment and individual to offer them unique products designed around their specific needs.
For example, perhaps the lead is also the person working directly with your products. Your messages will highlight how your products and services make their jobs easier by pinpointing the lead's known challenges and establishing yourself as the solution. However, if your lead is a decision maker who won't directly interact with your products, your focus should be more company-wide, like how your product increases business revenue.
5. Use Company Resources
Does your company offer training courses, guides, or playbooks? These guides could give you valuable advice on reaching more leads and turning them into prospects. Before trying to find what works for you, you can use what sales prospecting techniques worked for the business in the past.
While it might take time to attend training or read a book, ultimately, it will save you time as you'll be able to find prospects more effectively instead of chasing pointless leads and dead-end channels.
One of the most valuable sources of knowledge is your peers. About 91% of those in sales say peer learning improves their success. Peer learning relies on veterans in the department passing on their knowledge through guides and training material before they retire or leave for a new job. New hires can then benefit from that knowledge.
6. Learn from Successful SDRs
There is more than one way to prospect sales. If you aren't sure what to do in a specific situation or are struggling to meet your daily KPIs, reach out to your coworkers for help and find new methods. They can offer you advice on what works best for them or provide a fresh perspective on your strategies and how you can improve them.
Touching base with other SDRs also makes sales a group effort since you all are working toward the same goals. You can brainstorm together to develop new ideas for prospecting and finding quality leads.
Reach More of Your Sales Prospecting KPIs
ActualTech Media helps you reach more of your sales prospecting goals by connecting you with quality leads with a high buyer's intent. Through our content creation and distribution solutions, you can reach quality tech leads and fill your pipeline with qualified sales prospects faster.
Contact us to learn more about our B2B lead generation solutions.