You finally did it—you moved strangers to leads, then converted them into prospects. Now, they're on the cusp of purchasing a product. Bottom-of-the-funnel content will give them the last bit of information to drive home the sale. Without this vital piece of your marketing puzzle, you risk unraveling all your investment and time.
Learn how to create B2B bottom-of-the-funnel content that converts prospects into loyal customers.
Key Takeaways:
Bottom-of-the-funnel content removes roadblocks so you can convert your prospects into loyal customers
Use your content to build authority through social proof and thought leadership
Clear messaging and calls to action are key to converting your prospects
🤫 PS: Looking for pricing on custom Tech content? Get a price list here
Why You Should Create Content for Every Stage of the Funnel
The marketing funnel consists of three main stages:
Top-of-the-funnel: Creating awareness about your brand
Middle-of-the-funnel: Generating interest and leads
Bottom-of-the-funnel: Encouraging a commitment
Top-of-the-funnel content receives most of the attention in IT content marketing. It's what attracts your customers in the first place. Without top-of-the-funnel content, you would have no use for the other two stages.
However, if you only created top-of-the-funnel content, you would lose nearly all the traffic you brought in because 96% of your traffic isn't ready to buy.
This is where your middle-of-the-funnel content comes in. It builds the bridge between traffic and customers. Your middle-of-the-funnel content plays a significant role in generating quality leads with a high buyer's intent. It weeds out the low-value traffic that stumbled upon your content and identifies the visitors with a genuine interest in your brand.
Now you have a pool of prospects ready to buy. However, if you stop your content strategy at this point, you risk some buyers walking away because another company reached out sooner or they talked themselves out of a sale.
Bottom-of-the-funnel content ensures that doesn't happen by removing those roadblocks and completing the sale.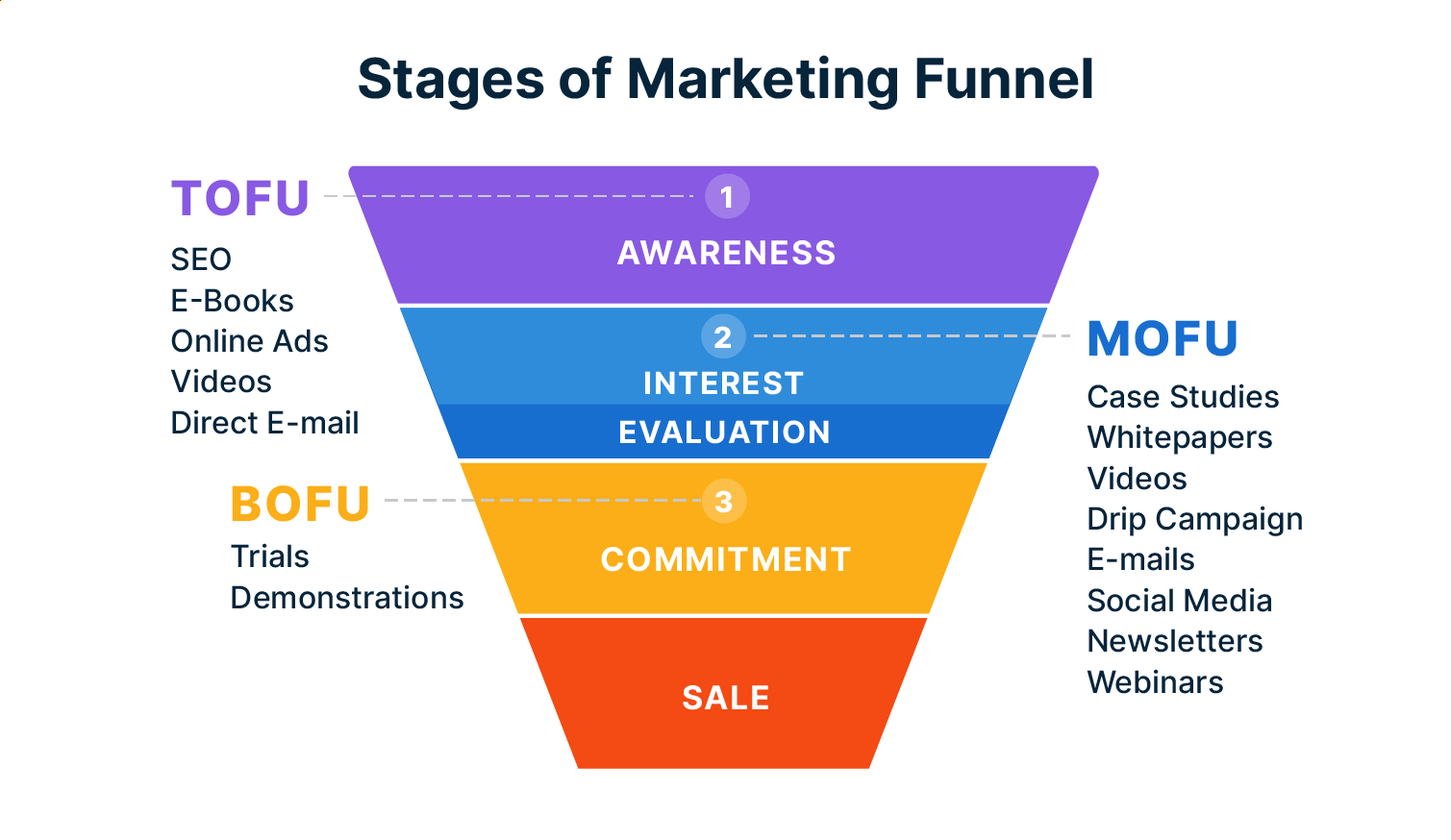 What Is the Purpose of Bottom-of-the-Funnel Content?
While the middle-of-the-funnel content offers solutions, the bottom content provides products. The goal of this last stage of content is to convert your readers.
For example, middle-of-the-funnel content might tell users how marketing automation software benefits businesses like them. However, your bottom-of-the-funnel content explains how your marketing automation software is superior and the solution they need.
Some of the most effective forms of late-stage content include:
Case studies
Third-party reports
Assessments
Customer reviews
Pricing pages
Demos and tutorials
When your prospects reach the bottom of the funnel, they have already shown interest in your brand, and you will most likely have their contact information. You can use this to distribute your content directly to those prospects through strategies like webinar invites, email campaigns, and content syndication.

5 Tips for Creating Bottom-of-the-Funnel Content
Use these five tips in your bottom-of-the-funnel marketing strategy.
1. Address All the Potential Roadblocks
If the prospect is on the fence about buying, you'll want to remove any hesitation or roadblocks. Need and budget are two of the most common reasons a prospect will purchase or choose not to.
This step might sometimes feel uncomfortable because you'll have to analyze your business and products from the client's perspective. Then, you'll have to address issues or concerns head-on. This requires a large amount of transparency. If you try to brush those concerns under the table, it won't help your cause. Instead, acknowledge any challenges and be genuine with your clients, as that's most likely to build trust and convince them to buy.
For example, if your products cost more than competitors, you can highlight the revenue you can bring in.

2. Control the Information
Before making a final decision, your buyers will perform extensive research. If you don't provide the answers to their questions, they'll go elsewhere, and you risk your competition answering those questions and taking the sale.
Your bottom-of-the-funnel content aims to keep your prospects with your brand by providing anything they need.
For example, you can keep prospects with your brand by covering your company's and your competition's products in a "vs." article that lists each option's benefits and features, so the prospect doesn't have to leave your website to find that information.
The following article from HubSpot is an example of how to address a rivalry while still maintaining the upper hand by showing how you are the superior choice.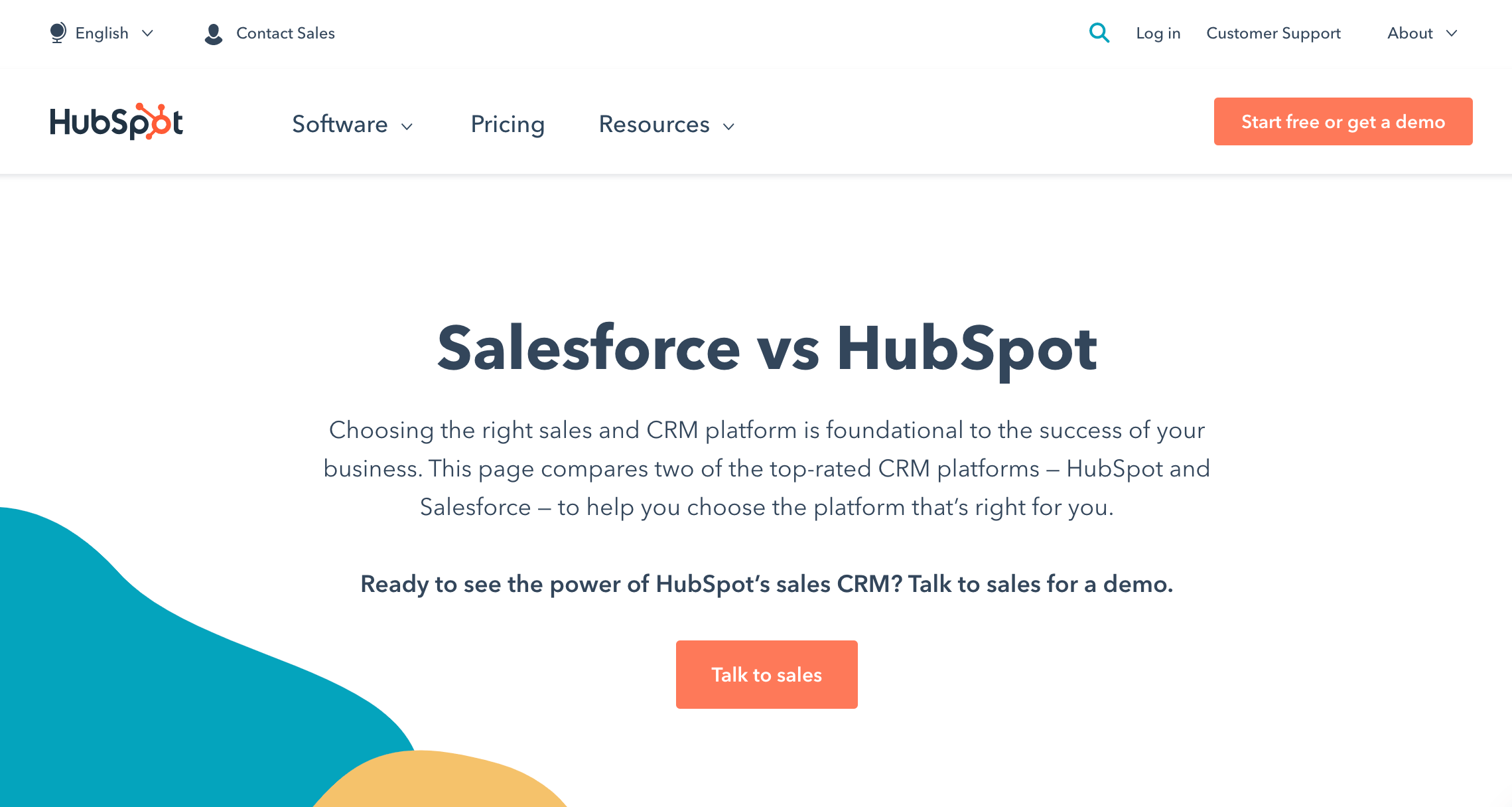 Image from HubSpot
3. Be Clear in Your Message
You might have heard tech content marketing shouldn't be a giant sales pitch because that's off-putting. Instead, you need to subtly weave in brand mentions with your content. However, when you arrive at the bottom-of-the-funnel content, you can be more direct with your call to action.
Your pricing page is one of the most important bottom-of-the-funnel content pieces you have. It should be a roundup of all your benefits and features. It's one of your last chances to convince the buyer to choose you.
If your buyer is on the pricing page, they're serious enough in their interest to look at the cost to purchase. However, many buyers who leave that page won't return. Use the page to remind your buyers of your best attributes and bring home the sale with clear directions for purchasing.
4. Provide Social Proof
Social proof is proof that comes from outside your company. Buyers expect businesses to only speak positively about themselves. No company will tell their prospects the negative side of doing business with them.
However, when someone with nothing to gain from the sale tells a buyer they can depend on you, the buyer is more likely to listen. Case studies, third-party reports, referrals, and testimonials are all examples of social proof you can use in your bottom-of-the-funnel content.
B2B companies with referrals see a 70% higher conversion rate. In addition, 92% of buyers trust the advice of people they know when making a purchase decision.
5. Build Authority with Your Buyers
Your bottom-of-the-funnel content is your last chance to build authority with your buyers. While this is a strategy you should use throughout the funnel, it also plays a role in convincing them to choose your products and services.
When you establish yourself as an authority through thought leadership content, your buyers are more likely to trust you and your products. Building trust is the key to convincing them to make a decision.
Roughly 78% of B2B buyers say trusting the source of information is important to them when reading content during their decision-making process.
Convert More of Your Prospects
ActualTech Media creates bottom-of-the-funnel content that converts prospects into loyal customers. Our distribution solutions like content syndication also play a key role in getting your content to the prospects and completing the sales journey.
Contact us to learn more about our content creation and distribution services.