Does your tech company do content marketing? If not, you should.
Utilizing top-performing content marketing strategies for tech companies can help you reach your current and potential customers more efficiently. It's a marketing approach that pays dividends.
Read on to learn more about content marketing for tech companies and how you can implement them.
Key Takeaways
Content marketing uses unique content to attract and engage customers
Content marketing employs a variety of media, including social media, webinars, white papers, and videos
When developing a content marketing strategy, you need to create exceptional content, utilize a variety of approaches, focus on top-of-funnel content, and invest where IT professionals find value
🤫 PS: Looking for pricing on custom Tech content? Get a price list here
What Is Content Marketing?
Content marketing involves using powerful content to attract and engage current and potential customers. Content can be distributed via a variety of marketing channels, including:
Social media
Blogs
Newsletters
Email
White papers
Podcasts
Videos
Content marketing is something you provide for free to your prospects and customers to attract their attention, position your company as a source of useful information, and draw them to your website for further information—and to buy your products and services.
Why Tech Companies Need Content Marketing
It's often said that content is king. That's why, according to a Semrush study of B2B and B2C companies, 84% of respondents say their business currently has a content marketing strategy—and over half (63%) say that their content marketing performance is good or excellent.
In addition to promoting to a technical audience, technology companies need to better explain their products and services in plain English to non-technical users. Content marketing is the ideal way to do that without resorting to indecipherable tech-speak. With content marketing, you talk directly to potential customers in a manner that best suits them. It puts you ahead of your competition and helps you better engage important decision makers.
As a bonus, content marketing is efficient marketing. According to Demand Metric, content marketing costs 62% less than traditional marketing yet delivers 3x as many leads per dollar spent. Can your tech company afford not to have a content marketing strategy?
10 Top Content Marketing Strategies for Tech Companies
What content marketing strategies should your tech business adopt? Here are 10 top-performing strategies to consider.
Give Your Customers Content They Crave
It's essential that you offer your customers content that they want and need. Simply talking about your latest product or technology may be of little interest to potential customers who don't already know, like, and trust you. Instead, get inside their heads and identify their pain points so you can provide content that truly matters to them. If it's something they want or need to know, they'll listen to you.
Create Exceptional Content
The content you offer must stand out from the competition and offer exceptional value. There are lots of ways to create compelling content for your customers, but you need to keep in mind the 3 E's of exceptional online content, which states that your content must be:
Entertaining
Educational
Engaging
Whatever content you provide, make sure it's unique and uniquely valuable. You don't want to offer content "borrowed" from other websites or sources. You need original content presented in your company's distinctive voice and with insights only your company could have.
Personalize Your Content
Personalization is key to content marketing. Content marketing is not mass marketing—you have to tailor your message to particular audiences and individual customers. The more you can address customers' unique needs, the better you can engage those customers.
Utilize a Variety of Approaches
There are many types of content marketing. You can offer your content via social media, webinars, videos, whitepapers, and other targeted channels. According to the Content Marketing Institute, the six most popular channels for B2B content marketers, in order, are:
Virtual events
Research reports
Short articles/posts
E-books/white papers
Case studies
Video
Long-form articles, infographics, and podcasts are also popular for B2B content.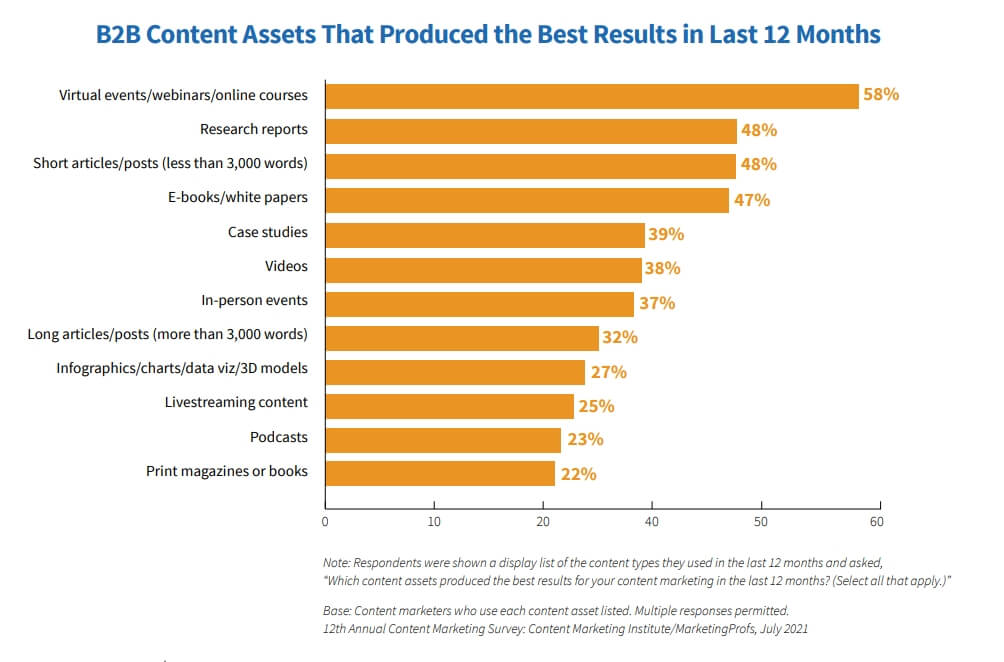 Invest Where Technology Pros Find Value
Our internal research suggests a slightly different mix of content marketing types for technology-focused customers. Based on our study of 1,400 IT professionals, these pros found the following six types of content to be the most valuable for their decision-making:
Webinars
Video
Short-form e-books
White papers
Case studies
Blogs
Focus on Top-of-Funnel Content
Top-of-funnel content is that which doesn't attempt to sell a specific product or service. Instead, it educates customers about things they care about, answers common questions, and addresses typical pain points. It's more general content that positions your company as a thought leader—and one a potential customer should turn to when they're ready to make a purchase.
Lean into Social Media
Social media lets you engage directly with your customers, which helps you build closer customer relationships. The most popular approach to social media is social listening, where you track social media for mentions of your company or brand, then analyze those mentions for useful insights. You can also use social media proactively by posting content accompanied by popular hashtags. Posting video content on social media is also an important approach.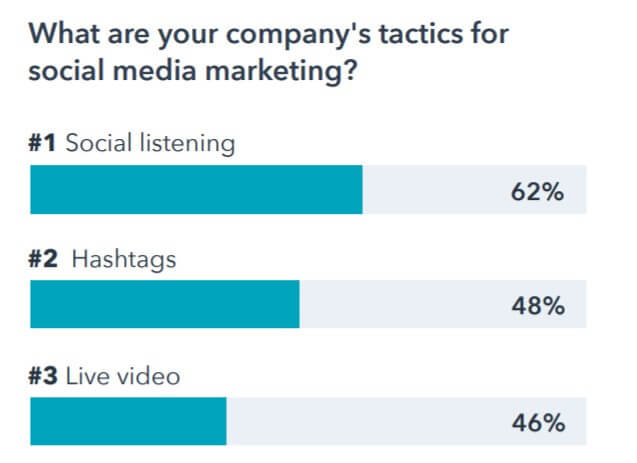 Participate in Multi-Vendor Webinars
Our study of technology professionals found that the largest percentage of potential customers looked to webinars to find important information. For this reason, you must include webinars in your content marketing mix. The team at ActualTech Media schedules a wide variety of multi-vendor webinars throughout the year designed to reach a select audience of technology buyers. Our webinars have generated hundreds of thousands of registrations for our clients—which you can participate in.

Leverage Content Syndication
Content syndication involves republishing content on third-party websites. It helps you put your content in front of a greater number of targeted leads than you could on just your own website. To help you syndicate content at scale, ActualTech Media offers a content syndication program with the capacity to deliver hundreds of thousands of targeted leads per year for your existing content. Our syndication network includes targets for cloud, data management, data protection,security, and all kinds of related topics.
Target Lead Generation
What do you want your content marketing to accomplish? For most tech companies, the end goal is generating more high-quality leads. Make sure that your content marketing program is designed with lead generation in mind—and don't be afraid to ask potential customers to contact you or provide their contact information.
Let ActualTech Media Help Develop Your Content Marketing Strategy
When you want to ramp up your company's content marketing, turn to the experts at ActualTech Media. We specialize in content marketing and lead generation for companies in the technology space. We offer lead generation services, multi-vendor webinars, content syndication, interactive content solutions, and other services for tech companies like yours. We've been providing innovative content to technology vendors for more than a decade—and can help your company develop a unique content marketing strategy.
Contact ActualTech Media today to learn more about content marketing strategies for your business.