Contact
Are you interested in getting started with marketing content syndication? This field guide will walk you through the basics of content syndication. In addition, learn the latest tips on how to successfully plan and run a campaign in 2022.
Key Takeaways:
Content syndication is the distribution of content across targeted platforms to increase your visibility
Content syndication for lead generation gives you measurable results
Work with a niche content syndication platform to directly market to your audience
🤫 PS: Looking for pricing on content syndication leads? Get a price list here
Marketing Content Syndication Definitions
Content syndication for marketing is the distribution of digital assets on publishing platforms like websites, apps, and social media where more consumers can see your content. Here are two definitions you need to know that are associated with content syndication:
Content syndication platform is the provider that distributes your content and connects you with publishers willing to share your digital asset with their following
Content syndication network is a group of publishers that accept digital assets from third parties—these publishers often work with content syndication platforms rather than directly with brands
2 Types of Content Syndication
There are two primary methods to perform content syndication. Content syndication for brand awareness is when you publish or distribute digital content like blog posts on third-party sites to increase your visibility. While you generate website traffic, your results are challenging to measure, and your campaigns are often not very targeted as you can't control who sees or responds to your content.
ActualTech Media performs content syndication for lead generation. This process directly distributes digital assets like e-books, videos, and whitepapers to a niche audience. Because the content is gated, your audience must exchange their personal information for the free content.
You can use this information to follow up with your viewers and readers with an email drip campaign or alternative lead nurturing strategy, which increases your conversions from content syndication.
What Should You Publish?
The best content for syndication is digital assets you can use as gated content to collect leads. About 80% of B2B marketing content is gated. ActualTech Media has seen the best success with the following formats:
Video content
E-books
Whitepapers
Case studies
Webinars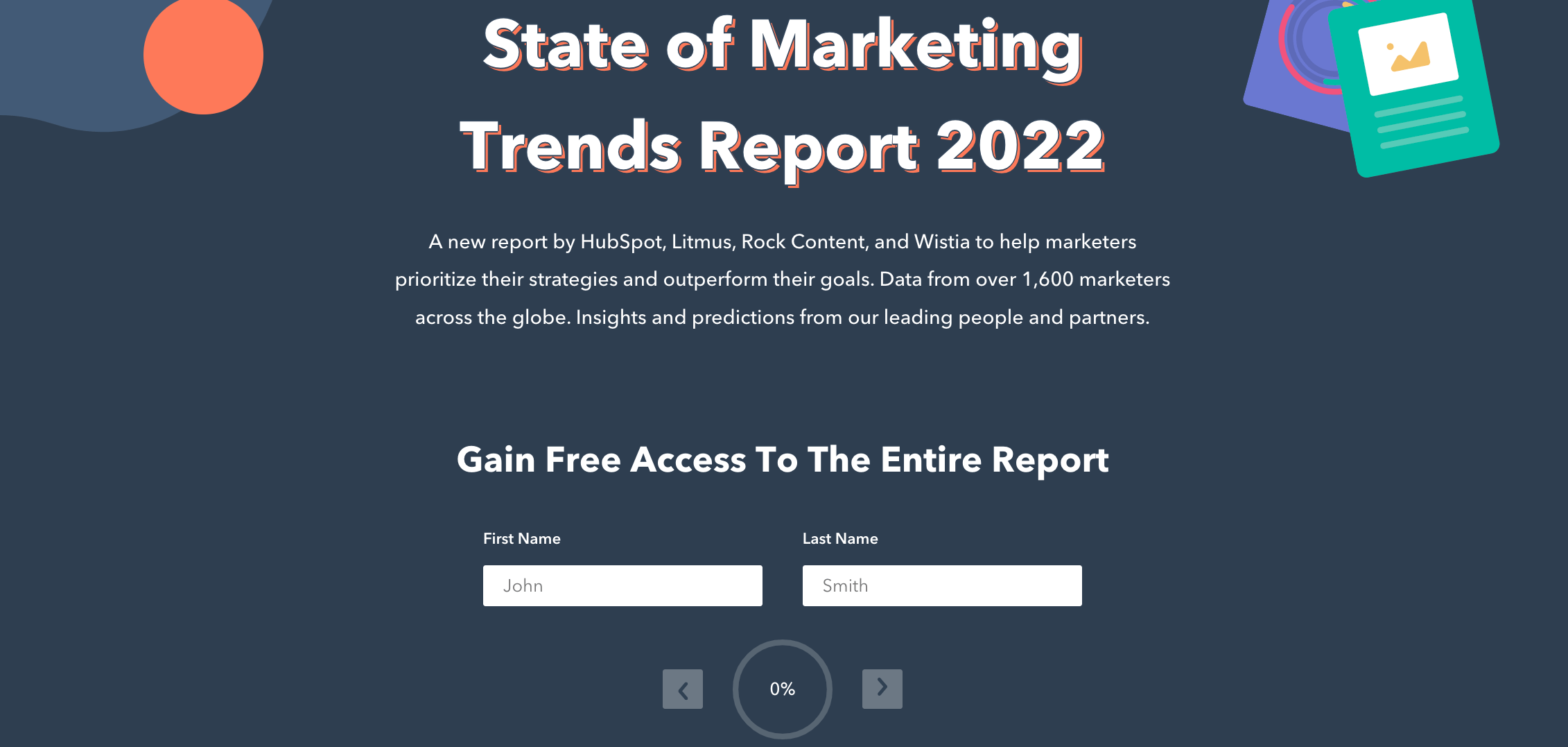 Image from HubSpot

When you create content for syndication, keep it short and easy to digest in one sitting. If you fill it with long sentences and industry jargon, your audience is more likely to lose interest or forget what your message is.
Simple messaging makes your digital asset more memorable, and you're more likely to connect with your audience later when you contact the reader.
Some other strategies you should use include branding the content. Branding connects your content to your business. This is especially important as your content isn't on your primary website as content syndication shares it on third-party websites. Therefore, your readers won't automatically know the content is from your company.
You want to be sure your audience knows the content is yours. You also want to increase the chances of them recognizing your brand when they interact with you later or hear from you through a follow-up email. Since the average consumer needs around eight touchpoints before purchasing, keeping a consistent brand image and voice builds on previous touchpoints to lead prospects toward a sale and contributes to their positive experience with your brand.
How Should You Share Your Digital Assets?
Use these 10 steps to distribute your content where it will generate the highest-quality results.
1. Set Your Goal
Start your content syndication campaign with an established goal. This will be a benchmark to measure how well your campaign performed.
In addition to a goal, set a time frame for running the campaign. For example, do you want the campaign to run until you collected a specific number of leads for a specified time or based on your budget? Those three factors might influence how long you syndicate your content.
ActualTech Media enables companies to generate large lead volumes at affordable costs per lead to meet more of their goals with the least amount of resources.
2. Establish Filters to Target Your Audience
Targeting your audience is creating criteria your readers or viewers must meet. These criteria ensure the leads you generate from content syndication are relevant to your brand and have a high buyer's intent.
Some filters ActualTech Media uses include industry, titles, company size, geo, and more. You can also use organization and multi-touch targeting to assist in your account-based marketing.
3. Use a Content Syndication Platform
A content syndication platform connects you to a relevant content syndication network that boosts your content's authority and appears in front of your target audience. As leads come in, the platform compiles the leads in an organized spreadsheet with each contact's complete information, which you can use in your nurturing strategy.
ActualTech Media further supports your campaign through advanced tracking and reporting services. The company also ensures the leads you receive are net-new leads that have been thoroughly cleaned, so the leads are ready for you to use.
4. Strategically Choose Form Fields
The form fields on your gated content should gather enough information that you can pre-qualify leads without making the form too complicated a process for your readers to perform. For example, asking for their name and email doesn't tell you whether they're an individual or part of a business. However, asking nearly a dozen buyer intent questions might dissuade a busy decision maker from downloading your asset.
A few questions about who they are and their role in the business will help you filter out consumers who don't match your target buyer. You can also adjust the fields to ensure you comply with all legal regulations, like protecting the lead's data privacy.
The following example from Salesforce shows how it keeps its forms simple while still gathering the most relevant information for qualifying the leads.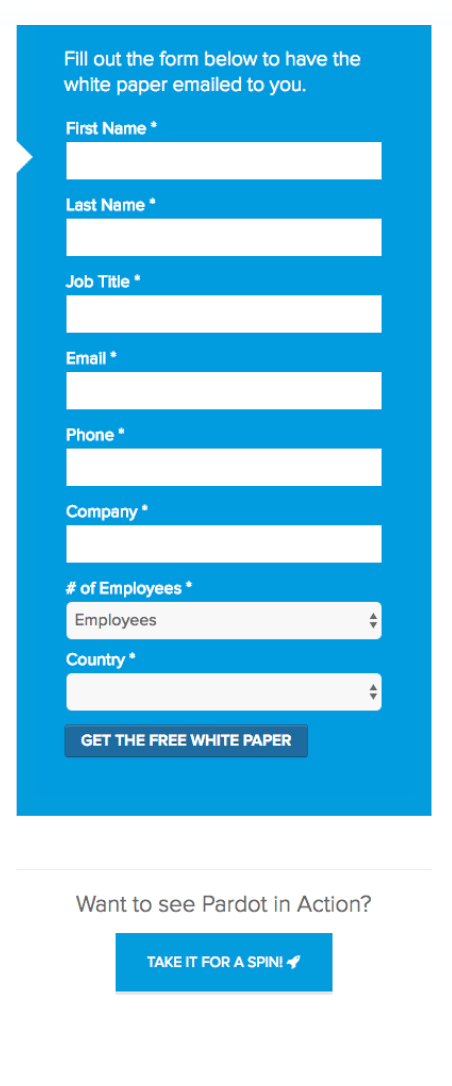 Image from Instapage
5. Nurture the Leads You Collect
In addition to sharing your original content, establish a strategy for nurturing those leads with additional matter. A multi-touch campaign will lead prospects through the sales journey with different forms of media that can address various aspects of your products and brand and answer any questions they might have.
After a prospect interacts with several digital assets, they move on to the next nurturing stage as multi-touch interactions indicate a higher buyer's intent. Finally, those leads are ready for other nurturing techniques like email campaigns or sales calls.
Get Started with Content Syndication for Lead Generation
Use your content syndication campaign to generate quality and net-new leads ready for nurturing. ActualTech Media is a content syndication platform with expert experience in the tech marketing industry and understands the unique needs of your audience, which helps us syndicate your content more strategically.
Contact us to learn more about our content syndication services.