Contact
If your content isn't bringing in the leads you need, it might not be in front of the right audience. Content syndication is your solution for targeting your ideal buyer persona through individual marketing campaigns. You'll see more leads and better results in just a few weeks with the help of a knowledgeable content syndication platform.
Learn what a content syndication platform is, how it differs from a content syndication network, and why it's the missing piece of your marketing campaign.
Key Takeaways:
A content syndication platform connects you to a network of partners that publish your content
A content syndication network includes the individual publishers that share content
Free content syndication offers few filters and no metrics for measuring your success
Using a content syndication platform brings in higher-quality leads and gets your content in front of the right audience
🤫 PS: Looking for pricing on content syndication leads? Get a price list here
What Tools Are Available for Content Syndication?
Content Syndication for lead generation requires a specific toolset that helps you reach the right people through the most relevant publishers. The two most essential tools for successfully syndicating your platform for maximum reach are a content syndication platform and a content syndication network.
Content Syndication Platform vs. Content Syndication Network
A content syndication platform is a service you use to distribute your digital asset. They are syndication providers that will take your B2B tech content and publish it across several locations or widgets. Then, as people interact with your content, the platform provider collects the leads and hands those leads back to you for nurturing.
Lead nurturing is a follow-up strategy where you build a relationship with your leads. You can nurture your leads by sending emails, making phone calls, and communicating with them. For your nurturing to lead to a conversion, you must ensure that the information you provide is relevant, answers their questions, and addresses any potential roadblocks that might keep them from purchasing your products.
A content syndication network is a collection of publishers that display your asset. You need to work through B2C or B2B content syndication vendors that offer platforms to access this network.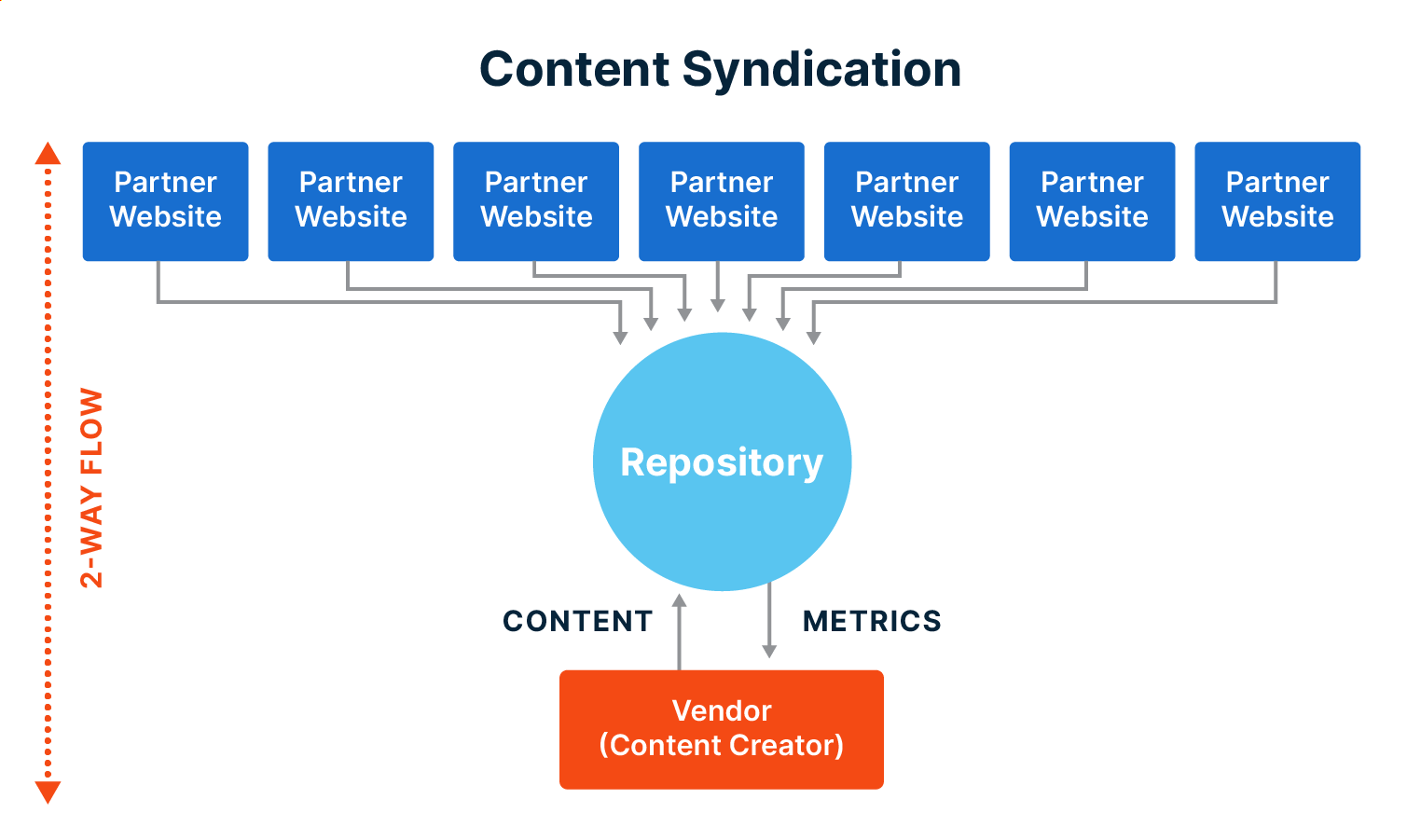 Different Types of Content Syndication
Content marketing for tech companies can include several content syndications processes and platforms to share assets.
1. Syndicating Content for Awareness
Content syndication often refers to republishing your content on a third-party website. This process doesn't require a content syndication platform as you're only targeting a single location. Some popular content syndication publishers are Medium and LinkedIn.
While content syndication on these websites will increase your views, you have no measurable way of knowing how successful your syndication was and don't have a way to follow up with your readers to make a sale. You also receive limited reports on impressions, clicks, and interactions with the content.
2. Free Content Syndication for Lead Generation
If you want measurable results, then the digital assets you syndicate should be a download, video, or document that viewers can access in exchange for personal information. This allows the publisher to collect those leads and pass them back to you.
You can perform free content syndication for lead generation by publishing lead magnets on public websites. While you save money on content syndication, you won't see many quality leads because free services or self-publishing your digital asset provides few filters for targeting a specific audience.
3. Mass Content Syndication Through Syndication Networks
When you work through a platform like NetLine to distribute your asset, you can reach many people with your content. Its process involves uploading your media to the platform once and sending it to that platform's network of publishers.
Your asset will often appear in widgets that its network of partner publishers have installed on their websites. As visitors go on these partner websites, they see the digital asset there and have a chance to interact with it.
4. Direct Content Syndication to a Targeted Audience
ActualTech Media falls into the fourth category of content syndication B2B marketers can use and works directly with the end audience. All three previous content syndication methods rely on users stumbling onto your digital asset to generate leads.
ActualTech Media brings in higher-quality leads by sending your asset directly to your target audience instead of waiting for them to come to you. We use dozens of filters, including:
Company size
Titles
Location
Geo
These filters let you target a specific audience for direct marketing and are how ActualTech Media can promote your asset to individual users.
The benefit of direct content syndication is that you increase the chances of your target audience seeing your asset. You can also use a targeted-accounts list, a list of specific businesses you already researched and want to connect with.
Because of the hyper-targeting process, you'll see better quality leads from the platform. In addition, different settings like multi-touch options also guarantee higher-quality results. Multi-touch settings require viewers to interact with your asset several times before joining your list of leads.
Is a Content Syndication Platform Necessary?
The top challenge marketers face is bringing in more leads. A content syndication platform is a solution for targeting and collecting information from prospects.
While there are free options that don't require a content syndication platform, they take more time and energy as you perform all the steps yourself. A content syndication platform connects you to more publishers and gives you the insights you need for targeting your audience and seeing your results.
A content syndication platform can be more than a gateway to a syndication network. For instance, ActualTech Media's content syndication services include tools to help you create a content syndication strategy, including our made-to-order content. These templates make asset creation a breeze so that you have quality and valuable content to share with your targeted accounts.
Our team of experts is also available for support and assistance in the content syndication journey. They can recommend the best assets to use, filter out poor-quality leads to ensure your list is up-to-date, and provide industry-leading reporting and tracking features so you have measurable results.
How To Use a Platform and Network To Perform Content Syndication
The best way to get started with content syndication is to create content. Content syndication through ActualTech Media works with several types of media, including:
Whitepapers or technical briefs
E-books
Videos
Live webinars
Images or infographics
Blog posts or articles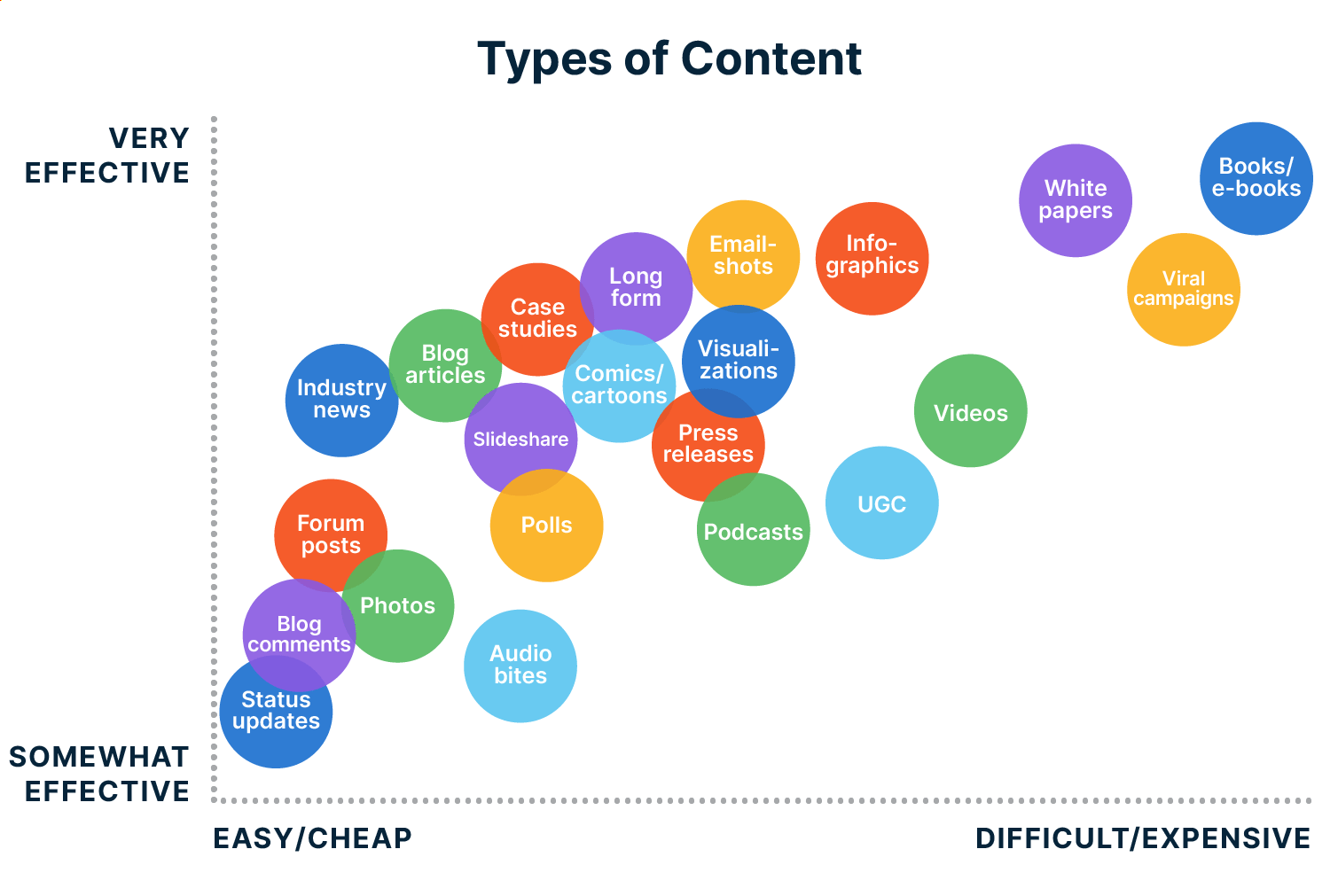 E-books and whitepapers are two of the most effective types of content for content syndication.
When you're ready to start, contact our sales team to discuss your syndication goals, including the number of leads you hope to bring in and the time frame you want to run the campaign. These goals will be your benchmark for measuring your success.
You'll use filters to designate your targeted accounts, then sit back and relax as ActualTech Media does the work for you. As the content reaches its audience, you'll start seeing results. Typically, this can occur within two weeks.
ActualTech Media will send you a cleaned list of leads for you to input into your lead management platform. That list of leads is ready for your marketing team to nurture until they're sales-ready. Because your leads are of higher quality, your marketing and sales teams will see more prospects turn into loyal clients after they nurture them.
Start Working with a Content Syndication Platform
If you're interested in improving the quality of your leads and reaching more target accounts with your content, then talk to us about our content syndication solutions.
Our content creators will walk you through the content creation process before you work with our syndication team to distribute your digital asset to the right audience.
Contact us and get started with your content syndication campaign.