How does marketing content syndication and content marketing syndication differ? On the surface, they seem to be the same concept. However, there's one significant distinction between the two: their purpose.
Understand the difference between these two marketing formats to build a more effective content syndication B2B strategy.
Key Takeaways:
Marketing content syndication addresses every stage of the sales funnel while content marketing syndication focuses on top-of-funnel content
Content marketing syndication's goal is to increase website traffic and brand awareness while marketing content syndication generates leads
To perform marketing content syndication, create targeted, gated content that generates marketing qualified leads
🤫 PS: Looking for pricing on content syndication leads? Get a price list here
Marketing Content vs. Content Marketing: What's the Difference?
Marketing content is a broad term for all types of content you create for the sales funnel. It includes content that attracts, educates, convinces, converts, and retains customers. In addition, marketing content should address questions at every stage and remove barriers. It generates marketing qualified leads that still need nurturing.
Content marketing for tech companies is primarily a top-of-funnel marketing strategy. It builds trust and brand awareness through educational content and engagement posts. It doesn't always generate leads because it primarily brings traffic to your website.
Content marketing is essential in the sales cycle since 82% of customers interact with five or more pieces of content before purchasing.
Marketing content is vital for changing prospective buyers and decision makers to leads, and nurturing them until they become loyal clients. Marketing content continues connecting with loyal customers to encourage repeat purchases and brand loyalty.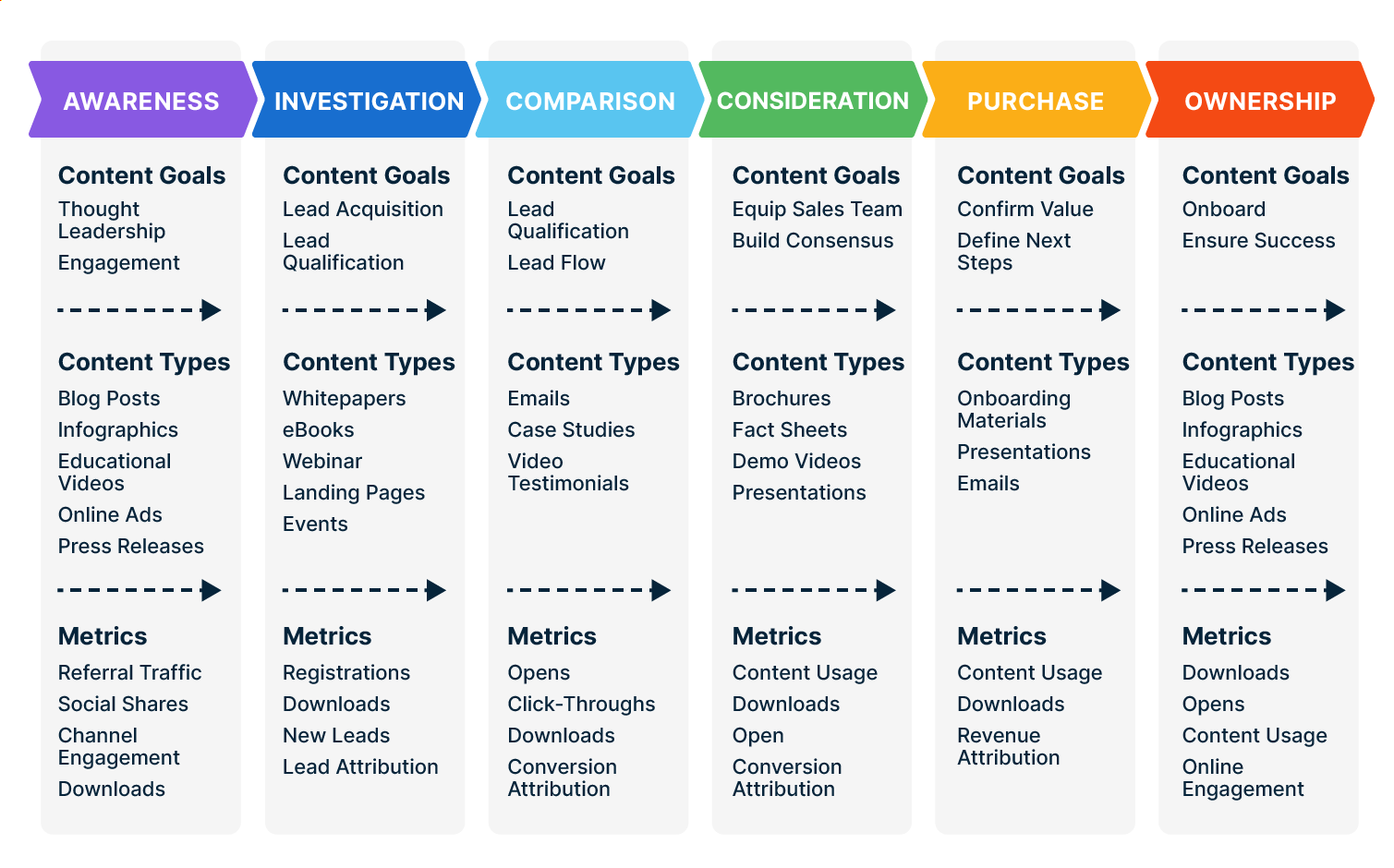 How Does This Apply to Content Syndication?
Content syndication is sharing your content on third-party sites and platforms. You can either perform marketing content syndication or content marketing syndication, depending on your objective for sharing your content.
Marketing Content vs. Content Marketing Syndication
Marketing content syndication and content marketing syndication yield different results.
Content marketing syndication tends to be the more familiar strategy. Its objective is to drive people back to your website, and you measure your results through increased traffic. You perform content marketing syndication by sharing blog posts, videos, and infographics on third-party sites, like Medium or LinkedIn.
Marketing content syndication doesn't put your website at the center of the strategy. Instead, it looks at the entire sales funnel beyond generating initial interest and considers the next steps you need to take to nurture those leads.
For example, content marketing might bring in traffic, but you can't follow up with those new website visitors because they're only numbers in your website analytic reports. However, marketing content syndication for lead generation aims to capture those readers' information rather than just pointing them to your website.
Because you're generating leads, you can follow up with interested buyers and decision makers who download your content.
How Do You Perform Marketing Content Syndication?
Use these five tips to build a marketing content syndication strategy that's different from your content marketing syndication strategy.
1. Address Every Stage of the Funnel
Don't limit yourself to top-of-funnel content. Your syndicated content should also address other stages of the funnel, like the middle and end. A successful marketing content syndication campaign will bring in marketing qualified leads, and potential sales qualified leads.
Some of the best-performing content for marketing content syndication includes:
E-books
Whitepapers
Blog Posts
Webinars
Case studies
Videos
Fact Sheets
Infographics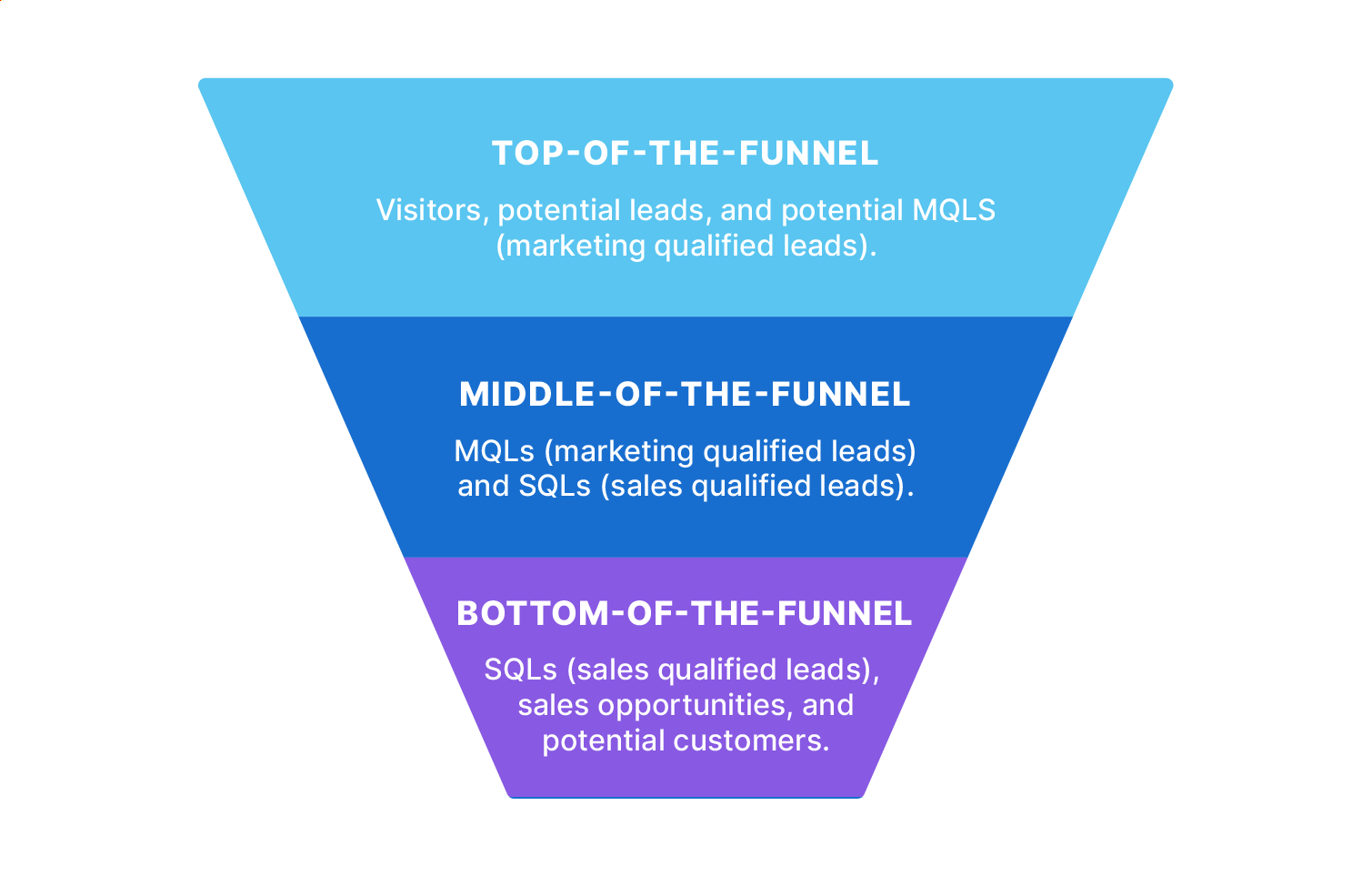 2. Share Gated Content
When you perform content marketing syndication, you're openly sharing your content with consumers with the hope that the message in the content moves them to action at the end. That action is to click on a link that leads them back to your website.
Conversely, marketing content syndication requires action before the reader engages with your digital asset, which makes your digital asset more of a reward than a tool to encourage a response. For this reason, you should create your asset carefully. The action your readers will take is filling in a form to access a digital asset like an e-book or video.
3. Target Your Audience
Businesses use content marketing alongside other strategies like search engine optimization (SEO) because it's an inbound strategy that attracts interested buyers to your website or content through keywords and quality links. However, you don't have much control over who sees your content and whether those reading are interested in your brand and products.
As a B2B marketer, you have a narrower audience. You aren't looking to attract general consumers to your content. Rather, you want to connect with decision makers in your industry who are most likely to use your products.
Marketing content syndication targets your audience and proactively seeks out your ideal buyer rather than waiting for them to come to you. For example, you don't publish content on mass-market websites. Instead, a content syndication service like ActualTech Media uses filters to identify your audience and syndicates your content where your audience can be found. Some of the filters include title, location, and industry.
Therefore, you don't have to wait for your audience to find you because you're going to where they are, and your content will be in front of the right audience.
4. Establish Your Metrics
Marketing content syndication uses different metrics than content marketing syndication.

Content marketing metrics include:
Page views
Time on each page
Likes, shares, and comments
Organic traffic
Traffic sources
Click-through rate
Bounce rate
Marketing content metrics differ since you aren't primarily attracting buyers to your website. Some of the top metrics include:
Marketing qualified leads
Sales qualified leads
Downloads
Registrations
5. Create a Follow-Up Strategy
Part of a successful marketing content syndication strategy is your follow-up process. Companies with a lead nurturing process see 50% more sales-ready leads at 33% of the cost. In addition, when you nurture leads, they make 47% larger purchases.
As soon as you receive your list of net new leads from your content syndication platform, you should have your lead nurturing and follow-up strategies in place. That way, you can respond quickly with relevant and timely information to continue moving those leads through the sales cycle.
Perform Marketing Content Syndication
Instead of wasting valuable time and resources on content marketing syndication, you can target your syndication by distributing B2B marketing assets to key decision makers through ActualTech Media's platform. Then you'll receive a list of net-new leads ready for nurturing.
Talk to an ActualTech Media sales representative to start your next marketing content syndication campaign.