Content marketing for B2B plays a significant role in the modern buyer's journey. It's responsible for attracting, convincing, and converting your audience. Over half of B2B buyers are more likely to purchase from a brand after reading that business's content.
Learn about 10 of ActualTech Media's most successful content formats and how you can use them in your content marketing strategy.
Key Takeaways:
B2B tech content marketing requires specific, targeted content to appeal to your niche audience
Your content can be branded or from a third-party providing outside support for your brand
Some of the most successful content formats include webinars, research reports, blog posts, and e-books
🤫 PS: Looking for pricing on custom Tech content? Get a price list here
What Makes B2B Content Unique?
The more customized and specific your content is, the greater your success rate will be. For example, the content a B2C fashion brand creates using Instagram photos, and TikTok videos won't be equally effective for B2B tech professionals who rely on support and data. However, a content creation team like ActualTech Media understands the technology industry and what content resonates best with your target audience.
Your B2B content marketing is anything your company produces to connect to your audience of prospective customers or current customers. That audience includes a broad spectrum ranging from those that have no idea your business exists to those who are ready to buy.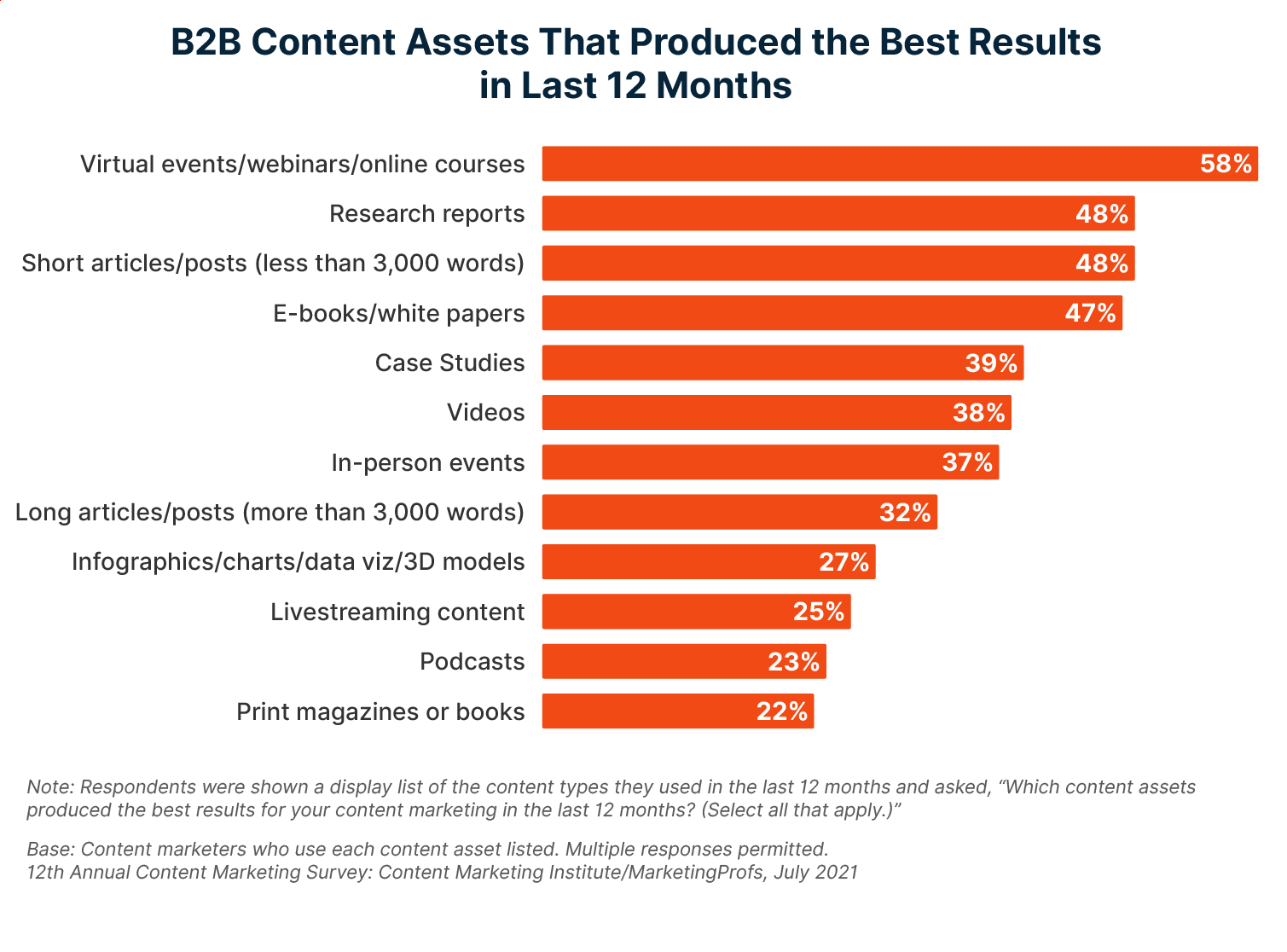 10 Creative and Successful Content Marketing Formats for B2B
Explore 10 of ActualTech Media's content marketing formats to find one that aligns with your content marketing goals.
1. E-books
E-books are online books of various lengths that allow you to cover complex topics in more detail than a blog post or short-form content.
Shorter e-books are one-chapter briefs you can use to share details on a topic, product, or case study. On the other hand, you can also create reference e-books with multiple chapters. This allows you to dive deeper into a thought leadership or technical topic.
2. Tech Briefs/Whitepapers
Whitepapers are similar to e-books as they're also long-form content your audience downloads to read. However, whitepapers are shorter than e-books, ranging from around six to eight pages. They act as briefs on an academic topic and can outline information, product details, or educational content in an easy format to read and digest.
Tech briefs are even shorter than whitepapers, having around 1,500 words and are three to five pages long. ActualTech Media mostly produces tech briefs because they're easier to digest in one sitting, making them a popular marketing format.
Roughly 76% of B2B buyers said they're willing to exchange their information for whitepapers, which makes it an effective lead generation format.
3. Blogs
Roughly 66% of buyers say they prefer reading blog posts early in their buying decision. A blog post is a brief article you post on your website. It can include:
Text
Videos
Photos
Audio
Infographics
In addition, you can share your other content, like e-books and whitepapers, as gated content on your blog to encourage downloads and collect leads.
4. Reports
A report is a summary of data, research findings, or information. For example, your business might publish annual budget reports, share research findings, or publish survey results that your clients can use.
Published reports are a mix of images, charts, and written content. You can use an e-book, whitepaper, email, or blog format for sharing your findings. In addition, if you turn your report into gated content, you can collect leads from the digital asset.
5. Quizzes, Polls, and Surveys
Through quizzes, polls, and surveys, you can encourage honest answers from your audience, collect data for IT marketing, perform research for product development, and encourage customer engagement.
If you want your audience to take the time to fill out a survey, make it appealing, fast to complete, and clear to understand.
ActualTech Media optimizes its surveys for all content formats. Therefore, you can easily embed them in other content, like your blog posts, to make the reader's experience more interactive.
6. Case Studies
A case study details a person, group, or event. They're effective in marketing because they provide real-world support for your business.
For example, a tech case study might walk the reader through how your tech business helped another business improve its operations. It tells the reader what the company purchased, how you supported them, and the final results.
Out of all case studies, 77% of B2B buyers say customer success stories are the most influential type.
7. Infographics
Infographics are visual representations of information. They can make complex ideas more straightforward to understand, display more information in less space, and show connections between information.
For example, ActualTech Media's Trail Maps are one-page learning maps that outline a technology topic in a fun and easy-to-digest way.
You can bring your infographics into the modern age by animating them. ActualTech Media's interactive content turns stagnant PDFs into living media through animated diagrams and charts, engaging surveys and polls, and video and audio elements.
8. Comic Books
A unique content format that ActualTech Media offers its clients is technical comic books. In a world with over 6 million new blog posts daily, encouraging your audience to read your content isn't easy.

Successful marketers always look for new, innovative, and creative ways to share information so that their content stands out from the crowd.
Comic books are a fun and engaging way to explore technical topics memorably. You can use various characters, colorful settings, and exciting dialogue to navigate processes or new products.
For example, ActualTech Media publishes The Techslayer Chronicles. These are a series of comics about how a superhero uses tech solutions to solve problems and defeat cyber villains.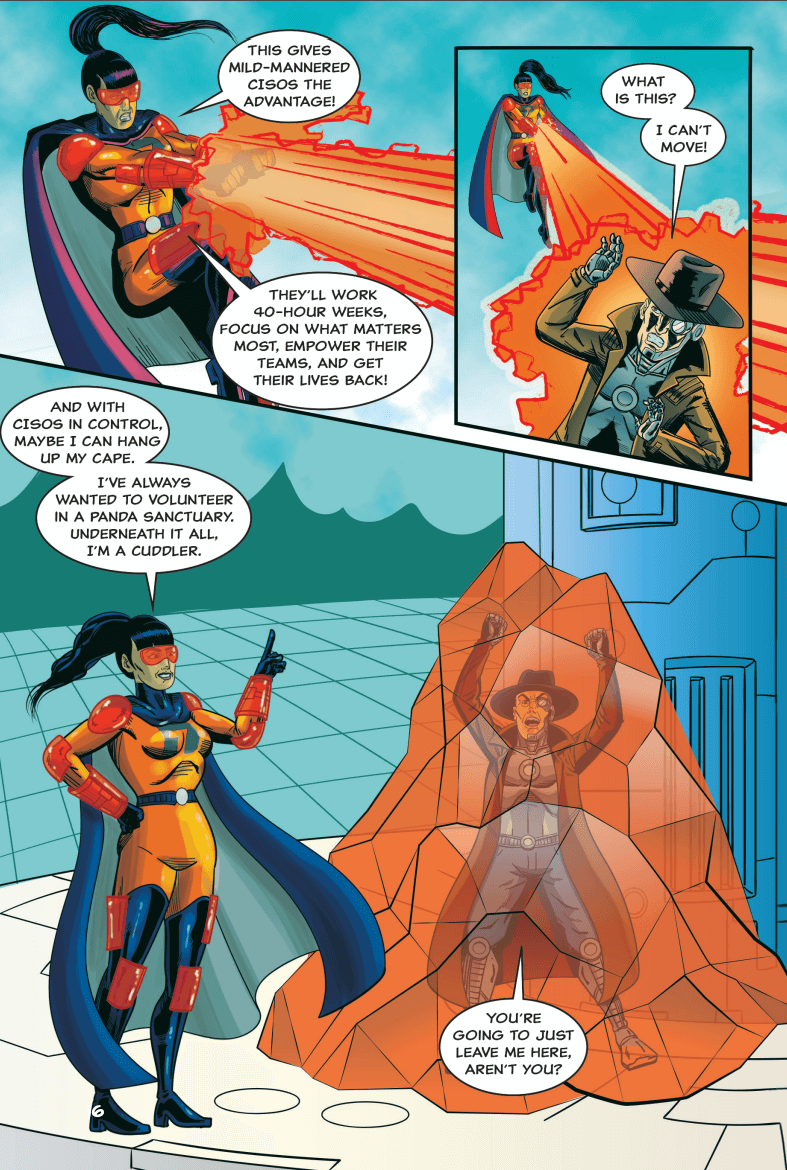 Image from ActualTech Media
9. Videos and Podcasts
Video and audio are engaging formats to present information in a more personal way as your audience sees a friendly face or hears a voice instead of reading static words on a page. More than 70% of B2B buyers watch videos for product research.
Webinars are one of the most popular video tech marketing formats that B2B businesses use to reach customers with live and on-demand marketing content and thought leadership.
10. Third-Party Content
You can collaborate to create content that looks like it's coming from ActualTech Media or another third party to give it added authority. Sometimes B2B buyers are looking for an opinion or information from a trusted advisor or third party outside the brand before making a purchase. When you purchase content with trusted branding, you offer support that leads the buyer to a decision without them feeling like the actual brand is influencing them.
Some of the content that ActualTech Media publishes that you can use in your content marketing for tech companies include The Gorilla Guide Content Series and Innovations Learning Series.
How To Boost Your Content Marketing for B2B
Use one of ActualTech Media's many content creation services to create content geared directly at tech professionals in formats that appeal to them.
Contact us and start on your next content marketing campaign.