Marketers should publish new content between one and five times a week. That can be as much as 260 unique pieces of content a year. That's a significant number of content ideas that marketing teams need to develop. However, content ideation tools can make filling that content calendar a breeze.
We share 10 of our favorite content ideation tools to help your B2B tech marketing team come up with trending niche topics for your content calendar.
Key Takeaways:
Content ideation tools are software and channels for finding marketing content ideas
Keyword research tools identify popular search phrases that marketers can turn into content topics
Forums sort community topics by niche so marketers can explore topics their audience is talking about
What Is a Content Ideation Tool?
Content ideation is coming up with tech content marketing topics. This process involves much more than simply brainstorming for tech industry-related topics, as not all topics will connect with the target tech audience.
That's where content ideation tools can help. These tools help marketers find new topics based on what B2B buyers are searching, asking, and reading. In other words, content ideation tools help marketers find data-backed content ideas.
10 Content Ideation Tools You Need To Be Using
Do you want to come up with more data-backed ideas to use in your content marketing for tech companies? Then use these 10 tools to help fill your content calendar with unique B2B marketing content.
1. Google Search Console
Google is the powerhouse of content ideas as it holds the market in online search. Google Search Console lets marketers look at how well a website is performing, but is also an under-utilized tool for content ideation. Tech marketers can see which topics rank the best and which aren't as popular.
Use the data from Google Search Console to make more content that customers are reading and responding to and to ideate content based on search results you already rank for.
2. Google Keyword Planner
Google Keyword Planner is another tool offered by the Internet giant Google through its Google Ads interface. The Keyword Planner helps marketers identify commonly searched phrases they can incorporate in content titles. Even if marketers aren't looking to rank in searches, knowing popular keywords helps marketers identify topics that their audience is most interested in.
3. Google Search Results
Google search is a convenient source of information about customer search habits and questions. For example, marketers can find new topics by searching general topics and looking at related searches to find other keywords users often use when looking for information on the general topic.
In addition, Google search result pages provide ideas for filling articles. For instance, the content writer might type in a general keyword in a Google search. Then, a quarter of the way down the search results page, there's often a section of frequently asked questions related to that search query. Those questions make great subheadings within the article to ensure the content addresses all B2B tech customer concerns.
4. SEMrush
SEMrush is a paid keyword research tool that provides more comprehensive results than the previous options. Through SEMrush, marketers can explore common search terms and phrases, how much traffic each search term receives, and the competition for those search terms.
Through these results, B2B tech marketers can focus on keywords with high traffic volume and low competition to increase the chances of ranking for those keywords in searches.
For example, a search for the phrase "content syndication" shows that it's a highly competitive topic. However, "syndicating content" is still popular but has a medium difficulty level. In addition, the related keywords section of the SEMrush results offers some examples of longtail keywords that the writer can add as sub-sections in the article or new articles to fill the marketing content calendar.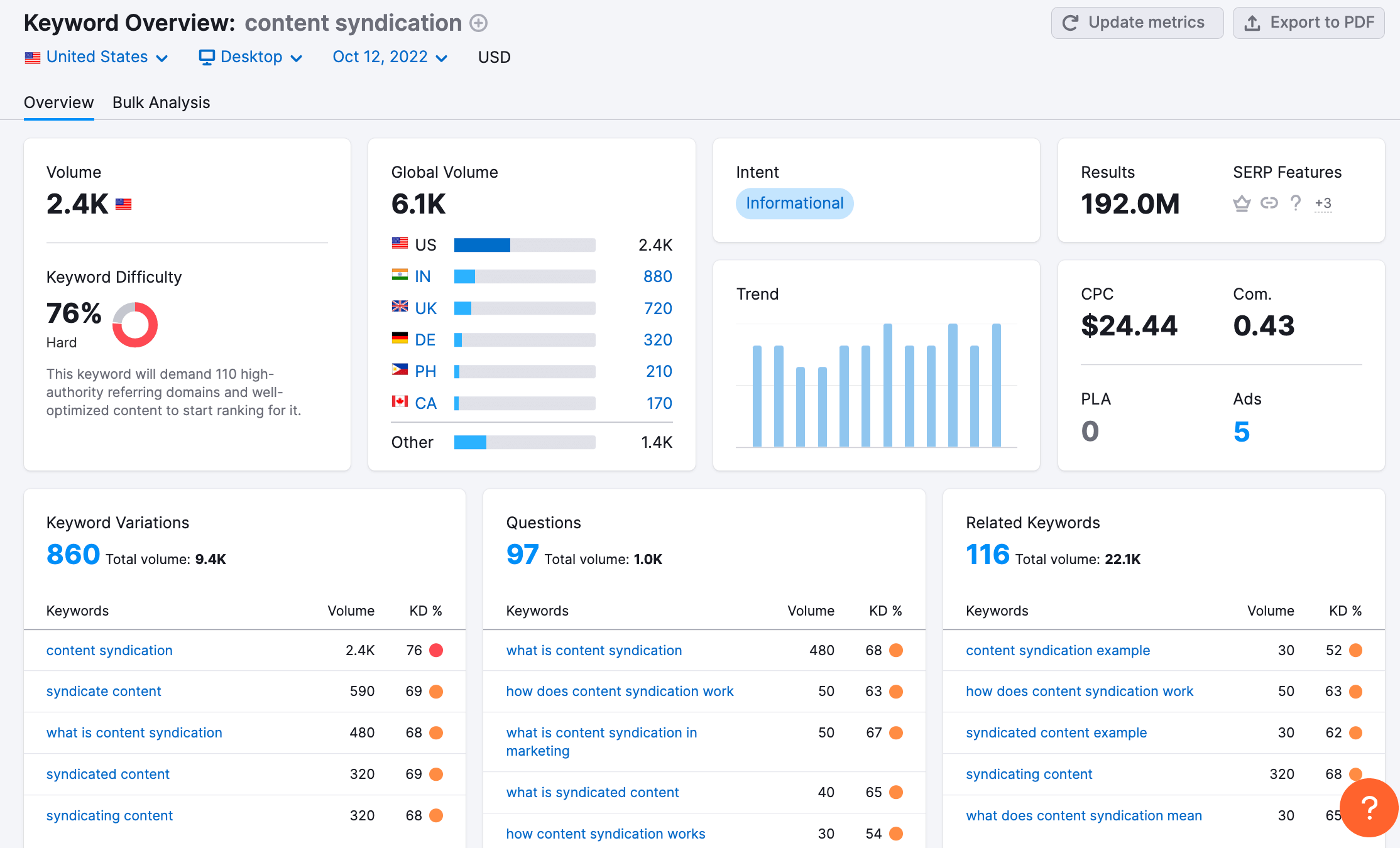 Image from SEMrush
5. Ahrefs
Ahrefs is an all-in-one toolset for a marketer's SEO needs. Marketers can find new topics using keyword research tools. The tool also allows tech marketers to track their current content to see what performs best, then create similar content ideas.
For example, if a business's content on big data receives the best response, the marketing team can focus on creating more big data resources for their B2B audience. For instance, the marketing team might create an e-book on big data with more details on how to use data in business.
6. BuzzSumo
BuzzSumo is another content analytic tool for finding and comparing topics. Use the tool to research topics and see what's popular for the topic and what doesn't work. In addition, marketers can use the data to discover new content ideas currently trending in the tech industry.
The tool monitors current content so marketers know when to upgrade topics with new content and are aware of what content is performing well.
7. Quora
Quora is a social network that works in a question-and-answer format. Users post a question within a niche, and other users submit their answers to that question.
Marketers can use Quora as a valuable source of topics their audience is interested in. Marketers can join relevant spaces in the tech industry and follow the posts from users. For example, some trending topics in the Information Technology space include:
What are some technologies that reporters use to assist them?
Is the metaverse the future of social media?
Is the Brave browser safer than Google Chrome?
Are there any specific applications of VR or AR that you're excited about?
8. Reddit
Reddit is a forum for discussion topics. Many topics on Reddit do come in a question format, similar to Quora. However, this platform has a broader use as users don't have to stick to questions and answers.
Marketers can follow the thread in the tech niche like r/tech, r/technews, and r/technology. These three threads have a couple hundred thousand members who post questions and information. That information is a source of content ideas for marketers who can create professional articles with expert insights into those topics.
For example, a marketer might explore a topic on Reddit in greater detail in a webinar for lead generation. Through this live event, marketers can connect with interested leads who want to learn more about that topic and save those attendees' information. That way, the marketer can send those leads more information on the topic and tech solutions.
9. FAQ Fox (by WebFX)
As the name suggests, FAQ Fox is your source of frequently asked questions from customers. Use this tool to uncover questions based on a keyword. In addition, tech marketers can see a list of sites already ranking for those questions so marketers can know what's working and how to make unique content and address aspects of the topic that competing content doesn't address.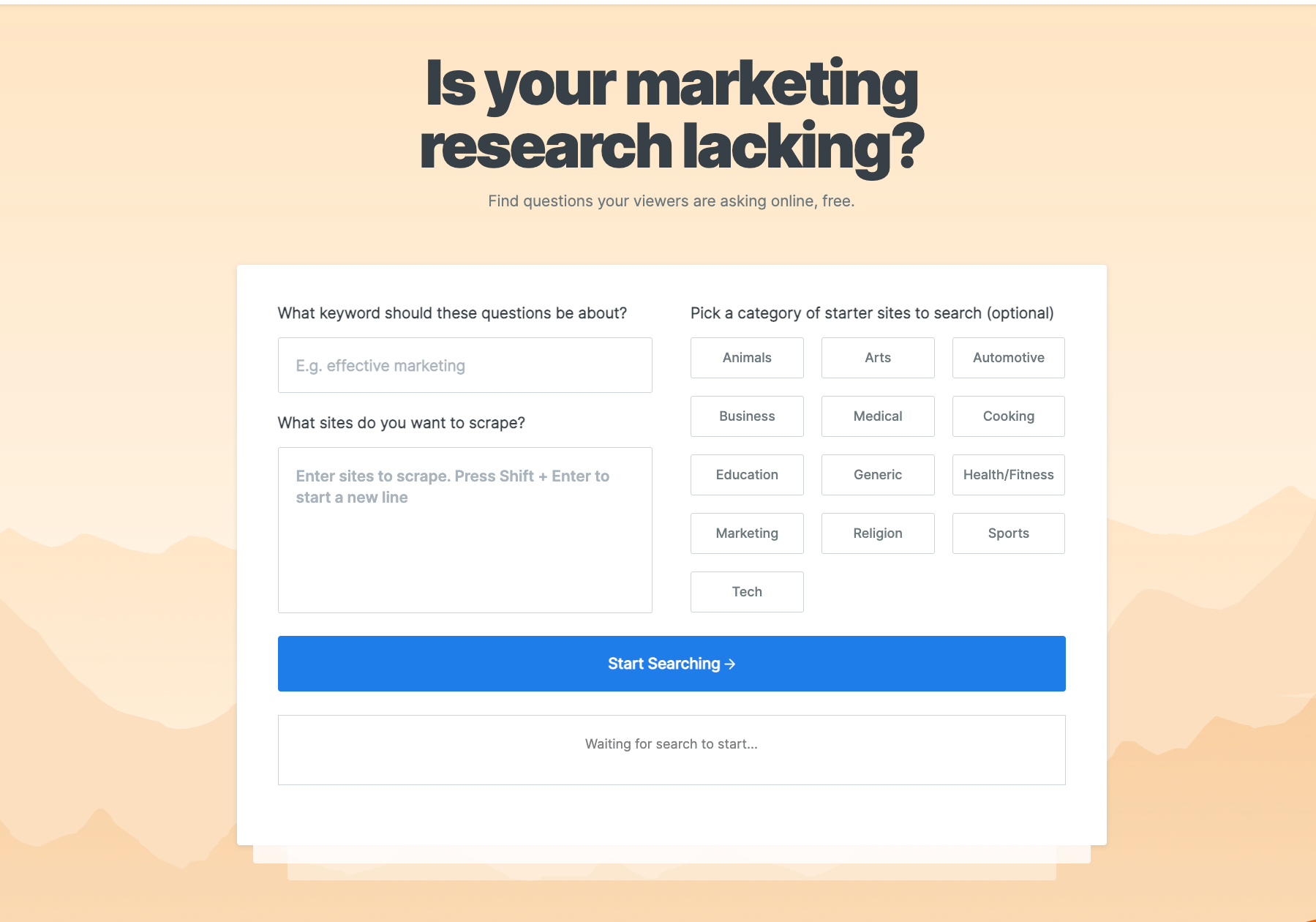 Image from FAQFox
10. Keyword.io
Keyword.io is a free tool for researching niche keywords and finding popular search phrases and low-competition topics. A unique feature of this tool is the user's ability to search by platform. For example, a marketer can search for popular keywords on Google. However, marketers can also select YouTube to find popular topics on that social channel. This way, marketers can narrow in on topics for specific channels rather than using one topic across all channels.
Fill Your Content Calendar with Niche Topics
ActualTech Media's content creation services will turn your content marketing ideas into usable formats. Use the previous 10 content ideation tools to find topics for e-books, tech briefs, whitepapers, and blog posts. Then let ActualTech Media design the content into a format your B2B tech audience will want to read.
Contact us to learn about our content creation services.