A tech webinar's success is more than the number of leads it generates. For example, a presenter might have an audience of a 1,000potential leads. However, if the webinar content isn't relevant or engaging, those leads will be much more challenging to convert.
That's why webinar presenters should look beyond the numbers and identify the audience behind the leads to curate content specific to that audience.
Here are seven tips to create an outstanding webinar content strategy that generates, nurtures, and converts leads.
Key Takeaways:
Webinar content turns webinar attendees into marketing-qualified leads
Create content around a niche audience and relevant topics
Keep the content engaging through multimedia and a storytelling format
7 Tips to Create a Successful Tech Webinar Content Strategy
Many marketers have heard that webinars are the top B2B lead generation strategy. However, statistics don't consider how many of those leads convert. Successful IT webinars depend on the presenter piquing the interest of attendees with relevant content.
Use these seven tips to strategize content for tech webinars so your tech business can generate and convert more leads.
1. Decide on the Webinar's Objective
Tech marketers that use webinars just because that's what all the other B2B marketers do are like drivers who use lifted diesel trucks to make grocery trips. Those marketers only see a glimpse of the full potential webinars offer.
IT marketers must start with an objective if vendors want to access the full power of webinars. Objectives may include:
Generating leads
Nurturing leads
Filling a database with first-party data
Converting prospects
The objective then controls the direction of the webinar and ensures the webinar reaches its destination through purpose-driven content.
2. Create Audience-Centric Content
Attendees won't sign up for a webinar unless the webinar offers them something of value. The presenter should create content that appeals to the audience and provides new information.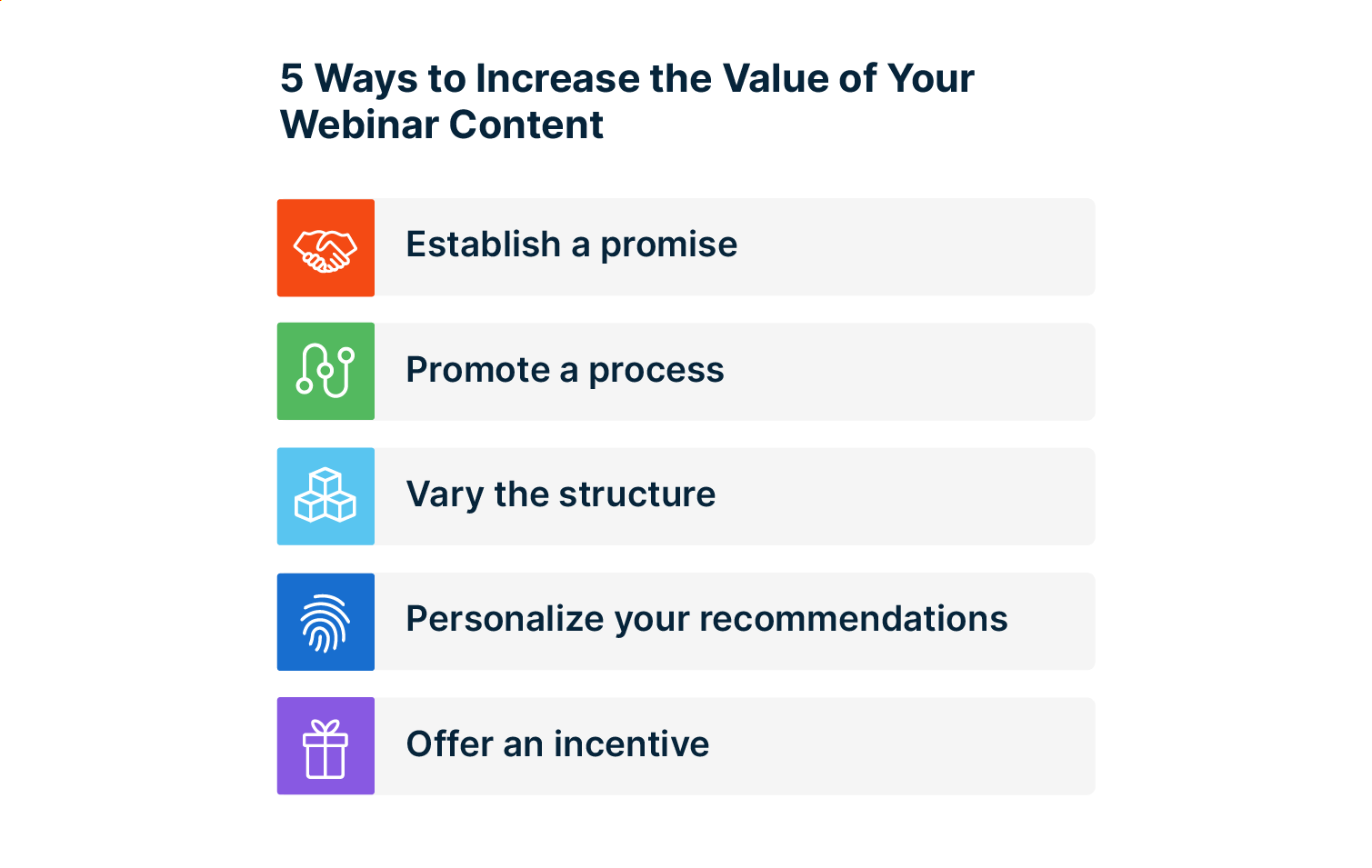 For example, presenters will create webinar content based on where attendees are in the sales funnel. Attendees at the top of the funnel are most likely interested in learning about a topic. Meanwhile, leads in the middle or bottom might be more interested in learning about specific products and businesses.
ActualTech Media's webinar audience are top tech decision makers and executives across dozens of leading industries, including healthcare, IT, and financial services. We provide data on the attendees that help presenters customize the webinar content for our audience to ensure it's relatable and has value.
The presenter can also encourage audience attendance and participation by asking questions leading up to the webinar. A Q&A session ensures that presenters touch on the audience's primary concerns. An outstanding 92% of attendees want a Q&A at the end of a webinar.
3. Use Hot Topics
Marketers can find audience-centric topics that resonate with a niche tech audience through sources like:
Existing content: Marketers only need to look as far as the content they already create. Blog posts, social media posts, and digital downloads are all sources of webinar topics. If marketers want to know what topics will work best in a webinar, start with a topic that's already successful in its current format. For example, if there's a high-performing blog post, a presenter can expand on that topic in a 60-minute webinar and Q&A session.
Customer FAQ: Outside of current content, marketers can also look at customer questions. For instance, if current clients frequently ask customer service for advice on data security, then presenters can consider addressing data security in the next webinar.
Online research: Keyword research tools help marketers identify what topics users frequently search for. Marketers might also look at Google's People Also Ask section if vendors don't want to invest in a paid tool. This list has common questions buyers ask and webinar presenters can answer. Online forums also include popular questions on niche topics.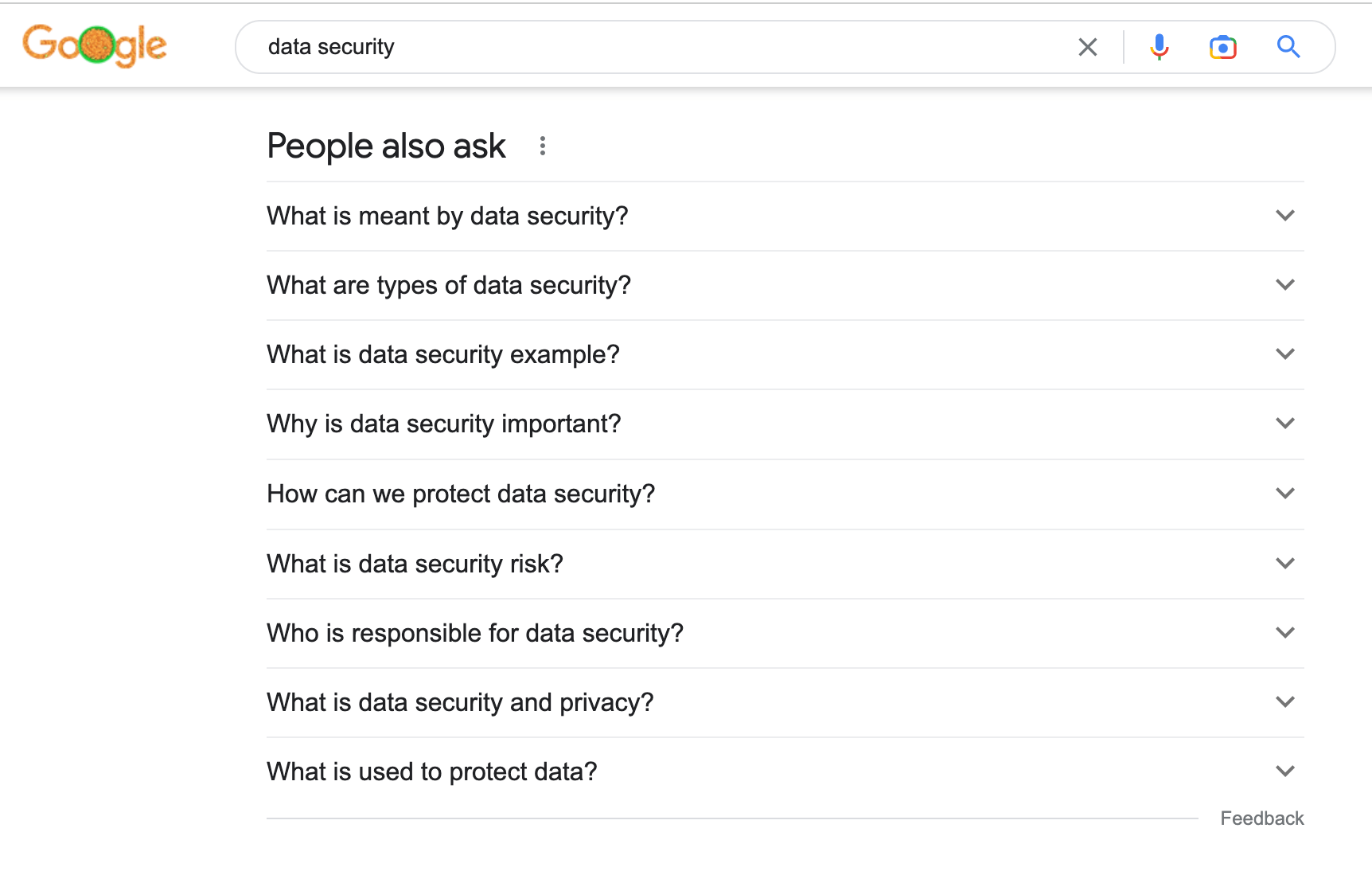 Image from Google
4. Use Engaging Graphics
More than a presenter's face is needed to engage an audience during a webinar. A presenter needs to send in the cavalry—multimedia elements that create an engaging webinar experience.
Here are some multimedia formats presenters can add to increase webinar engagement:
Slides with information
Graphs and charts to visualize data
Video clips
Audio clips
Still images
5. Create an Enjoyable Experience
Do you remember that college professor who was drier than the Sahara Desert? The professor would drag on, but the students couldn't leave because they needed that class to graduate.
Webinars aren't college classes. If the webinar isn't enjoyable, the audience will leave. On average, only 40% of webinar attendees stay for the entire webinar.
So, what can presenters do to minimize the number of attendees who leave?
The presenter can start by increasing the energy of the presentation. An effective webinar will run like a Hollywood film, minus the alien invasions. First, the webinar begins with a problem. Next, the tension builds as the presenter shows what's at stake if the audience doesn't address the issue. Then, the climax of the webinar arrives as the presenter shares a solution paired with an incentive for webinar attendees to act.
6. Offer Supporting Materials
When attendees leave events with a physical reminder of the webinar, they're more likely to remember the presentation. Downloads help attendees follow along during a presentation and remember the main points afterward.
A relevant ebook, whitepaper, or tech brief can also be an asset attendees can share with others to spread the information they've learned during the webinar. That's why webinar presenters should include digital assets in their webinar content strategy.
7. Make the Webinar Reusable
Live webinars have value because the live format allows for more personable interactions. However, on-demand webinars have a greater attendance rate. That's because attendees can instantly view the webinar instead of signing up days in advance and then having a conflicting event come up.
On-demand webinars also connect with attendees who initially signed up for the live event but couldn't make it. Now, those attendees can still be part of the event. That's how webinars continue to generate leads for weeks after the live event.
The content in the webinar should take this into account and avoid being too time sensitive. Using more evergreen content in the webinar allows a business to reuse the on-demand webinar for much longer.
Create a Strategy That Converts
At ActualTech Media, we offer regular on-demand and live webinar events where tech business leaders can present alongside other authorities in the field. Attendees range from IT executives to tech decision makers looking for relevant IT solutions.
In addition, we can help you create strategic webinar content that will resonate with that audience to increase the quality of your connections.
Learn how our webinar lead generation services can help you gain qualified leads that convert into customers.