Content marketing is a notoriously jargon-heavy field. So much so that marketing consulting services often publish glossaries to clarify content marketing for non-marketers and help them understand why things are going in funnels and what multi-armed bandits have to do with content testing.
As content marketing has become a premier channel in the era of social media and hyperconnectivity, understanding what content is and how marketers create, use, talk about, and evaluate it is critical to peripheral fields and businesses developing their internal marketing teams. Content marketing reliably generates three times as many high-quality leads as other marketing channels and at a third of the cost. Among polled organizations, 90% report allocating the same spending for content creation in 2022 as in 2021, and two-thirds of those will increase content marketing outlays in the coming year.
With content marketing set to define digital marketing for the near future, non-marketers who interact with marketing teams, or who participate in marketing decision making, should familiarize themselves with the fundamental dynamics of how content raises brand awareness, generates leads, and ultimately influences purchase behavior. Learn the basics of content marketing and how marketers use it successfully.
Key Takeaways:
Content marketing often seems opaque to non-marketers unfamiliar with its industry-specific language
Content marketing is an important and growing marketing channel that professionals in adjacent fields should understand with basic proficiency
Although effective content marketing strategies vary widely by company and immediate goals, a few core best practices will serve any organization well
What Is Content Marketing?
Content marketing is a kind of marketing businesses use to connect with targeted audiences by creating, publishing, and distributing free informative or entertaining material through different digital and traditional marketing channels.
Types of Content Marketing
Content in content marketing comes in a wide variety of formats, including:
Blogs
E-books
Whitepapers
Videos
Infographics
Podcasts
Email campaigns
Guides
Case studies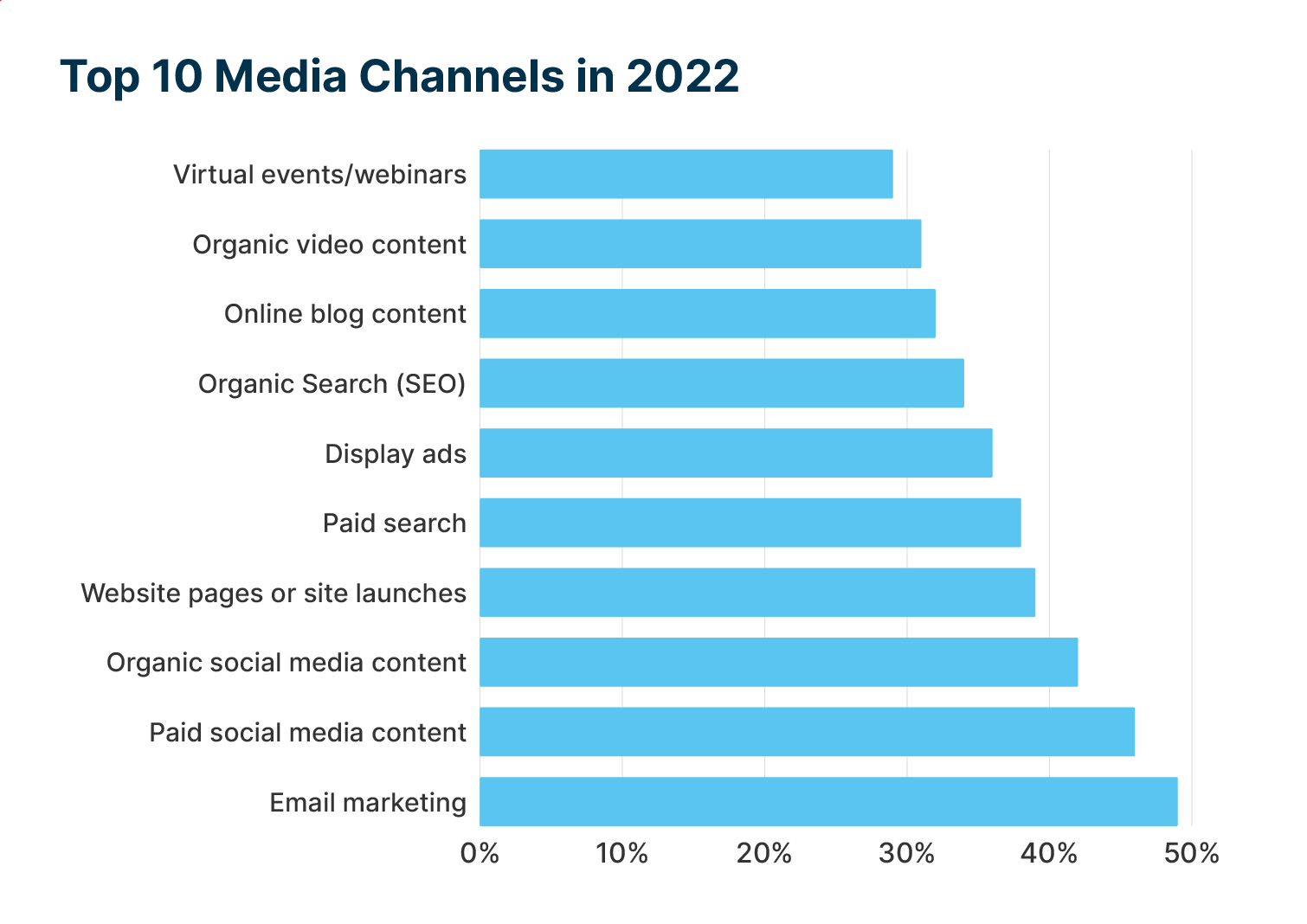 Marketing content flows through all top media channels. Businesses publish content through their channels, such as their websites, social media accounts, and mailing lists; and through paid advertising channels, such as Google and Facebook ads, content syndication networks, and influencer endorsements.
Why Content Marketing Matters for Non-Marketers
Content marketing differs from other marketing channels in delivering more than just product or service information, such as features and pricing. Rather, marketers create content that delivers value to the targeted audience.
Have you ever wondered why highly specific Google searches—such as "Tibetan yak dumpling recipes" or "How to program a Pig Latin translator in Ruby"—return so many seemingly ready-made answers? This is the mechanism and raison d'etre of content marketing—answering as many questions as possible or addressing known pain points to attract audiences. Whether as guides, lists of best practices, or news regarding new trends and technologies, marketing content engages audiences with valuable information they may use, regardless of their purchasing decisions.
From a marketing perspective, content performs when it:
Creates brand awareness
Champions a brand as a trusted authority
Generates leads
Generates sales
Improves customer loyalty
Growth of Content Marketing
Today's marketers create content at an astounding pace. Each day, 6 million new blogs appear on the Internet. Among consumers, 45% watch at least an hour of videos on Facebook and YouTube weekly, and 50% consume some video content before making a purchase. The global content marketing market exhibits a compound annual growth rate (CAGR) of 16% and is on pace to expand by $400 billion over the next four years.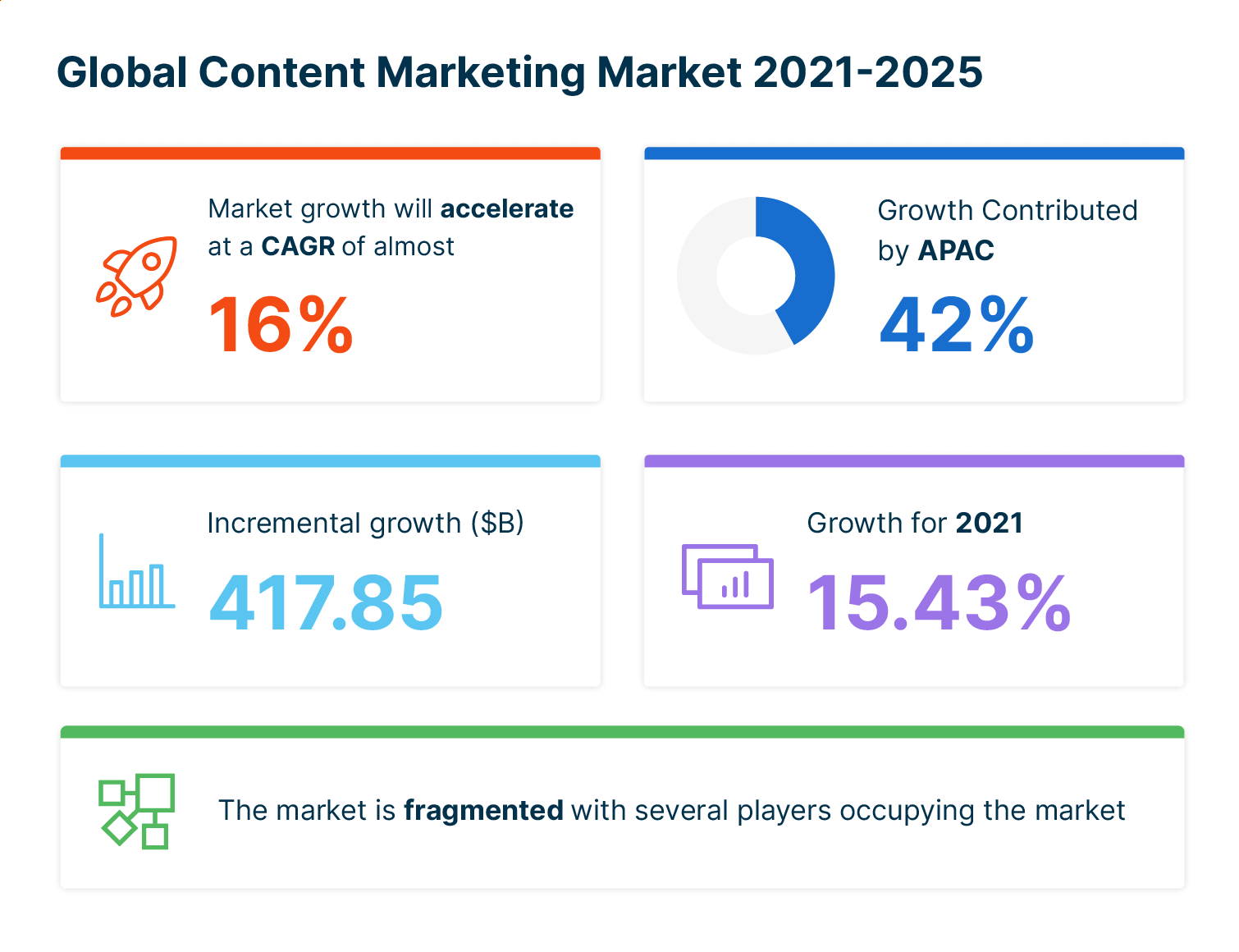 With the pace of content creation and consumption accelerating year over year, and as consumers are bombarded with more options, it becomes increasingly challenging for marketers to create content that stands out from the crowd and engages audiences long enough to make an impression. For text-based digital content, online readers spend an average of 37 seconds skimming for a particular piece of information before moving on. On social media channels, users engage with video content for just 15 seconds on average.
3 Tips for Creating Effective Content
Managing successful content marketing campaigns requires configuring a complex set of variables, including:
What kinds of content to create
Which formats—video, blogs, webinars—to focus on
Which channels to spend for reach vs. which to spend for access to smaller, more targeted audiences
The just-right setting for these dials will be unique for any individual business. Nevertheless, there are core best practices marketers can rely on to create engaging, high-performing content.
Define Your Goals
The needs of a business determine what kind of content and audience will deliver the best measurable results. For example, campaigns for brand awareness will differ widely from those targeting customer loyalty. Marketers should always create content—in any format—with a specific goal in mind. Marketing teams should always be able to answer questions like "Who is my target audience?" and "What do I want them to do in response to consuming this content?"
Create Unique Content
Following trending topics is a necessary part of content marketing, but consistently delivering page-one content for high-ranking search terms isn't feasible for most organizations. As 75% of Google users never look beyond page one, exhausting resources to create broadly trending content that lands on page two or three isn't a viable strategy. Rather, content creators should focus on content for searches highly specific to the targeted audience they want to reach. Content marketers have much more success delivering relevant, urgent information to a small, motivated audience than shouting in unison with thousands of trend-chasing copywriters.
Get Personal
When most of us receive an unsolicited email, text, or call from a business, there's a fine line between what conveys a considerate, personal message and what smacks of spam. In all marketing channels, consumers want and expect personalization in the content they encounter. In today's digital landscape, personalizing content requires integrating customer data into content creation processes. purchase history, previously viewed content, and sites of online engagement determine what kind of messaging they receive or how ad servers queue dynamic content.
Think Outside the Search Box
Anticipate your audience's interests beyond existing algorithms. Thinking in this direction often includes finding unique peripheral connections to industries and brands. For example, niche tech companies can leverage the influence of Formula 1 technologies, such as multi-gigabit 802.11ad Wi-Fi and 5 GHz 802.11ac high-speed wireless transmission or on-track servers, on new consumer-grade products to grab the attention of broader audiences.
Custom Content Services with ActualTech
At ActualTech Media, our team of true subject-matter experts excels in helping marketing teams develop high-performance, engaging IT content. Whether you need e-books, whitepapers, blogs, infographics, or multimedia content, ActualTech Media ensures you get the content you need, delivered on message and on time.
To learn more and schedule an initial consult, contact ActualTech Media today.