As the security industry has experienced a radical change in the last few years, cybersecurity marketing has become a niche with unique challenges and booming potential for success.
Enterprise use of cloud services has been on the rise for more than a decade. However, in the last two years, the adoption rate has wildly accelerated as businesses have adapted to remote work. Across industries, 90% of businesses have sped up their cloud adoption plans and increased cloud spending since 2020. In 2022, 94% of enterprises were running workloads in the cloud.
While hastened cloud adoption has streamlined the pace of development and deployment, it has also precipitated a 600% spike in cybercrime and data breaches. Data migration to the cloud has caused a proliferation of new remote access points. The IT teams managing this transition have struggled to keep up with the learning curve of secure configurations for complex, multi-cloud environments spanning dozens of microservices.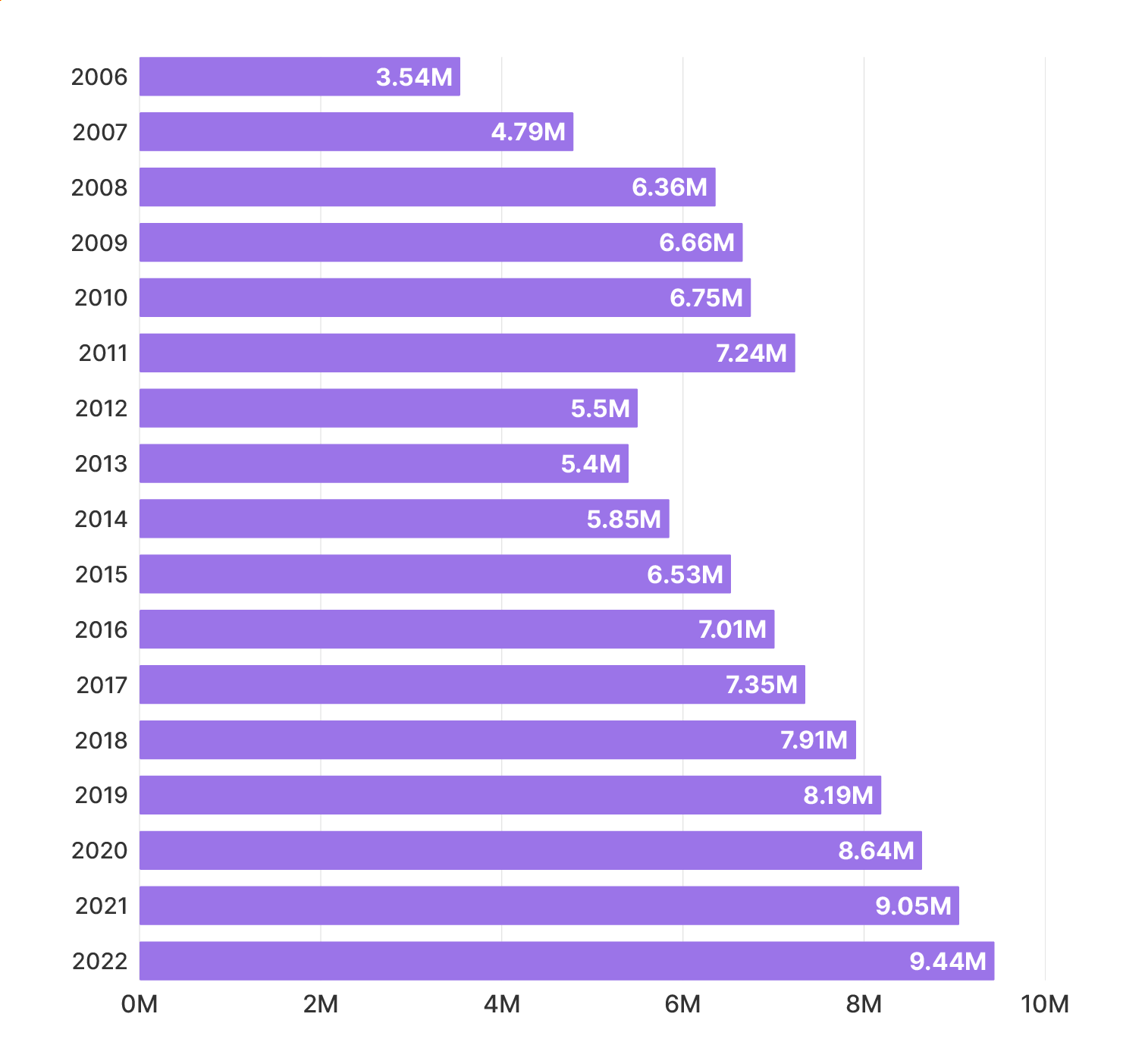 While the adoption rate for many new technologies, such as cloud services, containers, and microservice architectures, has outpaced the capacity of many organizations to secure them, the demand for cybersecurity products and services is growing. Recent studies calculate that the current $150 billion cybersecurity global market value represents only 10% of the total addressable market, leaving a potential $1.35 trillion for marketers who can effectively communicate the value of their solutions.
In this guide, you'll learn what marketers need to know to communicate effectively with cybersecurity buyers.
Key Takeaways:
Cybersecurity marketing is a niche field, rich with opportunities to expand into a market space replete with unaddressed potential
Cloud adoption and other adaptations to distributed workforces have compounded the challenges of securing networks against a swell of cybercrime spanning the last two years
Effectively marketing cybersecurity solutions requires understanding the complex dynamics of a rapidly evolving industry with various unique purchasing perspectives
What's Going on in Cybersecurity Today?
The evolution of cybersecurity roles has changed the market for cybersecurity products and services, expanding it from stand-alone firewalls and intrusion detection systems (IDS) to dozens of niche segments for solutions for different scales, industries, and varying degrees of third-party outsourcing. Potential buyer personas have also multiplied, reflecting changes in security operations. To thrive in this new environment, cybersecurity marketers must learn to discern subtle demand differences and develop messaging and content for CEOs, chief information security officers (CISOs), non-executive developers, and engineers.
3 Cybersecurity Marketing Fundamentals
Whether you represent a large enterprise with a fleet of security products and services or a small startup trying to bring an innovative solution to market, adherence to industry-specific best practices will reliably deliver success. Here are three ways to stand out and reach your target audience with persuasive messaging and content.
1. Create Buyer Personas Specific to the Security World
Persona-based marketing tactics can radically improve ROI. However, in cybersecurity, buyer personas divide more by knowledge and attitude regarding security issues than by pay grade and position in the organizational hierarchy, making content intelligence critical. Representative knowledge bases and attitudes would include:
The Uninformed: This persona may be the head of a large enterprise or an entrepreneur starting a small business. Both represent individuals responsible for security decisions and purchasing but may have little to no prior relevant knowledge or experience. For this persona, marketers should filter overly technical language from content and focus on communicating the need for informed cybersecurity decisions.
The Fretter: CISOs and security analysts include many individuals responsible for security operations and decisions that have either burned in the past or are unable to implement the solutions they believe are necessary. Studies show that half of IT executives believe data protection should be their organization's top priority, but only 38% think the boardroom understands the reality of cybersecurity threats. Rather than persuasion through features and performance data, the fretter, who is typically highly knowledgeable of security issues, needs to know how to make their case effectively in the boardroom, redefining good security as an investment instead of a stop-loss.
The Skeptic: Decision makers who invested in recommended security solutions but have never experienced a major incident may resist adapting to new threats and view innovations in cybersecurity as solutions to problems they don't have. For this crowd, the key selling point will be the potential cost of inaction. The average cost of a data breach in the United States in 2022 was $9.4 million, and the pervasiveness of attacks throughout industries as vectors, such as ransomware, has spiked 300% in frequency over the last five years.
2. Develop Industry Authority
Cybersecurity is a fast-evolving, research-driven industry. CISOs and security operations teams know that what works today won't necessarily cut it next year or even in the next quarter. For this reason, cybersecurity expertise is always a continuing education process. Marketers should seize on new developments to position their organizations as an authority with solutions for urgent challenges. These thought leadership marketing opportunities include publishing white papers, speaking at conferences, and hosting webinars where security professionals can find answers to their questions.
3. Showcase Cybersecurity Successes
As a field defined by a defensive posture, where attention usually means something has gone wrong, cybersecurity is a data-driven industry where decision makers value what works over suites of features they may never use. A tech company's success stories from existing clients will speak directly to potential buyers' interests in a language they want to hear. When a tech company's products and services solve real-world, bottom-line problems for its clients, marketers should invite them to help the company turn that story into a data-rich case study. The case study will communicate the effectiveness of the tech company's solutions for its target audience's most pressing problems.
4. Accessing the Right Niche Audience
The limiting factor for success with compelling content for exceptional products and services is the effective reach of available marketing channels and contact networks. The capability to tap into vast potential audiences and refined targeted firmographic data results from a meticulous and costly marketing development process. For organizations who need to span the gap directly, partnering with specialized content syndication networks with ready-made audiences for highly configurable criteria can make the difference between successful marketing today and open-ended blundering through trial and error.
Custom Webinar Content for Technology Niches with ActualTech Media
At ActualTech Media, our team of experts specializes in creating custom tech webinars for lead generation for IT businesses in niche technology sectors like cybersecurity. Your marketing teams will find their voice in the market with our multi-vendor webinars that give startups and veteran cybersecurity marketers a platform to reach our audience of IT buyers.
To learn more and set up an initial consultation, contact us today.