Content syndication isn't a new strategy. It has been around even when print was the primary medium marketers used to distribute their content. What makes content syndication unique in 2022 are the new opportunities you have to target your audience and generate leads from your content. It's no longer just a strategy for getting a broader audience. Instead, it's a key method for attracting the right audience.
Are you new to content syndication? This content syndication 101 guide will walk you through the basics of content syndication and get you started with your first campaign.
Key Takeaways:
Content syndication is sharing online media on third-party platforms and sites
Content syndication for lead generation targets buyers most likely to purchase from your brand
Create a target account list based on your most valuable customers
Nurture your leads after you collect their information by providing additional information on your brand and building trust with your prospects
🤫 PS: Looking for pricing on content syndication leads? Get a price list here
How Is Content Syndication Done?
Content syndication is distributing your digital content online outside of your company website.
You place content like videos, e-books, and infographics where you know your audience frequents to increase how many people engage with your content and generate qualified leads.
Why Do Businesses Use Content Syndication?
There are two primary reasons why businesses perform B2B content syndication.
Why Would You Want To Do It for Brand Awareness?
Content syndication for brand awareness is when you distribute your content to increase traffic to your website. Businesses also use it to build trust with their audience. For example, they might distribute a thought leadership blog post on a reputable website where those readers are exposed to their brand and see them as an authority in the industry.
A brand might use content syndication for brand awareness if they have a broad audience as they can reach more consumers simultaneously.
Why Would You Want To Do It for Lead Generation?
Content syndication for lead generation is distributing your content to collect your audience's contact information and fill your sales pipeline. Therefore, instead of sharing a blog post where anyone can see it, you might share a whitepaper that your audience must fill out a form to download.
One-fifth of businesses use lead generation as their primary metric for measuring their marketing success.

You'll want most prospects that download your content to have a high buyer's intent. Their buyer's intent is how likely they are to purchase from your brand. Some examples of buyer's intent include:
The lead matches your ideal buyer persona
The lead interacted with content from your brand multiple times
The lead's behavior indicates an intent to purchase, like clicking on links to your pricing page
An example of a direct content syndication campaign is distributing your content by email to a target account list. This brings your content to your ideal audience and ensures that most people who provide their information are genuinely interested in your brand and products. Therefore, you receive more valuable returns from your efforts than the general distribution of your content for awareness.
What Is a Target Account List?
A target account list is a compiled list of prospective buyers based on information like their firmographics, title, budget, and industry.
You use a target account list to send out customized marketing campaigns directly addressing those prospects. This type of direct marketing is called account-based marketing (ABM) and is a personalized marketing technique. Nearly 80% of B2B marketers agree that personalization improves customer relationships.
Geography is integral to your target account list because it tells you where your prospects come from. It enables you to target decision makers based on their location and cultural factors that might influence their decisions. For example, a home security company can target areas with high crime.
Some geo data you can use to target by location include:
Types of business in the area
Average budget of companies in a city
Common challenges companies face in their location
ActualTech Media allows you to filter your audience by geo so you can deliver more directly personalized messages in your content syndication.
How Do You Build a Target Account List?
You can build your target account list by:
Identifying the customers with the most significant accounts (like most active users)
Finding commonalities between those accounts (number of employees, geography, industry)
Using commonalities to build an ideal customer profile
Researching new accounts that match that profile
Creating tiers based on how well companies match the profile
Look beyond prospects already connected to your brand when finding accounts for your targeted account list. You'll have a much larger number of accounts if you find prospective leads still in the research stage with whom you can initiate contact.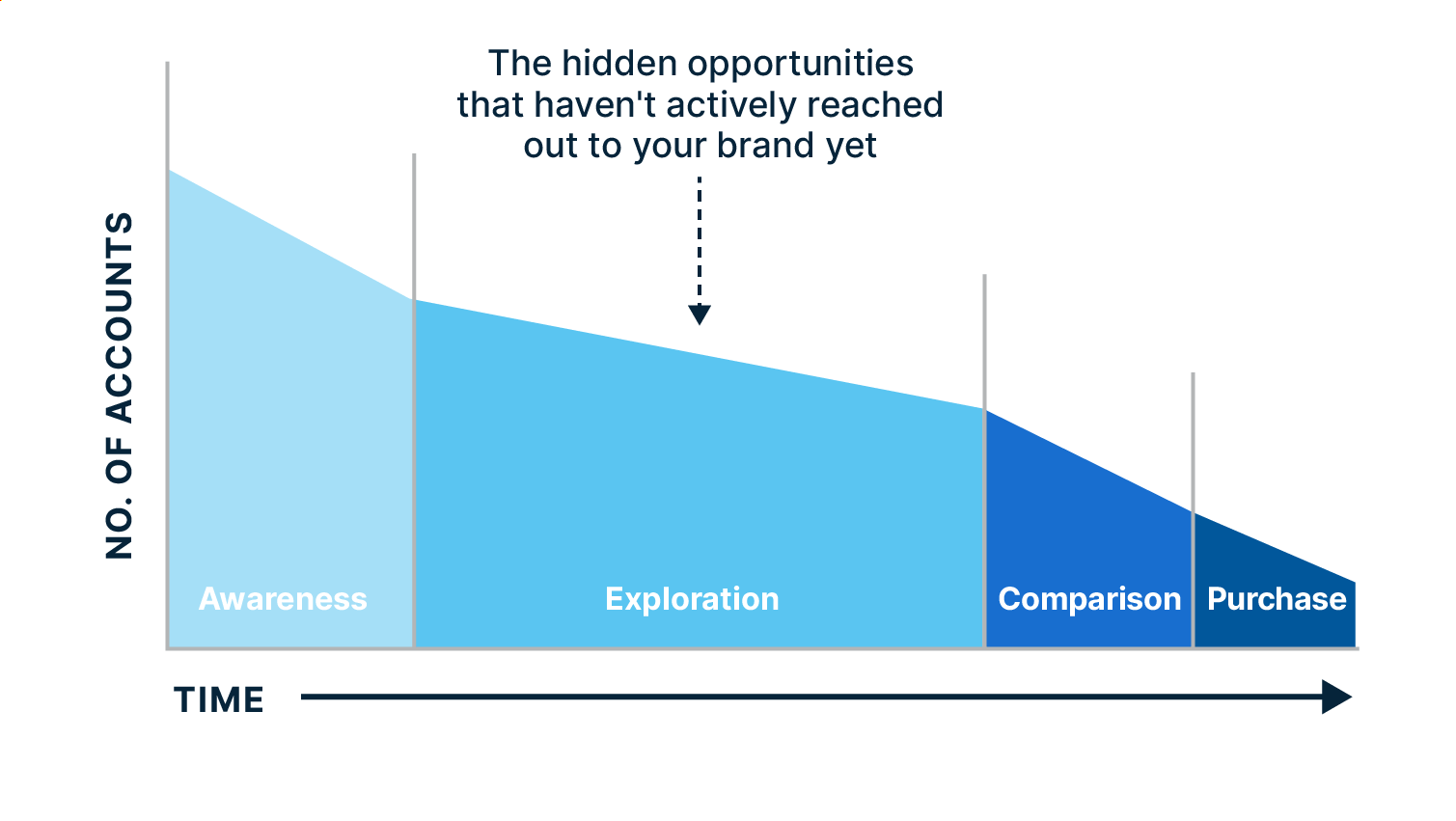 What Is Lead Nurturing?
Lead nurturing is a vital part of a content syndication strategy because it's how you keep those new leads interested in your brand and move them through the buyer's journey. Since 40% to 70% of qualified leads aren't ready to buy, lead nurturing is the essential middle stage of moving a lead to a sale.
Your syndicated content might be the first content in your nurturing process. Other content you can syndicate or strategies you can use include email campaigns, webinar invitations, and shared digital assets. Each of these touchpoints provides more information about your brand, creates a demand for your products, and introduces them to your unique solutions.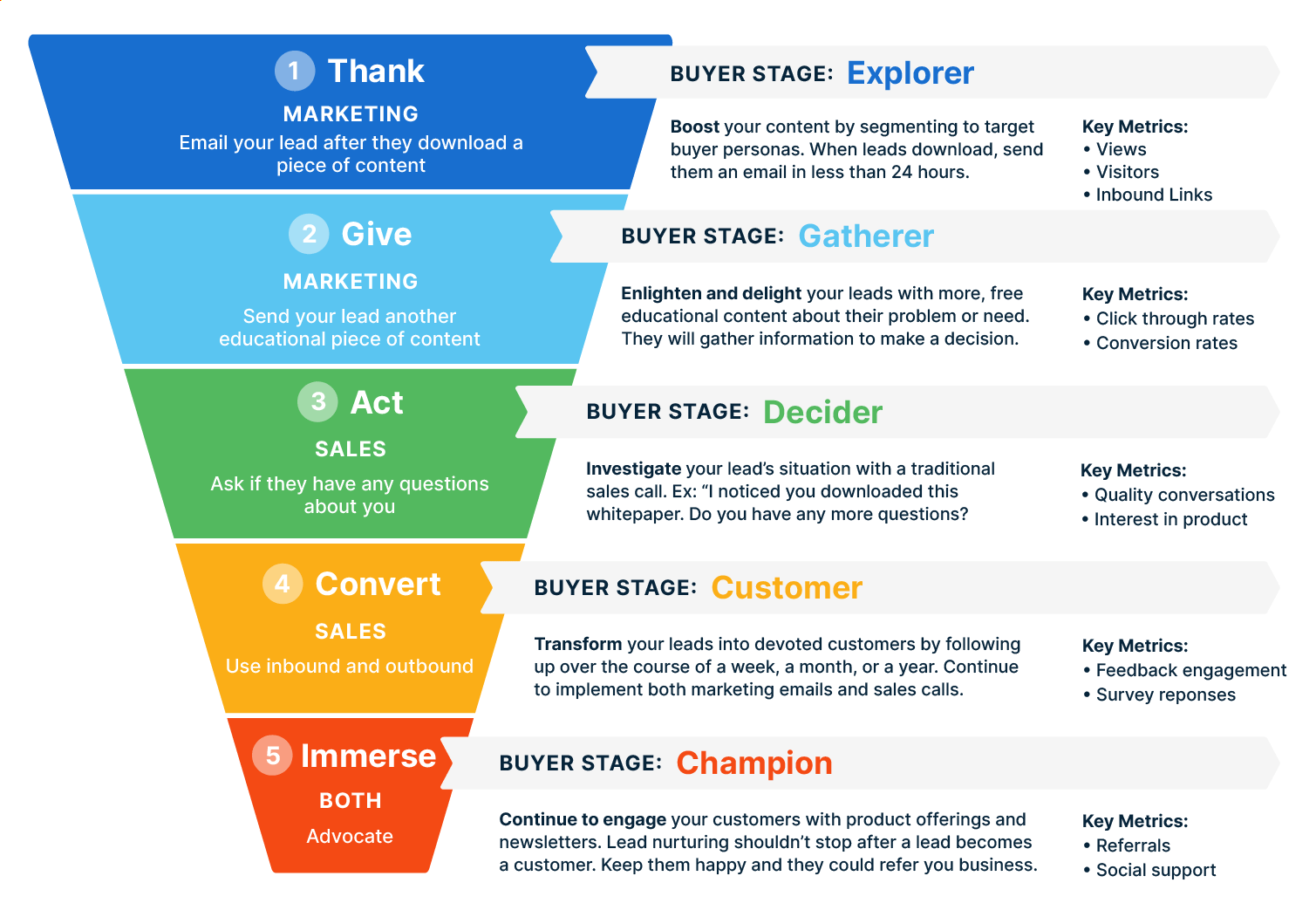 What Type of Content Should You Use?
Digital assets, online content, marketing media—what does that mean? All these terms refer to content you create for online use. Content is any medium for dispersing information. When that content holds value, like the content you use to generate quality leads, it becomes a digital asset.
Content is a vital part of any marketing strategy, as 52% of B2B buyers say they're more likely to purchase from a company after reading digital content.
Here are a few examples of the most successful digital assets:
Whitepapers: Summarizes complex issues into concise reports or guides and establishes the writer as an authority in the industry
E-books: Electronic books your audience can download and read on a handheld device or computer
Webinars for lead generation: Online seminars for connecting live or on-demand with prospects while covering niche topics
Infographics: Graphic visualization of information, including charts, images, and text
Videos: Immersive medium for introducing products, explaining topics, and sharing webinars and other authority content
Video content is one of the most powerful mediums. Roughly 70% of B2B buyers watch videos during their sales journey, including YouTube, videos on websites, or webinars.
What Are Your First Steps for Content Syndication?
You have a basic understanding of what content syndication is. Now what?
These next three steps will start you on the journey of content syndication:
Create goals based on why you're performing content syndication
Build your target account list
Connect with a content syndication service that can distribute your content to the right channels
Our experts at ActualTech Media will guide you the rest of the way, by helping you achieve your goals, and by filling your sales pipeline with marketing-qualified leads.
Run Your First Content Syndication Campaign
Whether you're ready to start your first campaign or are interested in learning more about content syndication, we have experts ready to assist you.
Contact us to learn more about our complete content syndication service with no previous experience necessary.