After explosive growth during 2020 and 2021, many professionals wondered if webinars would stick around in a post-pandemic business world. But in 2022, they were more popular than ever and show no signs of slowing down as a core part of modern digital marketing strategies.
More than in any other industry, tech webinars have shown promise as effective ways to generate leads, engage with customers, extend brand reach, establish expertise, and build a stronger pipeline to drive business growth.
In this article, we'll explore five things that worked for tech webinars in 2022—plus how companies can capitalize on them to build momentum going forward.
Quick Takeaways
Tech webinars accounted for nearly one-third of all B2B webinars run in 2022
Marketing professionals rate webinars as their No. 1 demand-gen tactic
Webinars provide unique opportunities for in-event engagement with large groups of buyers
Three-quarters of marketing professionals rate extended brand reach as a top benefit of running webinars
Participating in tech webinars enables companies to establish their position as a thought leader in their field
Why Tech Webinars Are More Popular Than Ever
Tech webinars have proven especially effective for reaching their buyer audiences. Today, they account for nearly one-third of all B2B webinars produced.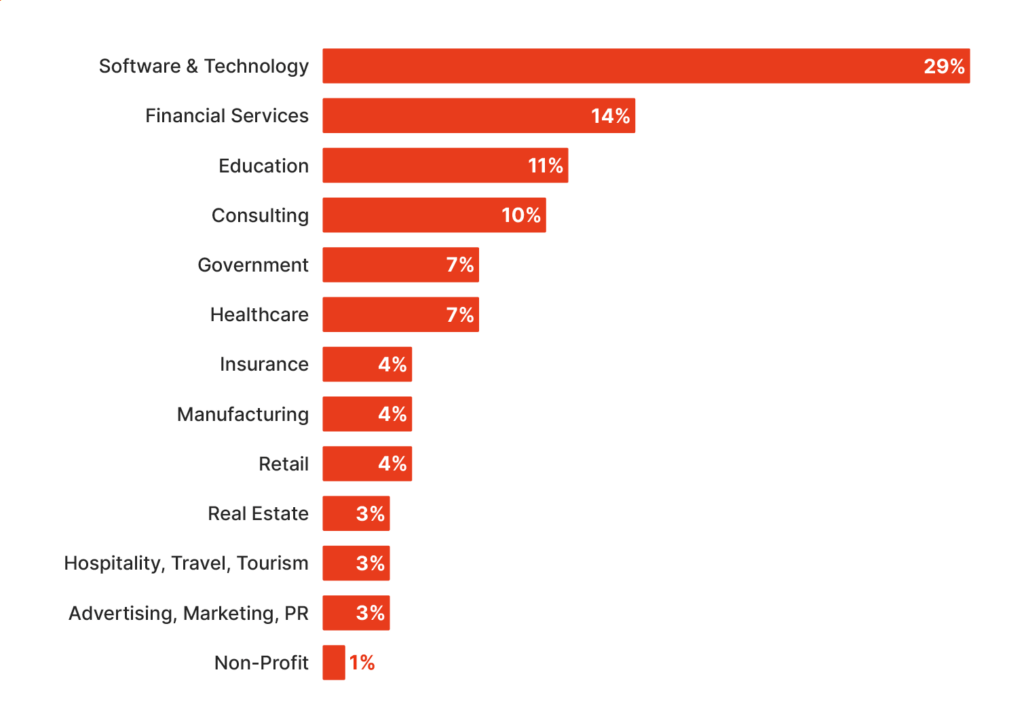 Given the digital nature of customer relationships in the Software-as-a-Service (SaaS) industry and other IT sectors, webinars also align with how customers are now accustomed—and prefer—to interact with solution providers.
B2B sellers that recognize this shift and develop strategies accordingly are positioned to win more and better-fit customers. According to Gartner Inc.:
"... when B2B buyers report that sales reps effectively use technology to facilitate buying group discussions, a 17% lift occurs in customer confidence, which leads to high-quality deals."
Now that webinars are established as a mainstream method for connecting with buyers and generating leads, B2B tech companies are getting smarter about how to boost the ROI of their efforts in this space.
Best-practice trends emerged in 2022, including:
Hyperfocus on webinar lead gen through strong prospecting and follow-up
Interactive formats that encourage in-event engagement
Leveraging data to create unique, personalized webinar experiences
Using webinars to establish industry thought leadership
For tech companies, one popular format has proven particularly effective—the multi-vendor webinar (like the ones we run here at ActualTech Media), which feature panels of leading vendors who discuss hot-topic themes, all with expert moderation provided by the event host.
These types of events generate anywhere from a few hundred to 1,200+ leads for participating vendors.
In the next section, we'll take a closer look at what made tech webinars so successful in 2022, plus how companies can keep building momentum through webinar marketing in the coming year and beyond.
6 Things That Worked for Tech Webinars in 2022
Lead Generation
Webinars have become the No. 1 method for B2B demand gen, rated ahead of all other methods by 45% of marketing professionals. We already know webinars align with a growing buyer preference for digital interactions, but it's important to note that they also fit with buyers' increasing demand for video content.
A recent survey of executive decision makers by Brightcove found that 70% of execs watched video related to a purchase decision five times or more in the past three months.
Further, 63% said they consider videos the most useful type of content for comparing solutions, rating webinars second (behind only product review videos) as the most-watched type of video content.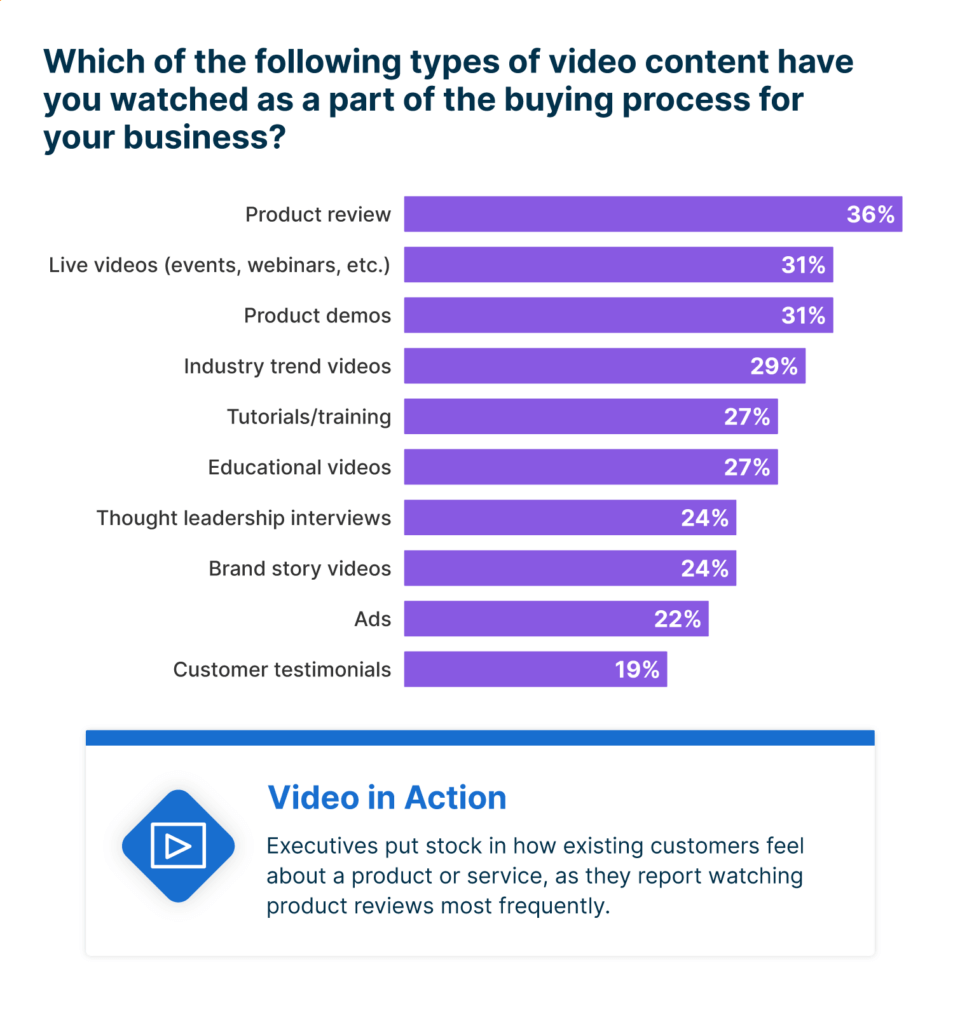 The takeaway: Tech webinars are a surefire way to meet buyers where they are as they seek out solutions and capture leads when purchase intent is high.
In-Event Engagement
One benefit of absence of in-person events during the pandemic is that companies and buyers alike learned to embrace digital engagement. Webinars now provide an excellent platform for interacting with high-potential leads at scale. Attendees benefit not only from the opportunity to interact with sellers, but also to share insights with each other as a buying group.
Inclusion of interactive activities like Q&A, surveys, polls, live chat, and small-group discussions encourage tech webinar attendees to truly engage with the event and get the most out of their time there.
Data Collection
For webinar hosts and speaker participants in 2022, a huge value-add was the attendee data obtained from these events.
Webinars are an especially effective way to collect first-party data directly from the source—the buyer. As third-party trackers officially phase out over the next year, expanding efforts to collect first-party data will be more important than ever.
Data insights from webinar registration and attendee lists also enable a number of capabilities that strengthen larger digital marketing results and help to connect with buyers, including:
Refining ICPs and buyer personas for better targeting
Personalizing content and communications
Implementing better lead scoring and qualification
Building follow-up and nurturing campaigns
Expanded Marketing Reach
Webinars becoming mainstream has broken down major barriers to executing lead generation and prospect outreach at scale. Tech companies and buyers are no longer limited mostly to events in their local areas—instead, the options for digital event attendance and networking are now plentiful and higher quality than ever before.
This is particularly important for startup tech companies looking to cast a wide net to generate awareness and drive growth, but without sacrificing the quality of their event content.
The benefits are being felt by marketing professionals—according to recent research, "reach more leads" (76%) and "extend brand" (75%) were the top two reported benefits of running webinars events.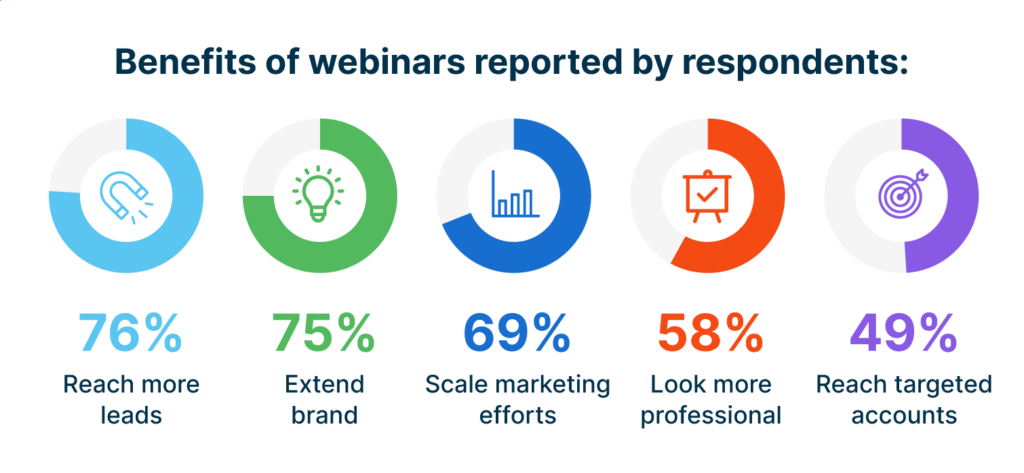 Thought Leadership
Last but certainly not least, tech webinars gave B2B companies an opportunity to establish their positions as thought leaders in their fields.
Multi-vendor webinars like ActualTech Media's allow vendors to choose the topics and events that are most relevant to their business. Webinars hosted by companies themselves can be aligned with the products and themes where they have the right expertise.
By executing a consistent webinar strategy over time, companies can increase visibility with both buyers and industry peers, establishing themselves (and their brands) as a go-to resource for accessing the types of solutions and services they provide.
Make Webinars Work for You in 2023
Make webinars a consistent lead generator for your business by partnering with ActualTech Media. We connect B2B tech marketers directly to capable, motivated audiences in hot-topic, multi-vendor industry events.
Get in touch with us today to learn more about how we can help you grow your business.