Data is an essential part of the way marketers learn about their customers and execute highly personalized, targeted marketing strategies. But since the announcement that third-party cookies would be going away, marketers in every industry have scrambled to think about how they'll continue to execute data-driven strategies.
Is it possible to rely mostly—even solely—on first-party data?
The answer is a resounding yes. First-party data allows marketers to take greater control of their strategies and build a healthier pipeline, all while developing stronger relationships with their customers. In this guide, we'll tell you how. We'll cover:
What first-party data is and how to use it
How the phase out of third-party cookies is bringing first-party data to the forefront
Five specific ways first-party data can help your business
Let's get started.
Quick Takeaways
First-party data is data collected directly by a company from their audience
More than 85% of businesses recognize first-party data as important to their business
To execute a first-party data strategy, companies must adopt the right tools, execute personalized marketing tactics, and make it easy for customers to share data
First-party data is now more critical than ever as Google, Apple, and other browser providers phase out third-party cookies
Benefits of first-party data include greater control over your data, a higher ability to personalize, confidence in data compliance, stronger customer relationships, and higher quality leads in your pipeline
What Is First-Party Data and How Do Companies Use It?
First-party data is data collected directly from a company's audiences—customers, site visitors, social media followers, event attendees, active leads (and the like). Unlike second-party data (which is collected by partners) or third-party data (collected from unrelated companies), first party data happens between a single company and those who engage with it.
Here's a helpful visual that shows the difference between these three types of data: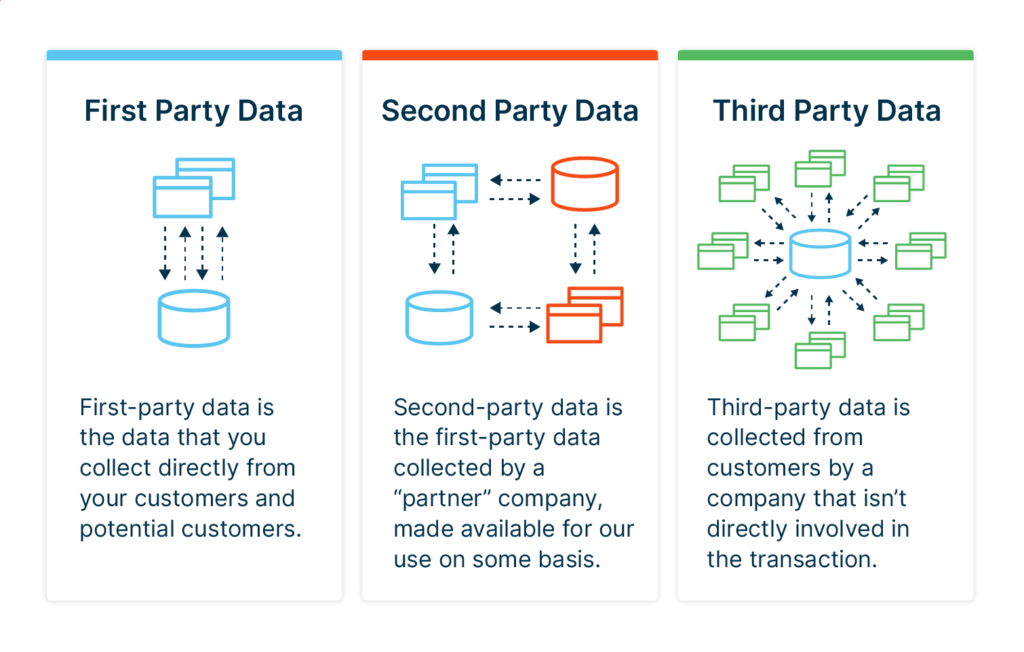 As brand interactions and the overall customer experience has evolved to be increasingly digital, the role of first-party data has become critical. Companies use it to understand and segment their audiences, then customize content and other marketing and sales tactics to align with the unique needs of each segment.
According to Nielson, 86% of companies recognize first-party data as a key part of their marketing strategy. No matter what their budget size, companies consistently rated first-party data as more important than second- and third-party data.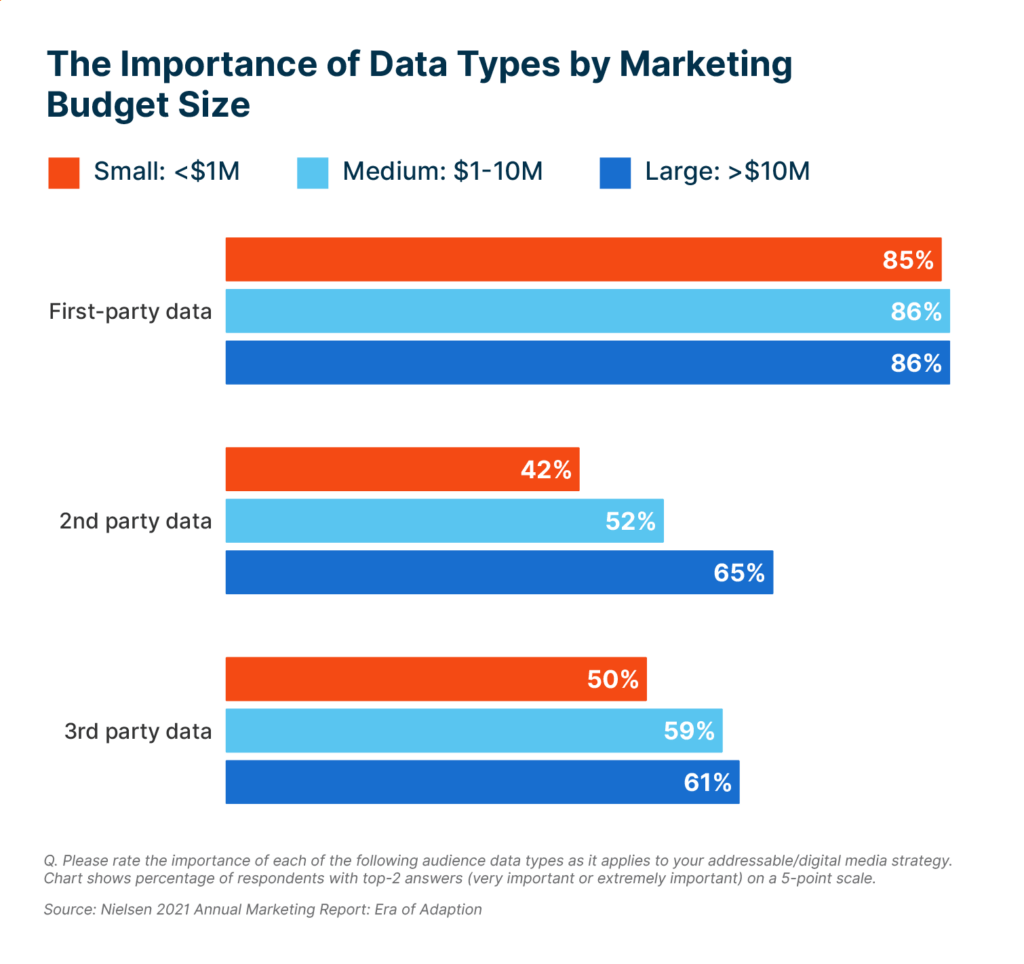 Companies must adopt a first-party data strategy for two key reasons—first, because it's what allows them to deliver the types of personalized experiences customers now expect, and second, because most organizations in every industry are already using it.
Not leveraging first-party data leaves companies at risk of losing potential customers to more data-savvy competitors.
Why First-Party Data Will Soon Be More Critical
Google, Apple, and other browser providers recently rocked advertisers' worlds by announcing they would phase out the use of third-party cookies. This means companies can no longer place tracking cookies on other websites to collect data from that site's visitors.
While this action aligns with growing concern and regulations around data privacy, it presents a real challenge for digital marketers. Without the ability to rely on third-party cookies to collect data, they'll need to more effectively collect first-party data from their own audiences.
So how do they do it?
Here are a few essential steps companies will need to take to level up their first-party data strategies:
Adopt the right tools to execute—specifically, a CRM system, a data activation platform, and a personalization software tool. These three tools work in tandem to collect and segment data, then make it usable to personalize customer experiences.
Get hyper-personal—Buyers in both B2B and B2C spaces want experiences tailored to their preferences and needs.
Make data sharing easy—Write compelling CTAs and shorten lead-gen forms to three fields to make it as easy as possible for users to share their information.
According to DesignZillas Strategy Manager Tina Fleming in her recent MozCon presentation on the subject, simple steps like shortening forms can double your conversion rate.
Let's take a look at five specific ways your company can benefit from taking action to implement a solid first-party data strategy.
5 Things First-Party Data Can Do for You
Gives You More Control of Your Data Strategy
First-party data puts you in the driver's seat when it comes to data collection methods, the types of information you collect, when you collect it from users, and how you can leverage it in your digital marketing strategy.
Over time, the direct role your marketing team plays in data collection will give you a better understanding of your customer and allow you to refine your strategy for better results.
Increases Your Ability To Personalize
Along with a better understanding of your customer comes a greater ability to personalize their experience. Personalization is a top priority for today's modern buyers—Salesforce reports that 84% say being treated like a person, not a number, is critical to winning their business.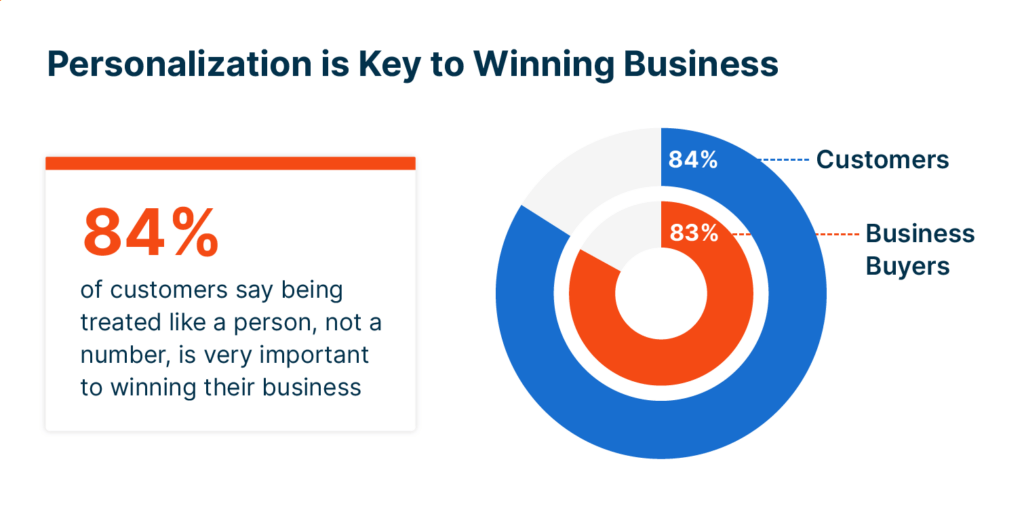 The same Salesforce research found that 70% of buyers say seamless omnichannel experiences personalized across channels and interactions are also important. By leveraging first-party data, you'll be better able to integrate your lead-gen and buyer engagement tactics across marketing channels and deliver the quality, personalized experience your customers expect.
Help You Build Stronger Customer Relationships
Delivering targeted, personalized experiences shows your potential customers that you value their unique needs. By doing so, you build better relationships over time that not only increase the likelihood of an initial sale but drive additional revenue opportunities like higher retention, more customer referrals, and greater ability to upsell.
Improves Pipeline Quality
The demise of third-party cookies means your data strategy will likely be executed on a smaller scale—but that's not necessarily bad news. As buyers become more savvy, it's become increasingly important to focus on quality just as much as quantity. Lead generation, after all, is only effective if those leads will actually convert.
First-party data means your pipeline will be full of leads who showed direct interest in your solution. With better-quality leads in your pipeline, you'll see a boost in other important KPIs like marketing- and sales-qualified leads, sales velocity, and sales conversions.
Makes you confident in your data compliance
Data privacy regulations are continually evolving and changing. Being out of compliance with these laws can put your company at risk of losing customer trust and even being in hot water with regulatory entities.
By executing a first-party data strategy and reducing your reliance on external data sources, you can be more confident that your strategy adheres to data laws and that your data is secure.
Access Lead Data that Drives Growth
The team at ActualTech Media can help you build your pipeline by connecting you with capable, motivated buyers that fit your target audience. Learn more about our content syndication and lead generation solutions—contact us today to schedule your consultation!