Roughly 91% of B2B marketers use content marketing, but only 65% say they're more successful than last year. While content marketing has the potential to grow your business, it requires careful adherence to several B2B content marketing best practices to stay on top of the latest trends and resonate with your audience.
Learn five secrets to success in B2B content marketing for tech companies and increase the impact of your efforts.
Key Takeaways:
B2B content marketing includes online media you use to connect and convert your audience
Understanding your audience, their wants, and their needs builds the foundation for your entire content marketing strategy
Your content should be neutral and focus on value over sales to keep your audience engaged
🤫 PS: Looking for pricing on custom Tech content? Get a price list here
What Content Can You Use for B2B Content Marketing?
Content marketing is creating digital media that connects with your audience. Building a connection is what differentiates regular content from marketing content. That connection moves the buyer through the sales funnel and encourages them to purchase your products or services.
Some examples of top-performing B2B content include:
Blog posts
Videos
Case studies
Infographics
Whitepapers
E-books
Tech briefs
ActualTech Media offers content creation services designed around the needs and audience within the tech industry. In addition to the above content, we also provide tech comics, a new and creative way to reach your audience without blending in with the other online content.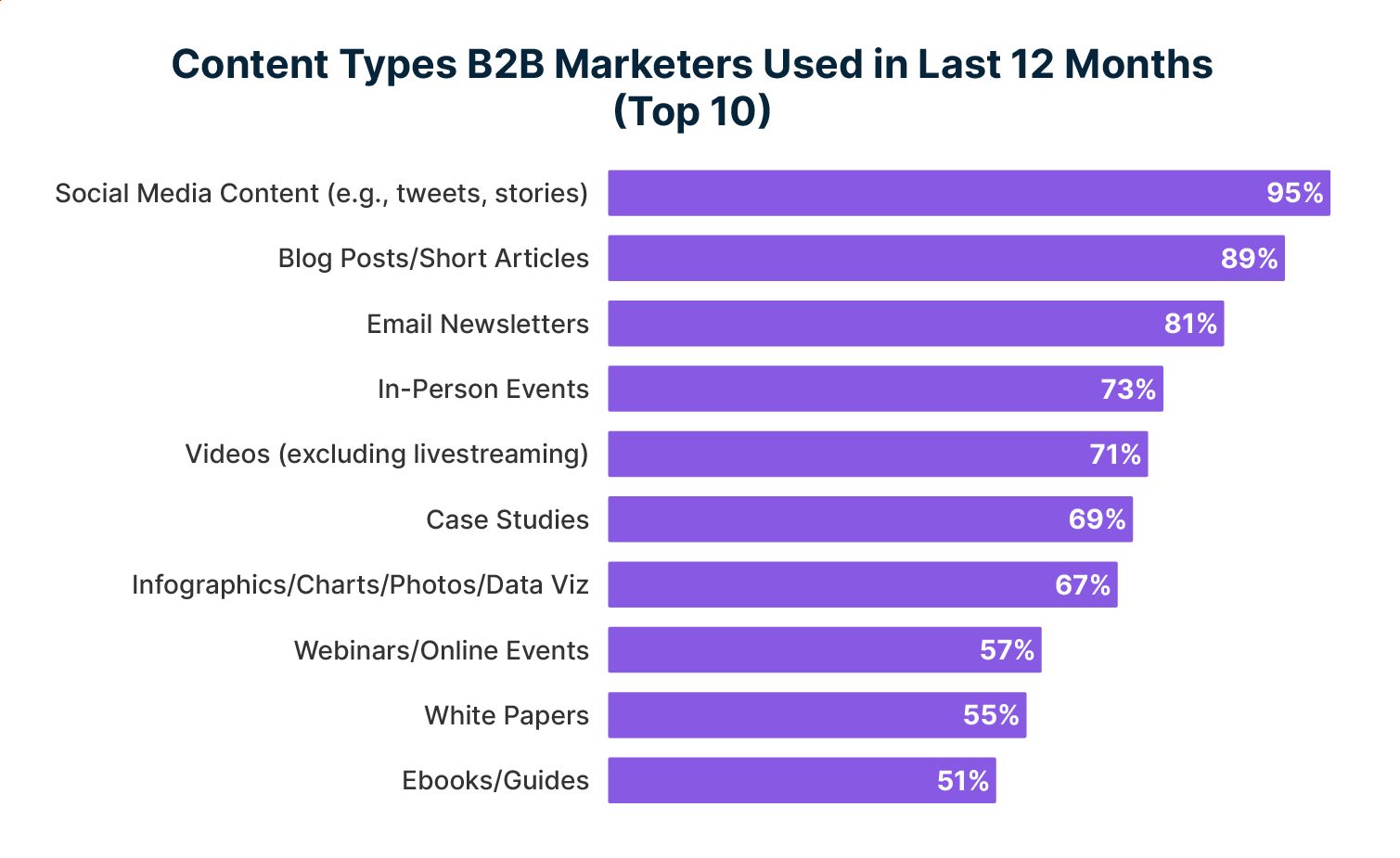 5 B2B Content Marketing Best Practices for Tech Companies
How can you ensure your B2B content marketing strategies hit the mark every time? Use these five content marketing tips to boost your IT marketing results.
1. Know Your Audience
Understanding and reaching your audience with the information they want to read and need to know is the cornerstone of an effective content marketing strategy.
Understanding your B2B audiences goes beyond knowing what industry they're in and how their businesses operate. You must also know who within your target businesses are going to make the buying decisions. Who uses your products and services and who makes the buying decision aren't always the same people.
When you've identified who has an impact on purchasing new products, you can start discovering what their needs and pain points are. These are challenges they face and factors that have the most significant impact on their buying decisions. For example, one common purchase motivator is saving money, which means your content should focus on how you can reduce costs while maximizing their return.
When you understand your audience, the rest of your content falls into place. You'll be able to create content that resonates with that audience, provides the information they're looking for, and shows them how to reach their goals. You'll also know what format will be most engaging to help them make an informed decision.
2. Offer Your Readers Value
Many B2B marketers agree that content is essential and want to create it. However, when you make content for content's sake, it will miss the mark, and either has no influence on the buyer's decision or might even be counterproductive to your marketing efforts.
The most effective content is content that offers value. This is the natural next step after understanding your audience. You take what you learned about who they are, what they need, and what they struggle with. Then you create content that addresses that information.
A content's value was the top contributor to B2B content marketing success over the past year.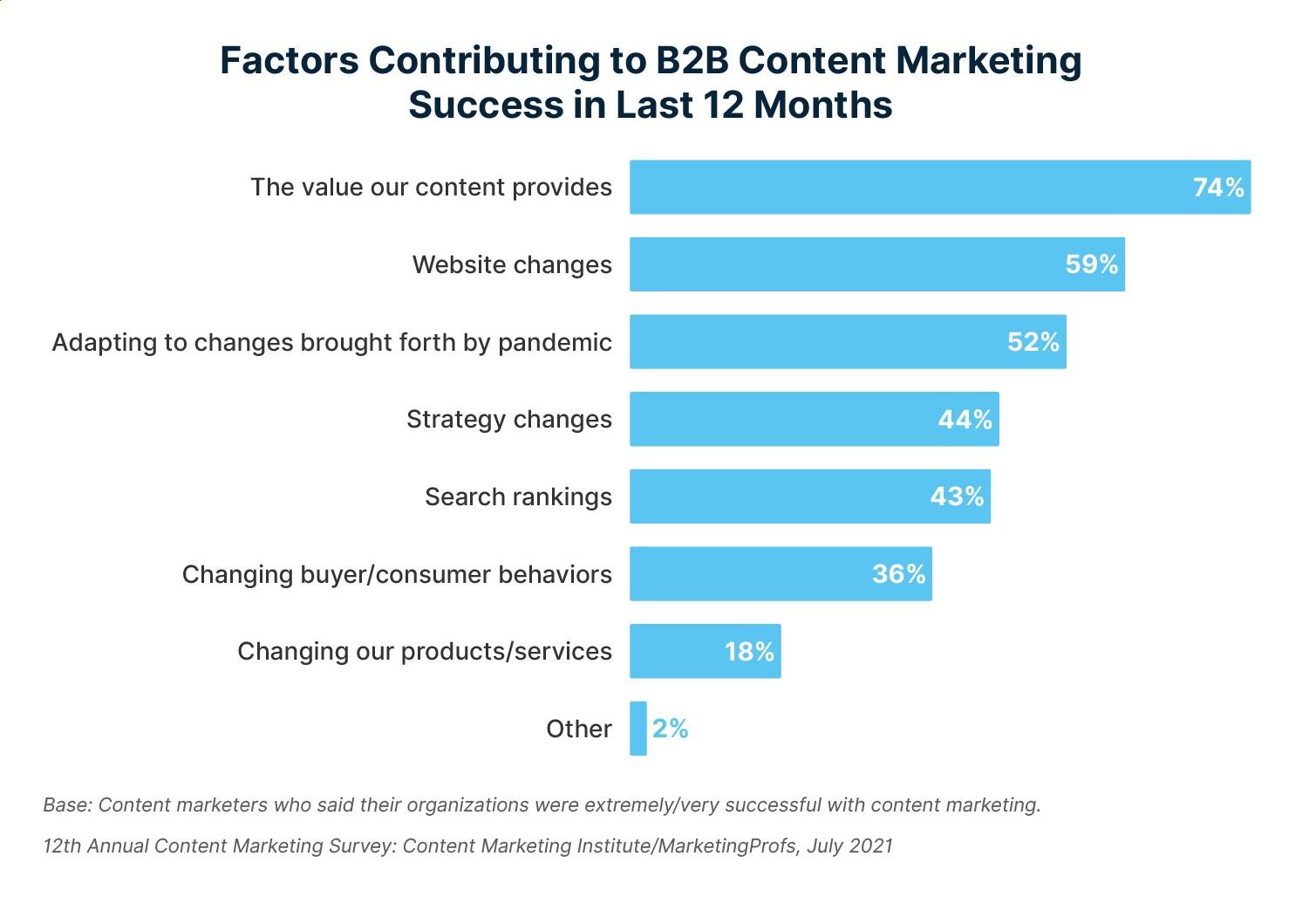 For example, you can offer educational webinars that teach them to overcome challenges. You might also share an e-book that reviews a case study of a similar business that overcame its challenges using your products.
This content engages the reader and prepares them for your sales team by introducing your brand and products as a trustworthy solution.

3. Keep Your Content Neutral
Your IT audience can sense sales content from a mile away. They only need to read the first few lines of your content before knowing whether it's a large sales pitch or relevant information. If you start with a push for your brand and products, your audience will immediately become skeptical about everything you say.
Your content should be customer-first and business-second. Customer-first content avoids overt sales pitches and focuses on those needs previously discussed. Since many of your readers aren't ready to buy when they first come across your content, 50% of the B2B content you create will be for brand awareness and generating interest.
Neutral content is more likely to build trust with your audience and encourages them to remain open to your message because you show you care about them and want to help them find solutions more than making a sale. Roughly 39% of B2B buyers said content would be more effective if it included fewer sales messages.
There's a time and place for call to actions. They most often fit best at the end of your copy. When it's at the end, you can use your copy or video to bring your reader to the point where they're interested in what you're selling or offering.
You can also seamlessly work a few references to your brand and products throughout. However, keep those references to a minimum and only use them if it fits in with the message without interrupting and builds on what you're discussing, so it doesn't feel like a sales pitch.
4. Put Yourself in Your Reader's Shoes
As you go through the steps of content creation, put yourself in your reader's shoes. Whether choosing the content format, deciding on topics, or writing content, ask yourself how your readers will respond.
Thinking like a reader will help keep your content focused on the audience's interests and needs and keep you from turning your marketing content into sales copy.
ActualTech Media understands the power of putting yourself in your audience's shoes. Our team started as professionals in the tech industry. Now they use that experience and knowledge to reach that same industry with content they know tech professionals will respond positively to.
5. Establish a Distribution Strategy
Content marketing goes beyond research and creation. It also includes what comes next. For example, how will you distribute that content to your audience?
The top three organic strategies include SEO blog posts, email, and social media posts. While these distribution methods are essential, they aren't your only option.
Paid content distribution, like native advertising and paid search, can improve the chances of your audience finding your content. With a large amount of online content available, paid strategies are quickly becoming an essential part of content marketing, with an expected growth of 50% in the next four years.
A third option is content syndication. This is the process of distributing your content assets to your target accounts. Because it's a direct-distribution method, you don't have to wait for your audience to stumble on your content. Instead, you bring it to them in their inboxes or other direct channels. In return, you receive a list of net-new leads.
Create Effective B2B Content for Your Marketing
ActualTech Media is a team of tech experts who understand your target audience. We can help you create and distribute your content in return for quality leads that fill your sales pipeline.
Contact us to get started on your next content marketing campaign.