If you're wasting resources on marketing efforts with little return or aren't sure about the return on investment of your strategies, consider using account-based marketing. Account-based marketing tactics will target accounts with the greatest return with personalized strategies that make every investment count. As a result, you have clear metrics for measuring your ROI and seeing greater returns.
Learn five tactics for creating a successful account-based marketing campaign that builds relationships and converts leads.
Key Takeaways:
Account-based marketing unifies your sales and marketing teams for targeting high-value accounts
Personalize your messaging for each business and decision maker within the accounts
Targeted marketing campaigns will reach your accounts with your customized content
🤫 PS: Looking for pricing on ABM targeted content syndication leads? Get a price list here
What Is Account-Based Marketing?
Account-based marketing is a B2B marketing tactic targeting accounts with personalized marketing strategies. It's focused more on building long-term relationships than on finding a quick sale. More than 70% of B2B marketers plan to use account-based marketing because it has a shorter sales cycle, is measurable, and wastes fewer resources.
Most marketing techniques are like an open house that welcomes anyone who happens to pass by to drop in, whether or not they're a serious buyer. Conversely, account-based marketing is like an exclusive invite-only event. While there are fewer guests, you know everyone who shows up was hand-picked by you because of their interest in purchasing.
About 97% of marketers say account-based marketing brings greater returns than other marketing approaches. Because it's personal, you maximize your resources by only targeting quality accounts through channels they use to ensure your message hits the mark every time. The personal approach also increases your chance of conversion rather than sending out mass messaging and hoping someone stumbles upon it.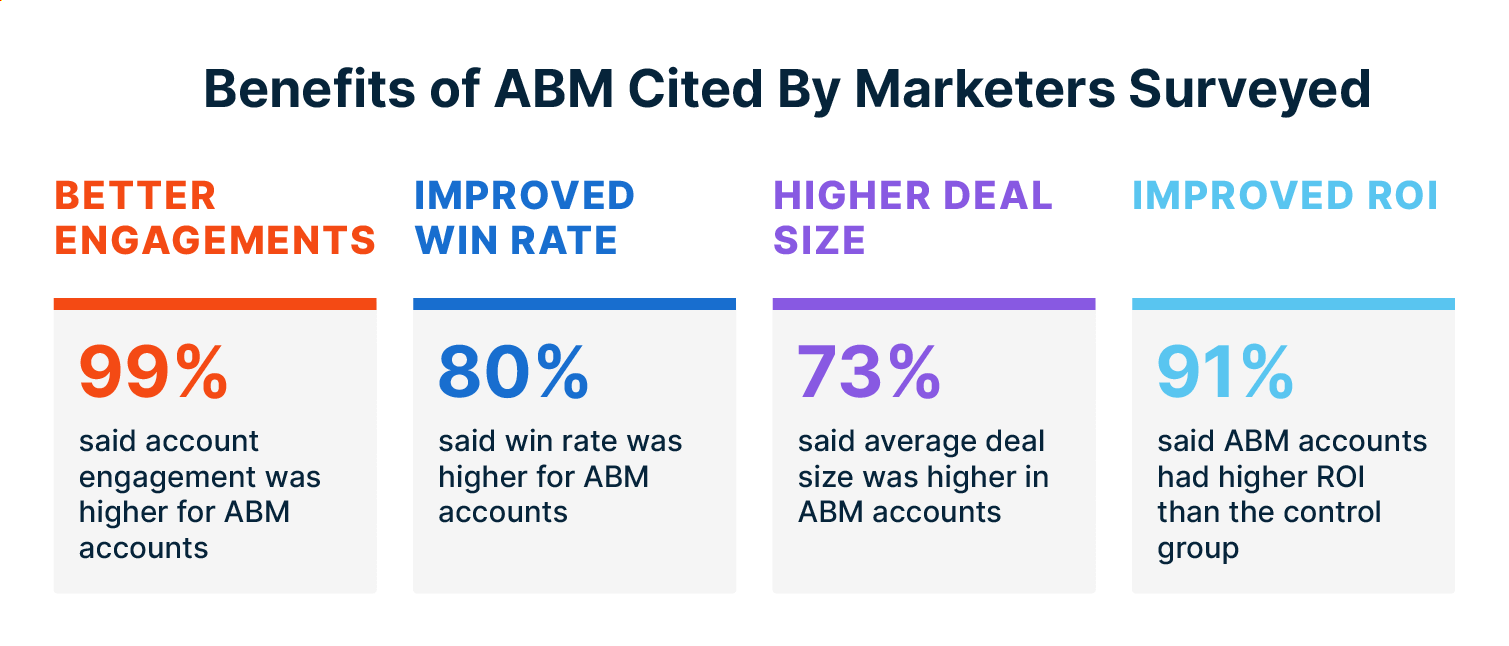 How To Create an Account-Based Marketing Strategy
Account-based marketing is an inverted funnel that starts with targeted accounts and ends with lasting relationships. Here are five steps to building a strong account-based marketing campaign.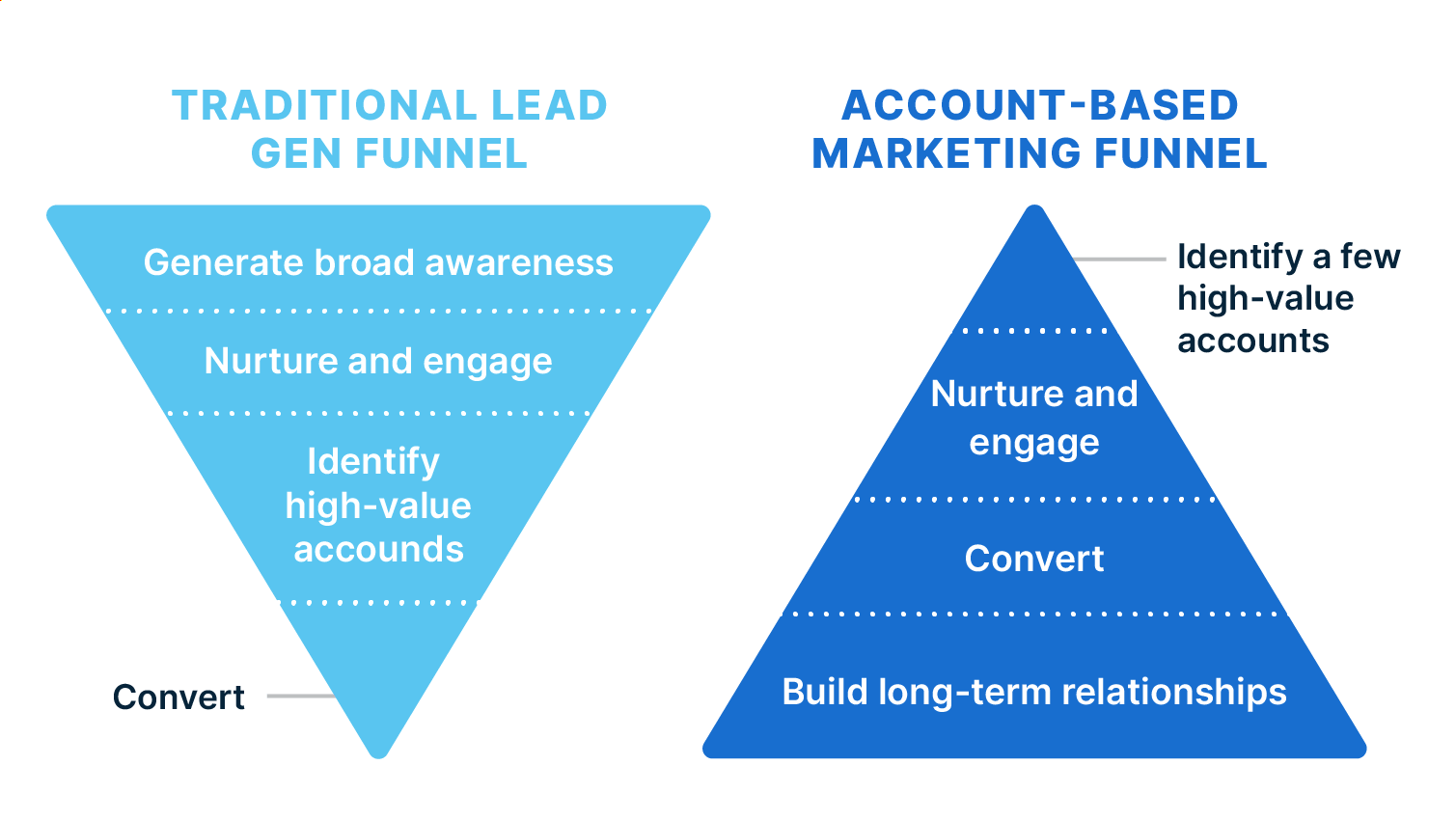 Step 1: Identify High-Value Accounts
You can build your targeted accounts list by identifying which leads have the greatest value and potential to purchase from your business. You can bring in new high-value accounts by researching online for companies that match your audience persona with high buying potential.
Consider these factors when building your list:
Do their demographics fit your customer personas?
Do they have the resources and technology to use your software and services?
Are they at a point in their business lifecycle where they need your products?
Have they already shown interest in your software?
Step 2: Understand Your Target Accounts
Invest plenty of time into researching each of your target accounts. Personalization is the foundation of account-based marketing. It requires an in-depth knowledge of your target accounts, key decision makers within the business, their current pain points, and influencing factors.
Step 3: Align Your Sales and Marketing Teams
About 80% of marketing and sales teams are aligned when running account-based campaigns. Many of the tactics you use are sales-based, which means your marketing team must shift their focus from generating awareness to investing in high-converting strategies.
Step 4: Create Personalized Campaigns
The information you gathered from your research will fuel your campaign by offering personal insights into your accounts. As you reach out to decision makers, use names and titles, address known pain points, and target account-based marketing channels they frequent.
Step 5: Track and Measure Your Results
As you run your campaign, collect data on your results. You can see which strategies are successful and which ones are falling short, which will help you adjust the campaign in the future.
If you run a successful account-based marketing campaign you'ill see higher returns than your other campaigns. For instance, 91% of marketers say their target accounts had larger deal sizes, with 25% saying the deals were at least 50% greater for their account-based marketing accounts.
5 Successful Account-Based Marketing Tactics for Tech Companies
Here are a few account-based marketing examples of tactics that make for a stellar marketing campaign.