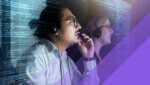 Tech Marketing
Data Protection Solution Marketing: The Definitive Guide
Everything you need to know about winning more customers in this space: Marketing strategies, actionable tactics, tips for better messaging, and more.
The data protection solution marketing opportunity is massive right now.
As we move toward a continually more digital and cloud-powered business landscape, the risk of cybercrime has increased exponentially—its worldwide cost nearly quadrupled between 2020 and 2023, and is expected to double again by 2027, reaching $23.84 trillion in damages.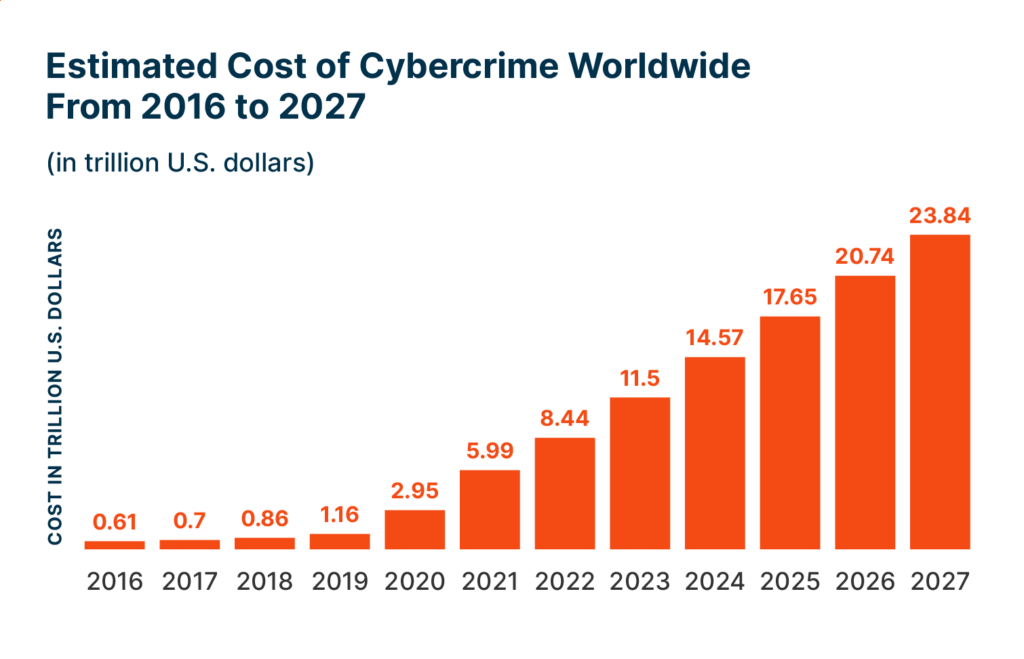 A staggering 85% of companies experienced at least one successful cyberattack last year, and 40% experienced six or more attacks.
Organizations have a very clear and real need for expert outside support in keeping their data and networks safe from cyberthreats, and it's up to data protection solution marketing teams to demonstrate why outsourcing this key function is the best option.
In this guide, we'll walk through everything you need to know about marketing data protection solutions effectively, including seven smart strategies to implement and key benefits to highlight in your value proposition.
Quick Takeaways
Steer away from technical jargon and use language your buyers can understand
Your brand must be present and visible on the digital channels your buyers use to research vendors—search, social media, websites, online events (and more)
High-value content is a cornerstone of every successful data protection solution marketing strategy
Thought leadership and client success stories help to build trust with potential buyers
Your buyers expect personalized marketing communication and become frustrated when they don't receive it
Key benefits to emphasize in your value proposition include: experience, expertise, technical capabilities, better data access controls, and enhanced customer relationships
You can win customers by presenting data protection solutions as an opportunity to create a more data-driven, secure, confident, and strategic business
7 Tips for Successful Data Protection Solution Marketing
A successful data protection solution marketing strategy is built on more than technical expertise and product features. To connect with and win new customers, you need a strategy that aims to do more. Specifically, it should:
Communicate in ways that resonate with buyers
Meet buyers on channels where they research brands
Be rooted in high-value, optimized content
Take targeted and personalized approaches to communication
Emphasize expertise and thought leadership
Let's dive deeper into these key strategy elements and how you can put them into practice.
Communicate in Layman's Terms
The world of data protection is riddled with jargon. An easy example of this is the data consent disclaimers users see on every website they visit—most blindly click "accept" without a second thought to what it actually means.
The same often applies for companies, especially for those without a formal IT team handling their cybersecurity efforts. They don't understand the language used to discuss cybersecurity and data protection, so they implement perfunctory and/or ineffective strategies around it.
To combat this challenge and help potential buyers understand their need for professional data protection solutions, talk about it in layman's terms. Find ways to communicate even the most technical aspects of what you do in language your target buyers will understand and care about.
Build an Online Presence
Brand visibility plays a key role in determining which vendors a buyer will choose—perhaps even more so than the quality of the vendors' solutions.
Today's B2B buyers complete more than half of their journey on vendor research before ever reaching out to sales teams. They also interact with brands on 10-plus channels throughout their buyer journey.
A brand's presence on search engines, social media, and other key digital channels has a direct impact on their marketing and sales opportunities.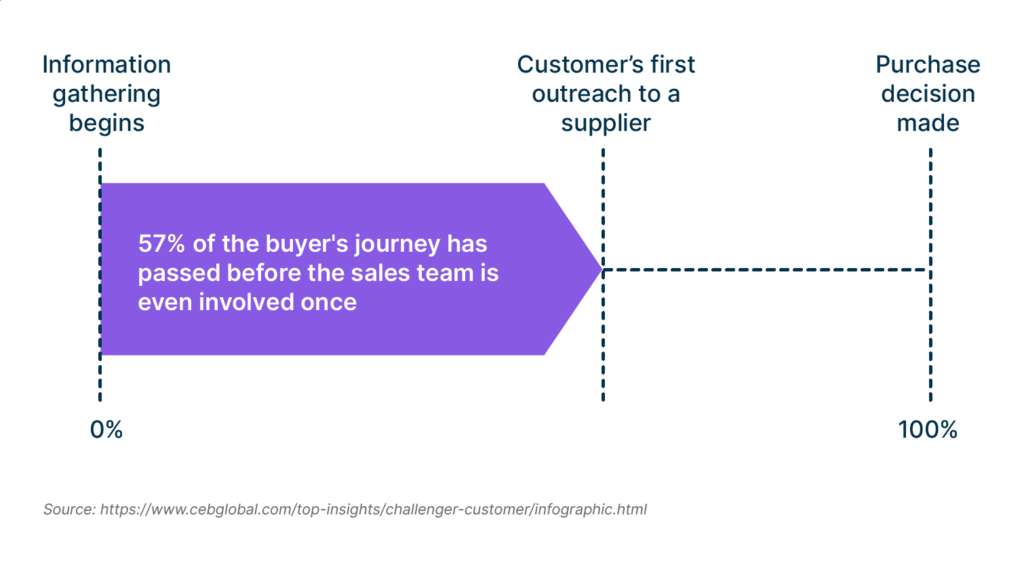 Build your data protection solution marketing strategy on a solid foundation of multichannel activity and outreach. Include inbound marketing tactics like SEO and content marketing, as well as outbound strategies like email outreach and targeted search ads.
Humanize the Need for Data Protection Solutions
Ultimately, protecting data is about protecting people.
When a company experiences a data breach, it impacts their stakeholders because it's their information that's often at risk—from email addresses to home addresses to financial data or Social Security numbers, compromised data presents all types and levels of safety risk to the human beings behind it.
No company wants to put their own stakeholders at risk in this way. That's why emphasizing the human element of data protection is an effective way to get buyers paying attention.
You can do this compellingly by using real-world examples of data breaches, both ones that have been in the news (here's a good list to start with) and those you know about firsthand from your clients and peers.
Create High-Value Content
Content marketing is a cornerstone of modern digital marketing strategies, and it's one of the main methods for executing the strategies we've already outlined above. Not only do clients want content more than ever (they engage with 13-plus content assets on average), it's a way to establish your brand's expertise on key topics your customers search for.
That means even if your target audience isn't seeking out data protection solutions specifically, you can attract buyers to your brand—and help them see the need for your solutions—by covering related topics. Then, lead conversion tactics like subscription forms, online events, and lead magnets get them officially entered into your pipeline.
Build a Reputation for Thought Leadership
Thought leadership is essential to building brand trust—82% of business decision makers and 81% of C-Suite executives say it increases their trust in organizations they engage with. It should be a primary focus, then, in your content and your data protection solution marketing strategy at large.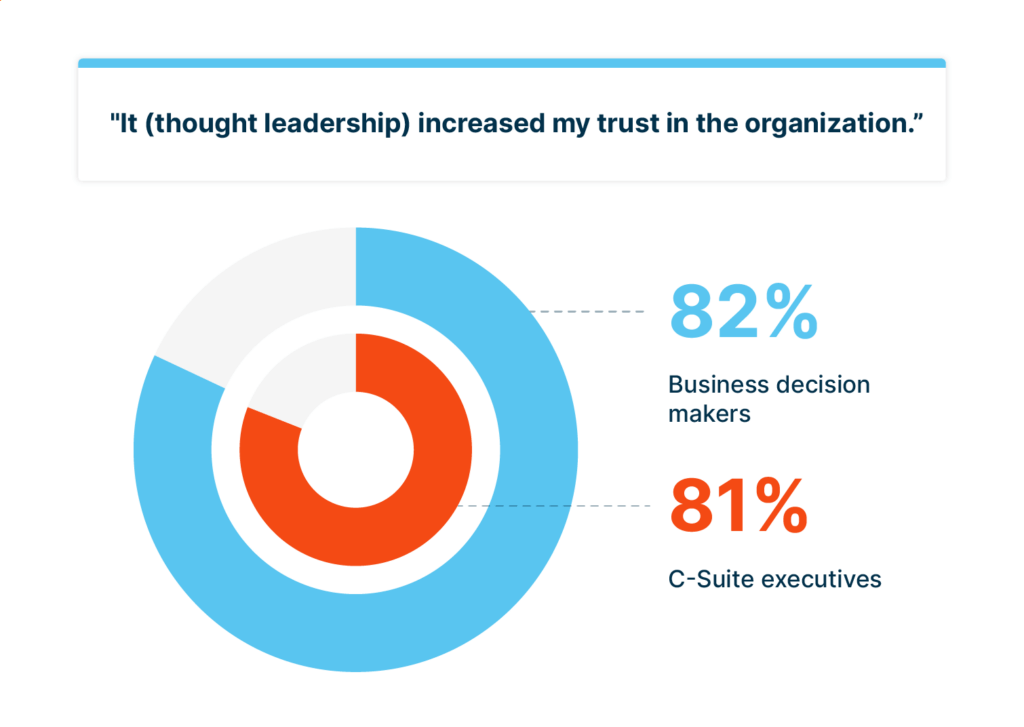 When buyers outsource data protection, they're looking for companies and teams who have the expertise they don't have in-house. Given that they're significantly narrowing down their options before they reach out to brands directly, you need your thought leadership to be obvious on the digital channels that buyers use to do their vendor research.
Establish thought leadership by going beyond status quo coverage of relevant topics. Provide original commentary (even when it goes against the grain) on trending and timely topics. Feature internal subject matter experts with content like webinars, blogs, and interviews.
Finally, optimize your thought leadership content for SEO and by targeting assets to the right buyer groups and customer segments.
Share Client Success Stories
Social proof—proof that your brand can be trusted and has delivered value to others—is a necessity for most B2B buyers. In fact, 92% say they're more likely to buy after reading a trusted review.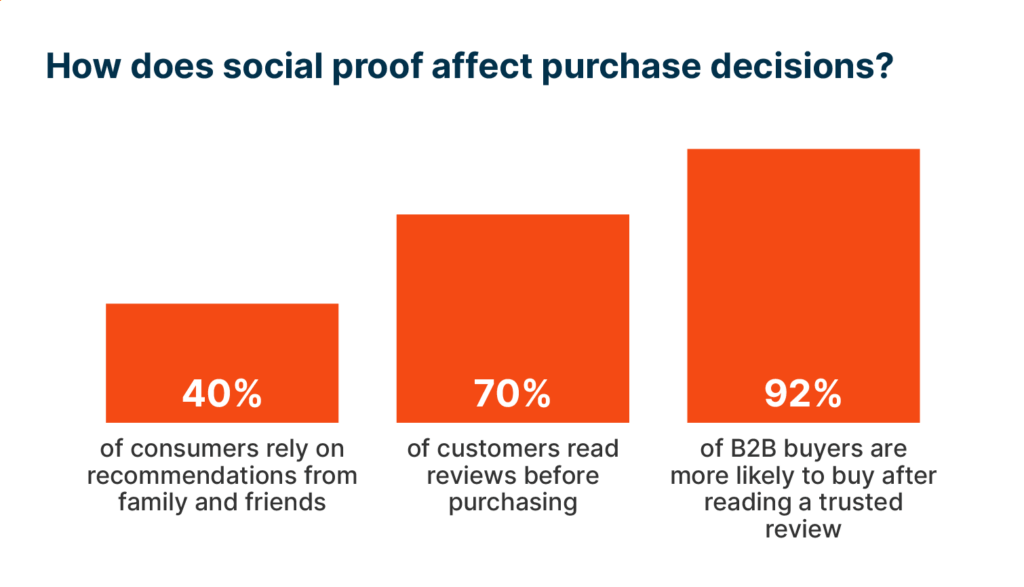 You can take charge of providing those trusted reviews by publishing and sharing client success stories. Most happy clients will be willing to participate in a short interview, feedback survey, or similar activity to share their story and how your brand has made an impact for them.
Client success stories can come in the form of written blog posts or videos (or a combination of both) and then shared across all the channels you use for data protection solution marketing—email, social media, your website, sales enablement materials, and more.
Personalize Your Marketing Approach
Data protection solution needs vary by industry, organization type, markets served, location, relevant data protection laws, and many other factors. Further, every organization has their own unique needs gap they need to address.
Plus, B2B decision makers don't just want solutions marketing that's personalized to their needs—they expect it. McKinsey reports that 76% of consumers also get frustrated when their brand experiences aren't personalized.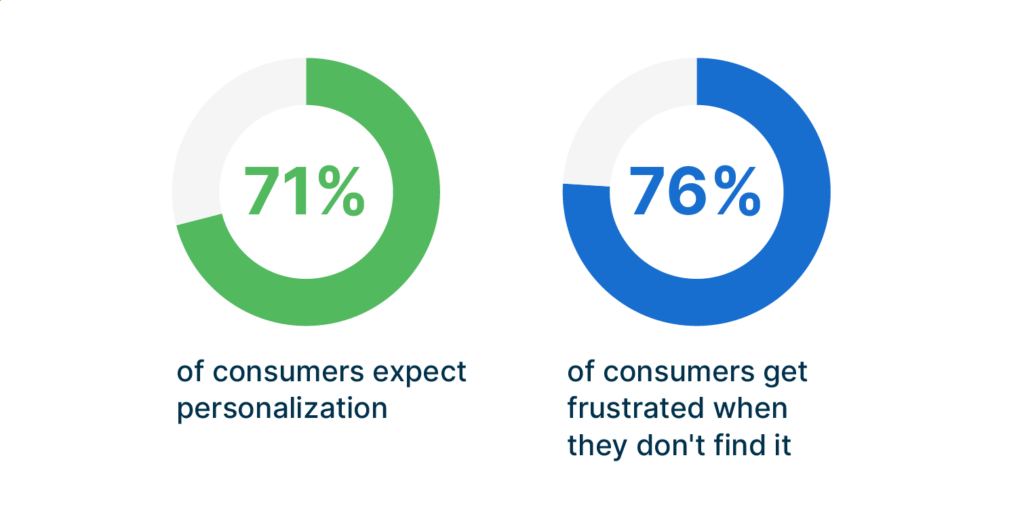 You can personalize your data protection solution marketing strategy by taking a hyper-targeted approach. Know your ideal customer profiles and buyer personas, design marketing content and communications for each group, and use data-driven automation to deliver it seamlessly across the buyer's journey.
Strengthening Your Value Proposition: 7 Key Benefits
Your data protection solution marketing strategy depends not only on the strategies you use to reach customers but the message you share. Central to your marketing and sales messaging is your value proposition—statements that communicate exactly how your solution adds value for its customers.
Let's walk through ways to make your value proposition stand out and make it clear to buyers why they should choose your brand over competitors.
Experience and Expertise
Companies are struggling to find the IT security talent they need to keep their data and systems protected. In 2023, 86.6% say they've experienced a shortfall of talent in at least one IT security role—including IT security architects, engineers, analysts, operators, and incident responders, as well as DevSecOps engineers, compliance auditors, and risk/fraud analysts.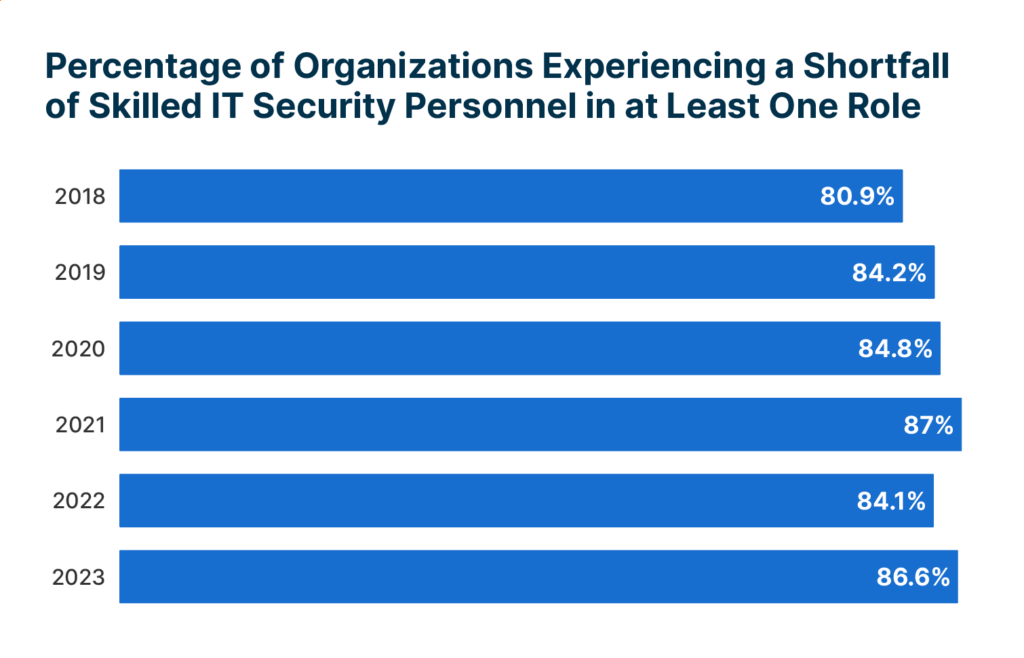 Without a fully equipped IT security team, a company is at even higher risk of a data breach or other cybersecurity attack. In your value proposition, emphasize how your team of experts have the experience and knowledge to fill these talent gaps and provide solutions that largely automate the process of data protection.
Cutting-Edge Capabilities
Comprehensive data protection requires the right capabilities to automate and execute. You can provide those tools through your own platforms and bundle it with your support services, thus upping the convenience, affordability, and effectiveness factors significantly for your customers.
Without a software solution, of course, data protection becomes much more manual, piecemeal, and difficult to execute. The key benefits you can deliver to eliminate these challenges should be a central part of your value proposition.
Centralized Data Management
Inevitably—especially for large organizations—data will be stored in disparate locations and exist across multiple workspaces. A powerful benefit of a quality data protection solution is the ability to manage this data in one centralized place.
This holds tremendous value for organizations whose IT infrastructures are large and complex, and thus who have larger attack surfaces. A centralized interface enables companies to monitor their data security from a high level while also drilling down into specific databases, systems, and IT environments when needed.
Beyond impacting data breach prevention, this benefit can help companies enhance their overall data posture and get smarter about their approaches to data governance.
Reliable Access Controls
Believe it or not, 88% of data breaches are caused by internal users—typically employees that access data they shouldn't and/or don't know how to properly handle the data they do have permission to access. Streamlined access controls provided by your data protection solution take the pressure off of IT and department leaders to manage this process.
They also largely automate the process of granting data access through rules-based permissions based on an individual's role, seniority, skills, or other security-relevant trait.
Stronger Customer Relationships
Sharing data is a natural part of being a customer in today's world. Whether it's through an online form or at an in-person checkout counter, companies ask for data so they can use it to deliver services and improve the user's experience.
But customers in both the B2B and B2C sectors are aware that sharing data has risks. While they're generally willing to share information, they also want to be confident that brands have the right data protection safeguards in place.
In response, CMOs and other high-level business leaders are prioritizing this very responsibility—a recent report found that "respecting the data that the customer has voluntarily provided" is the No. 1 priority for brands aiming to secure customers' trust.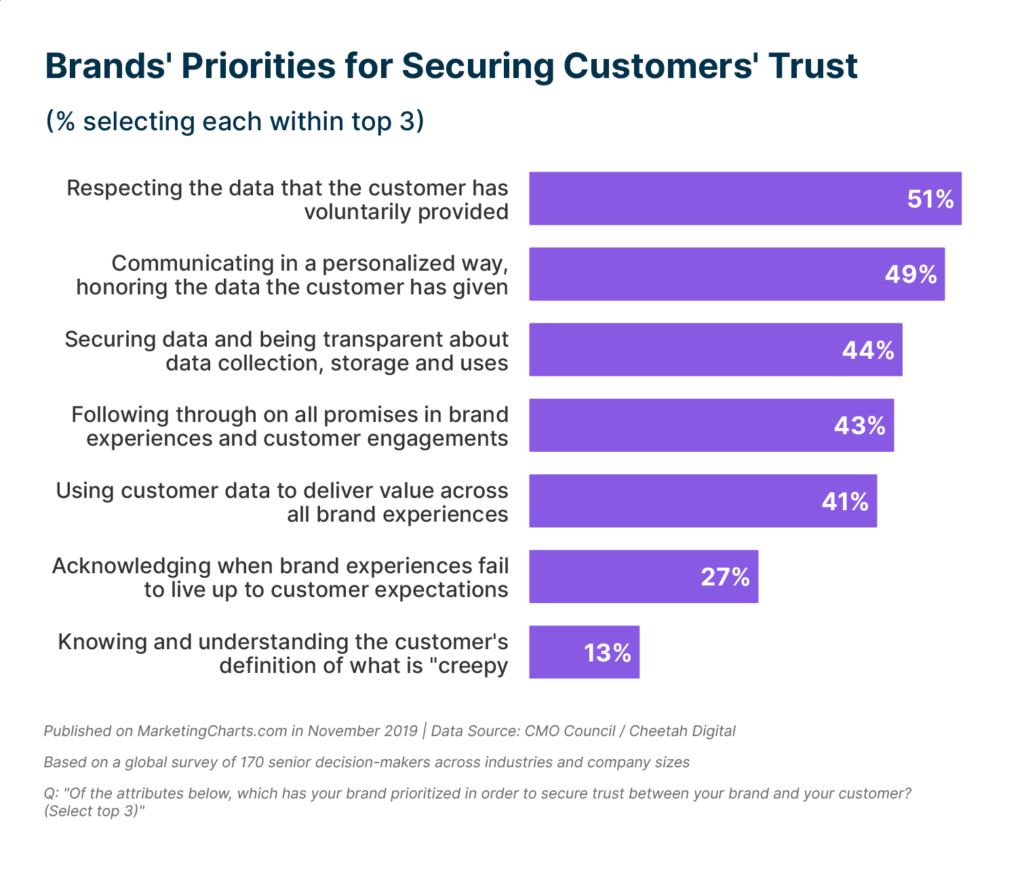 In the end, every brand operates with the end goal of making customers happy. Emphasizing how your data protection solution can enhance your clients' customer relationships makes your value proposition all the more powerful.
Risk Reduction
Business risk has taken on totally new meaning in today's modern business environment. No longer just a natural part of making big strategy decisions, risk now exists at every turn as companies operate at a more rapid pace, have increasing pressure to be innovative, and use complex IT infrastructures to function.
Your data protection solution not only protects customer data but as a result reduces risk across their entire organization. With the right solution in place, employees can operate with confidence knowing that their data and systems are secure, and IT leaders can refocus time they would have spent on data management on initiatives that help to grow their business.
Data-Driven Performance Reporting
Vendors demonstrate their value with data-driven performance reporting. That means when a company adopts your data protection solution, they'll get greater insight into their IT security performance and can use it to improve. Whether it's through greater data visibility in general or specific reports you share (likely a combination of both), outsourcing data protection enhances the role data plays in the process.
The larger impact is more data-driven (and thus smarter) decision making that keeps customer data and organizations more secure.
Changing the Data Protection Narrative
Part of the challenge of data solution protection marketing is that it covers a need many B2B leaders don't want to talk about—cybersecurity risk. Not only can it be overwhelming to think about (especially for leaders without IT experience), but it also means admitting that your organization is vulnerable.
But you have an opportunity to change the narrative by presenting data protection not only as a cybersecurity risk reducer, but also as an opportunity to enhance customer relationships, empower more confident employees, make better decisions, and be more strategic.
It's all about staying laser-focused on the customer—demonstrating that you understand their problems and can deliver value-adds far beyond just technical cybersecurity features.
If you're looking for innovative ways to share your solutions, reach larger audiences, and position yourself strategically alongside competitors in your space, ActualTech Media can help. Our multi-vendor webinars generate hundreds (up to 1,200-plus) qualified leads for participating vendors and come with analytics-driven post-event reporting.
We can also support your data protection solution marketing strategy with high-value, custom content marketing and content syndication services that help you reach your lead-gen goals and boost brand visibility in your space.
Ready to explore what a partnership with ActualTech Media can do for your business? Contact our team today to get started.