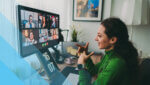 Webinar Marketing
Creating a Webinar Strategy That Delivers Every Time
Article Summary
Webinars have become an indispensable tool in B2B marketing, with a significant surge in their adoption since 2020. As highlighted by ActualTech Media, an astounding 99% of marketers deem their webinar strategies as crucial to their overall marketing success. Furthermore, 95% of B2B buyers acknowledge the importance of video content, like webinars, in influencing their purchasing decisions. The key to a successful webinar strategy lies in meticulous planning, understanding the customer's journey, and selecting topics that resonate with their interests and pain points. Technical proficiency is essential to ensure a glitch-free experience for attendees. Comprehensive promotion, spanning multiple channels, ensures maximum reach and engagement. Post-webinar, it's vital to repurpose the content for broader reach and to follow up effectively with attendees to drive conversions. Observing and learning from competitors and industry leaders can offer valuable insights to refine one's own strategy. In essence, a well-executed webinar strategy can significantly enhance brand awareness, lead generation, and revenue.
Your Comprehensive Guide To Effective Webinar Strategy Execution
As a B2B marketing tactic, webinars have been on a wild ride the past few years—in 2020 (not surprisingly in retrospect), the number of brands running webinars jumped by 36% in just one month between February and March. In the three years since then, they've stayed on the rise.
Today, a staggering 99% (!) of marketers say their webinar strategy is critical to overall marketing success, while nearly three-quarters say they directly impact sales pipeline and revenue.
Demand from B2B buyers isn't slowing, either—95% of B2B buyers say that video plays a direct and important part in helping them make purchase decisions, with "learning about a product/service" rated as the No. 1 reason they watch them (about one-third mention webinars specifically).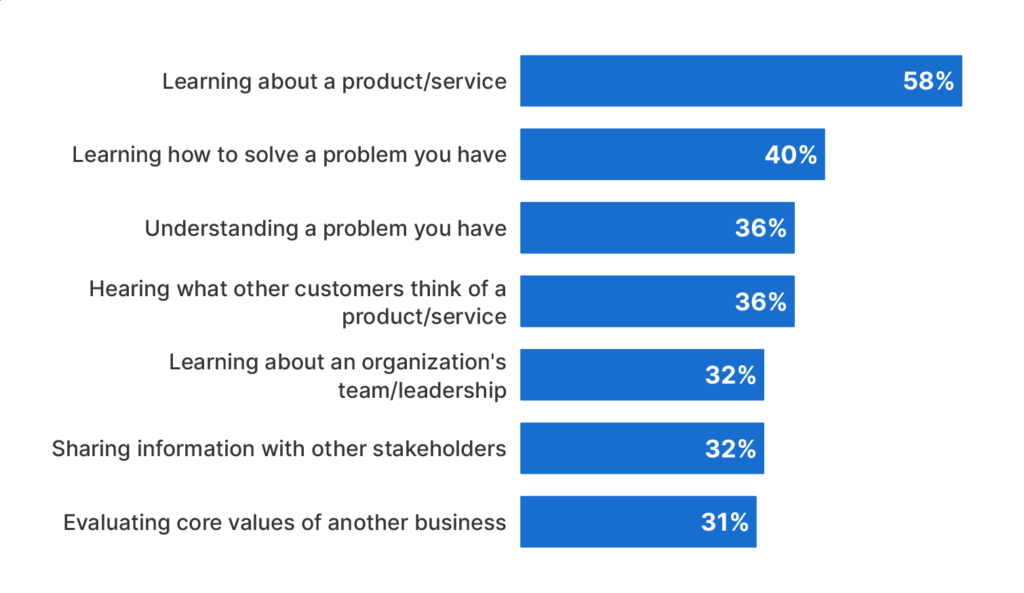 The takeaway: Your webinar strategy can make or break your ability to generate leads and win new customers over your competitors. And in a market that's becoming more and more saturated, you need to develop a strategy that's sure to stand out. In this guide, we'll tell you exactly how to do it.
We'll start with the right steps for webinar promotion and planning, then go over how to execute a seamless live event, and finally, cover ways to maximize webinar ROI after your live event is over.
When you're done reading, you'll know exactly what you need to do to build and execute a webinar strategy that delivers actual results in the form of greater brand awareness, more leads generated, and higher sales and revenue for your business.
Let's dive in.
Quick Takeaways
Webinar strategy planning should include topic brainstorming, scheduling, confirming hosts and speakers, and documenting an execution plan
Webinar topics must be heavily aligned with customer interests, pain points, goals, and business needs
A webinar platform built specifically for large events is the best option to avoid technical glitches
Your webinar promotion strategy should be multichannel and include every channel where you engage customers
Marketing and sales teams must be aligned to ensure webinar lead generation results in actual lead conversion
Webinar recordings are valuable post-event content assets that can be repurposed as long-term lead magnets
Attendee follow-up communications should motivate webinar leads to take action
It's smart to subscribe to partner and competitor webinar content to be inspired by (and gain an edge over) their webinar strategies
7 Steps To Building a Webinar Strategy That Delivers
Start with Thorough Planning
A webinar strategy that truly stands out starts with thorough, intentional planning. In order to grab the attention of your target audience, your webinars must cover topics that align with their interests, pain points, goals, and needs.
Why? Because B2B buyers don't care about brands—they care about solutions. They want to find providers that understand their company-specific needs and deliver resources that can address them. As such, you should start by creating a webinar team of marketers who know your customers well and can do the right research to supplement their existing knowledge.
Then, brainstorm topics you know will resonate with your audience. Don't guess, either—go right to the source by looking at:
SEO research: What terms/keywords are your buyers already searching for?
Social media: Which posts and topics are they engaging with? What questions are they asking?
Browsing activity: Where are web visitors going on your site? What pages are they spending the most time on? Which blog posts are they reading?
Customer support: What topics are customers getting in touch about? What do they need help with?
Products/services: What topics can you cover around your products and services to help customers realize full value from them?
Once you have a strong list of topics, plan your webinar schedule. You'll find tons of research on the best day and time to run a webinar, and you'll find lots of disparate advice. The truth is that while some times are obvious no-gos (think 8 a.m. on Monday or 5 p.m. on Friday), the best time to run your webinars really depends on your unique audience and customers.
Our advice is to know your own audience, experiment with times you think will work for them, and adjust over time. You can even ask your webinar attendees what they prefer in a survey question during or after the event. Depending on your webinar strategy goals, you may consider always running webinars at the same time to capture the same audience, or changing it up to capture different audiences with varying preferences.
After you've got topics and the schedule down, consider enhancing your webinar strategy by trying out different formats (i.e., PowerPoint and talking head vs. speaker panel vs. one-on-one interviews vs. product demos, and so forth). You can also leverage partnerships to co-host events, which adds more expertise to important topics and naturally widens your audience.
Pro tip: Consider creating a webinar strategy template to make this process repeatable for your marketing team, and enhance the consistency of your approach.
Nail the Technical Stuff
When you're executing a webinar event that may have hundreds (or even 1,000+) attendees, the last thing you want to worry about is a technical glitch that ends the webinar early or has a negative impact on the attendee experience.
While companies are succeeding with Zoom and other video conferencing software, adopting a webinar platform designed specifically for events is a safer bet (and can make your webinars look more professional). Research platforms that provide the features your events need (there are lots of options out there), and get to know it well before you hold an event.
Further, make sure your hosts and speakers have the right audio equipment and strong enough connections so that their participation is seamless.
Especially as you're getting started with an expanded webinar strategy, we recommend doing test runs of your events that include all hosts and speakers. It's a great chance for everyone to get to know the agenda and familiarize themselves with the technology before there's an audience.
Launch a Full-Scale Webinar Promotion Strategy
You can run the best webinar in the industry, but if people don't know about it, you won't have any attendees! That's why you need a killer webinar promotion strategy behind your events (for each single event and for your collective webinar schedule).
You can check out our comprehensive guide on webinar promotion to take a deep dive on this step, but here are a few of the most important tactics to keep in mind:
Webinar Landing Pages: Your event's digital hub that includes all important information about the event and the registration form (should be the singular place you send people to register)
Webinar Events Page: If you run multiple webinar events, create a one-stop shop where your audience can go to see your webinar schedule and search for events that interest them (check out ActualTech Media's webinar page to inspire you!)
Multichannel Promotion: Promote your webinar on every channel where your audiences engage, including social media, email, blogs, ads (and any others you use)
Shareable Content Assets: Create a library of content assets like social media graphics and banner images that you (and your brand advocates, like employees and partners) can use to help promote your event
In-Event Promotion: During your webinar (usually at the end, as part of the wrap-up), mention future webinar events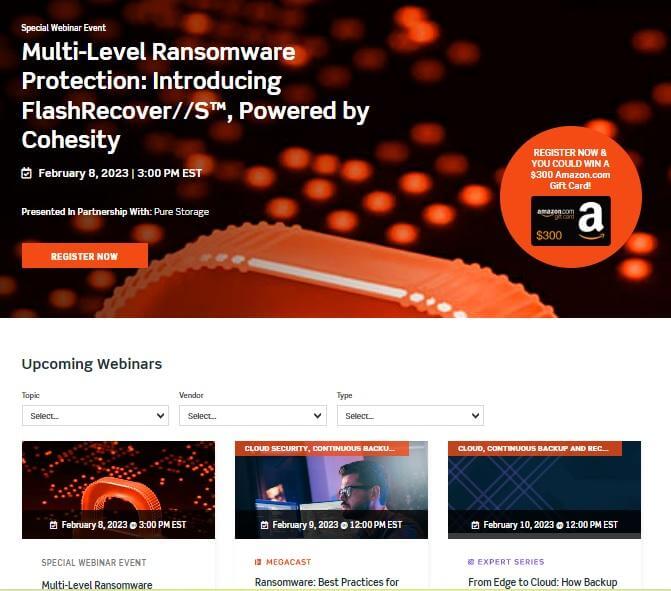 Pro tip: Don't execute an ad-hoc promotion strategy. Before each event (or before you launch a webinar series), build a comprehensive, documented webinar promotion plan that includes tasks, timelines, deadlines, and persons responsible for executing.
Align Marketing and Sales on Webinar Lead Gen
Webinar lead generation is one of the primary goals for most webinar strategies — and that requires aligning marketing and sales around the process.
Ensure your marketing and sales leaders communicate about webinar lead gen and how it will be executed. Talk through critical steps (like the lead handoff between marketing and sales) and maintain a shared view of your end-to-end webinar funnel (like the one pictured below).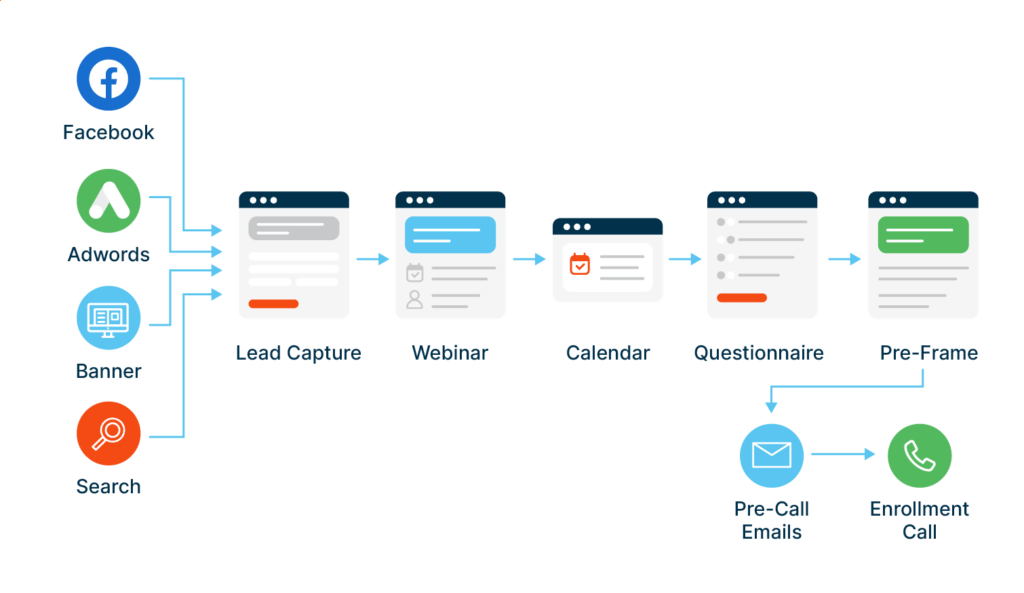 It's a good idea to meet periodically to assess your strategy's performance, identify gaps and challenges, and collaborate to find opportunities for improving your overall strategy. Being on the same page as your sales teams means you won't just generate lots of leads from your webinars—you'll also improve your conversion rate.
Repurpose Your Webinar Content
After your live webinar ends, the recording immediately becomes a high-value content asset you can use in several ways to drive higher ROI. Some of the most effective ways to do it include:
Post-Event Follow Up: Send your webinar recording link to registrants that attended your event (and encourage them to share it) and those that didn't (and encourage them to watch it)
Maintain Your Landing Page: After your event is over, turn its landing page into an ongoing opportunity for lead gen—simply turn your live event registration form into a gated content form that grants access to the recording (keep it active as long as the webinar content stays relevant)
Share on Social Media: Buyers love video content; share your recording on social media to capture new audiences who may not have seen your original event promotion
Create a Webinar Library: We mentioned this already, but don't forget to add all recordings to your webinar event page so visitors can access your full library of content
Follow Up Effectively
Your webinar follow-up strategy is one of the key pieces of the puzzle when it comes to actually converting leads you generate from your event. While you want to share your recording for sure, you also need to think about your sales process and what leads need to do next in order to move forward on their buyer journey.
Design your follow-up communications with the specific purpose of getting leads to take action, and include CTAs that leave no question around what that action should be. Some examples:
Contact your sales team to book an appointment
Schedule a product demo
Fill out a form to receive customized information
Make a purchase
Register for another upcoming webinar
Secondary to getting buyers to take action in the sales process (but also critical to your webinar strategy) is collecting their feedback on your event. You can do this during your webinar with survey questions (like a Net Promoter Score rating or a simple "Did you enjoy this event?" question), but your post-event communication is an opportunity to get even more from attendees.
Don't make it complicated, but do give attendees the option to share their feedback through both multiple-choice and/or rating questions, and open-ended questions where they can share comments in their own words (see the example below).
Most importantly, aggregate the feedback you receive from attendees and use it to continually improve your webinar events.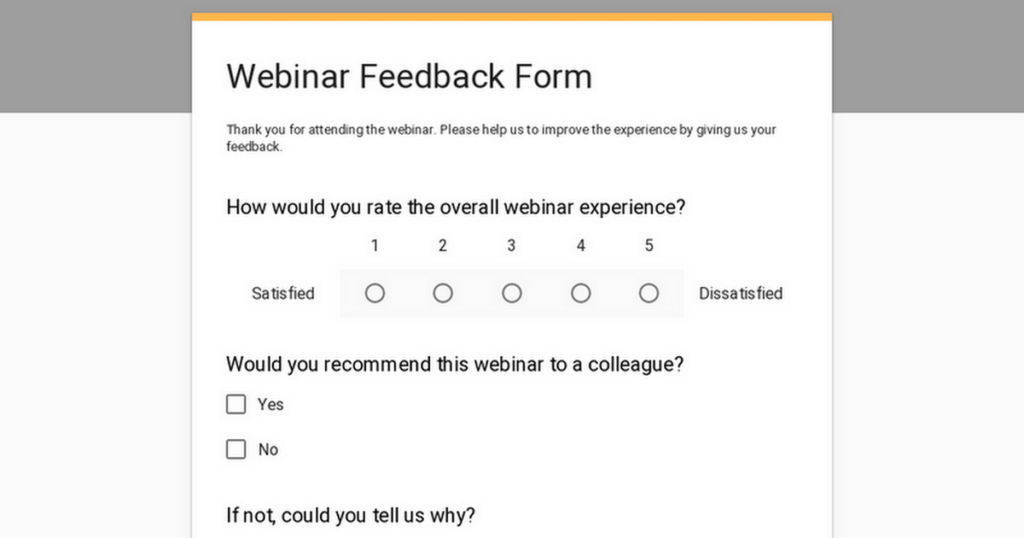 Look for Great Webinar Strategy Examples
Your webinar strategy should be unique, creative, and true to your brand—but that doesn't mean you need to reinvent the wheel. There are tons of brands executing awesome webinar strategies already, and you can use them to inspire your own.
For tech webinar ideas, feel free to check out ActualTech Media's events, webinar page, and promo materials. Do the same for other brands you love, including your partners and yes, your competitors.
In fact, your competitors are the most important brands to watch and take notes about. Learn what they're doing and don't just repeat it—find ways to do it even better to gain an edge.
Pro tip: Subscribe to partner and competitor brands that you need to know about and/or you think will inspire your webinar strategy. Then you'll never miss an important update!
Over to You
Looking for easy and effective ways to enhance your brand 's webinar strategy? If you're a tech company, ActualTech Media's multi-vendor webinars present a huge opportunity for you to drive growth through webinar marketing.
We connect B2B tech marketers directly to capable, motivated audiences in hot-topic industry events that generate anywhere from 200-1,200+ high-potential leads for your business.
Get in touch with us today to learn more and get started!