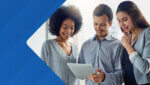 Content Syndication
The Pros and Cons of Website Content Syndication
Article Summary
Content syndication is a strategy that allows marketers to distribute their content on third-party websites, aiming to increase brand awareness and reach a broader audience. This method can be particularly effective for B2C marketing when targeting a wide audience. Some of the advantages of website content syndication include its cost-effectiveness, simplicity, and access to a vast audience on platforms like Medium. However, there are also challenges associated with this approach. For B2B businesses, the results might not be guaranteed due to the inability to target specific audiences. There's also a potential risk to SEO strategies, as duplicate content can affect search engine rankings. Additionally, metrics for reporting might be limited, and the media formats available for syndication might be restricted. An alternative to this is content syndication for lead generation, which offers a more targeted approach, ensuring content is sent directly to high-value accounts, leading to better quality results.
Do you want to reach a broader audience than your current marketing channels do? Content syndication can give your marketing the boost it needs by increasing your reach and content views. However, there's more than one way to perform content syndication. Learn whether website content syndication is suitable for your marketing goals and what other alternatives you can consider for reaching new audiences.
Key Takeaways:
Website content syndication is a broad marketing strategy that reaches a large audience
Content syndication for lead generation targets a few valuable accounts for higher quality results
Website content syndication costs less, but it also offers fewer customization options, like filters
Content syndication for lead generation provides a list of net-new leads
🤫 PS: Looking for pricing on content syndication leads? Get a price list here
What Is Website Content Syndication?
Website content syndication is distributing your content on a third-party website as a mass distribution strategy. Visitors to that website see your content along with the website's native content.
You can repost your website content on public sites like Medium or LinkedIn to increase your brand awareness. However, you can reach a broader audience by using a content syndication platform that sends your content to several websites at one time by inserting that content into participating website's content syndication widgets.
This strategy increases brand awareness and works for B2C marketing when you have a broad audience. It's different from content syndication for lead generation, a targeted strategy that works better for B2B tech businesses who want to reach a targeted audience.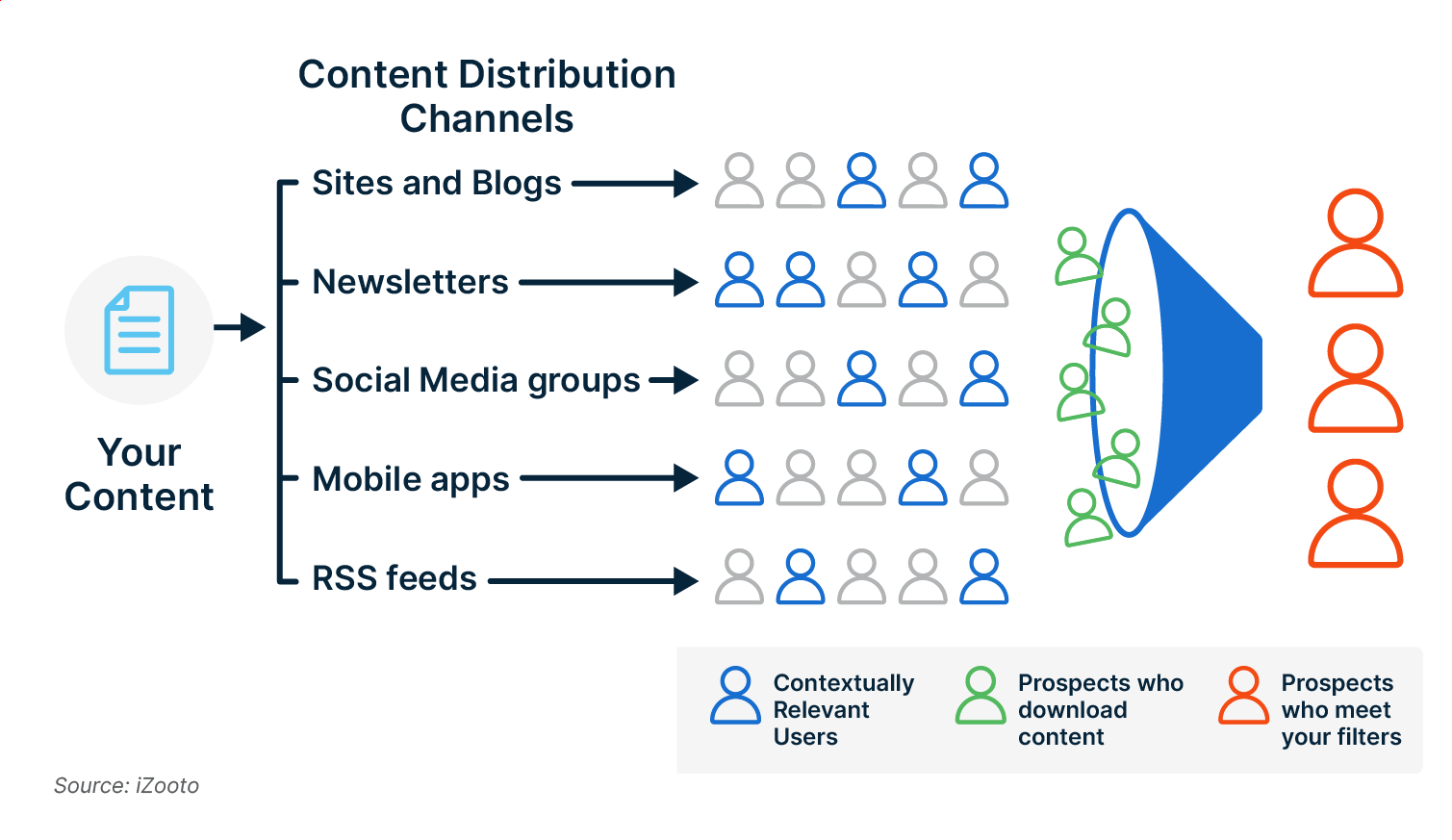 Pros of Website Content Syndication
There are three primary reasons why marketers might choose website content syndication.
1. Low Cost To Distribute Content
Website content syndication costs less than targeted strategies. On some sites, you can even share your content for free.
Because this option is free, it also has few or no filter options. You publish your content on their site for anyone who comes to the website, whether or not they're potential buyers.
While paid content syndication platforms cost more initially, they also guarantee a higher return as you have more control over where you share your content and who sees it. This increases your chances of conversion as you can focus your resources on those with a high buyer's intent.
2. Simple-to-Use Platform
Website content syndication platforms don't have many additional features. In most cases, you can upload your content once and forget about it because the platform will send it across several websites.
It's simple because you don't have options to set up audience criteria and can't target specific accounts. Instead, it's a general marketing strategy for raising awareness.
In contrast, ActualTech Media allows you to target specific accounts and establish filters to ensure your content appears in front of your niche audience of B2B buyers.
3. Access to a Large Audience
Many of the websites that publish syndicated content have a huge reader base. For example, Medium  received over 236 million views in one month. However, individual articles on its sites see anywhere from a couple hundred views to a couple thousand, depending on whether the traffic finds it relevant and valuable for their needs.
Because you can't target your audience on the site, you don't have much control over who will read your content. Instead, you rely on relevant buyers stumbling upon your article. If most of your audience is the general public, the chances of the right buyers finding your content are much higher than if you have a niche audience of B2B decision makers.
ActualTech Media eliminates the guesswork of content distribution by sending the content directly to your target B2B audience.
Cons of Website Content Syndication
Website content syndication works well in some B2C cases. However, most B2B businesses find that several challenges arise when they rely on this strategy for distributing their content.
No Guaranteed Results
When you syndicate your content to a large crowd, you have less control over who's seeing and responding to your call to action because you can't target your audience. While you might see a jump in website visitors, you don't know how many of those visitors are serious buyers. You also can't follow up with those buyers with lead nurturing content.
When you perform content syndication for lead generation, you send the digital asset directly to high-value accounts, where they exchange their information for the content. You can ensure your content appears in front of those accounts by using several filters like geo, title, and industry.
In addition, ActualTech Media will work with your suppression list to ensure the results you receive are net-new leads.
Limited Metrics for Reporting
Metrics are what tell you whether your tech marketing strategy is successful. Without established metrics or easy-to-track results, you risk wasting resources on efforts that don't offer a return.
Website content syndication doesn't offer detailed results that you can track and measure since you rely on website traffic to know whether your content was successful.
ActualTech Media's content syndication strategy provides several data points in your report, including who downloaded your digital asset, their title, industry, and contact information. In addition, when you syndicate your content, you can customize your form fields to ensure you collect the information you need about your traffic to accurately measure your return. About 84% of marketers include forms in their lead generation strategy.
You can use this information to track that contact and send them relevant content throughout their buyer's journey.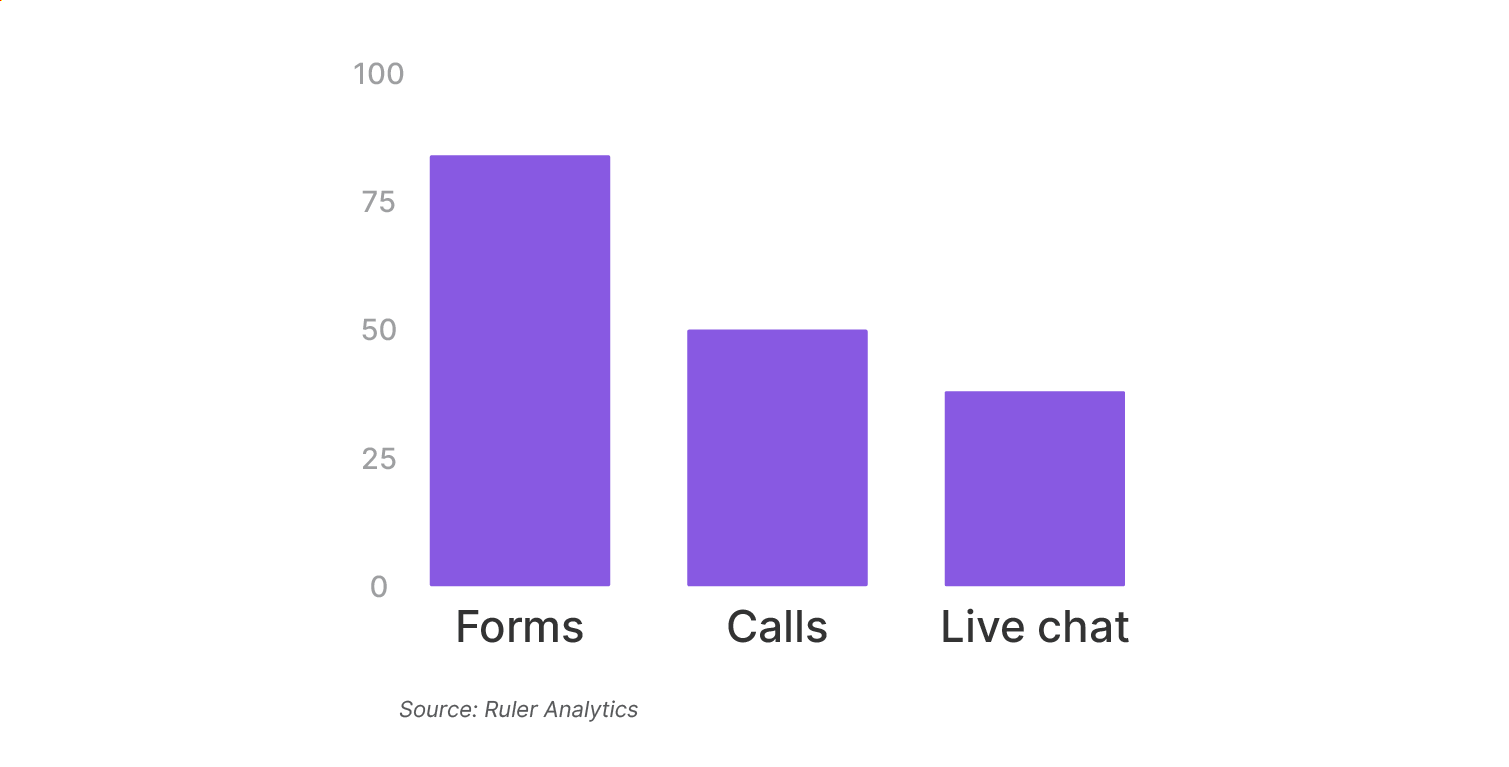 Limited Media Formats
Many content syndication websites work mainly with blog posts. This limits what types of digital assets you can use in your strategy. For example, 70% of B2B marketers say video is a highly effective conversion format. However, you can't use it with many website content syndication services.
When you use platforms like ActualTech Media, you aren't limited to a select few content formats. Instead, you can syndicate:
E-books
Webinars/videos
Whitepapers/tech briefs
Infographics
Podcasts
Any format you can gate and exchange for lead information works well in content syndication through ActualTech Media.
Can Hurt Your SEO Strategies
When you use content syndication to share content you already have on your website with third-party sites, you risk interfering with your search engine optimization (SEO) strategy for that content. This is because the Google algorithm avoids showing duplicate articles in search engine results, which results in only one article ranking for your chosen keywords.
Unfortunately, you can't choose which one ranks as that's dependent on the algorithm. It can be the version you don't want ranking.
ActualTech Media's content syndication doesn't rely on SEO, which allows you to syndicate content you already own without competing with yourself in search engine results.

Alternative to Website Content Syndication
While website content syndication has its place in B2C marketing, you can see more targeted results and receive a greater return when you invest your marketing resources in B2B content syndication for lead generation.
Content syndication for lead generation switches out general strategies and unreliable results with direct syndication with targeted results you can use in your future marketing.
Contact us to learn more about our content syndication for lead generation strategies.