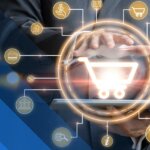 Content Marketing
How To Create Sales Enablement Content in the Tech Space
Article Summary
In the tech sector, the bridge between marketing and sales is the sales enablement content. While content marketing introduces potential customers to a brand and its offerings, sales enablement content is laser-focused on converting these leads into actual customers. This type of content provides detailed information that potential buyers need to make an informed purchase decision, such as product details, infographics, videos, and direct calls to action. However, a significant gap exists, with 78% of buyers stating they don't receive the necessary content from salespeople to make a purchase. To address this, businesses are increasingly focusing on creating sales-focused content. This involves understanding the decision-makers, fostering a close connection between sales and marketing teams, sharing detailed product and service information, supporting claims with testimonials and case studies, and mapping the customer journey. By doing so, tech companies can craft content that effectively guides leads to a purchase decision.
Your content marketing team connects with potential customers and educates your audience about your brand, as well as the products and services you offer. However, their content often doesn't directly lead to a sale. That's the job of your sales enablement content. It's the vital bridge between your sales and marketing team that turns leads into customers.
We'll explore what sales enablement content is and how you can create sales-focused material for the tech space.
Key Takeaways:
Sales enablement content converts the reader into a customer
Sales content requires a close connection between your sales and marketing teams to ensure the content attracts the right consumers and ends in a sale
Sales-focused content can be blog posts, product descriptions, infographics, and videos
Address the primary decision makers with your sales enablement content
🤫 PS: Looking for pricing on custom content for Tech? Get a price list here
What Is Sales Enablement Content?
Sales enablement content presents information buyers need to make an informed purchase decision. The content can be articles, videos, product details, infographics, or any other content that provides more information about specific products and services and ends with a direct link or call to action for making a purchase.
Unfortunately, there's a considerable lack of understanding about sales enablement content. In fact, 78% of buyers say they don't receive the content they need from salespeople to make a purchase decision.
Thankfully, businesses are responding to this need. The following graph maps the number of searches for "sales enablement" on Google. It shows the growing interest in the topic over the past 10 years as marketing teams shift their focus to sales content.

Image from Google Trends
How Is Sales Enablement Content Different from Content Marketing?
Content marketing builds awareness and attracts quality leads that may eventually turn into customers. While marketing content may have a call to action, the action isn't always a purchase. Instead, it might be requesting a demo or contacting your company or a sales representative for more information.
This is where sales enablement content differs. The end goal of your sales content is conversion, which is why it works well alongside content marketing. IT marketing content will build trust and educate your customer before your sales content converts them with facts and details.
Types of Sales Enablement Content
Here are a few specific forms of sales enablement content the tech industry uses to convert consumers and businesses:
Informational blog posts
Product or service case studies
Technical and executive brief papers
Infographics
Ebooks and guides
Testimonials or feedback
Software demos and videos
Email campaigns
Mixing up your sales content with different formats helps to keep your content interesting, engaging, and memorable.
5 Steps To Create Sales-Focused Content for Tech Companies
These five steps will help you create a sales enablement content strategy that will increase your conversions by connecting you to the right people at the right time.
1. Understand the Decision Makers and End Users
Sales enablement content has a much smaller audience than general marketing content because you're addressing the primary decision makers within businesses. These are the people who have the power to purchase your product or service. To create effective content, you must know who those decision makers are, their primary pain points, and their needs.
For example, below are a few of the most common roadblocks B2B sales encounter. Your sales content should address each of these challenges in a way that speaks directly to the company decision makers in the language they understand, like detailing how your software saves the entire business money or increases revenue instead of focusing on how a specific team benefits from your products.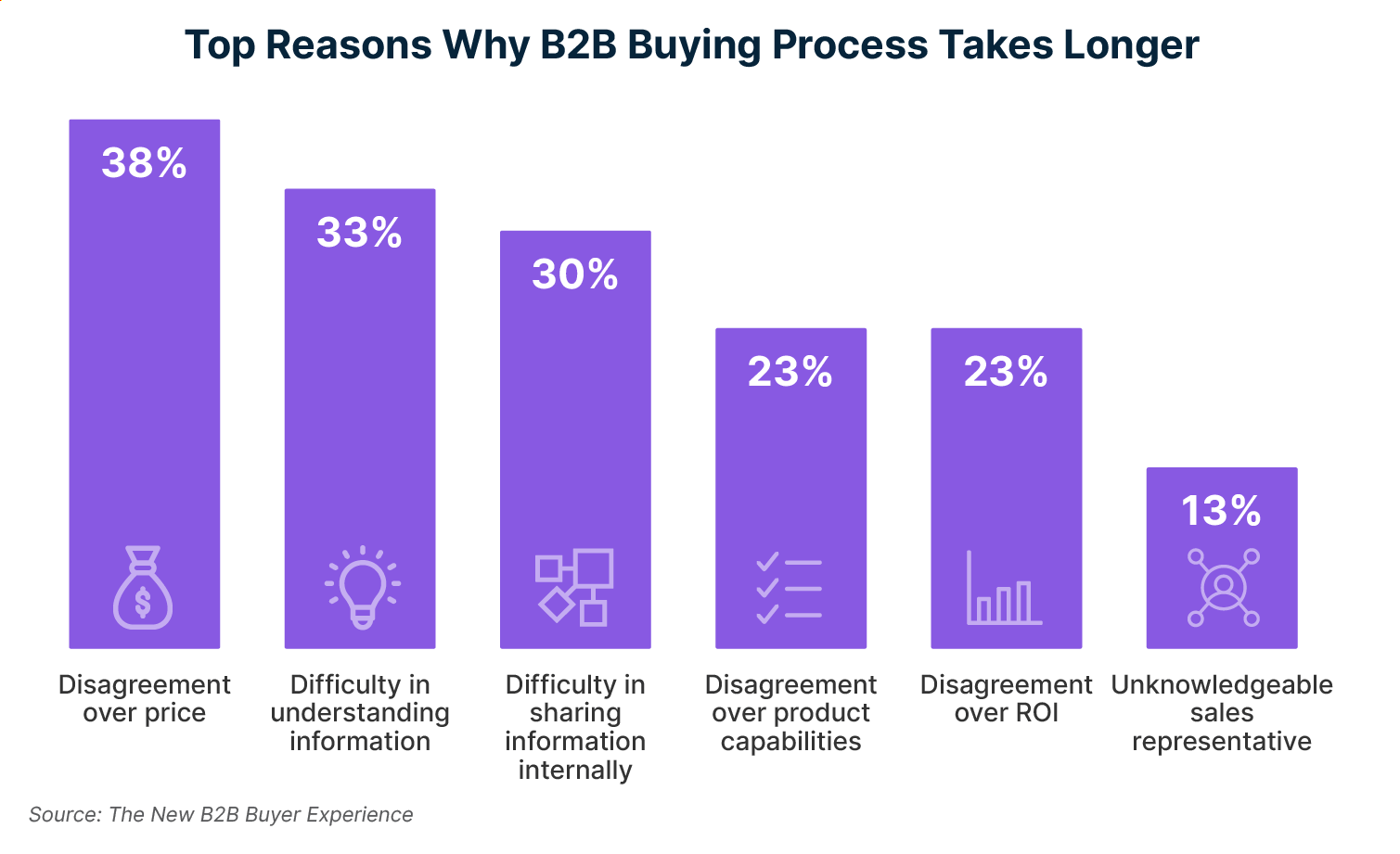 2. Connect Sales and Marketing
Sales enablement content moves leads from the discovery stage to the decision-making stage, which requires a close connection between these teams. A seamless transition will improve your conversion rate and customer satisfaction. One report showed that 95% of buyers prefer a business that provides content for each buying process step.
Your salespeople are the most valuable source of information for creating data-driven sales content that closes deals. They understand every detail of the sales process and what works with your target customers.
Marketers need that data to create content that converts. For instance, they can use sales data to address specific pain points within their content or include sales enablement infographics while discussing company products that lead customers into the buying stage.

3. Share Product and Service Details
One survey showed that 73% of B2B buyers said features and functionalities of a product were the most important factor they consider when making a purchase, followed closely by 72% who said pricing and 59% who looked at reviews.
Your content should be more information-heavy than other tech marketing content because you'll include product details, prices, and other relevant purchasing information.
Some of the best formats for creatively yet effectively sharing tech product details include:
Comparison charts of different options
Product brochures or one-pagers outlining your products
Pricing guidelines that help your readers choose the best option
Video demonstrations of products
4. Support Your Claims
Because products and services in the technology industry require a significant investment, buyers won't make a purchase lightly. Instead, decision makers need to fully understand the complex product and its benefits before they feel confident purchasing it.
You can encourage a conversion by supporting your claims through testimonials, case studies, and software demos that let your readers see the benefits of your technology for themselves.
5. Map the Customer Journey
Mapping your customer's journey tells you how leads move through the sales pipeline, what content they saw along the way, and what content formats were most effective for conversions. These can help you customize your sales content to target specific groups and refresh old content to incorporate new data.
For example, businesses who find your products through social media may have different needs than those who find your products through online searches. You can create sales content specific for each channel that focuses on the products those market segments need most.
Start Creating Expert Sales-Focused Content
ActualTech Media has an expert understanding of sales content for the tech space. We used this knowledge to create an interactive content solution that will streamline your content creation process, track your results, and improve your marketing strategy.
Learn more about our sales enablement content solution and start making quality content that converts.