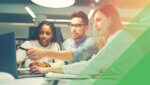 Tech Marketing
Do You Really Need a Cybersecurity Marketing Agency?
Article Summary
In the rapidly evolving cybersecurity landscape, businesses often grapple with the challenge of effectively marketing their services. ActualTech Media's article delves into the pivotal role of cybersecurity marketing agencies in navigating this challenge. While cybersecurity professionals are experts in their domain, marketing requires a distinct skill set. The article addresses common apprehensions, such as the authenticity of representation by an agency and the return on investment. By partnering with a specialized agency, businesses can elevate their brand in a competitive market, allowing them to focus on core activities. Such agencies bring to the table a blend of technical expertise and marketing acumen, ensuring consistent, high-value content delivery. They employ data-driven strategies, leveraging tools like SEO, content marketing, and email campaigns. The article also offers guidance on selecting a trustworthy agency, emphasizing the importance of track records, alignment with business values, and intuitive decision-making. In essence, a cybersecurity marketing agency can be a game-changer in a business's growth trajectory.
Uncover the powerful benefits of hiring a cybersecurity marketing agency, plus how to find one you know you can trust.
As a cybersecurity professional, you're probably used to being the expert in the room. While most business professionals know how critical cybersecurity is to their organizations, they don't actually understand it themselves.
So when it comes to outsourcing your lead-gen efforts to a cybersecurity marketing agency, you might be thinking:
Should we really do this?
Are there marketing agencies that really know cybersecurity?
Can an agency represent our brand authentically?
Will the end results be worth the financial investment?
These are all valid questions that we'll answer in this guide. But we'll give you the short answer before we dive in—Yes. To all of the above.
Hiring a cybersecurity marketing agency allows you to elevate your brand in what's becoming an increasingly competitive market. You can focus on your own mission-critical activities—namely, engaging with prospects and customers—while an agency with cybersecurity expertise does the work to keep your pipeline full.
If you're still in doubt, read on. The following sections will tell you exactly why you need a cybersecurity marketing agency, the benefits an agency can bring to your business, and how to find an agency you know you can trust.
Quick Takeaways
Demand for cybersecurity services is growing exponentially, as is the number of providers in this space
Cybersecurity marketing agencies have the technical expertise and marketing know-how you need to build your reputation and grow your business
Important benefits cybersecurity marketing agencies can deliver include: audience and competitive insights, subject matter expertise, automation and technology tools, and time and cost savings (among others)
You can find an agency you can trust by seeking out a proven track record with past clients, alignment with your operating style and culture, and high-quality performance reporting processes
The Current State of Cybersecurity Marketing
The rise of the cloud over the past decade—and especially the past several years, since the pandemic radically decentralized work environments—has brought on a number of critical new cybersecurity challenges for organizations.
The pace of development and deployment has increased exponentially, but so has the cost and occurrence of cyber crime. Statista reports that the worldwide cost of cybercrime increased by a staggering 10x since the start of the pandemic, and is expected to nearly triple again by 2027.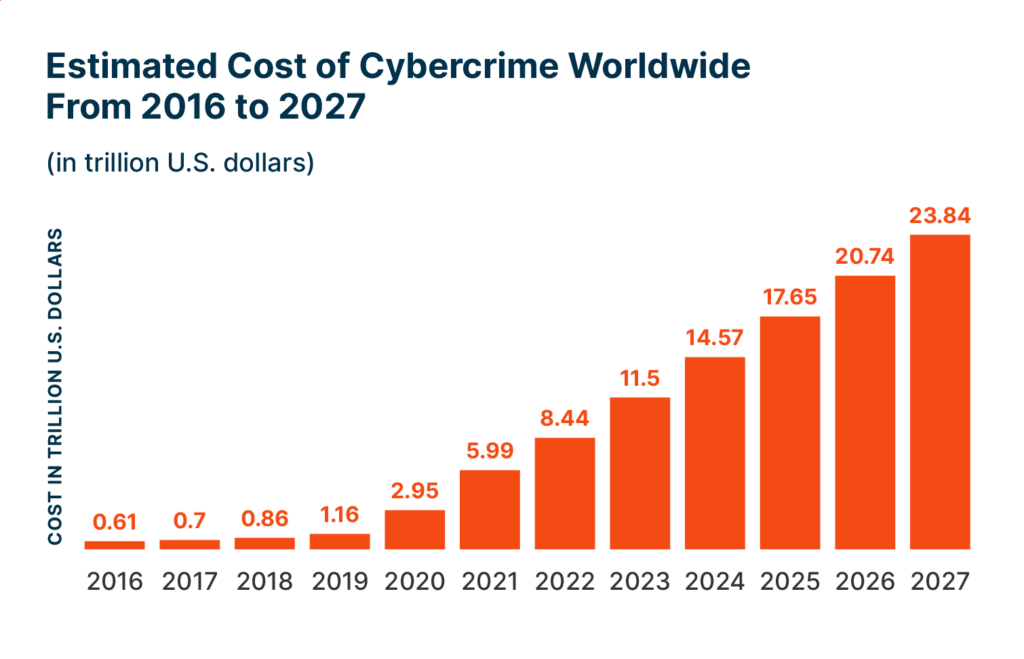 At the same time, cyber adversaries are getting smarter and more sophisticated, aiming to attack wider, more vulnerable cloud-based attack surfaces.
The result is a massive rise in demand for trustworthy cybersecurity services, but a simultaneous rise in new companies launching to meet that demand—which, as you can see above, is likely to continue growing for the foreseeable future.
The B2B cybersecurity buyer journey (as in every other industry) has become increasingly digital and independent. Buyers do most of their research on their own using search engines, and the number of options that exist at their fingertips far surpass the time they have to actually learn about each of them.
This all means that even the very best cybersecurity providers need a way to stand out online, or they won't get noticed by their target customers. Cybersecurity marketing agencies combine subject matter expertise with digital marketing experience and know-how in all the areas you need to be active in order to reach your target audience, including:
Search engine optimization (SEO)
Content marketing
Digital events (i.e., webinars)
Social media
Online prospecting and lead gen
Email marketing
Perhaps most importantly, hiring an agency can put you a step ahead of your competitors who aren't showing the same focus on brand visibility that you are.
10 Benefits of Hiring a Cybersecurity Marketing Agency
Target Audience Insight
Do you know your audience? If you haven't explored it from a marketer's perspective, you can't be sure. A cybersecurity marketing agency can help you identify your best-fit customers based on how their demographic traits and business needs align with your solutions. Most will use two proven frameworks to do it:
Ideal Customer Profiles (ICPs): Describe organizational traits like industry, company size, location, or budget
Buyer Personas: Describe the individual traits of decision makers within organizations, such as position title and level of experience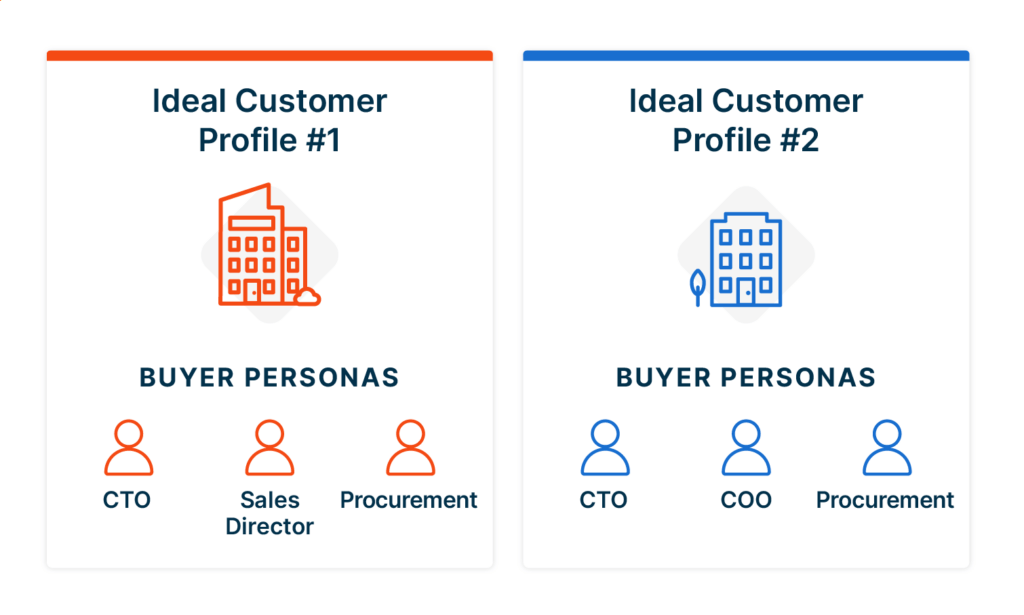 These frameworks help you take an informed approach to qualifying leads accurately and targeting the right audiences with your marketing efforts so your pipeline fills with prospects that are likely to convert.
Competitive Insight
One of the biggest benefits an agency delivers is competitive insight—research-based knowledge about your larger market landscape and how to move ahead of top competitors in your space. You can do this using SEO and content marketing, by adjusting your offerings to better compete with other providers, or by finding an underserved niche to fill.
Agencies have the right tools, expertise, and research processes to help you uncover these kinds of insights and develop a marketing strategy to maximize competitive opportunities.
Best Practices and Processes
When you hire an agency, you can expect ready-made processes and established best practices for executing your marketing strategy. That means you won't have to start from scratch, which is a huge time saver for your own internal teams.
Further, you can trust that the processes in place at an agency are proven to work, since they're already being used with other clients. All you have to do is plug in your unique value proposition and business offerings to reach buyers who need them.
Expertise
You're the expert when it comes to cybersecurity—but a cybersecurity marketing agency has the expertise on how to successfully market to buyers in your industry. Even better, agencies usually have a wide range of expertise within their teams on all of the tactics you may want to include in your strategy—from SEO and email, to social media and events (and more).
Automation and Technology
Automation and technology are essential for any good marketing strategy to be executed at scale. SEO research software, automated email marketing platforms, social media management platforms, and marketing KPI trackers are all status quo tools you can expect agencies to be using when you hire them.
Automation is also becoming a competitive imperative for most B2B providers—one that has benefits that extend far beyond speed and convenience. Marketers report important benefits from automation such as higher-quality leads, a better customer experience, and higher conversion rates.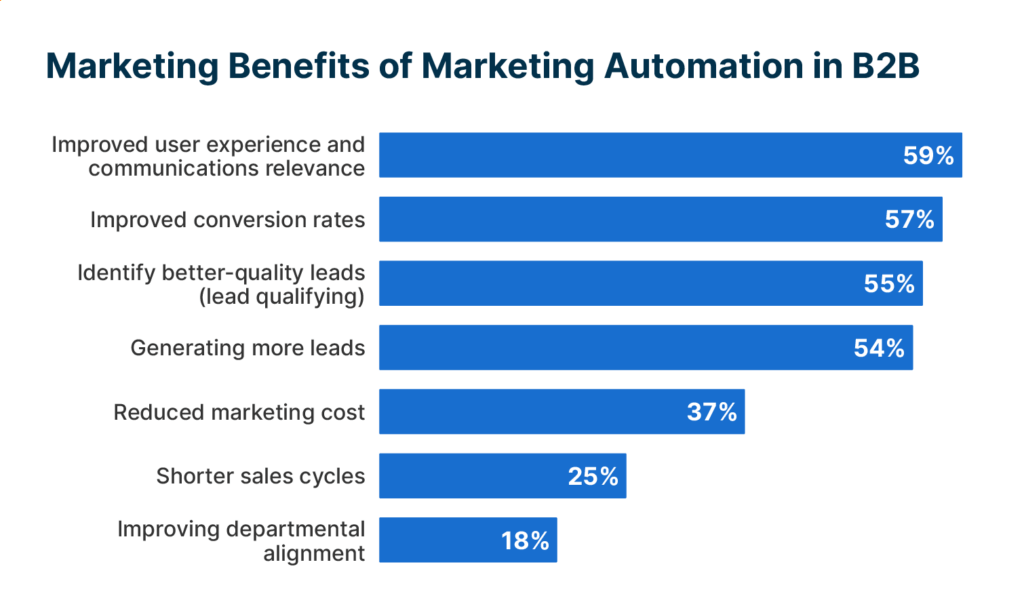 Time and Cost Savings
Many businesses hesitate to outsource because they see it as a financial investment they may not be able to afford. In reality, however, the opposite is true—outsourcing, on average, saves businesses 15% or more compared to what they'd pay to execute similar processes internally.
At the same time, you'll get back valuable time you would've spent on marketing efforts to focus on other mission-critical activities that help your business grow.
Consistent, High-Value Content
Almost every business uses content marketing in some capacity. But to make it really effective, you need to publish content consistently and frequently—ideally, multiple times per week. HubSpot research found that to build brand awareness and earn organic traffic, businesses need to publish at least three to four times per week (even more for large companies).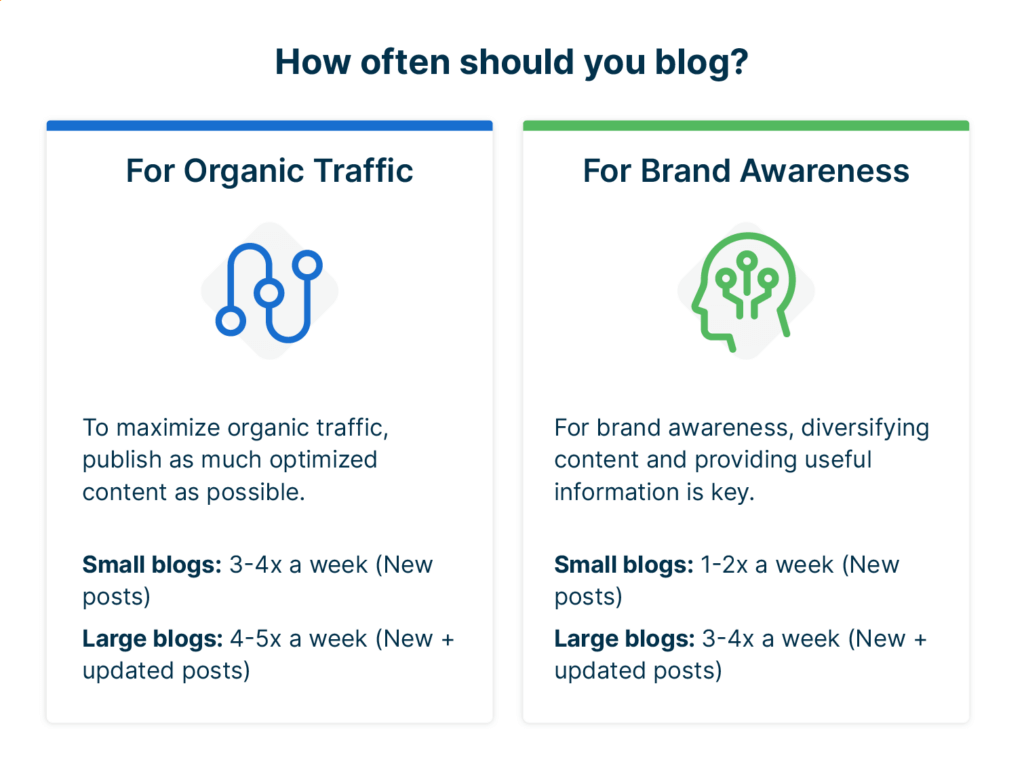 When you consider that a single, quality blog post takes three to four hours to write (on average) you're looking at the equivalent of a full-time position just to maintain an active blog. If you're like most business owners or marketing leaders, it's not time that you realistically have to dedicate to this kind of activity.
A cybersecurity marketing agency both ensures your content is always optimized and can create it at the volume you need to gain visibility through important marketing channels.
Data-Driven Strategy
Marketing your business shouldn't be a guessing game. You want your efforts to be informed and based on real, objective data. A cybersecurity marketing agency will uncover the data you need to make smart marketing decisions. They'll know exactly how to find out things like:
What your target audiences are searching for
How you (and your competitors) rank visibility-wise
Who visits your website and how they browse
How your marketing strategy is performing at any given time
Knowing this information and making data-driven decisions is important for every business—the latest research from McKinsey on the subject found that every level of every business will be data-driven by 2025.
Separate research from Wyzowl indicates an opportunity to gain a real competitive advantage by getting up to speed on this capability now, rather than later. Right now, more than 90% of companies know data-driven decision making is important, but a significantly lower percentage are actually doing it.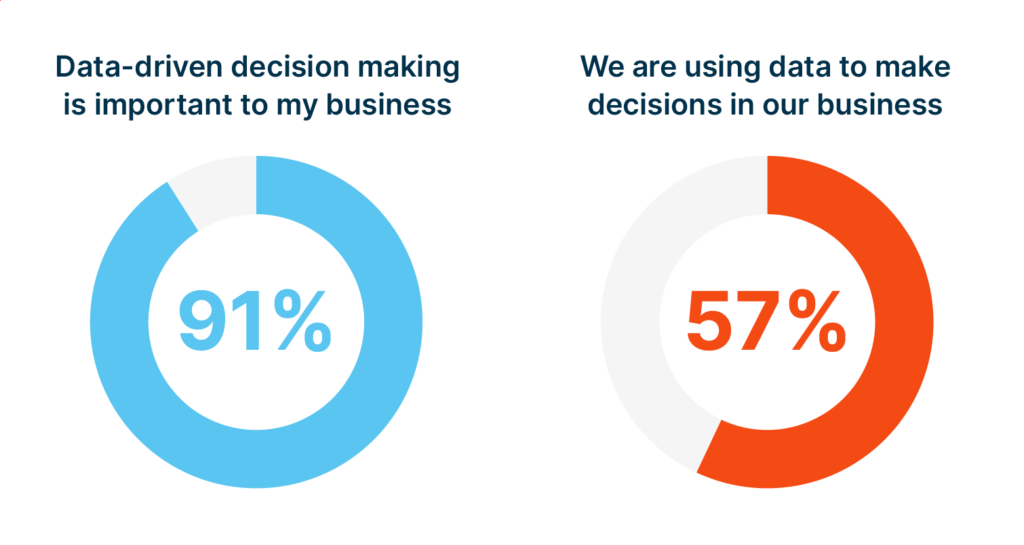 A cybersecurity marketing agency can give you the support you need to make your marketing strategy more data-driven immediately.
Frequent Performance Reporting
Agencies prove their value to clients by delivering frequent data-driven performance reports to demonstrate the ROI of their work. This means you'll always be in-the-know about how your strategy is working (or not) and you can make informed decisions and adjustments to maximize marketing results at all times.
Fresh Perspectives
There's no doubt about it—you know your business better than anyone else. And while this is often an advantage, it can also create limitations when it comes to marketing. Agencies can bring you fresh perspectives that yield new marketing ideas, expanded creative capabilities, and a more objective sense of how your prospects and customers view you.
How To Find an Agency You Can Trust
The truth is that not every marketing agency—cybersecurity ones included—is equally fit for every client. There's a reason many vendors exist for any given service, and it's because different needs and preferences exist across any given customer base.
Some agencies will also naturally be more experienced and higher-performing than others. As the client, you'll want to find the ones able to deliver the best results.
To help you do it, let's walk through some of the best indicators of a cybersecurity marketing agency you can trust.
Check Their Track Record
A quality agency will have a solid (and usually public) positive track record with their clients and reputation in their industry. There are a few places you can look to confirm this:
Client Case Studies: These are usually published right on the agency's website
Reviews and Testimonials: You may find these on an agency website, but you can also look for objective feedback on review sites like G2
Referral Networks: Word of mouth referrals have a huge influence on B2B buying decisions (as you can see from the stats below)—don't hesitate to turn to peers and partners in the cybersecurity space for recommendations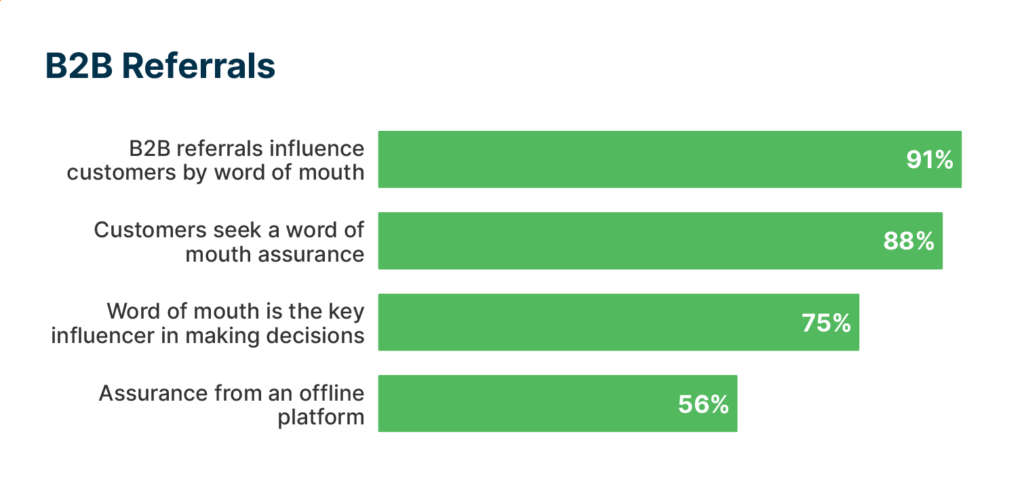 Look for Alignment
When you outsource marketing, you're maintaining an ongoing working relationship with your agency. You want that relationship to be as seamless as possible.
When you look for an agency for your business, look for alignment as it relates to processes (do they work in similar ways as you?) and technology tools (can their tools easily integrate with yours?). While it's not necessary that they all align perfectly, hiring an agency that can integrate easily with your current operating methods will make for easier collaboration.
Equally important is finding an agency whose communication styles and cultures align with yours. These may be more intangible but play a huge role in how well your teams will interact and collaborate throughout the duration of your relationship.
Compare Products, Services, and Pricing
Your cybersecurity marketing needs won't be exactly the same as any of your competitors. That means you can't look for the one-size-fits-all "best" choice. Consider your current strengths, weaknesses, marketing gaps, goals, and business needs. Compare top agency choices and how well their offerings align with those factors to position yourself for optimal success.
Go with Your Gut
When it comes to selecting a cybersecurity marketing agency, it's likely that you'll end up with several "right" choices. There are many quality agencies out there looking to deliver services in this growing space.
In the end, when you're trying to make a final decision, the old rule of "go with your gut" can still apply. As you meet with potential providers and evaluate how they'll serve your business, it's likely you'll develop a natural sense of which is the right choice for you.
Many more times than not, it's your gut feeling (supported by research and due diligence, of course) that will match you up with the best agency for you.
Final Thoughts
Cybersecurity is one of the most technically advanced services out there—and one of the most necessary for every kind of business. But the smartest cybersecurity companies recognize that it isn't product/service quality alone getting them noticed or earning them business.
To win in a competitive market, you need a full-scale and expertly executed marketing strategy. If you know you don't have the in-house time or resources to do it, your best option is to hire a cybersecurity marketing agency who can partner with you to achieve your goals.
Grow Your Business with ActualTech Media
Experience and expertise matter in cybersecurity marketing—and if you're thinking about hiring an agency, they're likely at the top of your qualification list. At ActualTech Media, we have a long track record of crafting marketing materials that have impact and lead to results.
We offer a full range of options for creating powerful assets that engage users searching for answers to the plague of cybercriminals that are always looking for new victims. Whether it's a webinar for lead gen, content syndication strategy , whitepaper, e-book, blog (or something else), we have what you're looking for.
Want to learn more about how ActualTech Media can help grow your cybersecurity business? Check out our comprehensive cybersecurity marketing services or contact our team to get started.