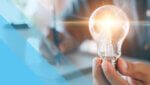 Content Marketing
5 Trending B2B Content Marketing Ideas To Drive Your Growth
Article Summary
The landscape of content marketing is ever-evolving, with new trends emerging and old ones fading. The article highlights five pivotal B2B content marketing ideas to stay ahead in 2022. Firstly, it emphasizes the importance of EAT (Expertise, Authoritativeness, Trustworthiness) for optimizing content, as Google's algorithm now prioritizes these factors. Secondly, incorporating author bios in content can bolster its credibility and fulfill EAT requirements. Thirdly, amidst the saturation of thought leadership content, creating unique content is vital. Innovative formats like infographics, videos, and technical comic books can make content stand out. Fourthly, sharing customer-driven content, such as testimonials and case studies, can enhance trust and authority. Lastly, exploring new social media platforms, including TikTok, can help brands tap into new audiences. The article underscores the need for aligning content strategies with current trends to remain relevant and impactful.
Content marketing is changing as new trends emerge and old strategies phase out. Some B2B content marketing ideas are fuelled by technological advances, like new marketing platforms and content types. Meanwhile, other tech marketing trends occur because of a shift in consumer mentality.
Explore five top B2B content marketing ideas to incorporate into your strategy to stay on top of the latest trends.
Key Takeaways:
When you invest in a new trend, you're taking resources away from other strategies, so make sure the idea aligns with your goals
Quality content written by experts in the field ranks highest in searches
Create unique content in a creative way to stand out from your competition
🤫 PS: Looking for pricing on custom tech content? Get a price list here
How To Evaluate a New B2B Content Marketing Trend
Whenever you spend resources on a new trend or strategy, you must also be aware that those are resources you aren't spending on another area of your business. Therefore, you want to first test it and calculate the risk before diving all in with a new strategy.
To test a new trend, ask yourself if it's the most valuable option out there.
However, if you don't explore any new ideas, you might also miss out on an opportunity to reach your audience in a fresh way and connect with new prospects you currently don't reach.
One of the essential steps in calculating your risk is clearly defining what success looks like before entering a new strategy. If you can achieve success through that strategy, it's worth exploring.
For instance, ask what you want to accomplish if you're going to branch out onto a new social platform. If you define success as generating high-quality leads, a social platform built around brand awareness with little opportunity for lead generation won't help you achieve your objective, no matter how popular it is.
5 Trending B2B Content Marketing Ideas To Explore
Incorporate these five ideas in your content marketing for tech companies to stay relevant and innovative in 2022.
1. Use EAT for Optimizing Content
Google's algorithm is a mythical beast that's difficult to understand because of its many complexities. Everyone sees the results of the algorithm any time they perform a search. However, most marketers struggle to define precisely how those results came to be.
In the past, creating content was enough for a ranking on Google. However, 90.63% of website pages today don't see organic traffic. That's why search engine optimization (SEO) grew in popularity as marketers tried to unravel the mystery of the Google algorithm and stake that coveted first spot in search engine results.
Google does share Search Quality Evaluator Guidelines, which the company last updated in October 2021. These give marketers a glimpse of what search engines and consumers want when choosing what content to rank and view.
While SEO takes many forms depending on what content you create, content marketing blog post SEO boils down to three main factors: Expertise, Authoritativeness, Trustworthiness (EAT):
Expertise: Is the writer an expert on the topic and do they have credentials to back their claims?
Authoritativeness: Do the writer and brand hold authority in the field, and are they accepted as leaders?
Trustworthiness: Is the information and website trustworthy, and are claims backed with proof?
While keywords, links, and traditional SEO factors still have a role to play in your content's ranking, the EAT factors of your content should be your SEO priority as you focus on creating quality content that B2B buyers can trust.
Some trending content ideas that meet search engine requirements for EAT include:
Webinars from thought leaders
Case studies on success stories
Research briefs summarizing company findings
E-books exploring tech topics
2. Use Author Bios in Your Content
One way to support the expertise and authority of your content is to incorporate the author's credentials as part of your content. Your readers want to know who is writing or speaking as much as what the author has to say because that tells them whether the author is an authority in the field. Adding a bio also helps you fulfill your EAT requirements for SEO ranking, as the algorithm can connect an article's authority to the author.
The author bio should include links or references to other authoritative content already authored, as well as any training, experience, relevant education, and titles that would make your B2B buyers trust their claims. If the author is one of the company's employees, you can also keep the bio shorter by adding just a few words about their position in the company. Then let your website's About Page provide further qualifications for your brand authority. However, your About Page is for your readers and doesn't impact your authority in Google search results.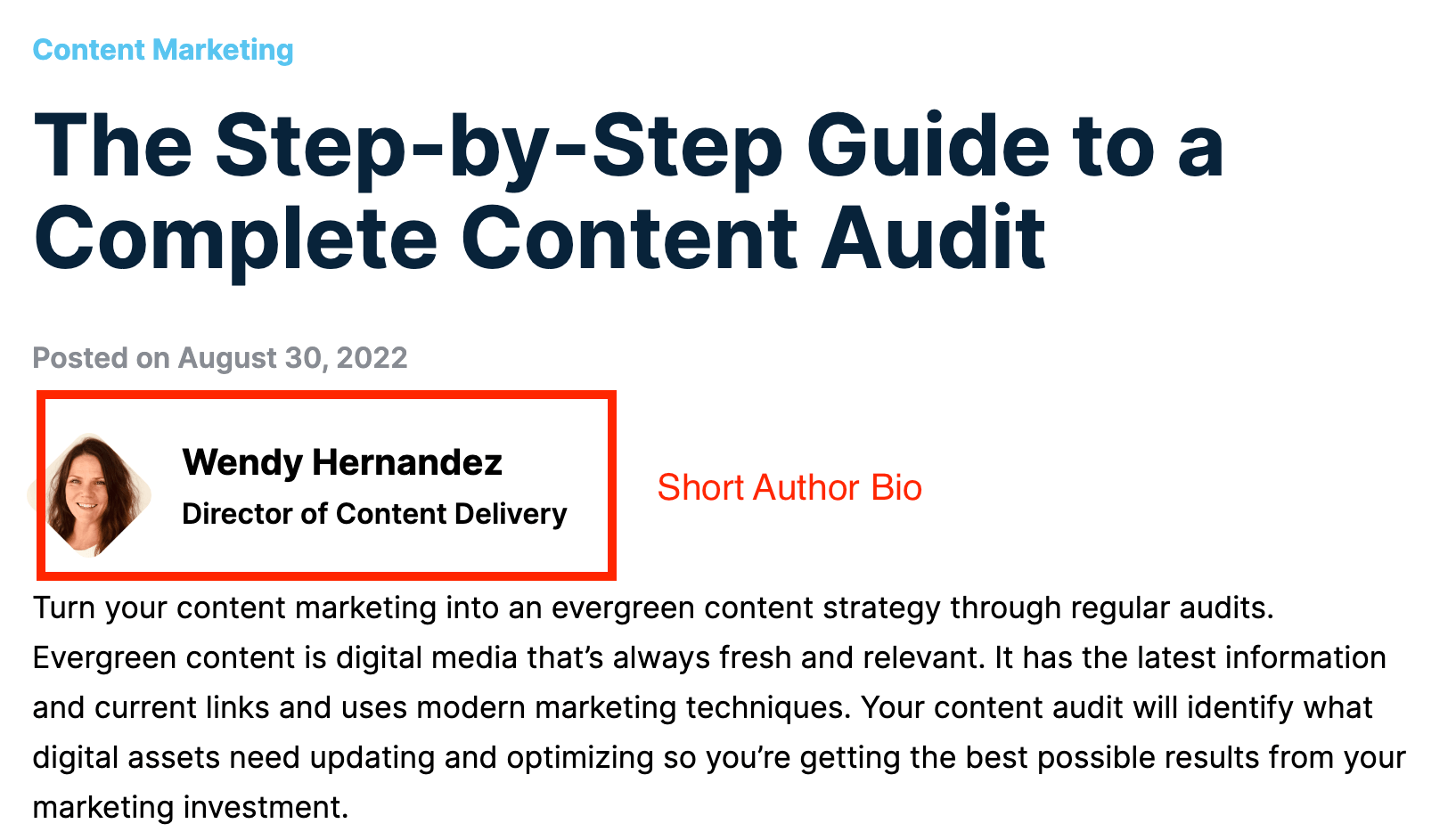 Image from ActualTech Media
3. Create Unique Content
According to a survey by Edelman, 40% of decision makers say there's an oversaturation of thought leadership content. However, that's not a reason to stop making thought leadership assets, as 54% of decision makers spend at least an hour each week interacting with thought leadership.
Instead, that should motivate you to find new ways of presenting your thought leadership content where you can still increase your authority without being drowned out by other content.
You can stand out by offering the content in unique and engaging ways. For example, modern technological advances have provided new opportunities for creating and distributing content.
ActualTech Media offers innovative content formats, such as infographics, engaging videos, and even technical comic books.
4. Share Customer-Driven Content
Buyers don't just want to hear from the experts in the field. They also want to hear from customers. According to a recent study, 92% of B2B buyers are more likely to purchase from a brand after reading a review. In addition, 71% actively look for reviews as part of their research process.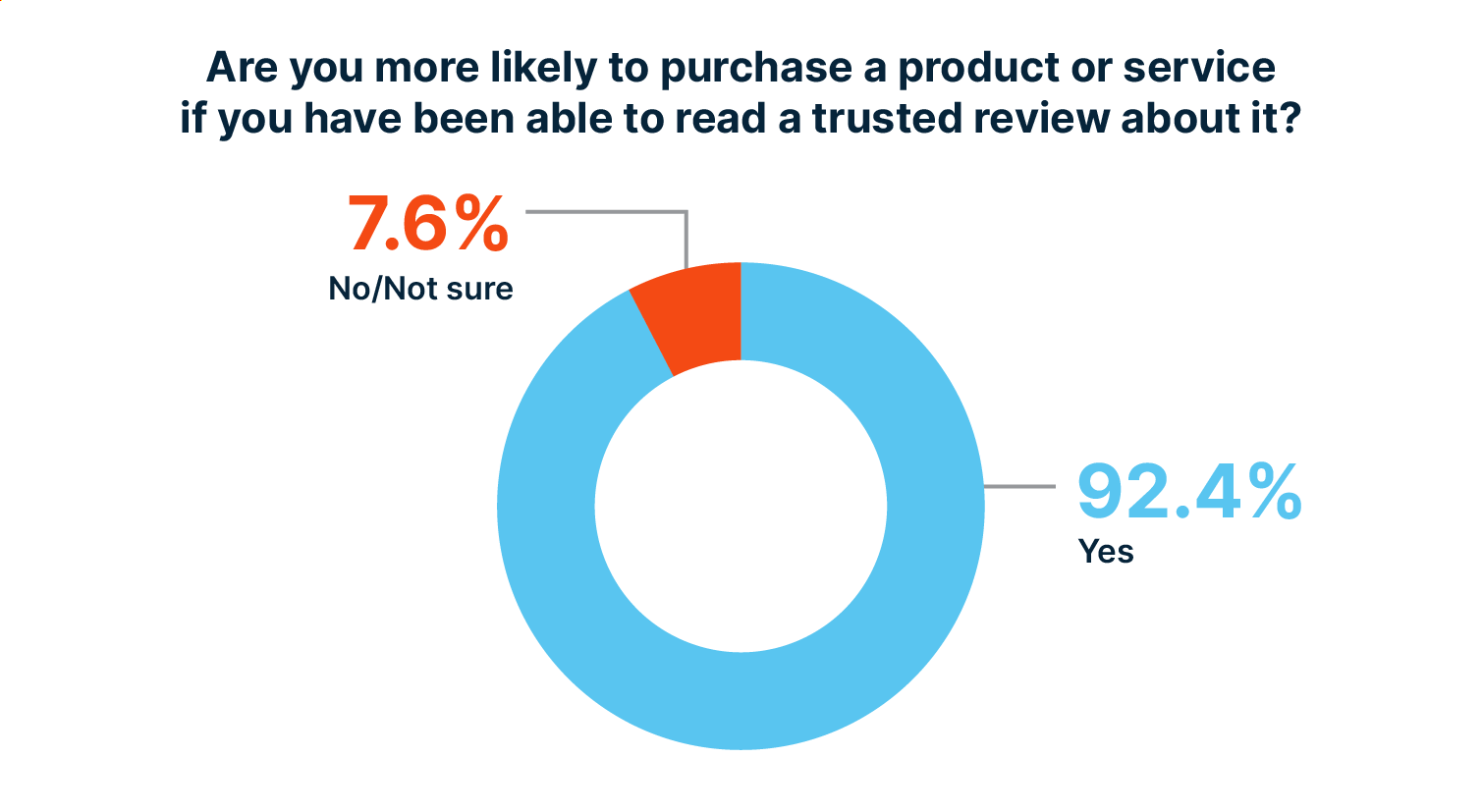 Incorporating customer feedback and testimonials in your content helps you control your online reputation and provides the social proof B2B buyers need to make an informed decision.
For example, a case study based on a customer testimonial will outline how you can help businesses like them grow. That endorsement will support claims in your content and build your authority.
5. Try New Social Media Platforms
According to Smart Insights, 59% of the world's population is on social media and spends an average of 2 hours and 29 minutes scrolling their feeds. While LinkedIn has been the reigning leader of B2B social media marketing for several years, other channels are worth exploring to reach new audiences.
One of the newest popular platforms on the scene is TikTok. While it started as a platform for dancing, singing, and playing tricks, it's quickly grown into a marketing industry contender. Today it has over 1 billion active users.
Users can view life hacks through the app, watch educational videos, find new recipes, and purchase products. In the third quarter of 2021, TikTok users spent $535 on the platform.
While it hasn't shown consistent proof of being effective for reaching tech professionals, TIkTok has made enough of an impression for marketers to monitor its growth and explore potential opportunities on the platform.
Create Fresh B2B Content
ActualTech Media offers the most innovative formats and ideas for creating B2B tech content so you constantly stand out in your tech niche.
Contact us to learn more about our content creation services for tech marketers.